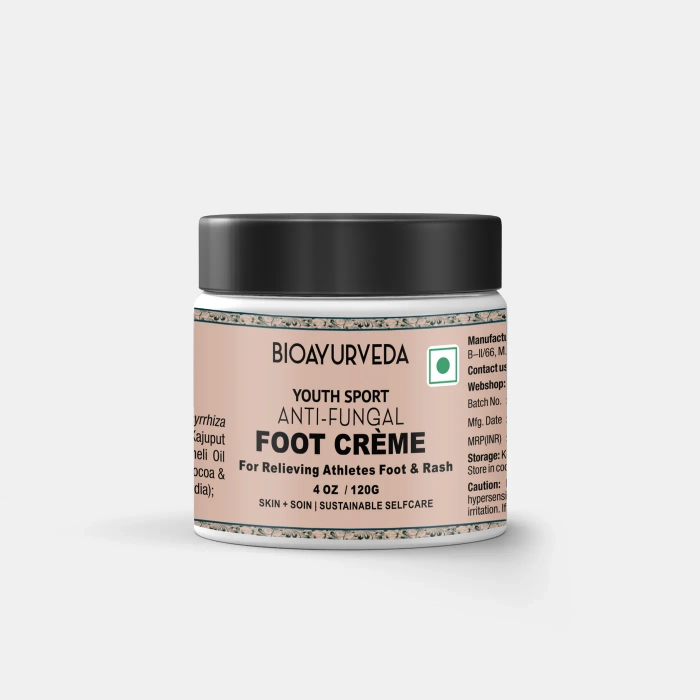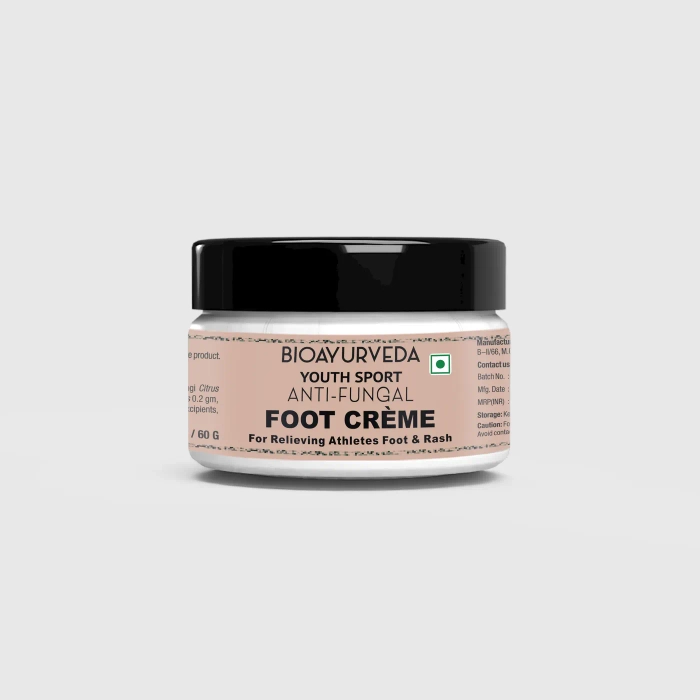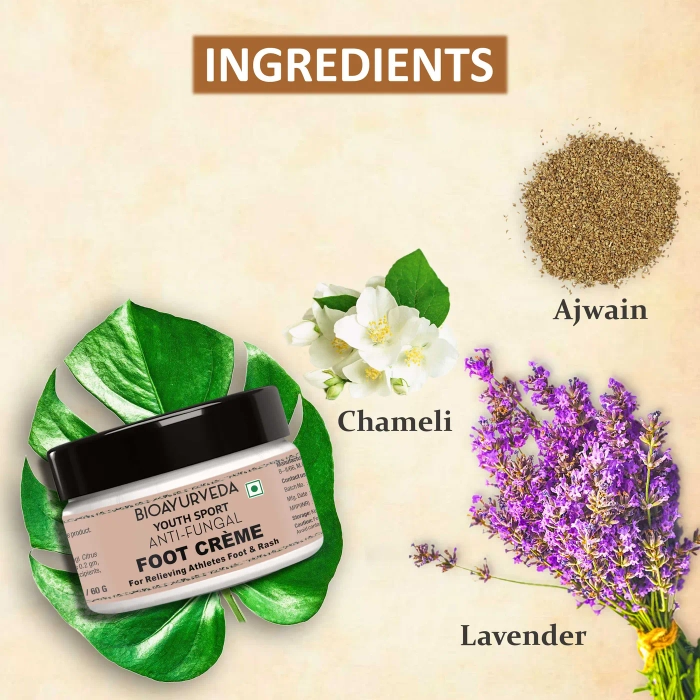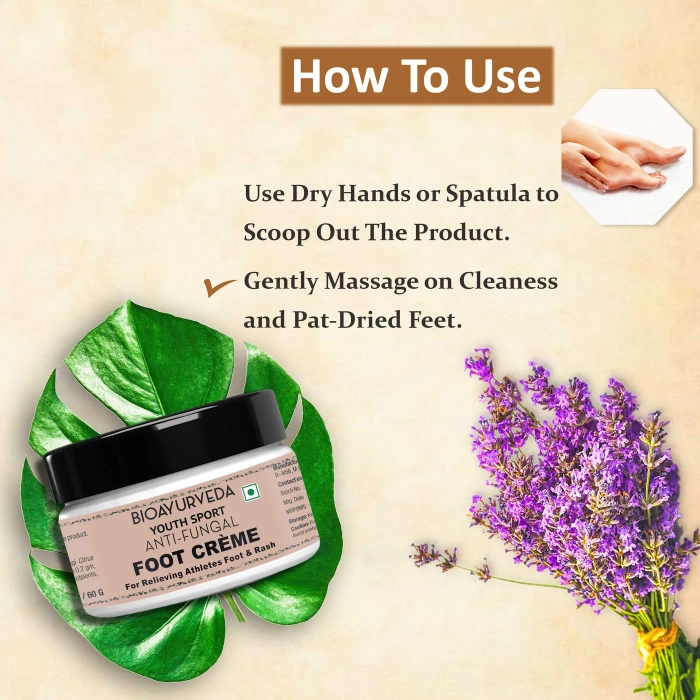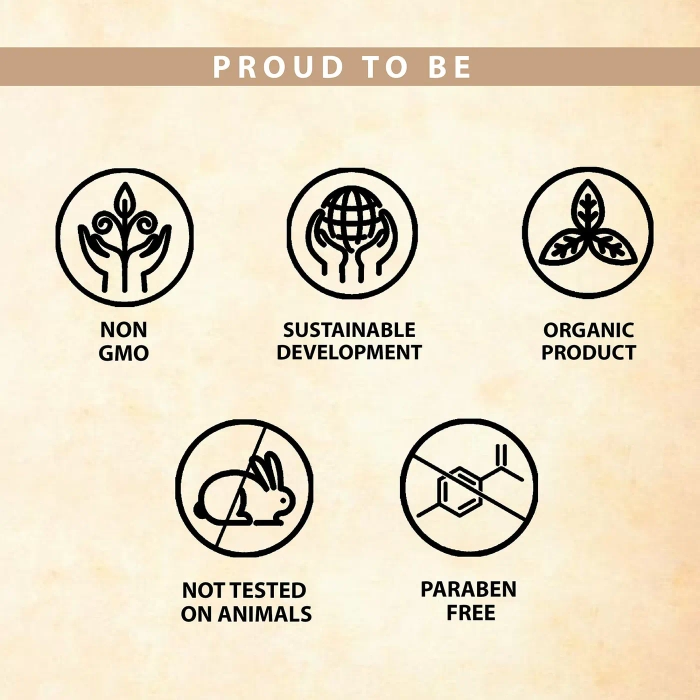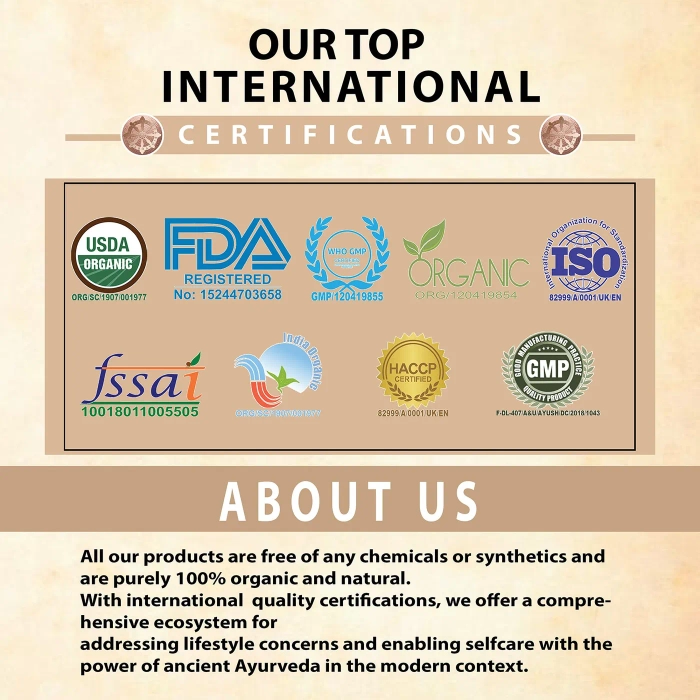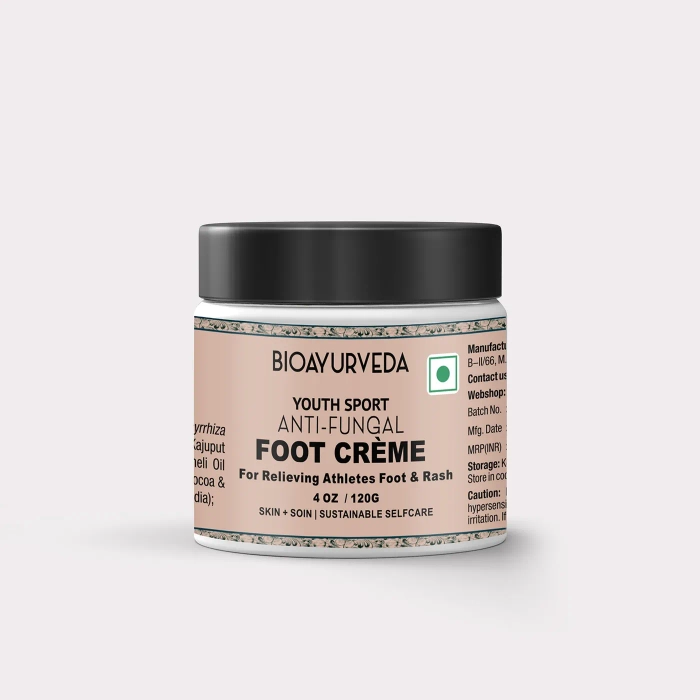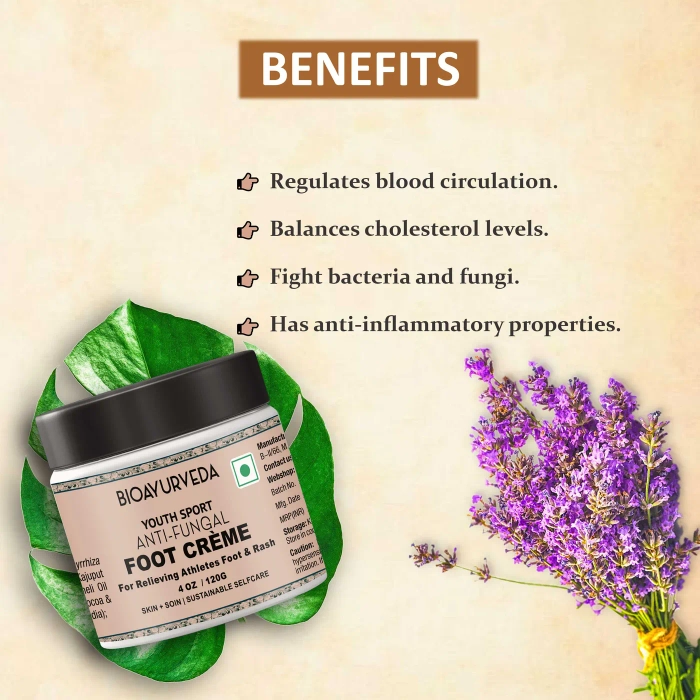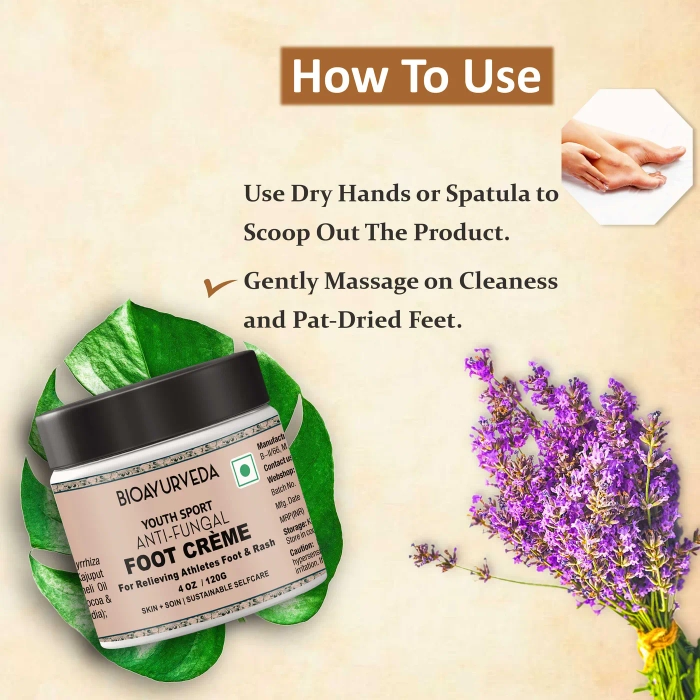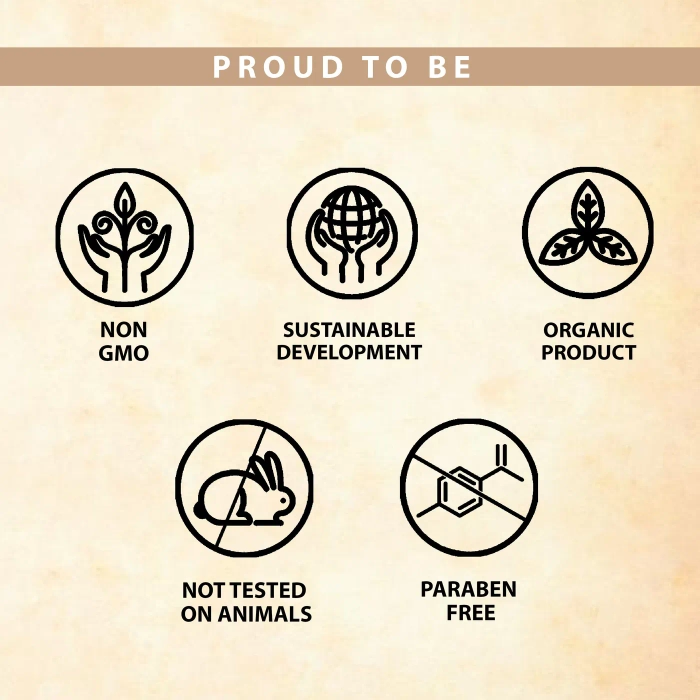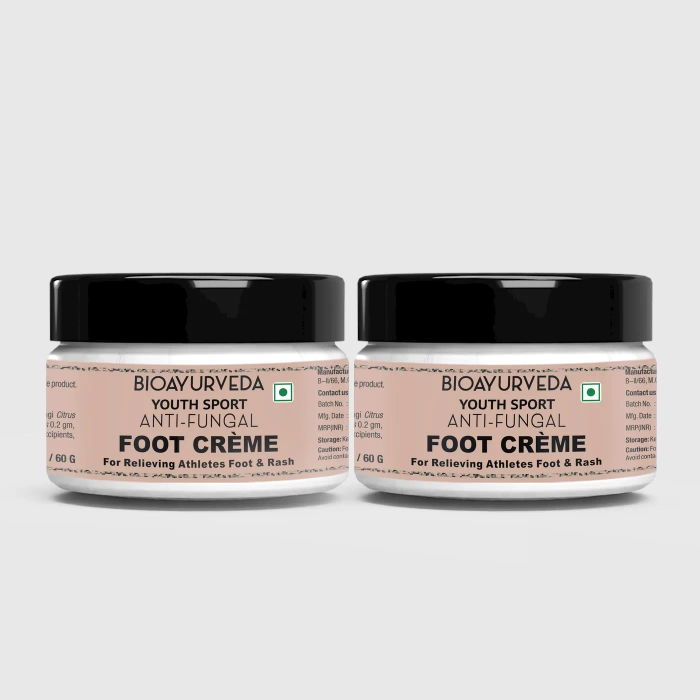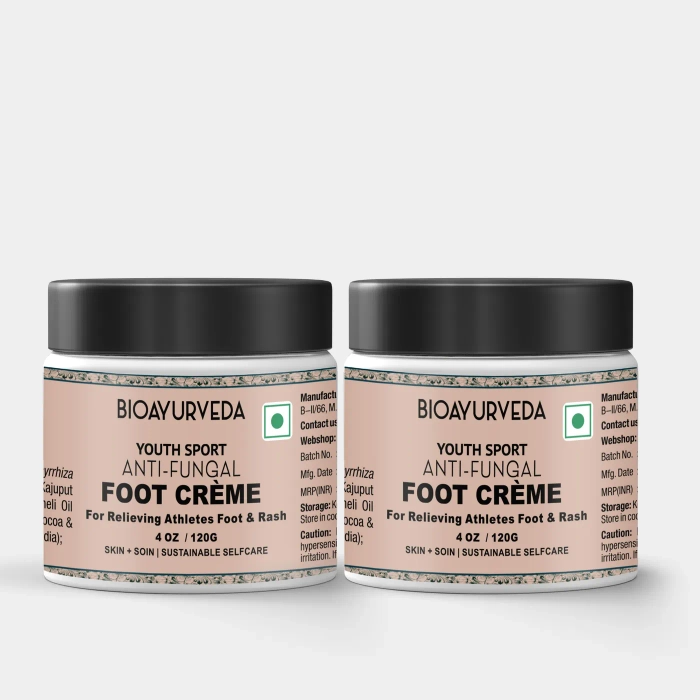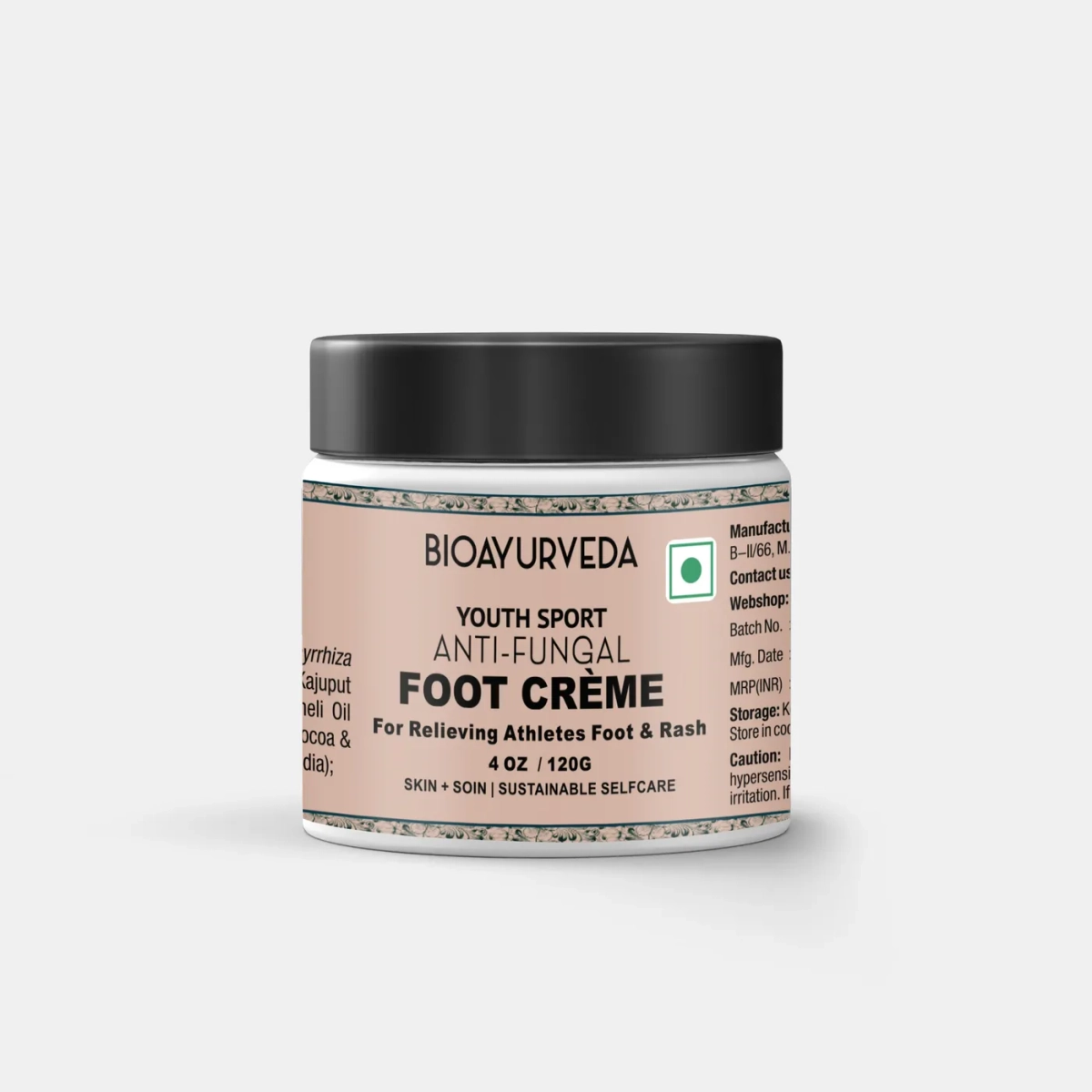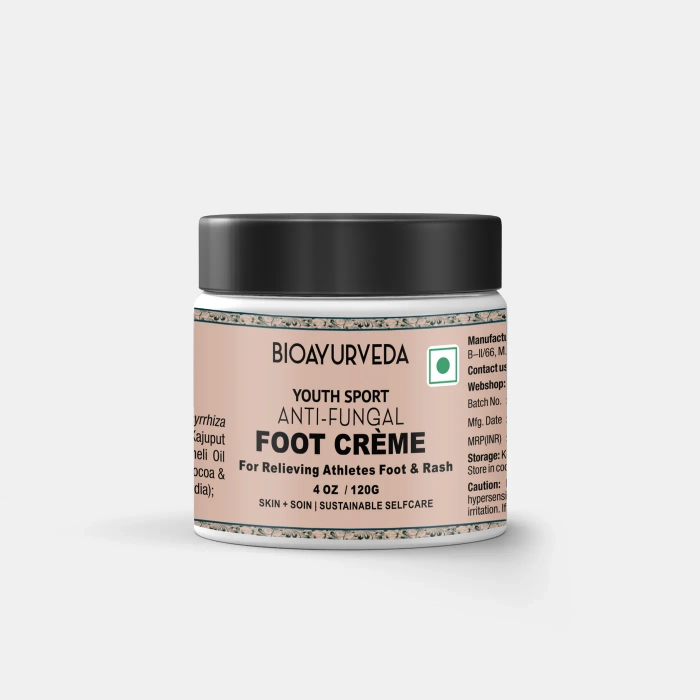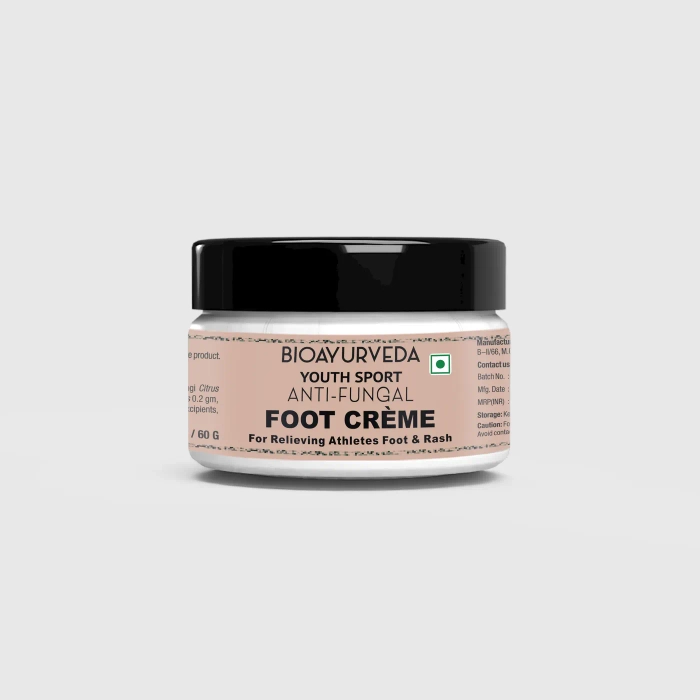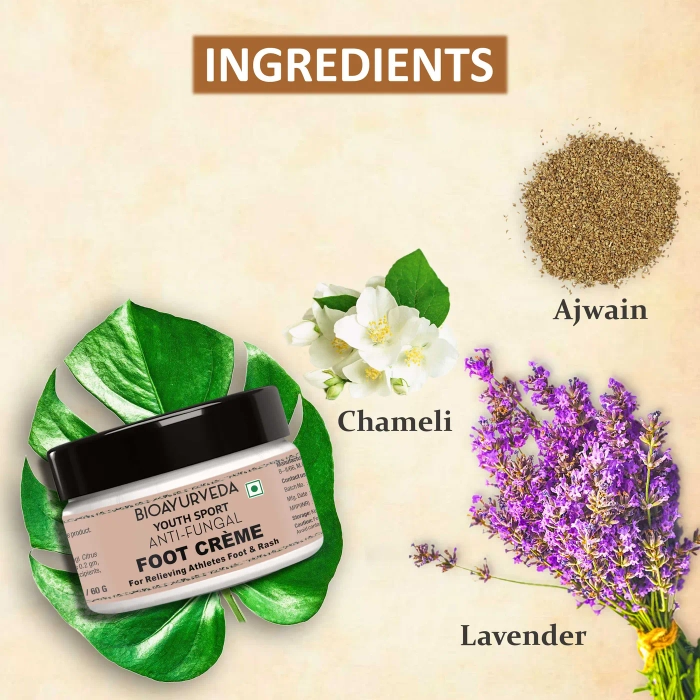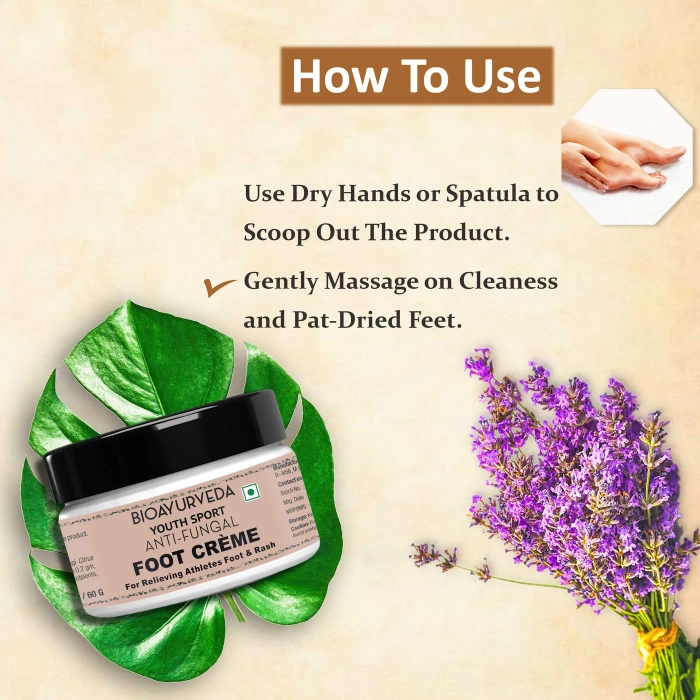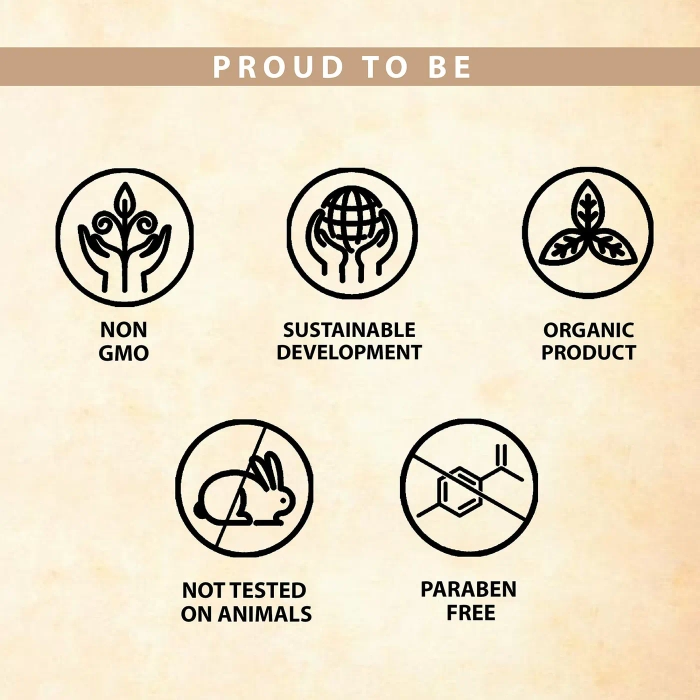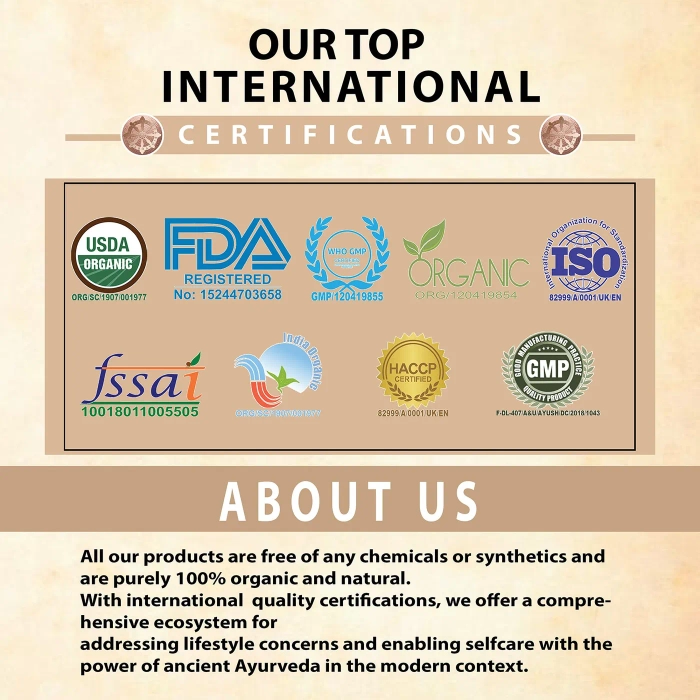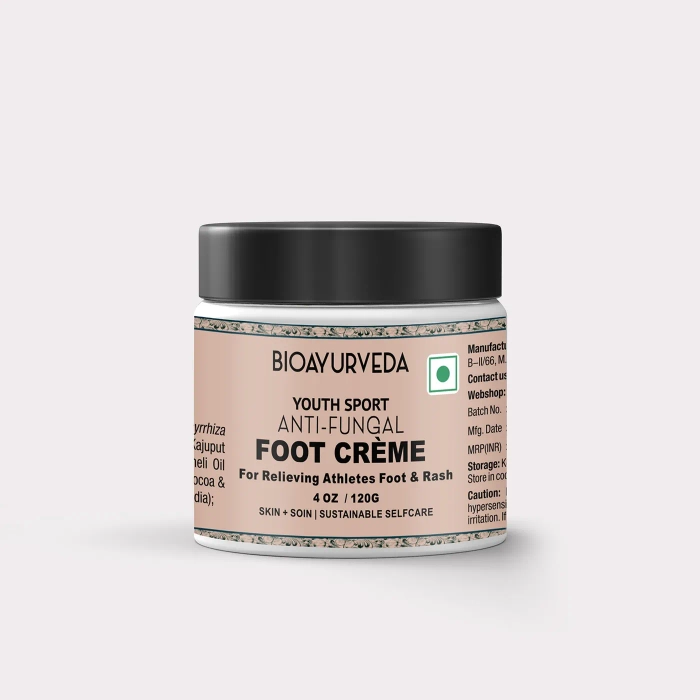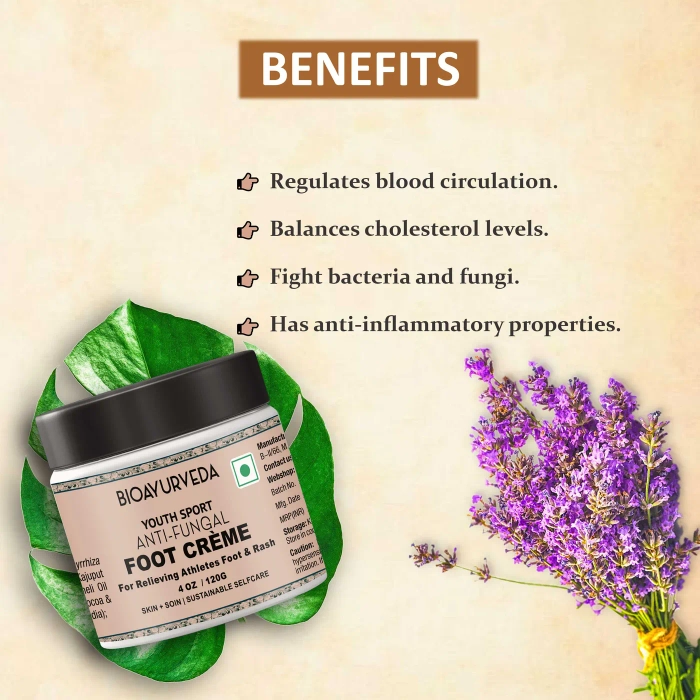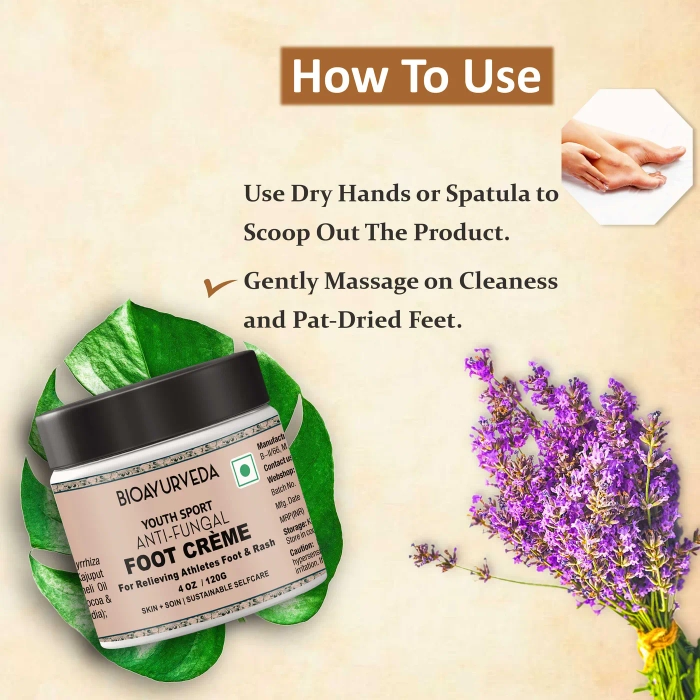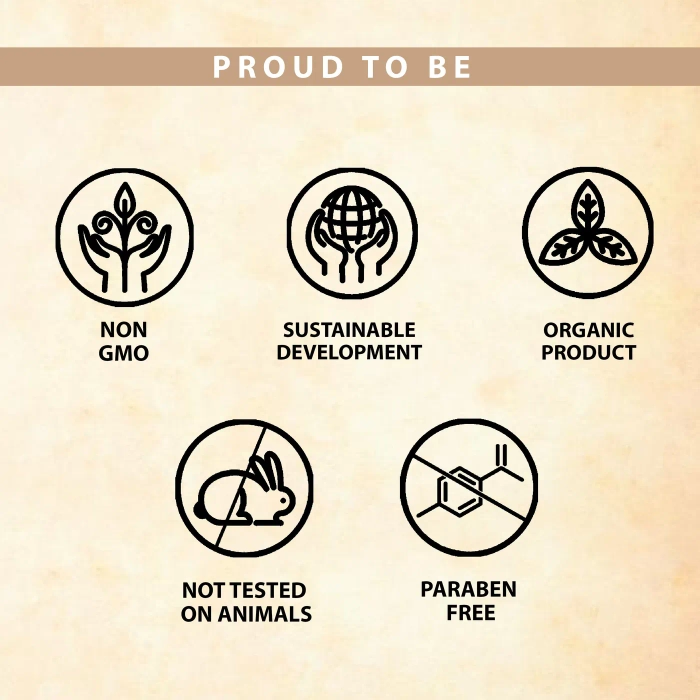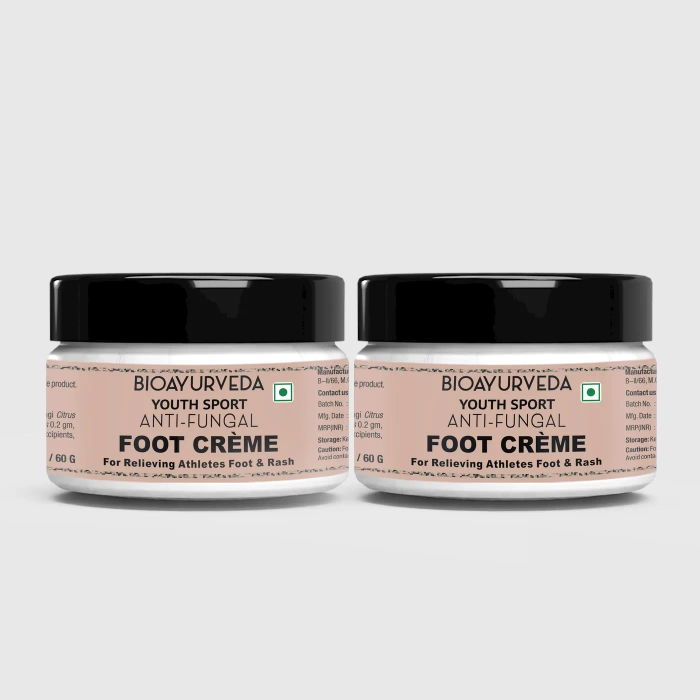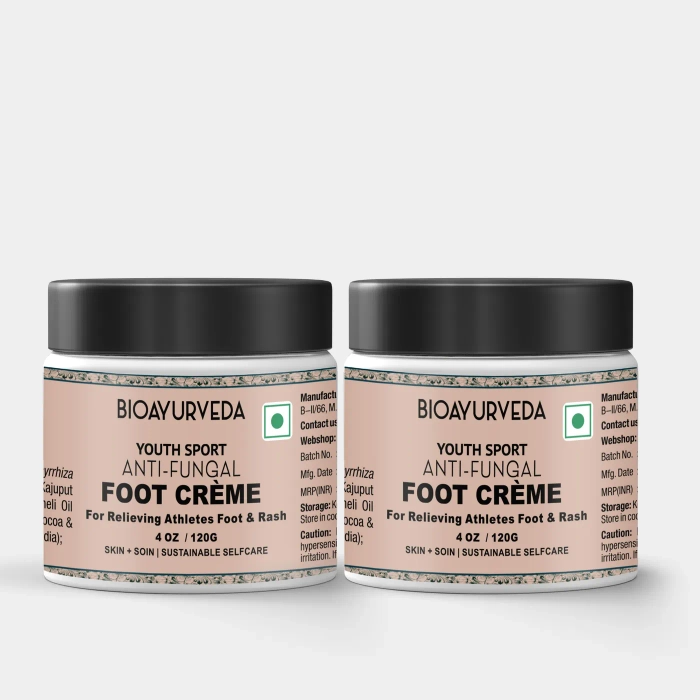 Youth Sport Anti-Fungal Foot Crème
Description
YOUTH SPORT ANTI-FUNGAL FOOT CRÈME is a unique blend of organic herbs, along with aromatherapeutic essential & natural oils that is formulated to fight fungal skin infections that arise due to sweat and humidity like in athlete's foot with symptoms of itching, burning sensation, redness and rash. With powerful therapeutic action, it curbs inflammation and prevents the infection from spreading. It enables healing and recovery and builds skin resilience.
Ingredients
Kumari, Mulethi, Grapeseed, Ajwain Oil, Kajuput Oil, Lavender Oil, Chameli Oil
Product details
---
Fungal infections can be a serious problem, causing discomfort and embarrassment for those who suffer from them. Fungi are a type of microorganism that thrive in warm, moist environments, making certain parts of the body particularly susceptible to infection. The most common areas affected by fungal infections are the feet, groin, and nails, but they can also occur on other parts of the body, such as the scalp, hands, and even inside the mouth. Pretty nasty, isn't it? Fungal infections can be particularly problematic for those with weakened immune systems, such as individuals with diabetes, HIV/AIDS, or cancer. In these cases, fungal infections can become more severe and even life-threatening if left untreated. Fungal infections can be a real nuisance, causing discomfort, embarrassment, and even health complications for those who suffer from them. It's important to take preventative measures, such as wearing shoes in public places and keeping the skin dry and clean, to avoid getting a fungal infection in the first place.
If you do develop a fungal infection, it's important to seek treatment from a healthcare provider to prevent it from spreading and causing further complications. Prevent fungal infections on your foot using BIOAYURVEDA Youth Sport Anti-Fungal Foot Crème. This organic foot cream will reduce inflammation, combat infections, and promote healing. More so, people of all ages and skin types can apply this cream, making it the best universal choice for foot creams!
Benefits
Ingredients


BIOAYURVEDA is a visionary holistic luxury brand in health and wellness offering completely natural and organic products.
Manufactured By:
Arganshe Private Limited
Address:
11/2, BADARPUR BORDER, Faridabad, Haryana, 121003