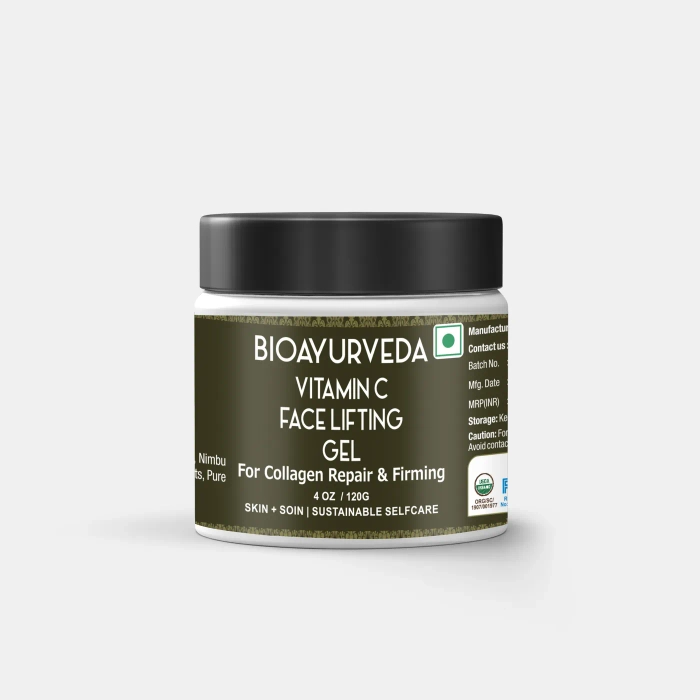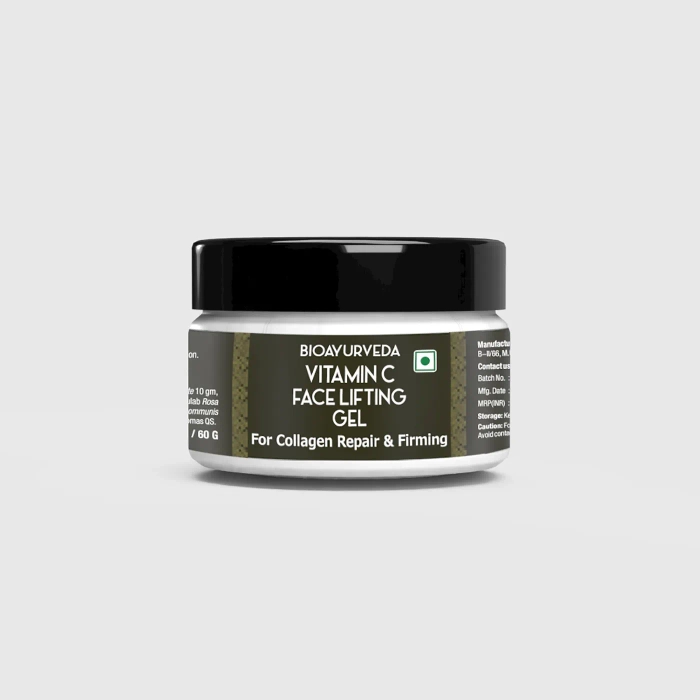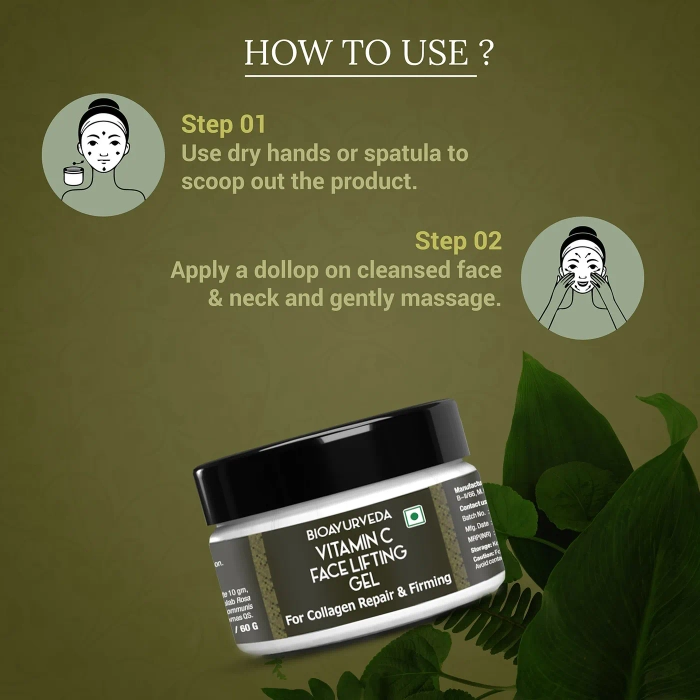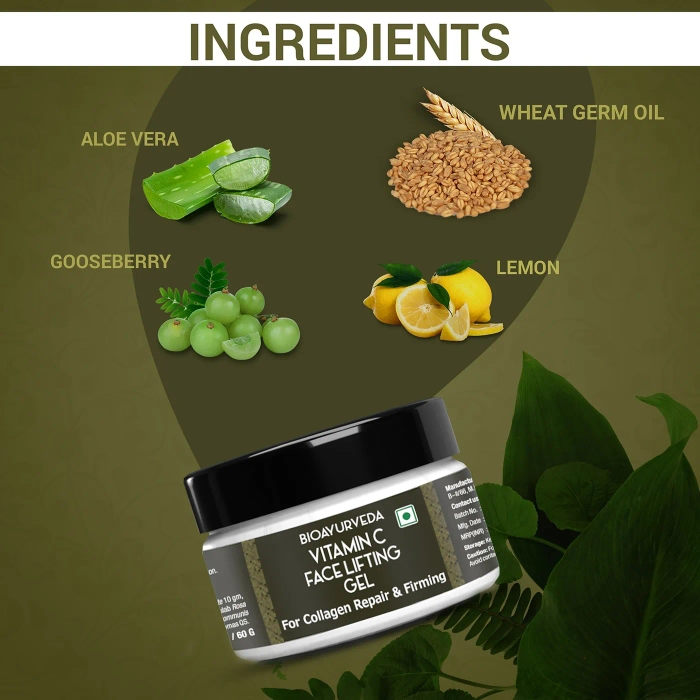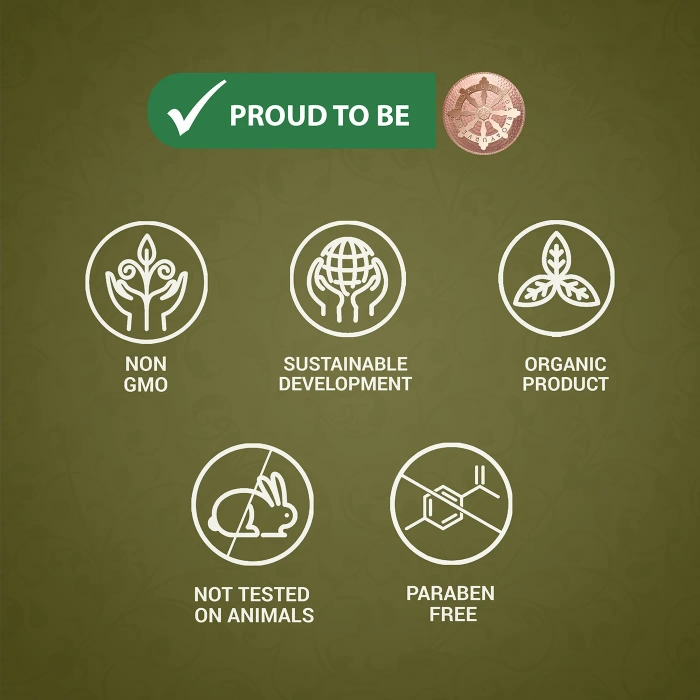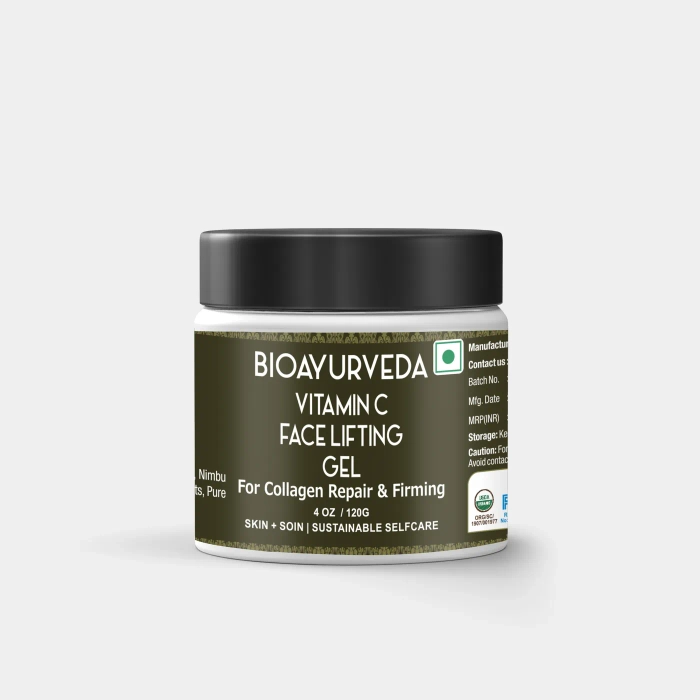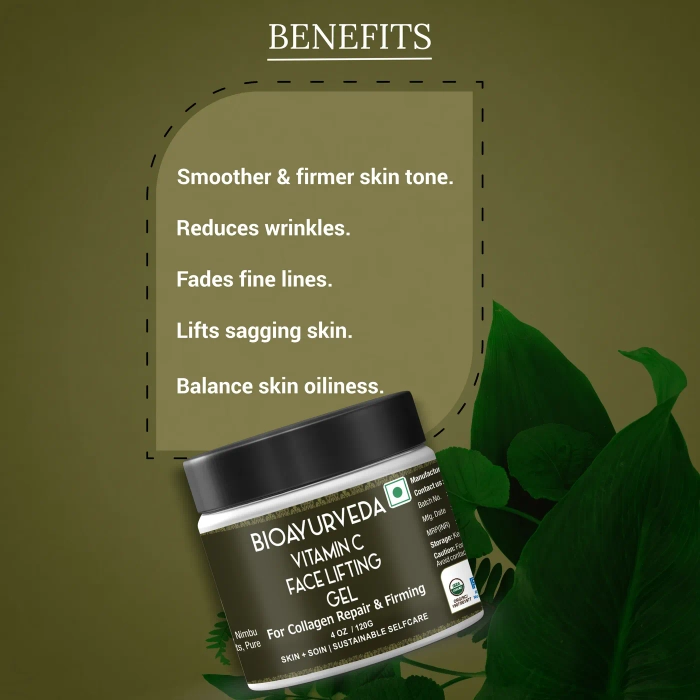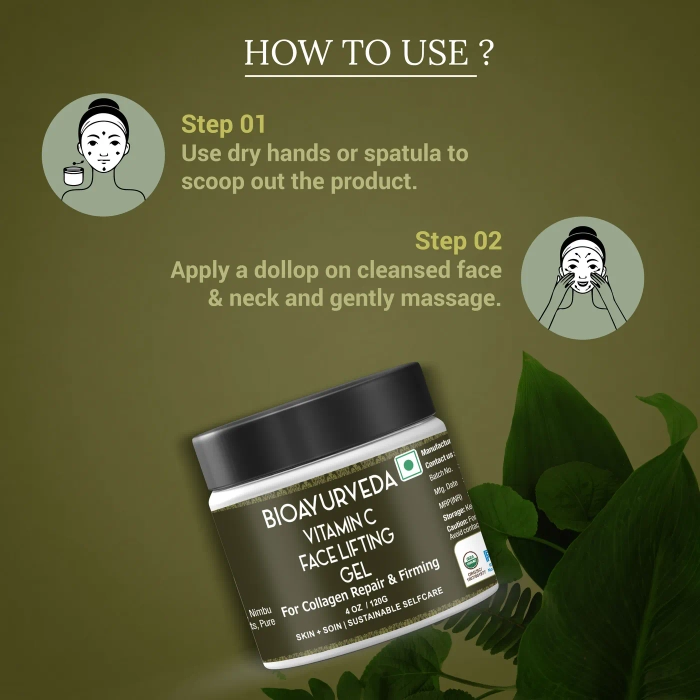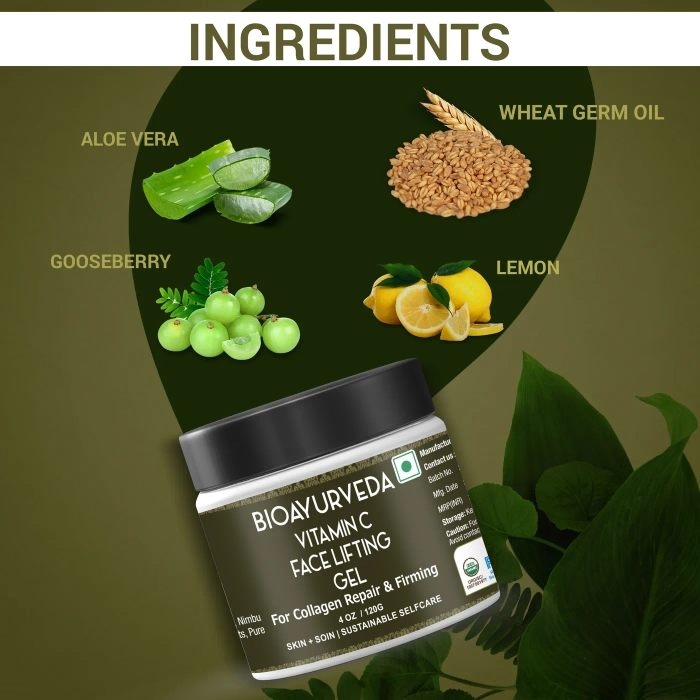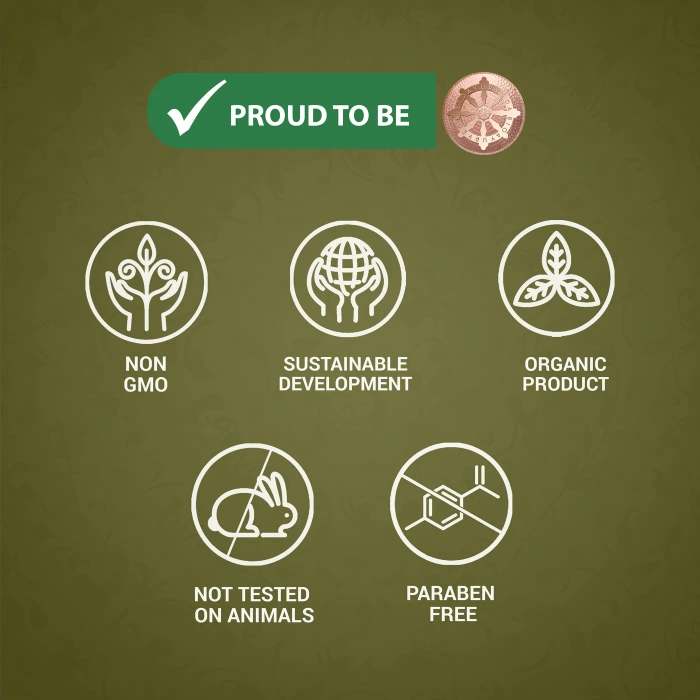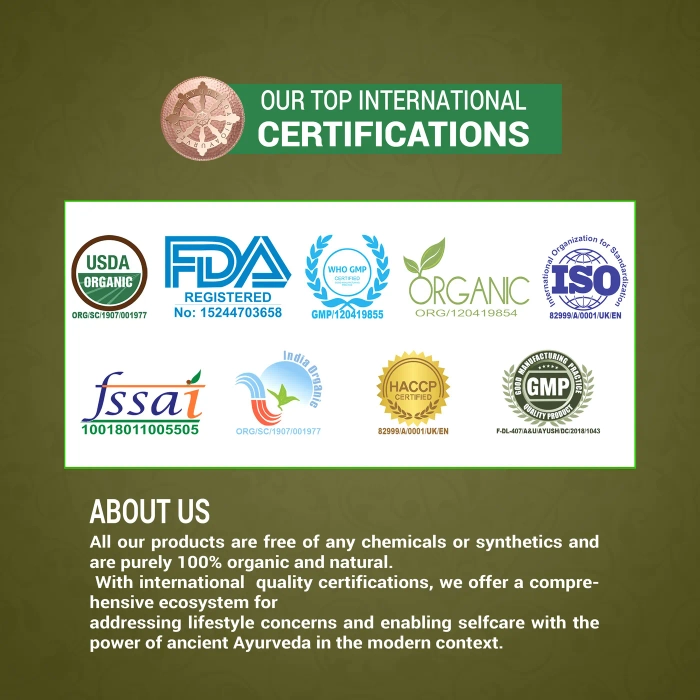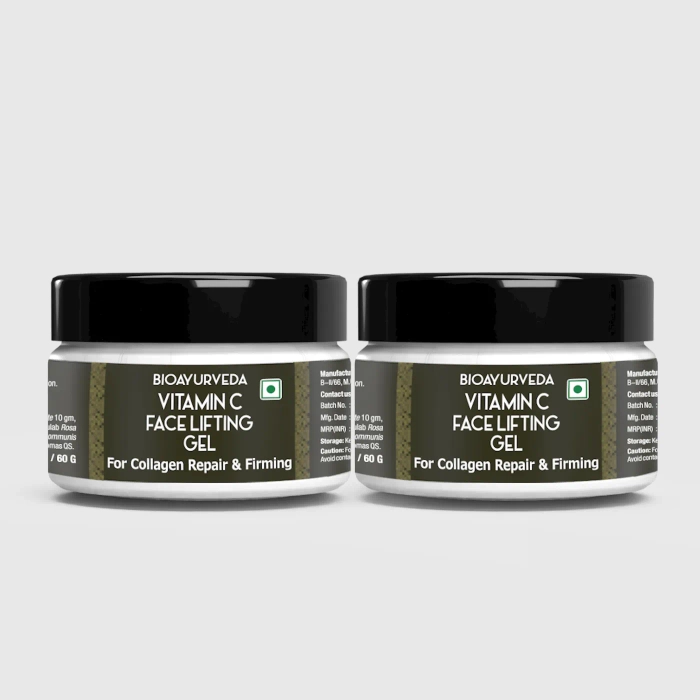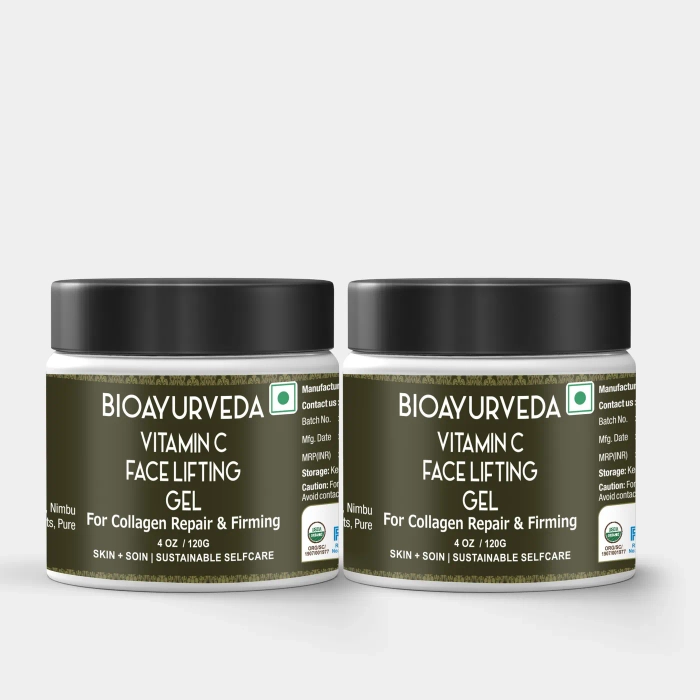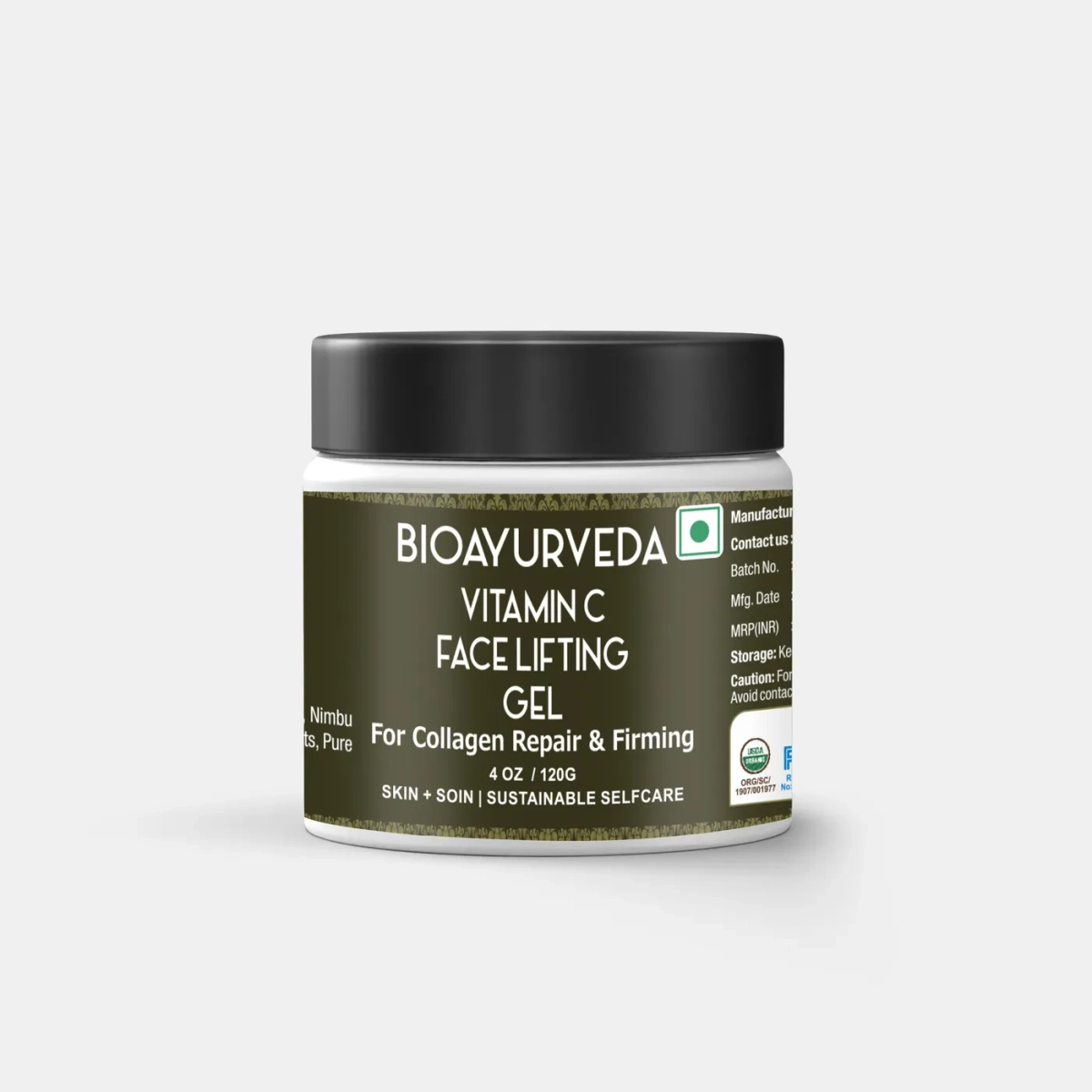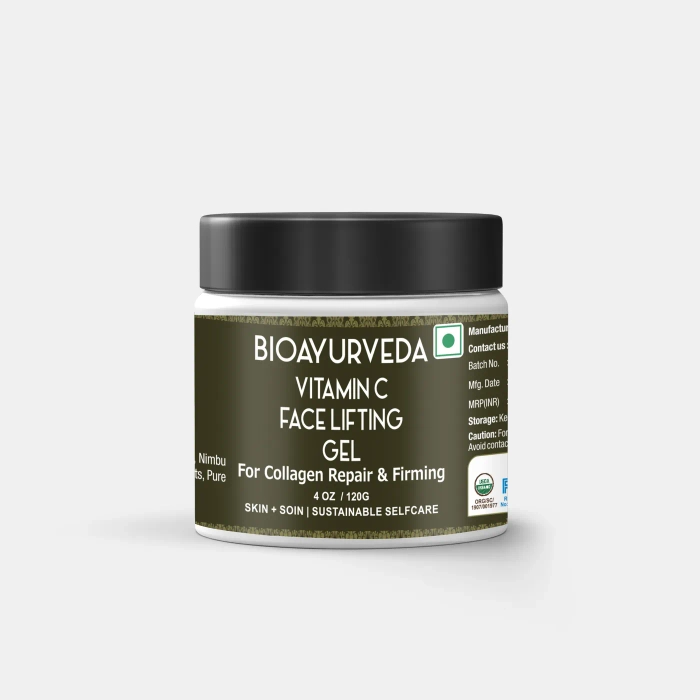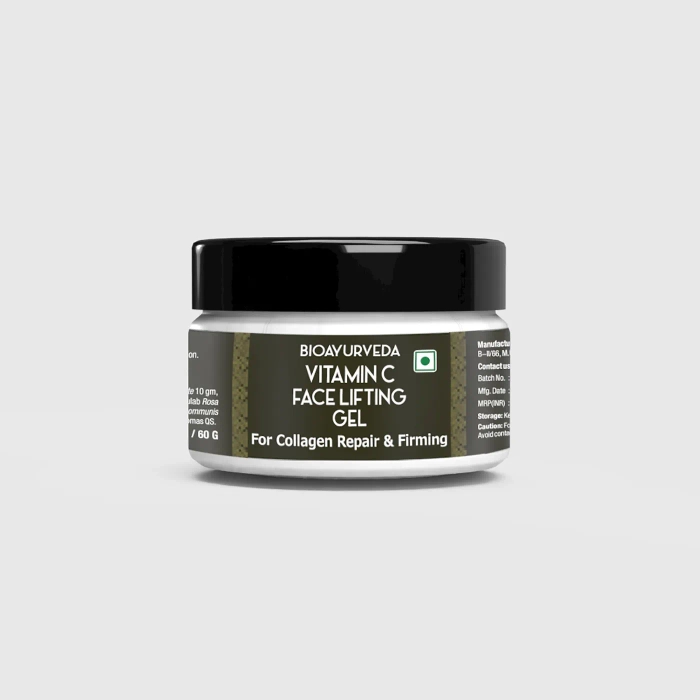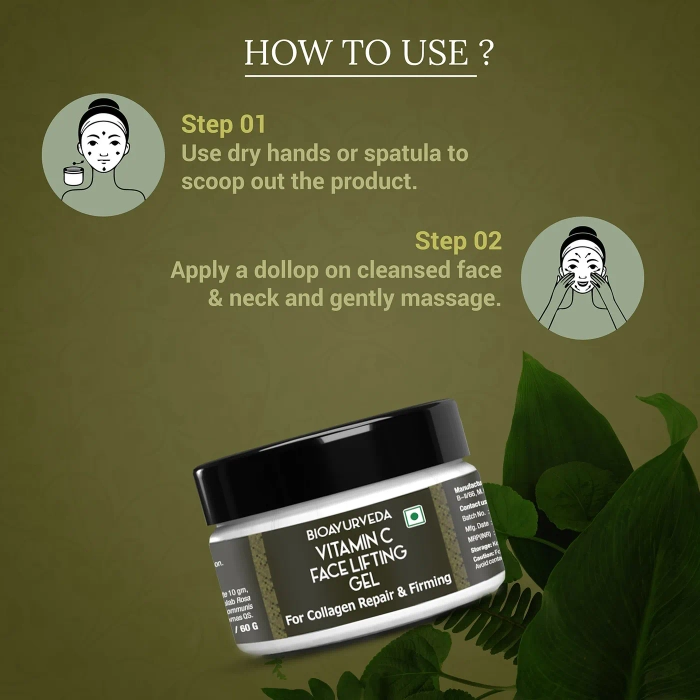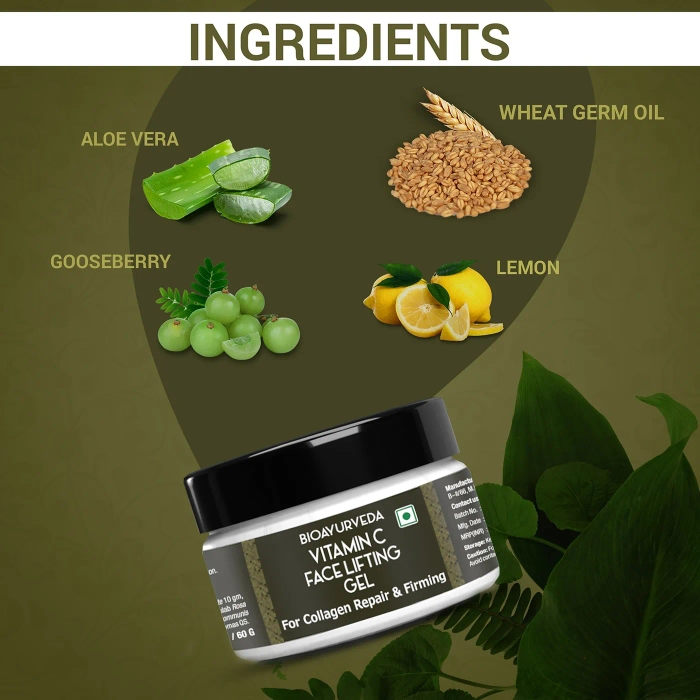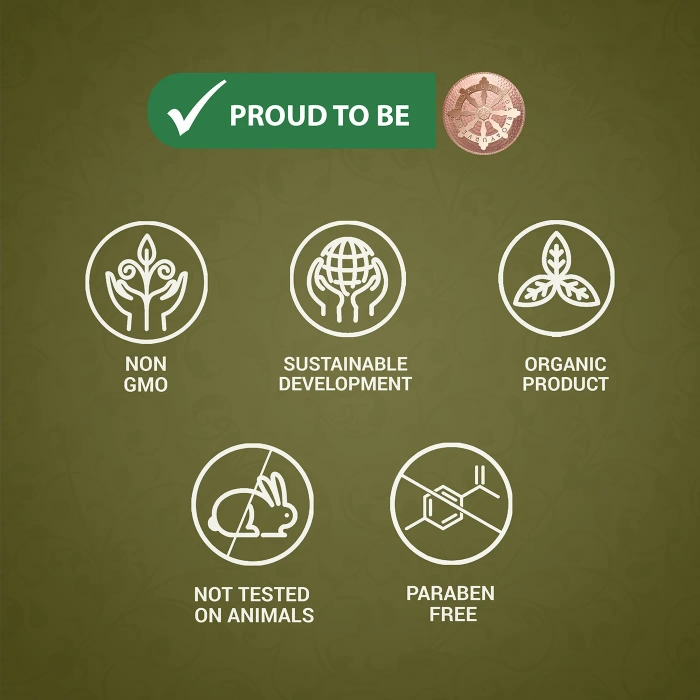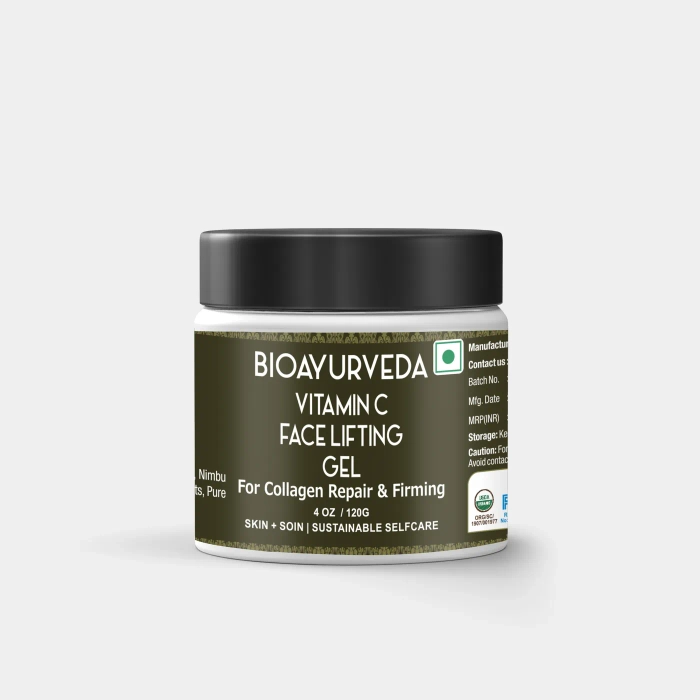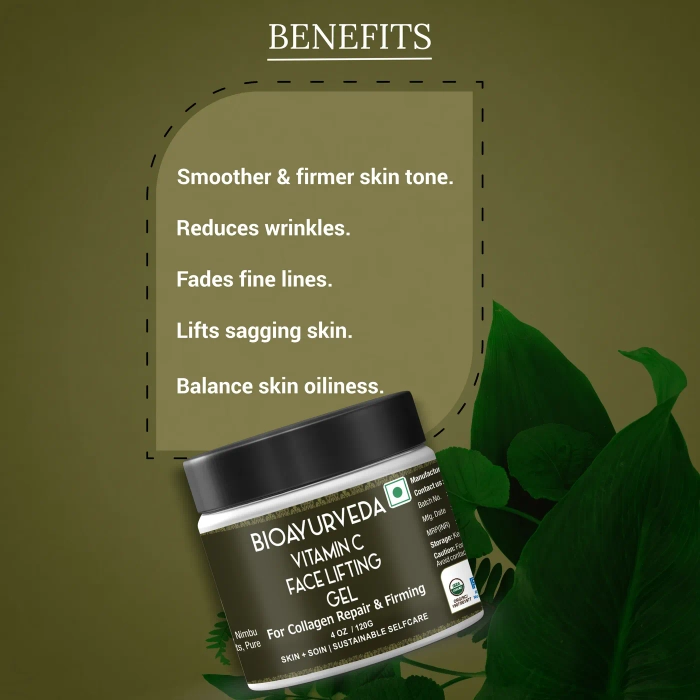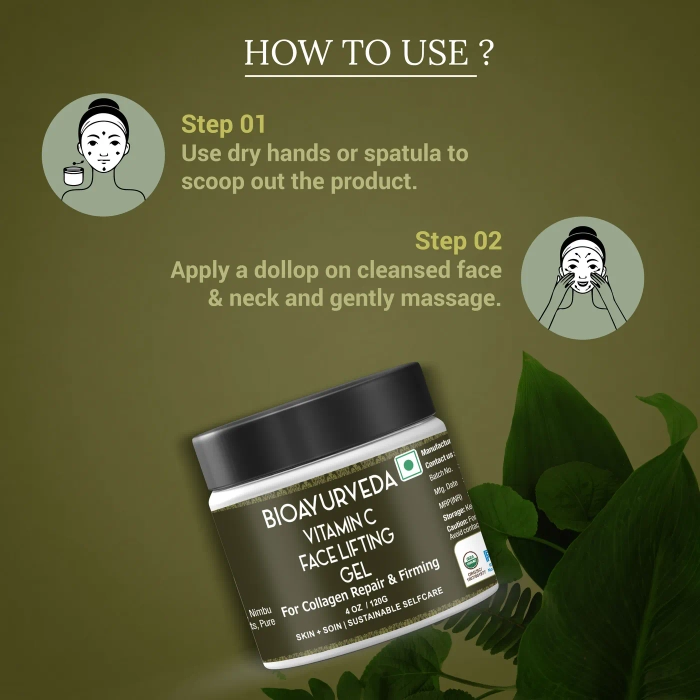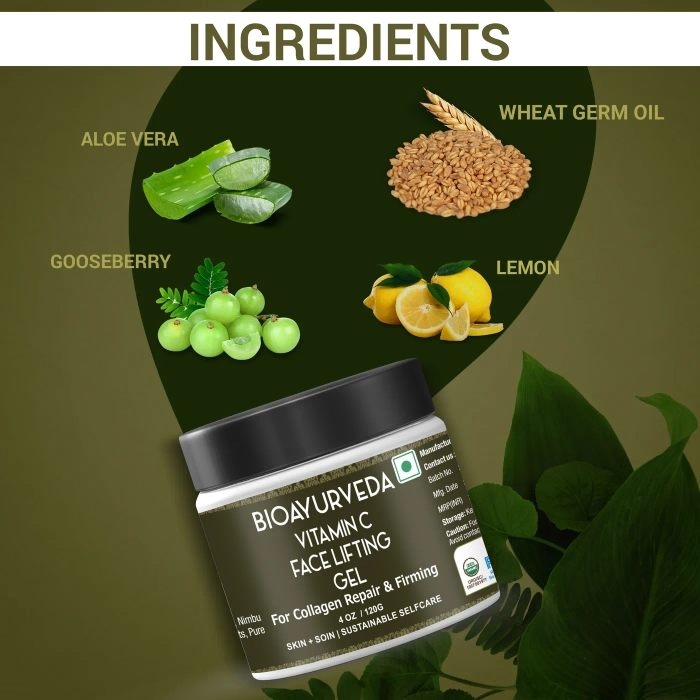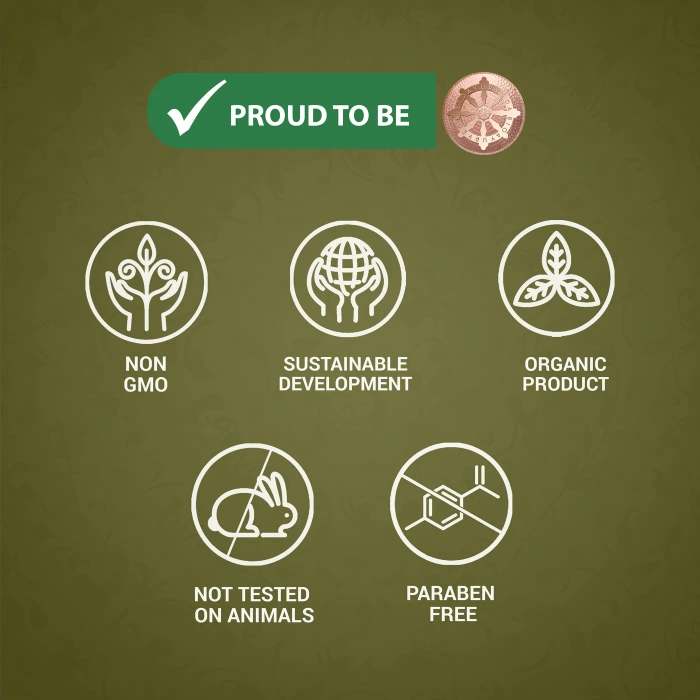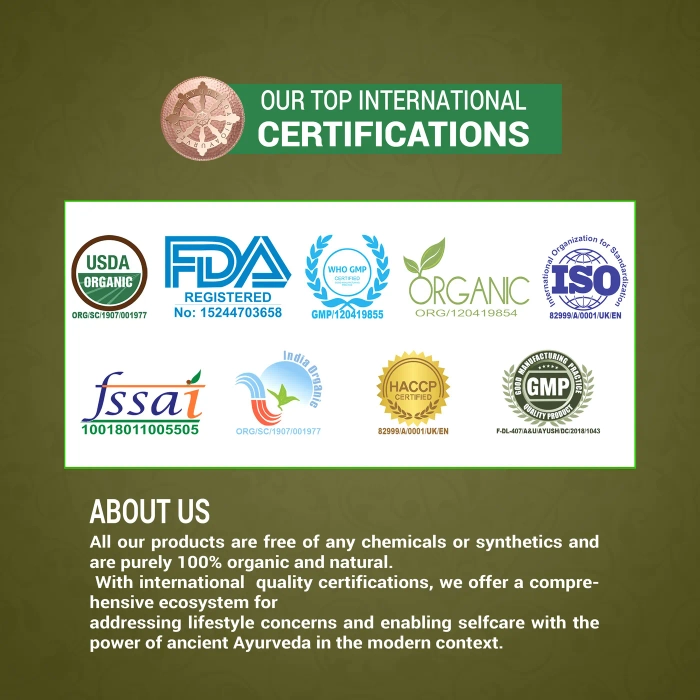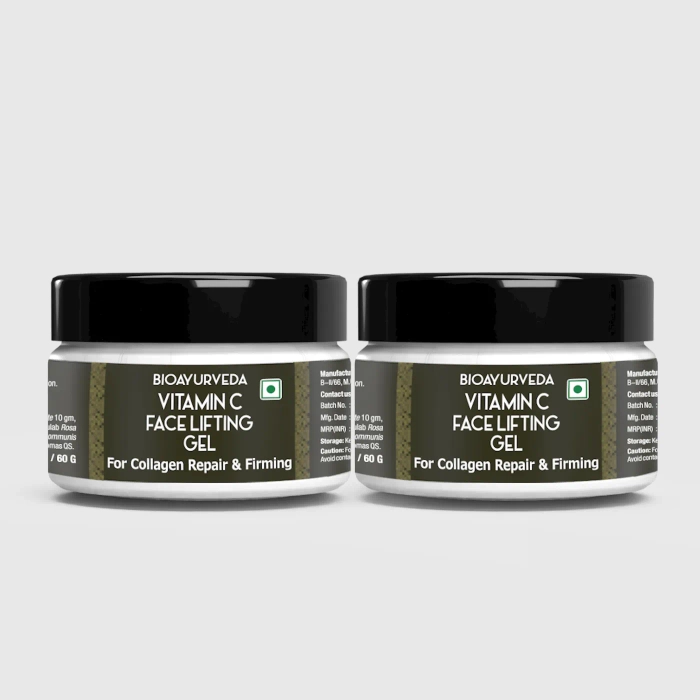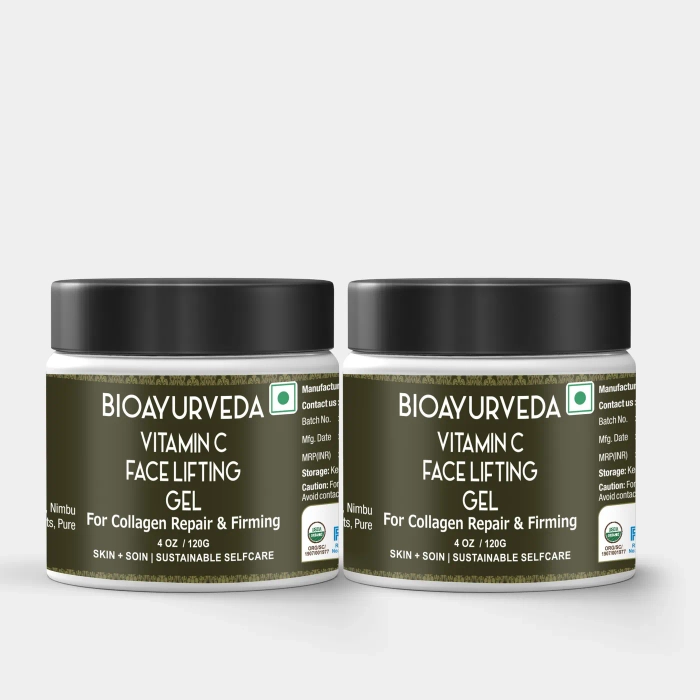 VITAMIN C FACE LIFTING GEL
Description
VITAMIN C FACE LIFTING GEL is a unique blend of organic herbs, along with vital essential & natural oils that is formulated to stimulate collagen production for smoother and firmer skin tone. Rich in anti-oxidants with potent anti-ageing action, it shrinks enlarged pores, lifts sagging skin, fades fine lines and reduces wrinkles. It balances oiliness and prevents breakouts.
HOW TO APPLY
Apply a dollop on cleansed face & neck and gently massage. Use dry hands or spatula to scoop out the product.
Ingredients
Kumari, Amla, Nimbu, Wheat Germ Oil
Product details
---
All of us want and yearn for a brighter skin tone, don't we? Sometimes, it seems like the concept of beauty has been negatively embedded in us. While the concept of beauty is purely and universally subjective, we seem to have come to the conclusion that certain aspects of beauty are far superior to the rest. This creates an unhealthy discourse around beauty and more often than not, we forget to take care of the little things regarding us. In the pursuit of white skin tones, we forget to value our own skin tones that are perfectly natural and beautiful. By following gold, we leave diamonds behind. And as you might have heard the popular saying -- all that glitter is not gold. Speaking of skin tones, every one of us can polish and brighten them. This doesn't mean that your skin tone will suddenly evolve into a much brighter skin tone. Instead, there are ways to bring out the shiny and glossy skin tone of your face.
This can be done so using our BIOAYURVEDA Vitamin C Face Lifting Gel. It is loaded with natural and organic ingredients that work together to bring out a brighter and firmer skin tone. It is really good for your skin as it helps reduce fine lines, wrinkles, face marks, spots, and much more. It has properties that you are bound to fall in love with. So, why don't you include this wonderful skincare item in your inventory now?
BIOAYURVEDA Vitamin C Face Lifting Gel is an exotic fusion of natural and organic ingredients like Aloe Vera, Gooseberry, Lemon, and Wheat Germ Oil that are mixed together to give your skin a much smoother and richer skin tone. It is a result of bringing out the true potential of your skin. It contains antioxidant properties that prevent early signs of ageing. This face gel helps reduce fine lines, wrinkles, face marks, and spots, shrinks big pores, and heals saggy skin. More so, it prevents breakouts and balances oiliness.
Vitamin C gel for face is an organic product that brings out the best in you. It is the best Ayurvedic solution for many skin problems that you might encounter. More so, not only is this vitamin C gel for face devoid of side effects, but it is also an efficient way to help support the longevity of your skin. Nothing can be better than the combination of natural herbs that help your skin heal and grow.
Benefits
Richer & Smoother Skin Tone
The main benefit of applying this face gel on your skin is that it brings out a richer and firmer skin tone of your face. It is done via natural means and is not harmful.
Prevents Breakouts & Balances Oiliness
As a preventive measure, it helps get rid of breakouts and it helps balance oiliness as well. This makes your face free of unwanted problems and makes it appear much more beautiful.
Antioxidant & Healing Properties
Vitamin C Face Lifting Gel can be used to heal fine lines, wrinkles, face marks, spots, saggy skin, enlarged pores, and spots. Moreover, it has antioxidant properties that help prevent early signs of ageing.
INGREDIENTS
Amla
Amla, or Indian Gooseberry, are berries that are grown on a tree that goes by the same name. They've been in use for hundreds of years and are immensely rich in Vitamin C, even more than oranges. They help ease digestion, increase immunity, support the health of your eyes, and control diabetes.
Aloe Vera
Aloe Vera, or Kumari, is a thick plant that looks like a plant. Aloe Vera has been widely used to treat skin conditions and promote healing. It is known to be quite effective in dealing with acne, burns, and other skin blemishes. Moreover, it also helps with weight loss and diabetes.
Lemon
Lemons are sour fruits that are very rich in Vitamin-C. They contain a lot of fiber and other nutrients. Lemons are known to support heart health, help main body weight, and contain a good amount of iron that can help counter deficiencies.


BIOAYURVEDA is a visionary holistic luxury brand in health and wellness offering completely natural and organic products.
Manufactured By:
Arganshe Private Limited
Address:
11/2, BADARPUR BORDER, Faridabad, Haryana, 121003