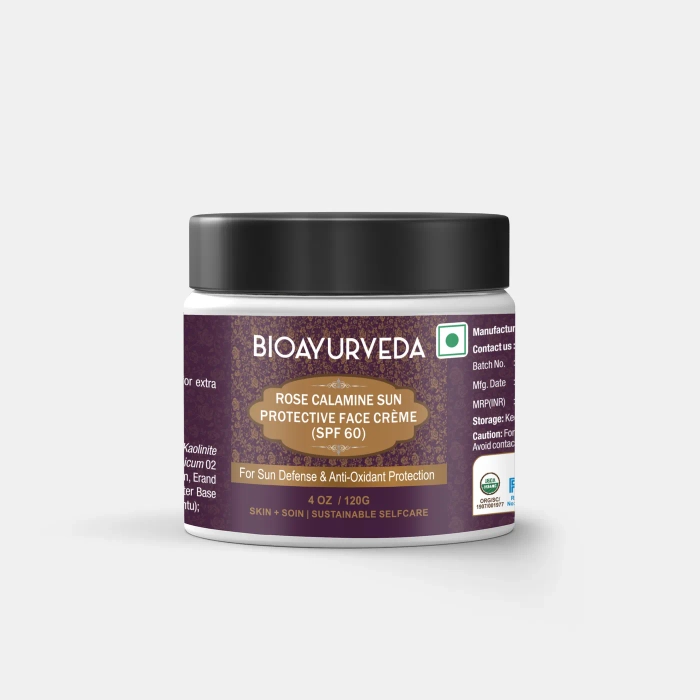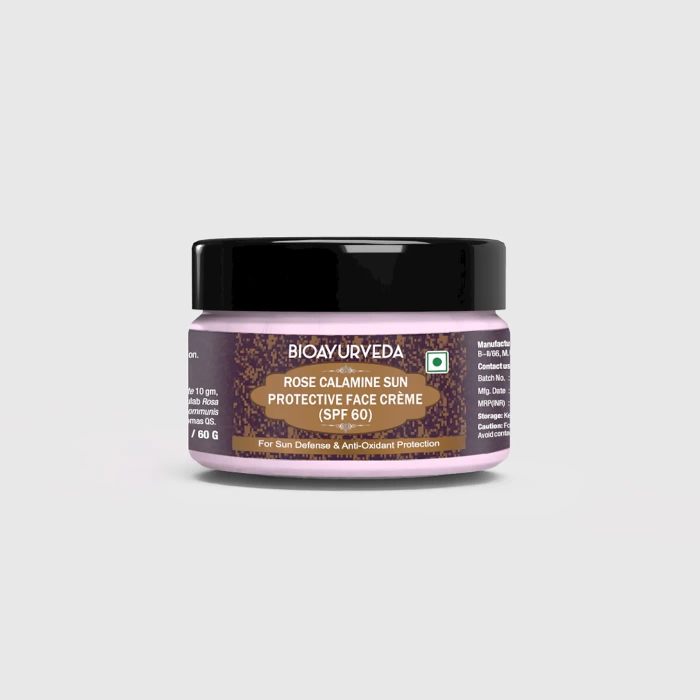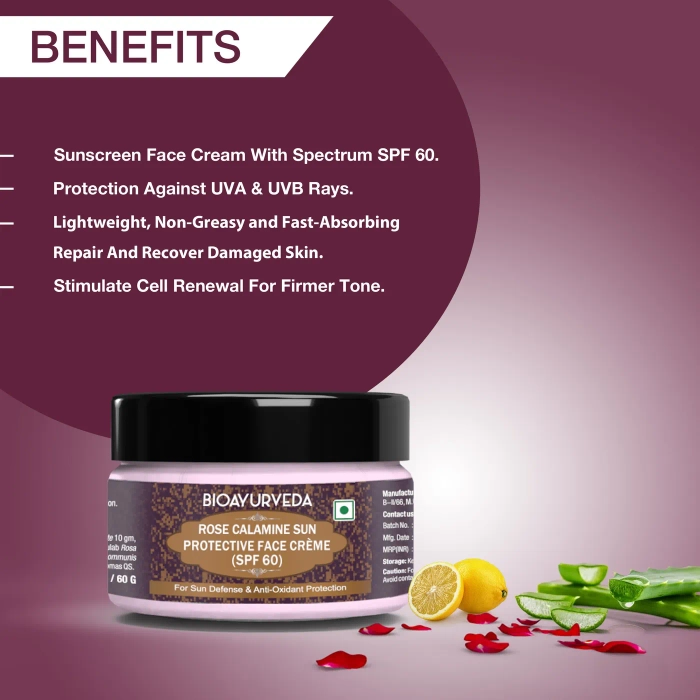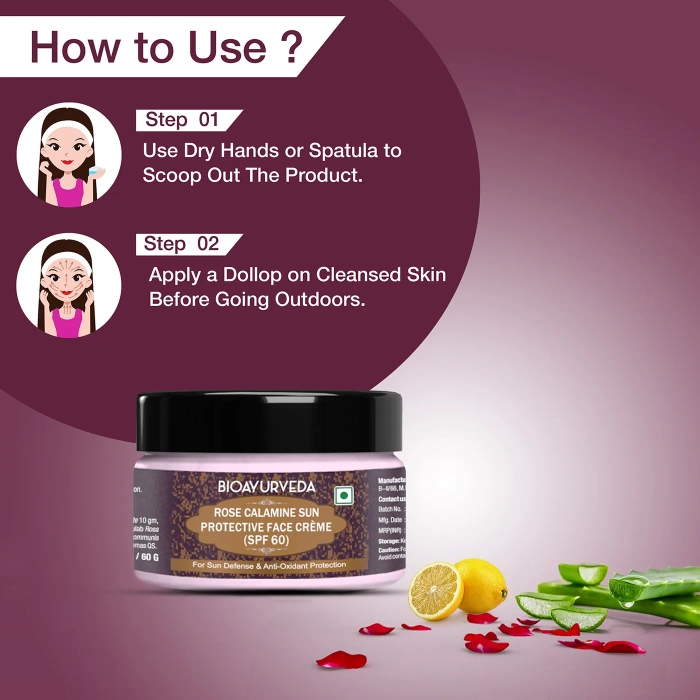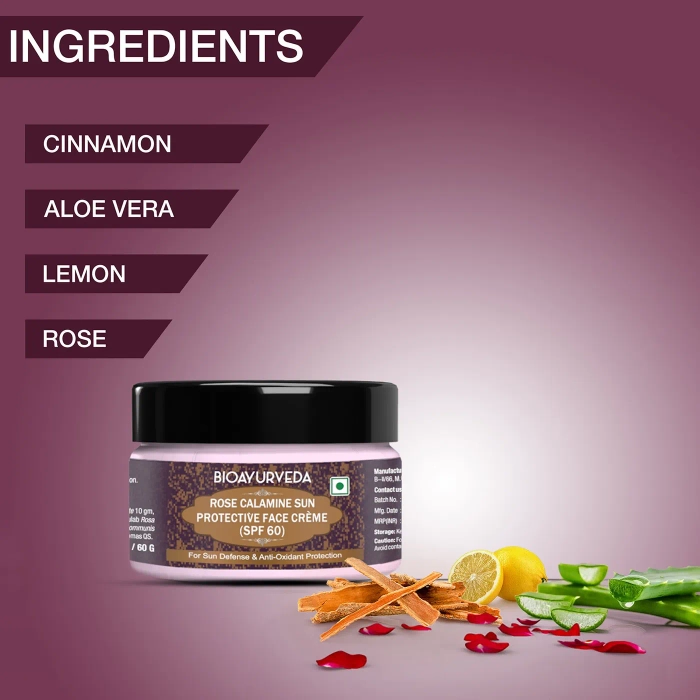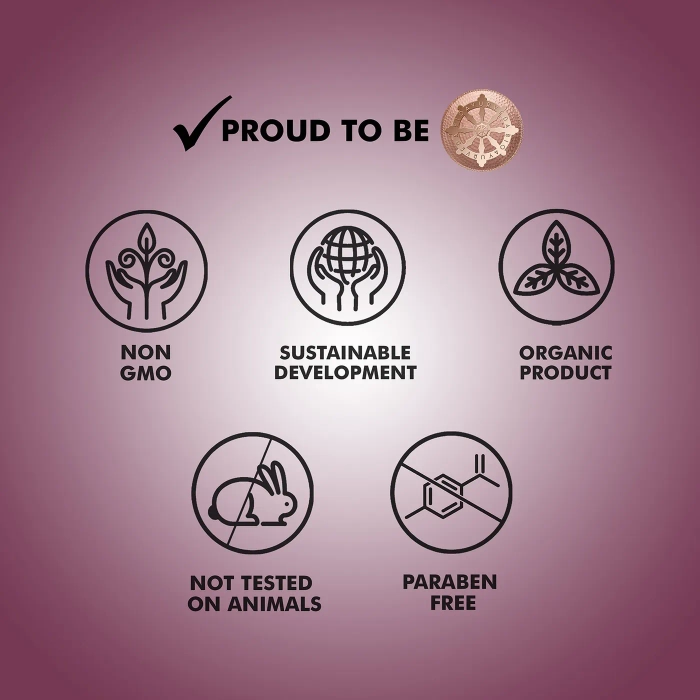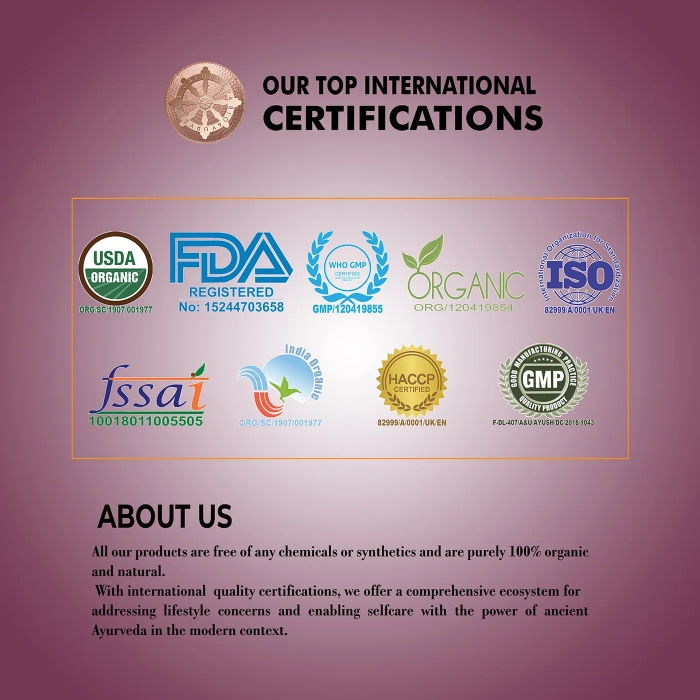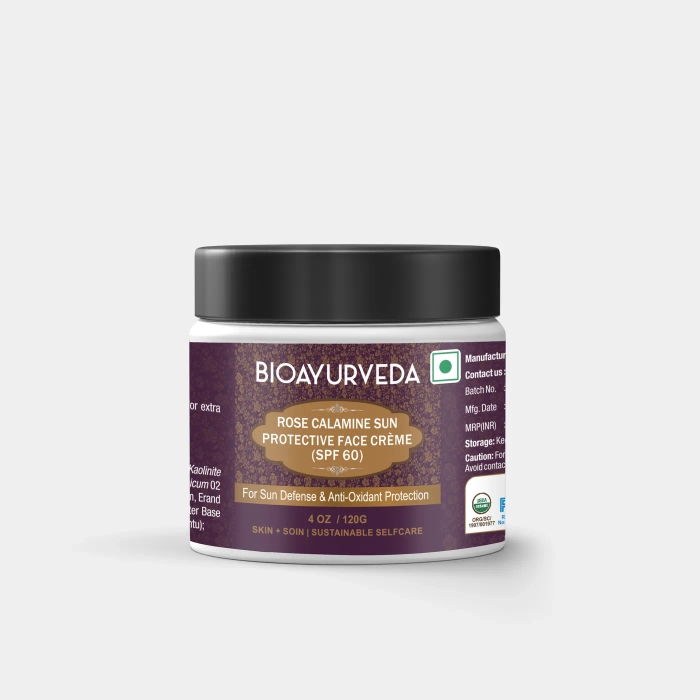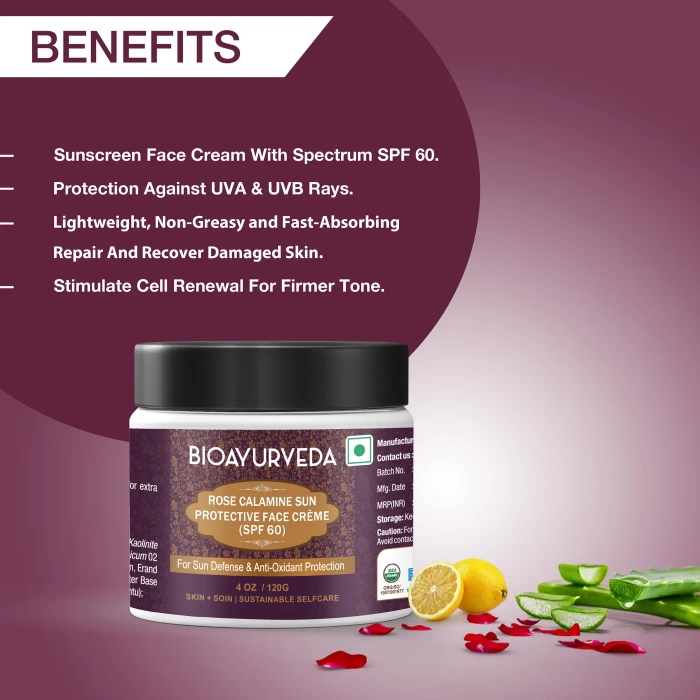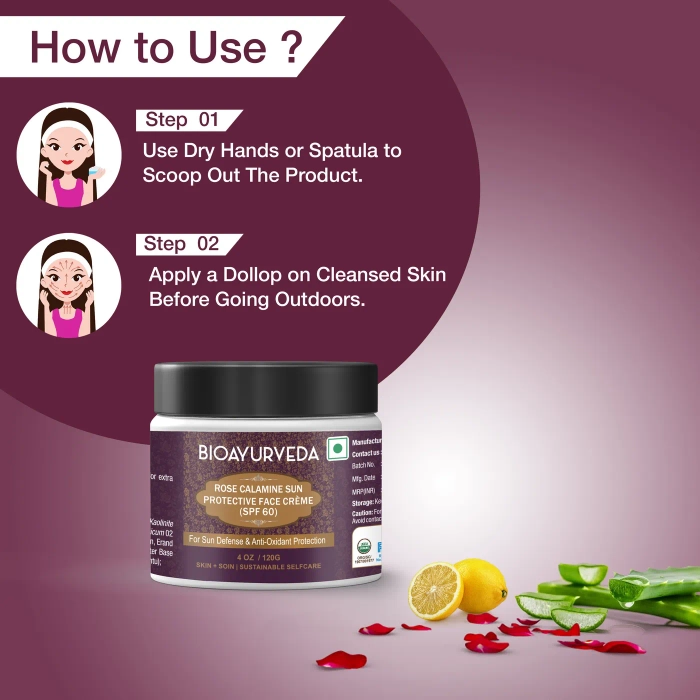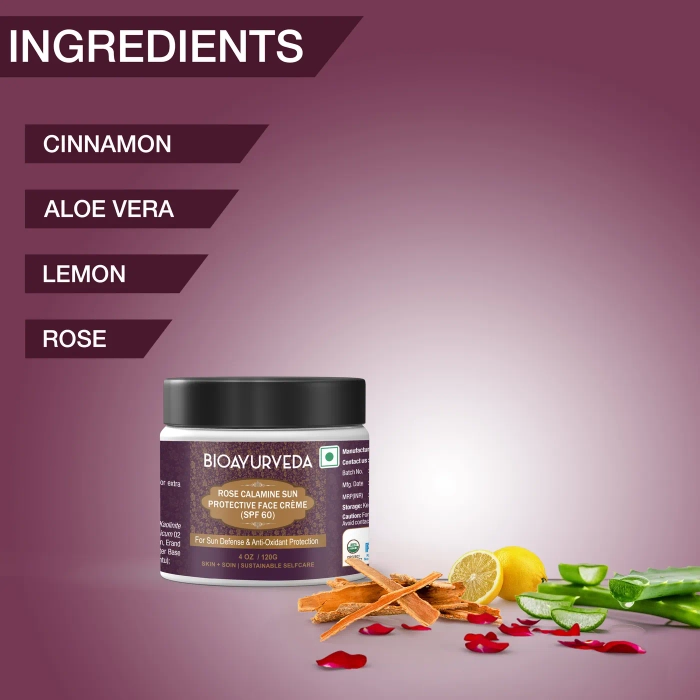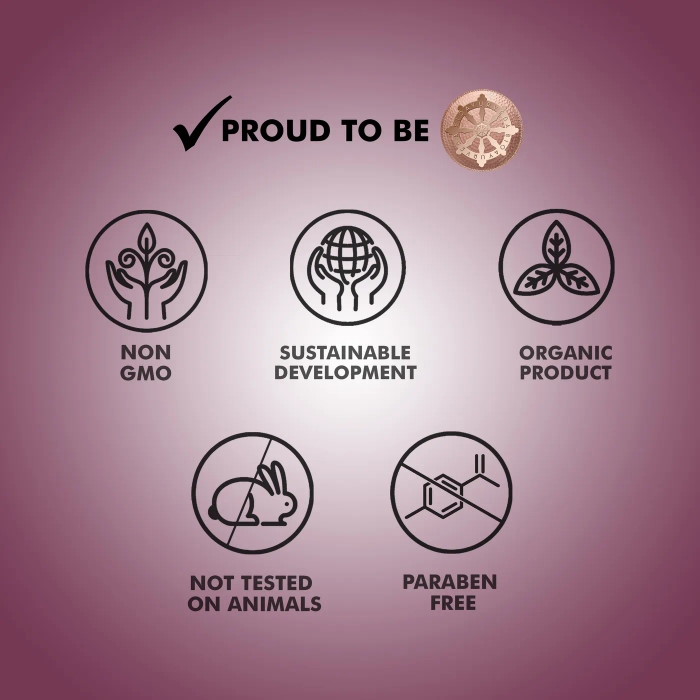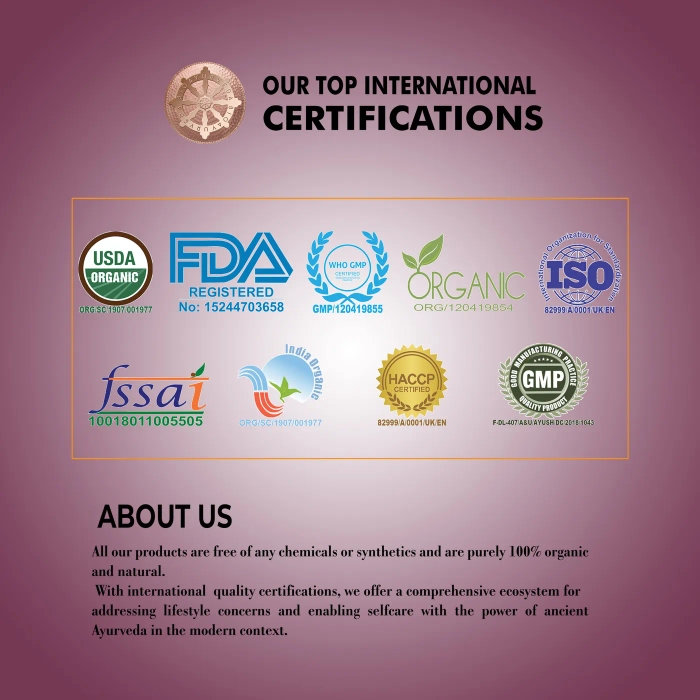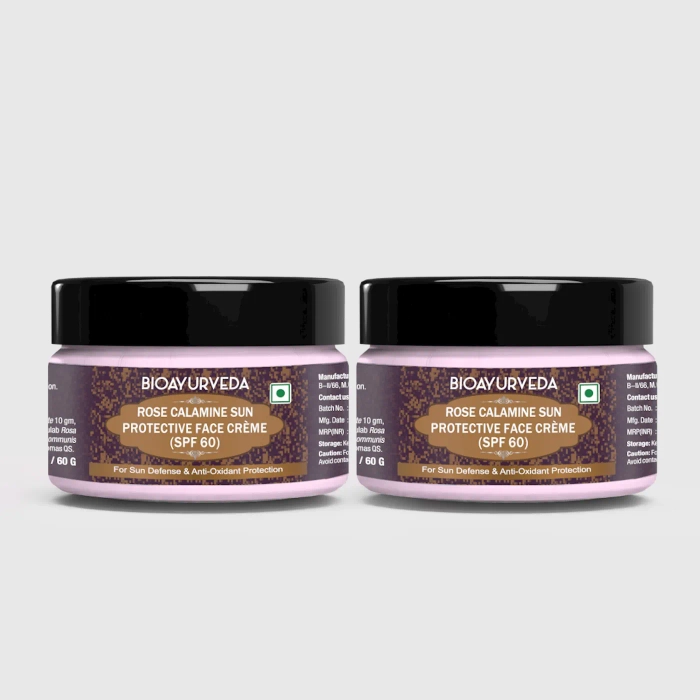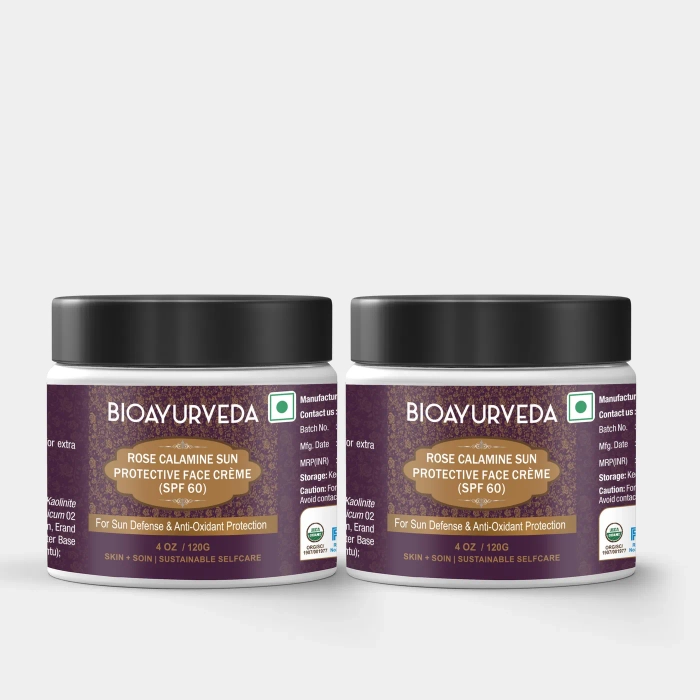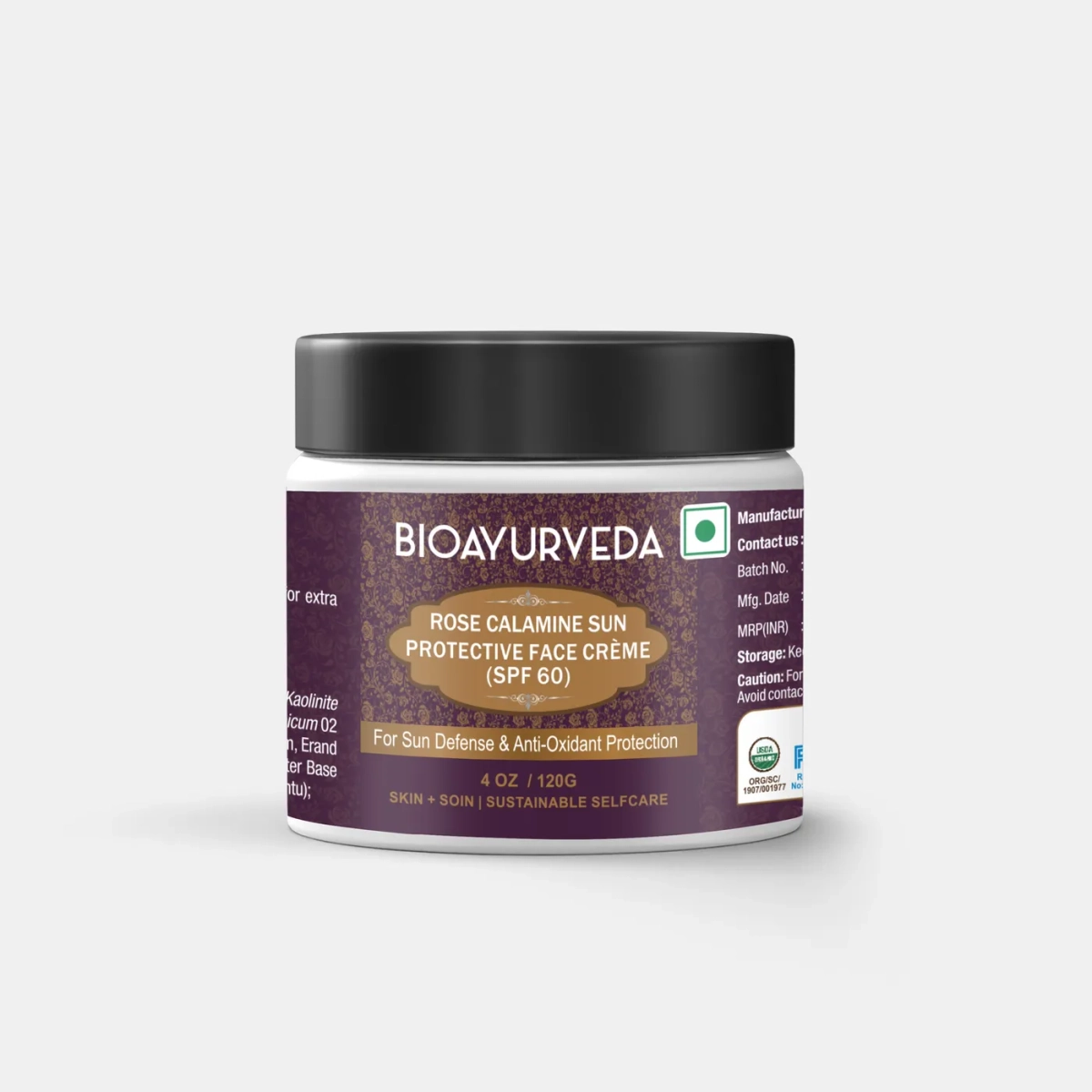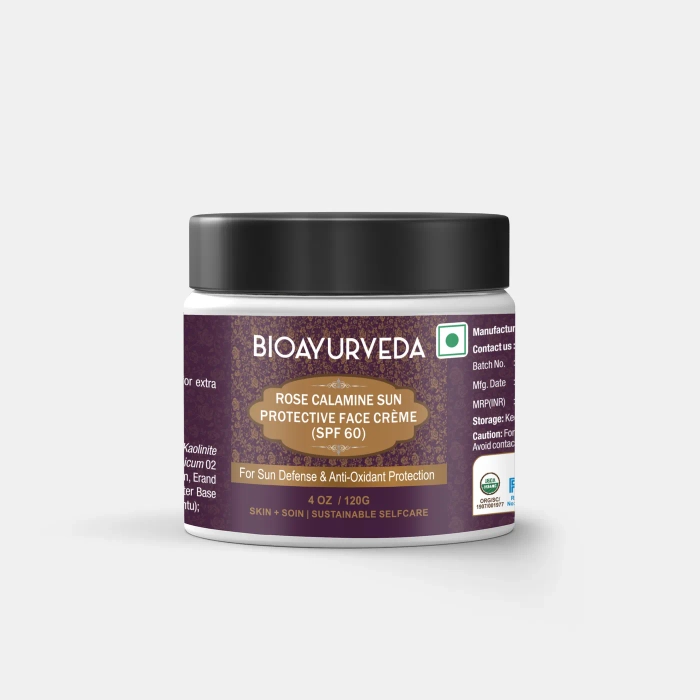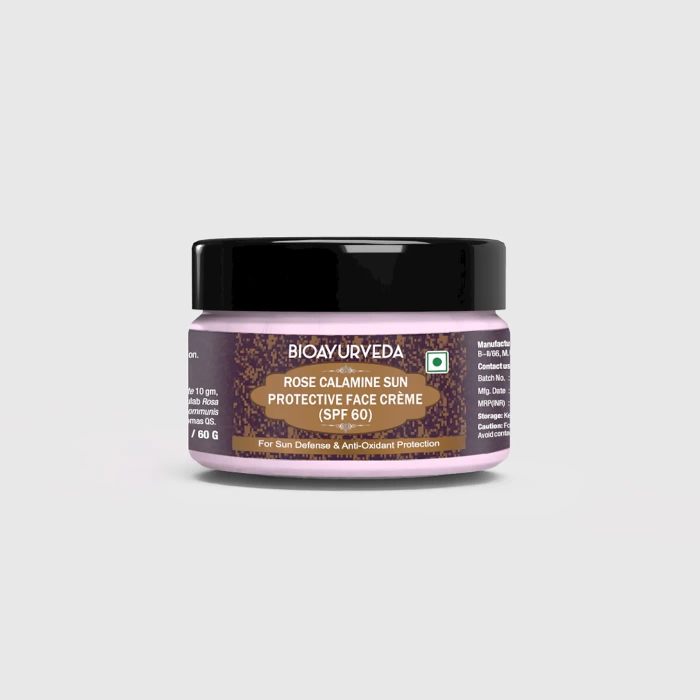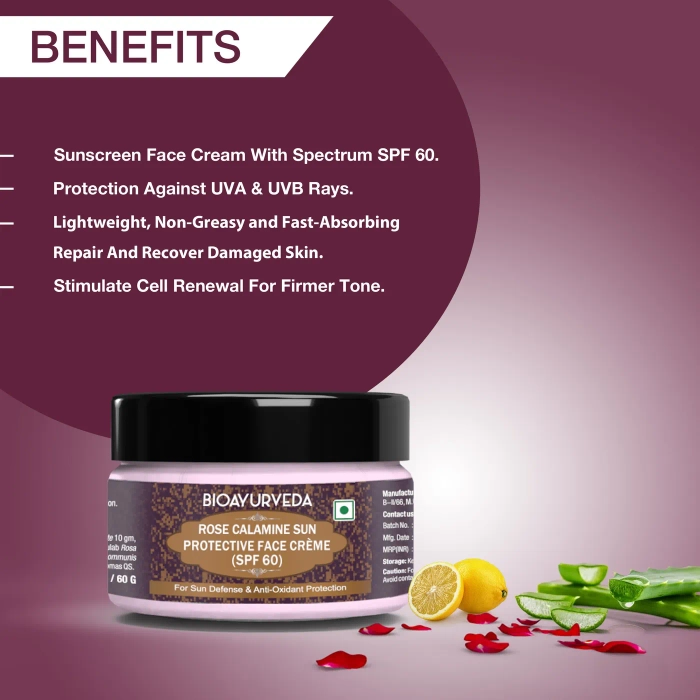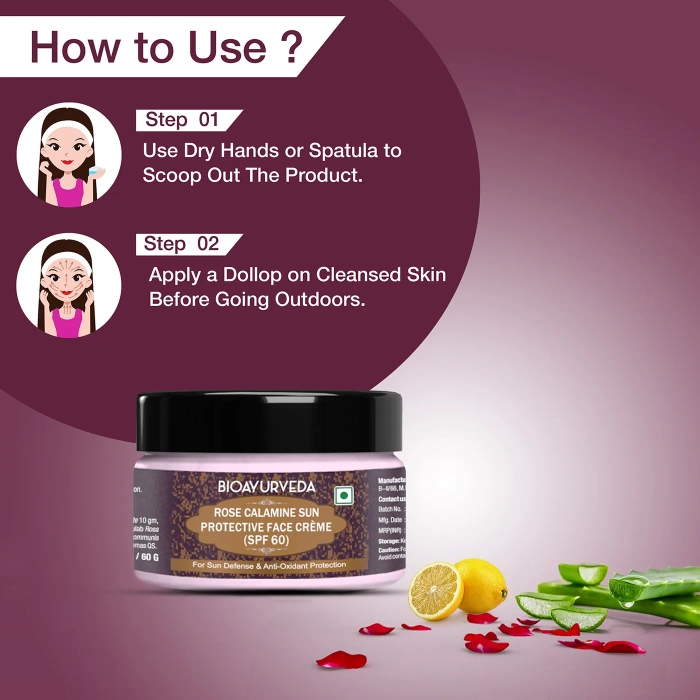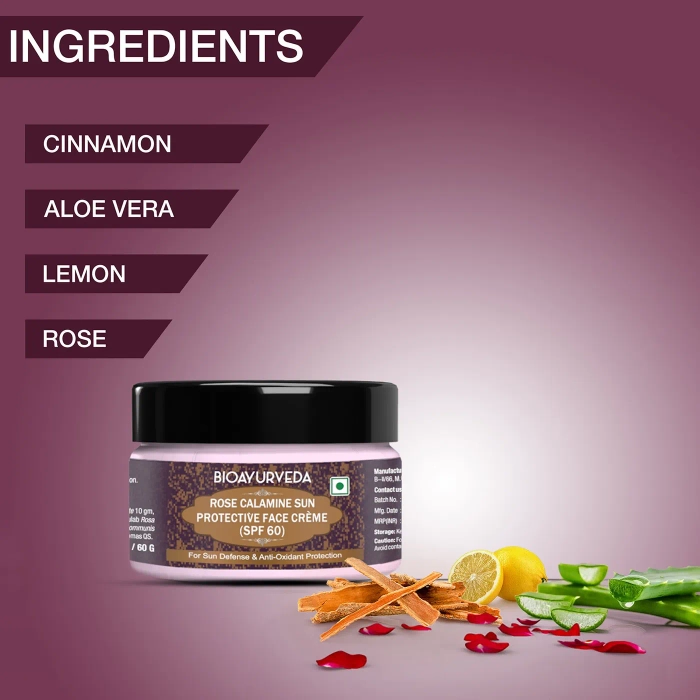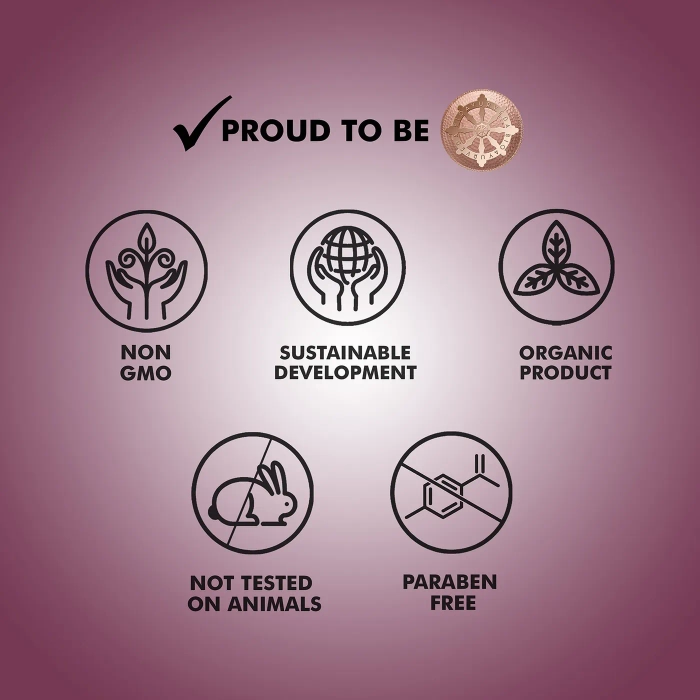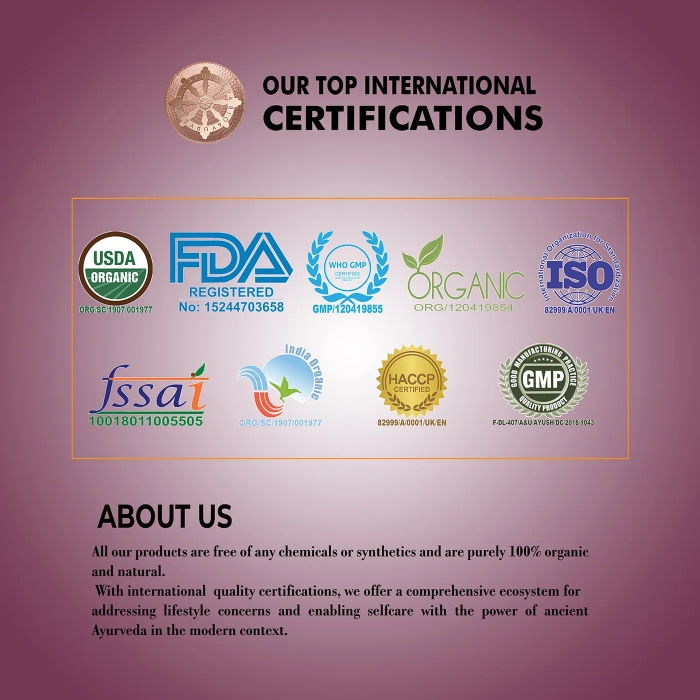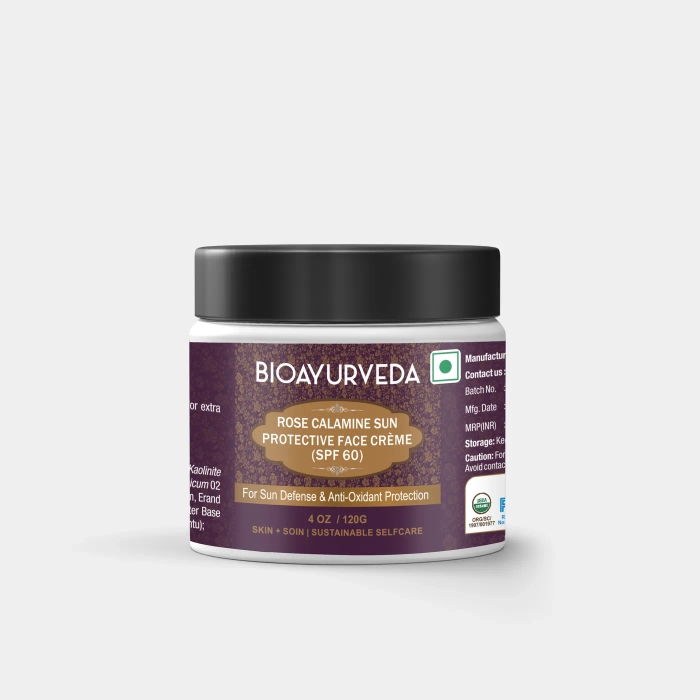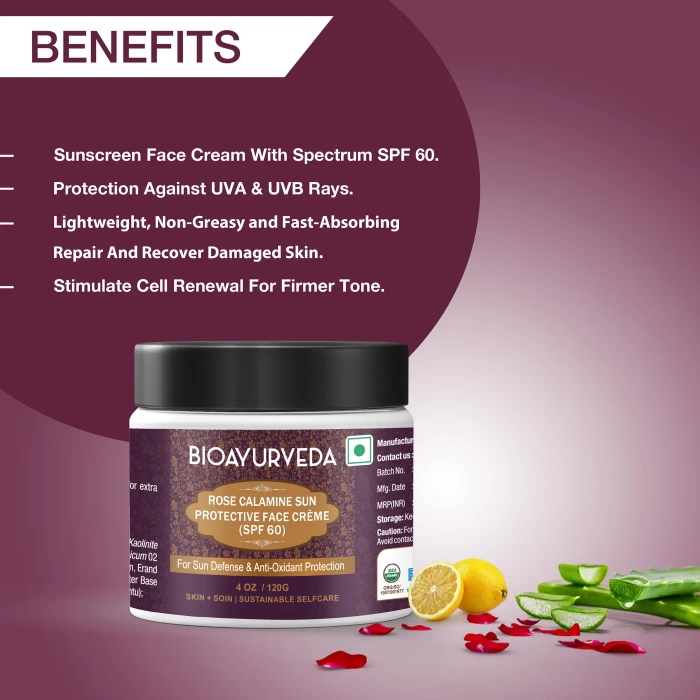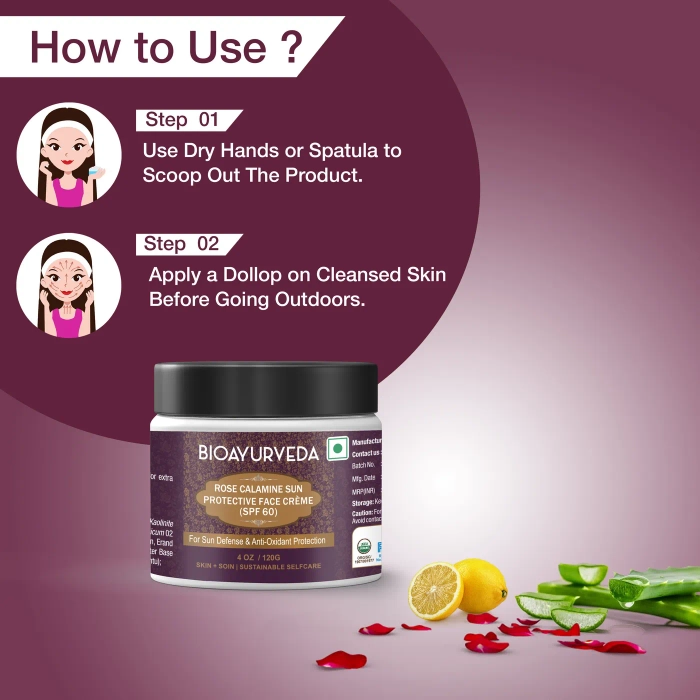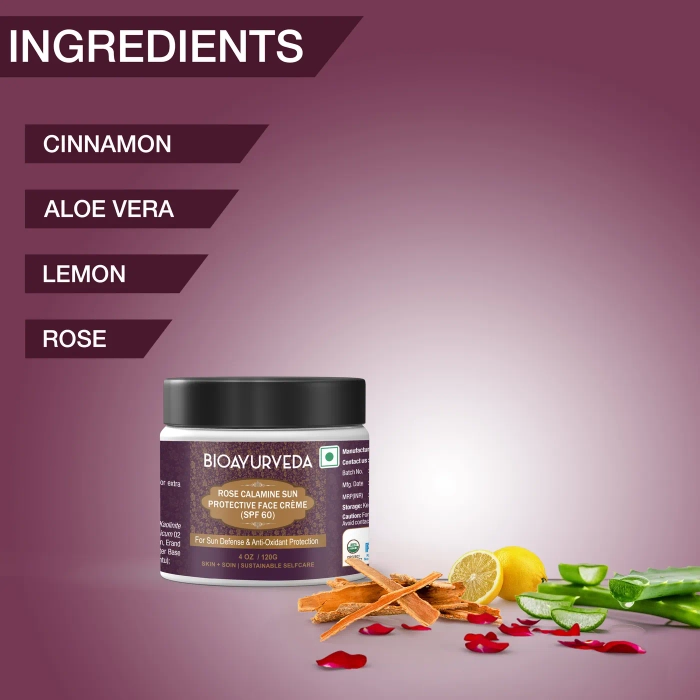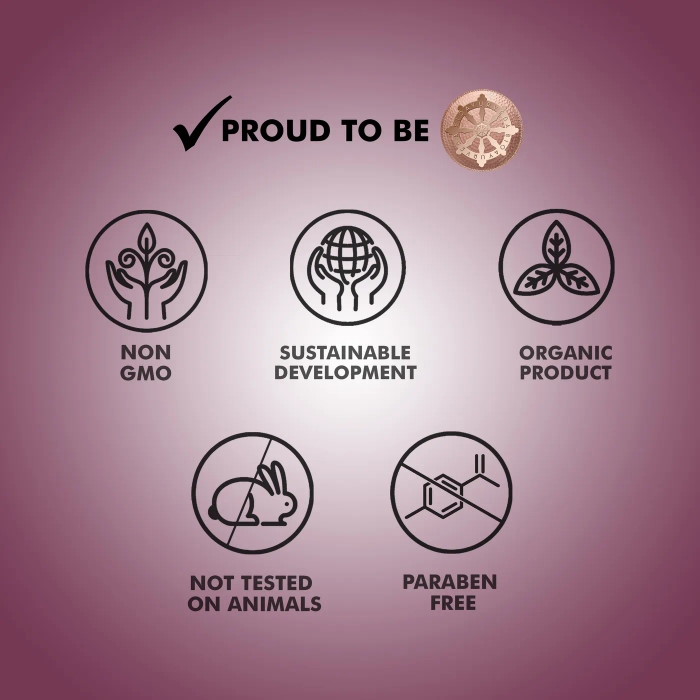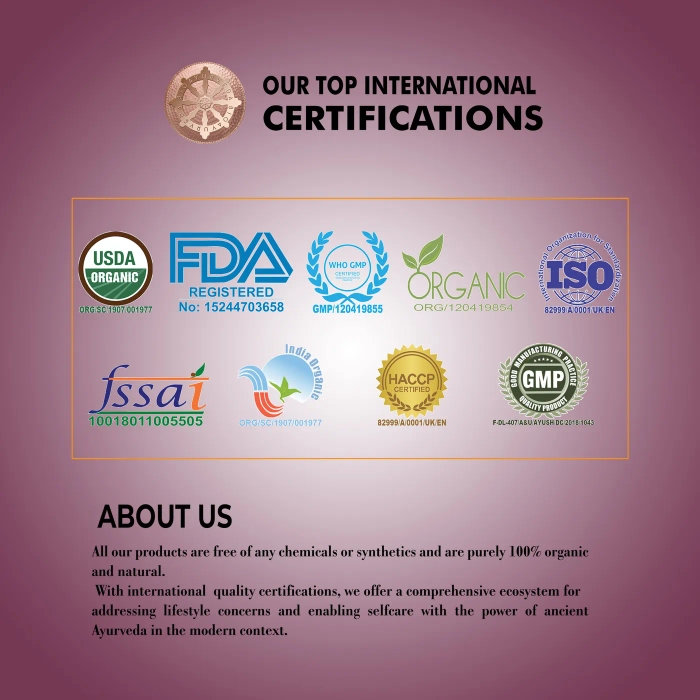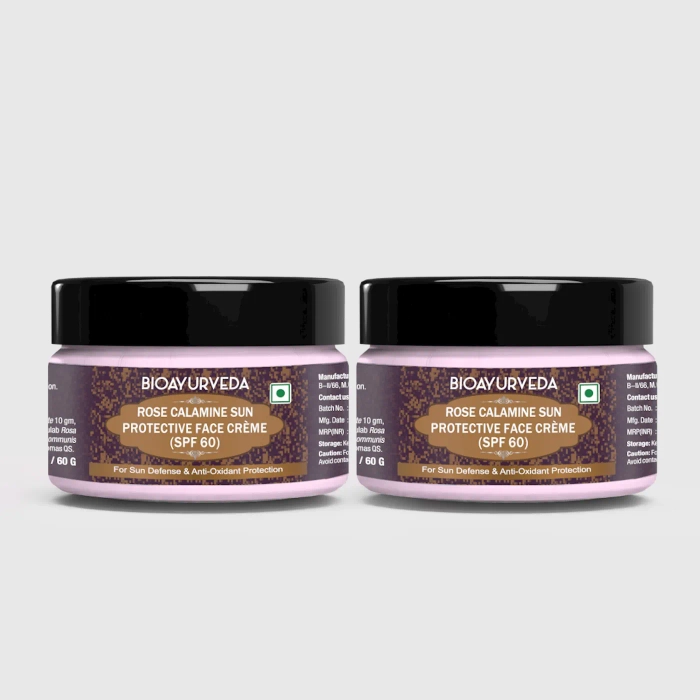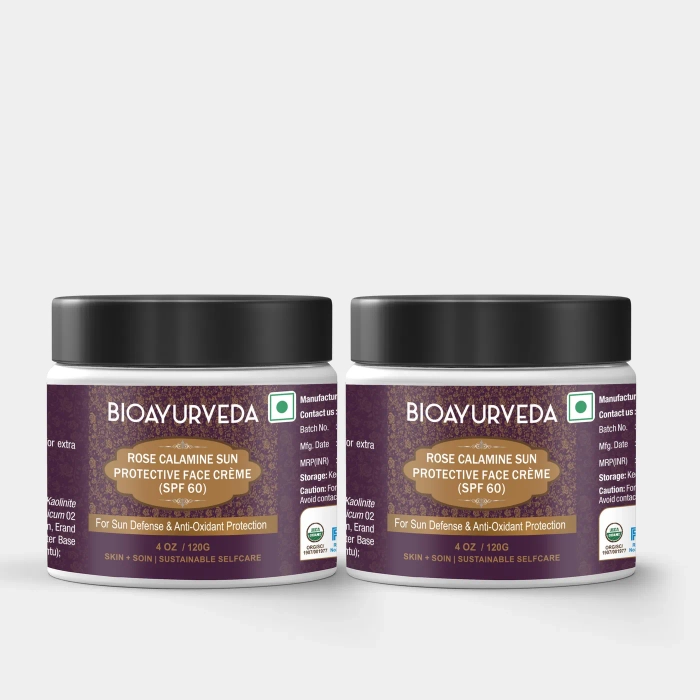 ROSE CALAMINE SUN PROTECTIVE FACE CREME (SPF 60)
Description
ROSE CALAMINE SUN PROTECTIVE FACE CREME (SPF 60) is a unique blend of organic herbs, along with vital essential & natural oils that care for the skin as a natural sunscreen, blocking out harmful UV rays with a protective barrier. It also promotes repair and recovery of damaged skin, enabling healing and stimulating cell renewal for firmer tone and luminescence.
HOW TO APPLY
Apply a dollop on cleansed skin before going outdoors. Reapply every four hours for extra protection. Use dry hands or spatula to scoop out the product.
Ingredients
Yashad Bhasma, Khatika, Kumari, Neem, Dalchini, Gulab, Nimbu, Wheat Germ Oil, Erand Oil
Product details
---
Facing the sun is something that is inevitable and has to be done. No matter how much we fear going out and exposing ourselves to the wrath of its heat, we have to do it. Unfortunately, the only thing that gets affected the most in this process is our face. Different skin types are sensitive to different stimuli but the sun is a constant obstacle to clear skin. Going out regularly causes tanning, dry skin, and many more problems depending on what your skin type is. More so, being in the sun for too long might cause prolonged stretching of blood vessels that results in a reddish appearance of your skin. Thus, it is quite important to take care of our skin and use the appropriate skincare creams. But, the good news is that you can prevent some of it and more with the best ayurvedic sunscreen for face. It is made out of organic and natural ingredients that help set up a protective shield for your face. It acts as a natural sunscreen like ultra violette spf that is not only efficient but also long-lasting. And the best part about our face cream is that it is suitable for all skin types. So, it does not matter what type of skin you have, you can apply this cream without the fear of side effects or other issues. Besides acting as a sunscreen, it has many other benefits that you can see for yourself. Our organic sunscreen (spf 60 sunscreen) is a worthy item to be in your skincare inventory!
 Rose Calamine Sun Protective Face Cream (SPF 60)
BIOAYURVEDA Rose Calamine Sun Protective Face Cream made out of natural and organic ingredients helps your skin stay safe and fresh when you go out in the sun. With its anti-inflammatory properties, this spf 60 sunscreen keeps your skin hydrated. It assists in the production of collagen and elastin. Additionally, it might also prevent premature ageing.
BENEFITS
Prevents Tanning
Acts as a sunscreen
Anti-Inflammatory
Premature Ageing of Skin
Protects against UV rays
UVB rays that cause sunburns and tanning.
Ayurvedic Formulation
Natural Sunscreen Ingredients
Suitable for all skin types
Chemical Free
INGREDIENTS


BIOAYURVEDA is a visionary holistic luxury brand in health and wellness offering completely natural and organic products.
Manufactured By:
Arganshe Private Limited
Address:
11/2, BADARPUR BORDER, Faridabad, Haryana, 121003