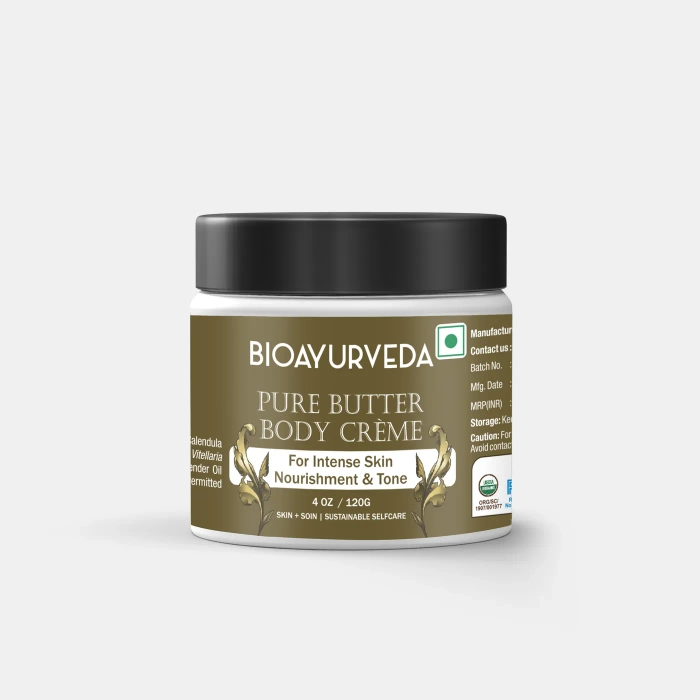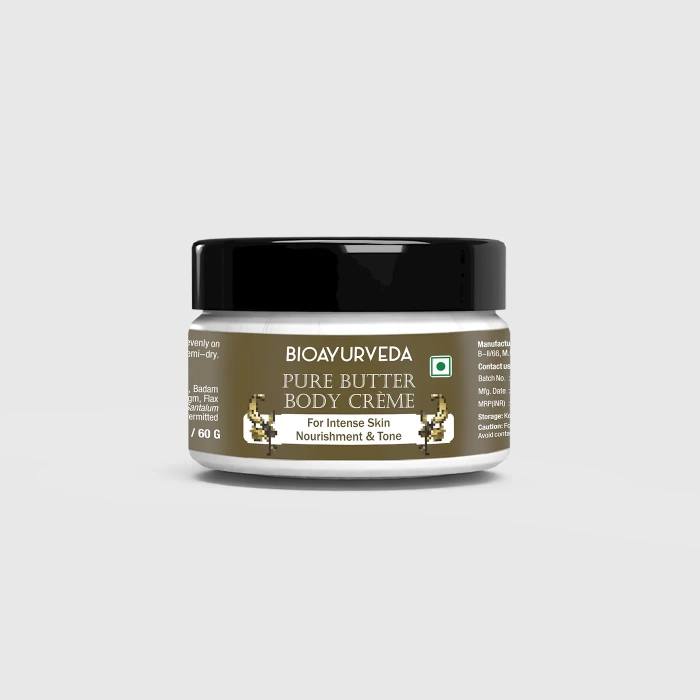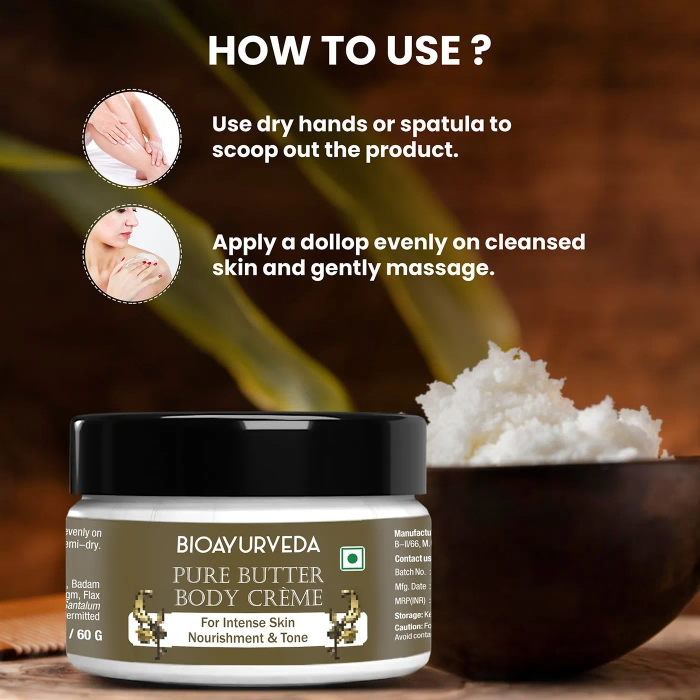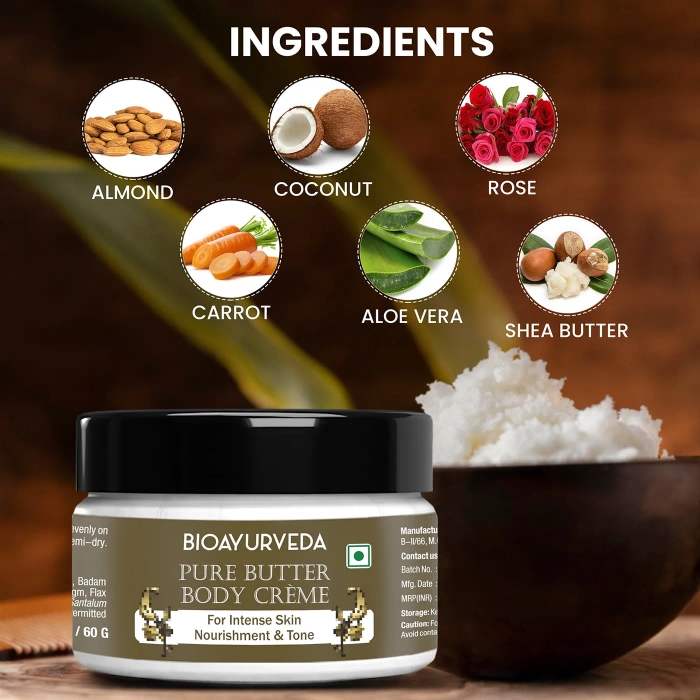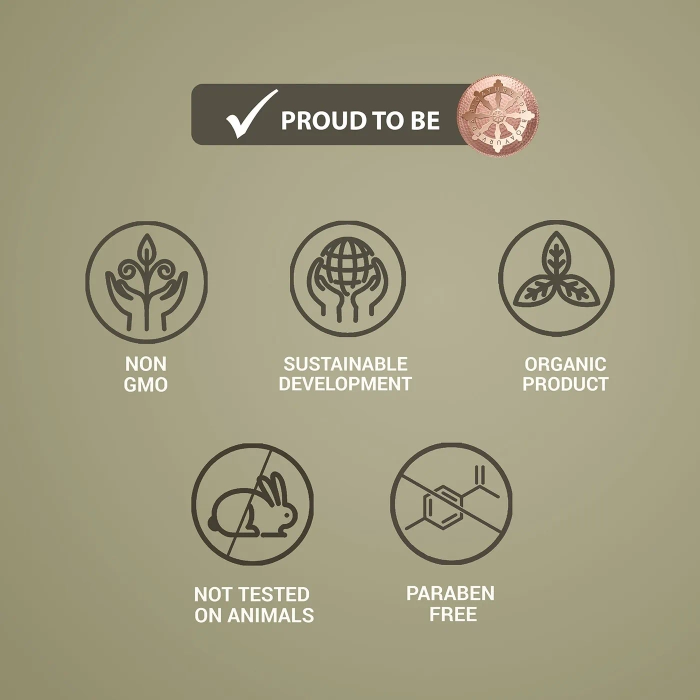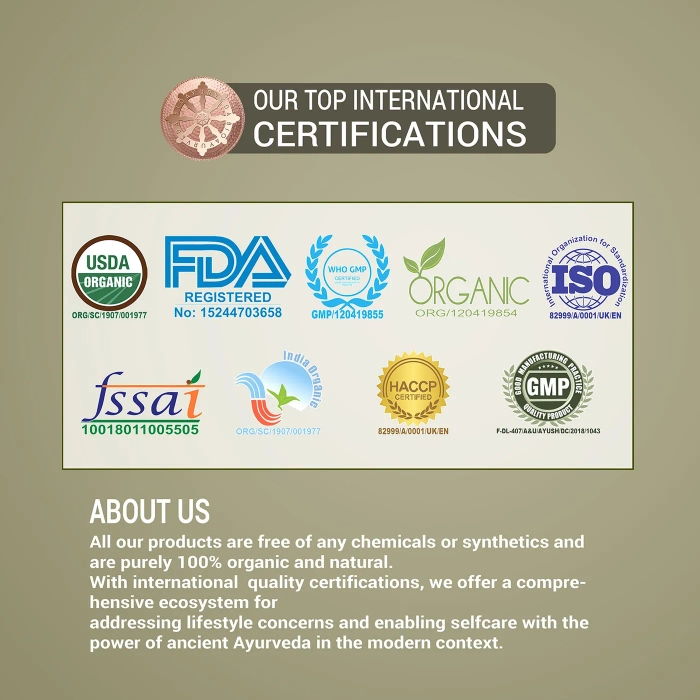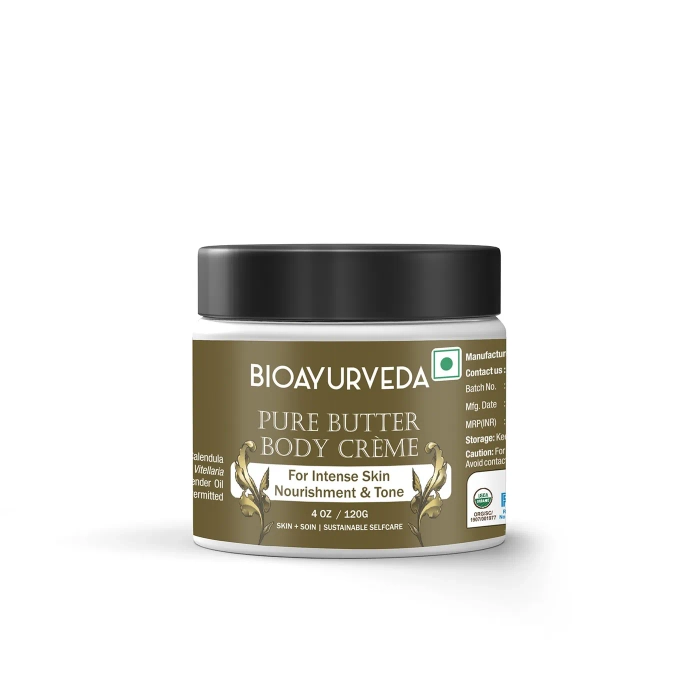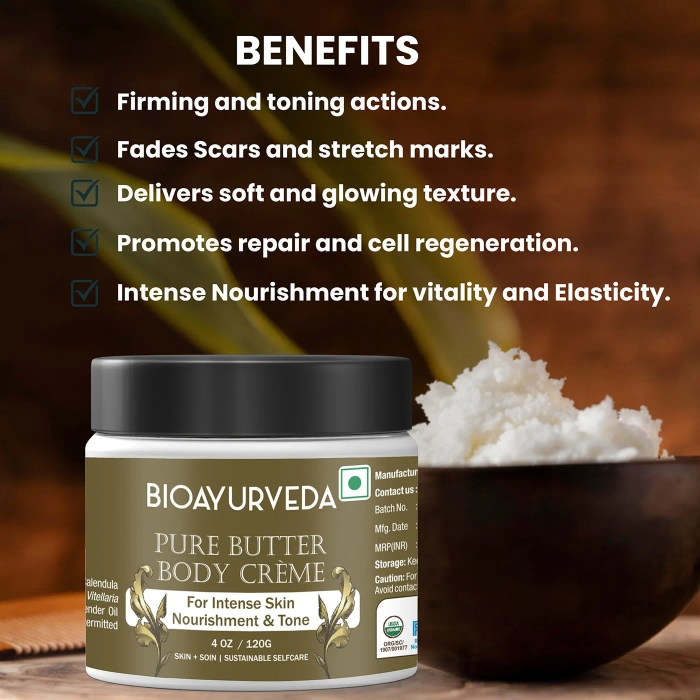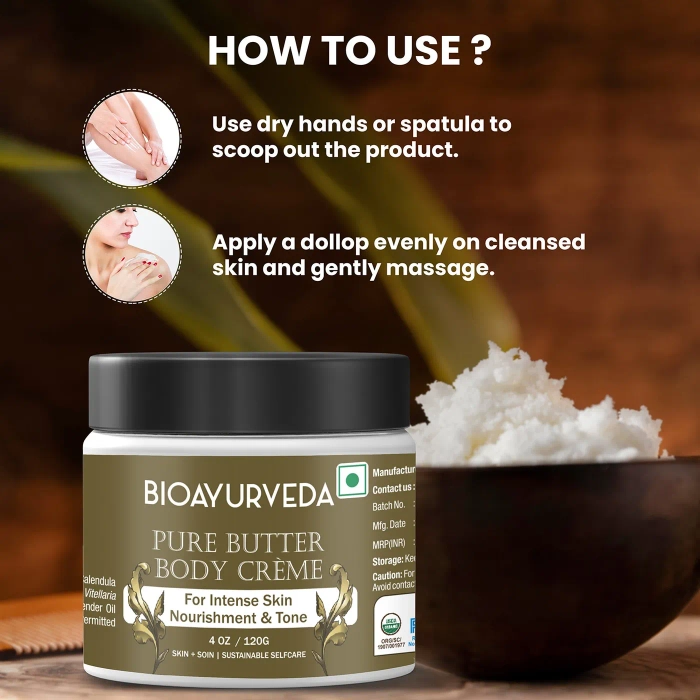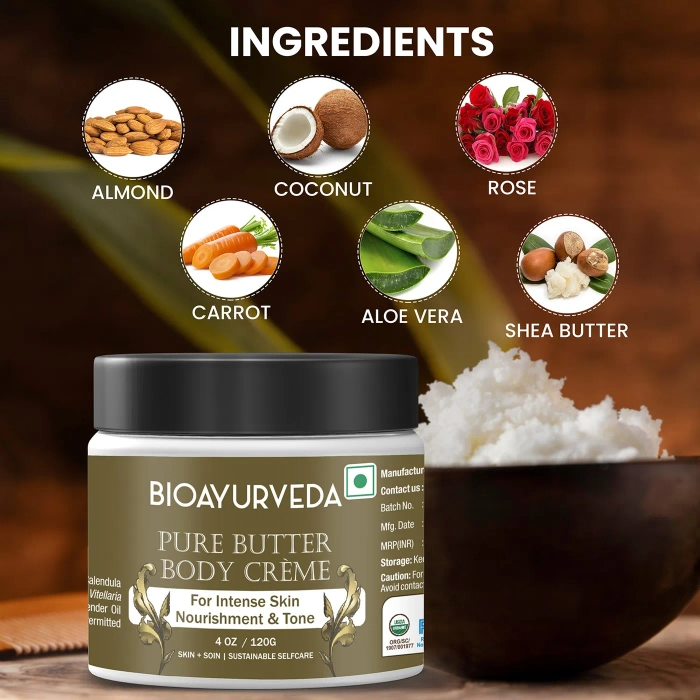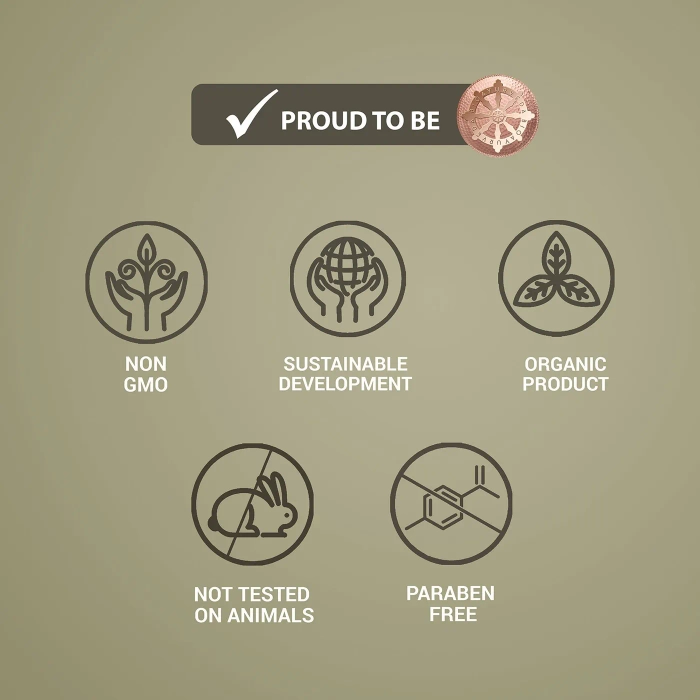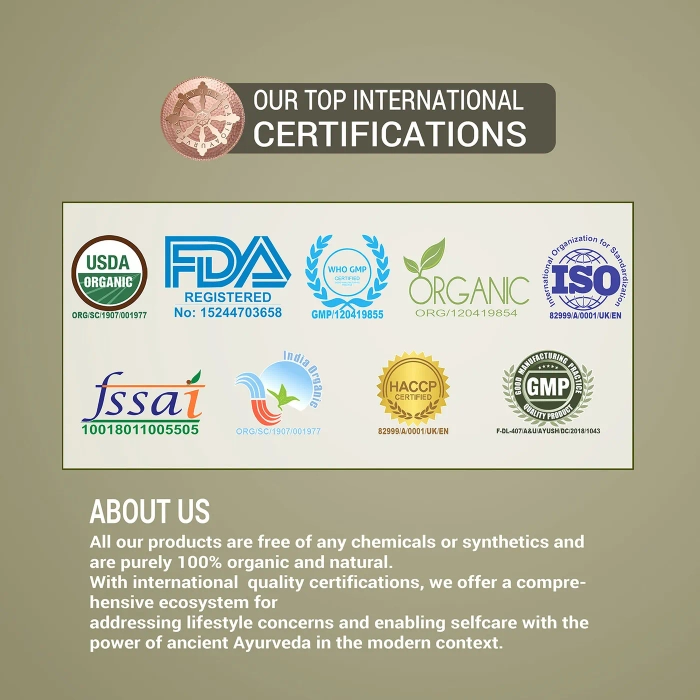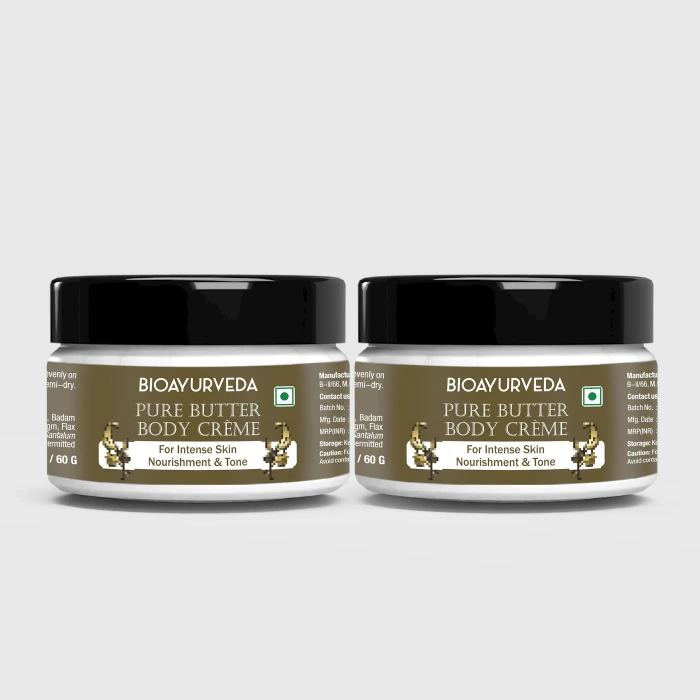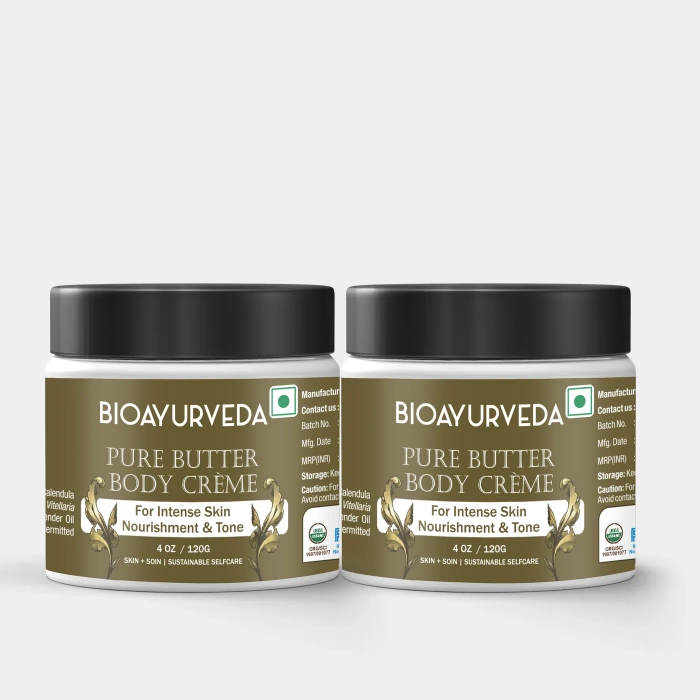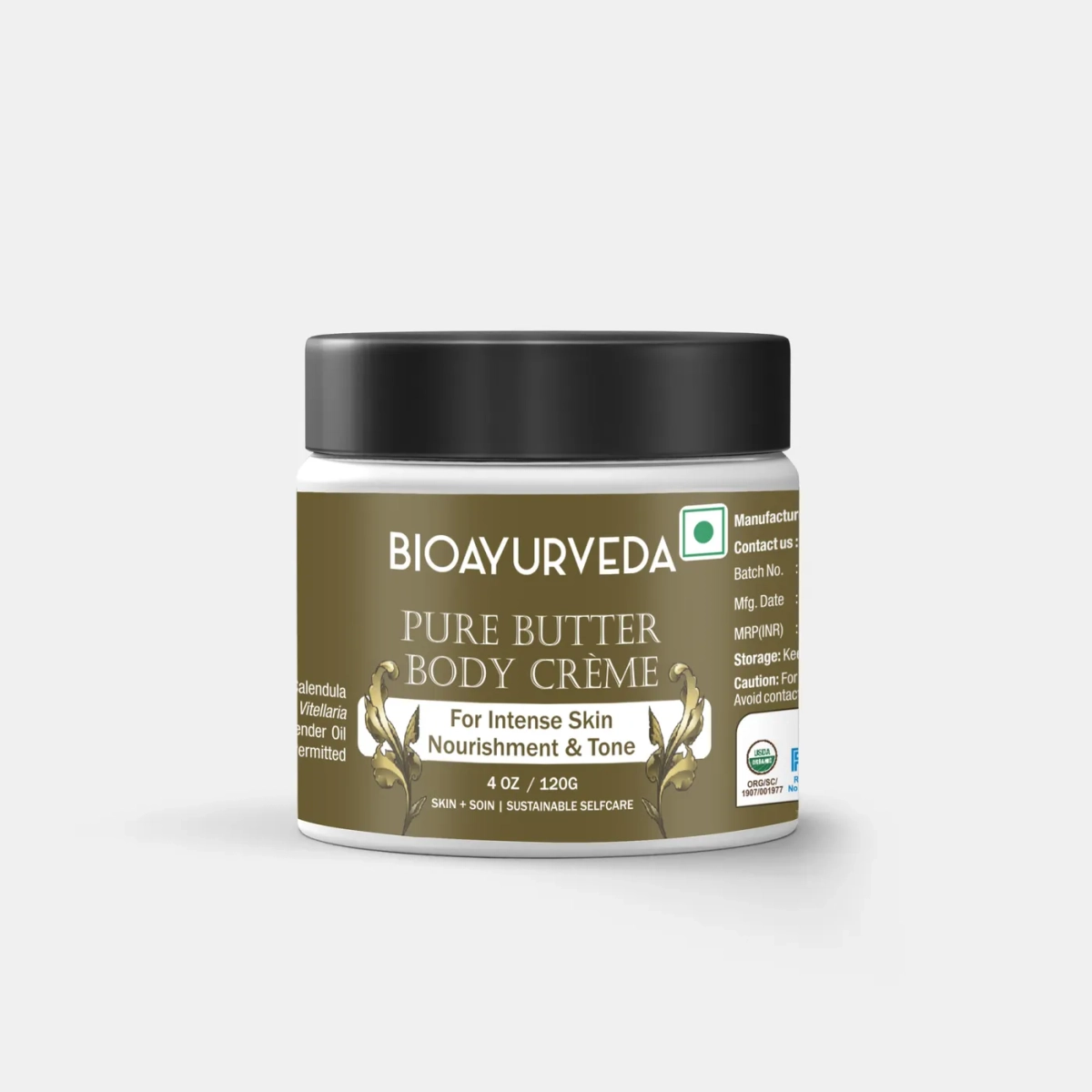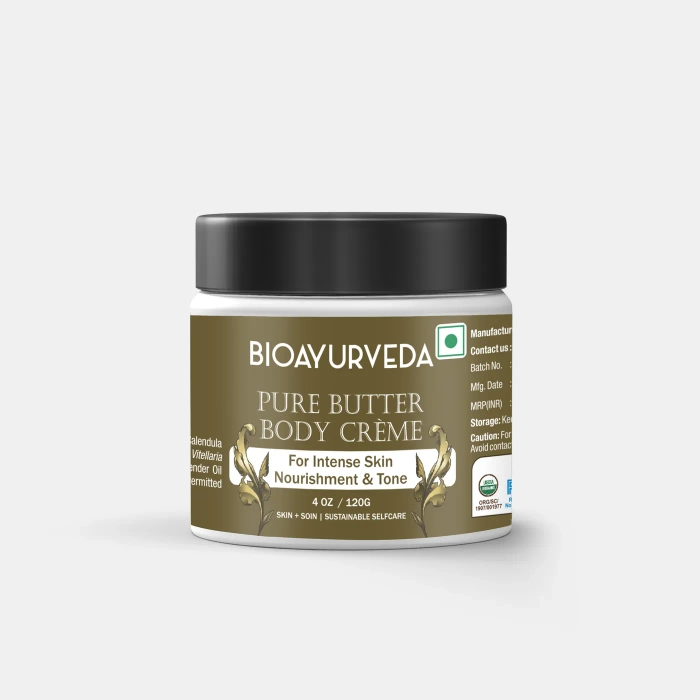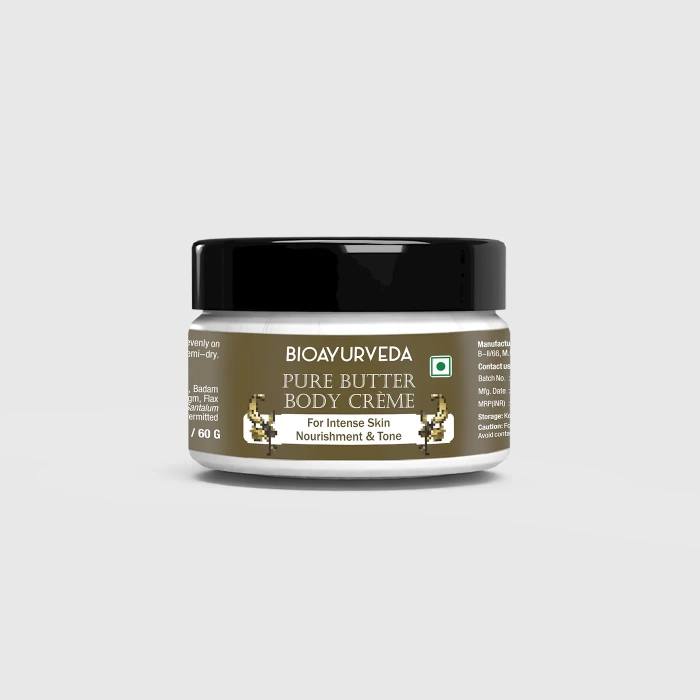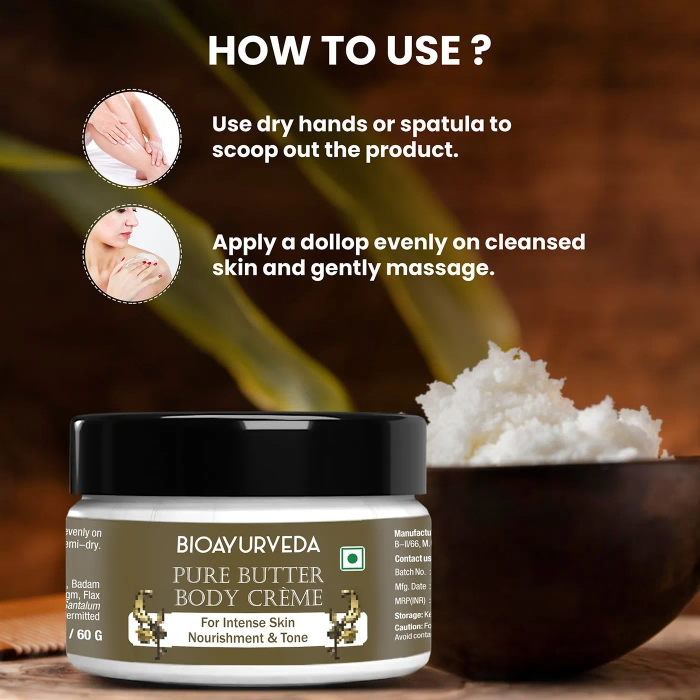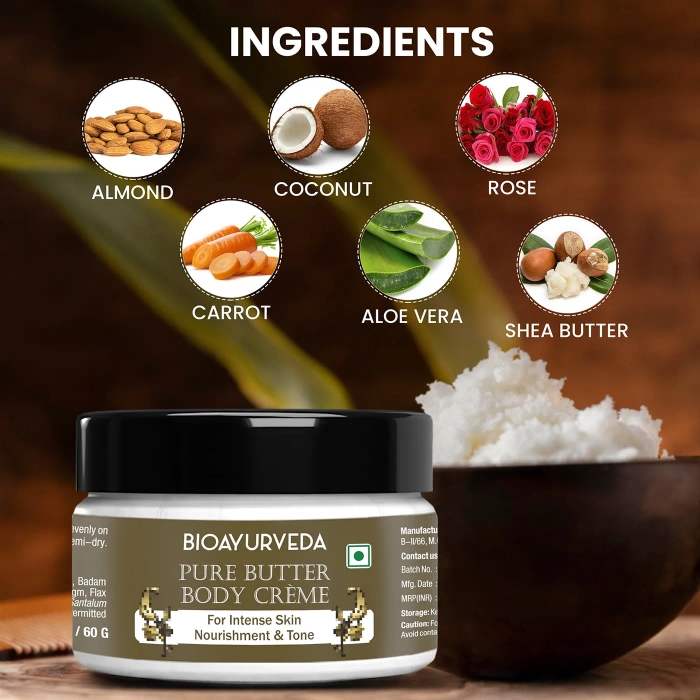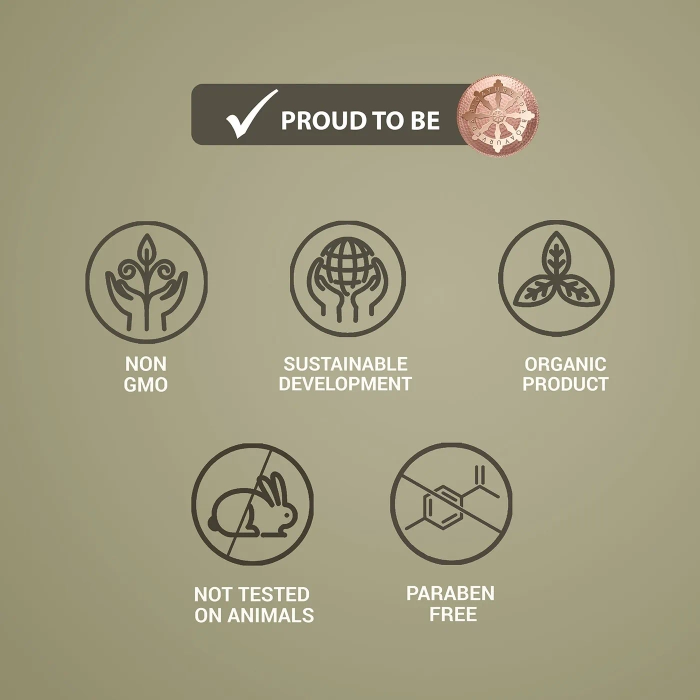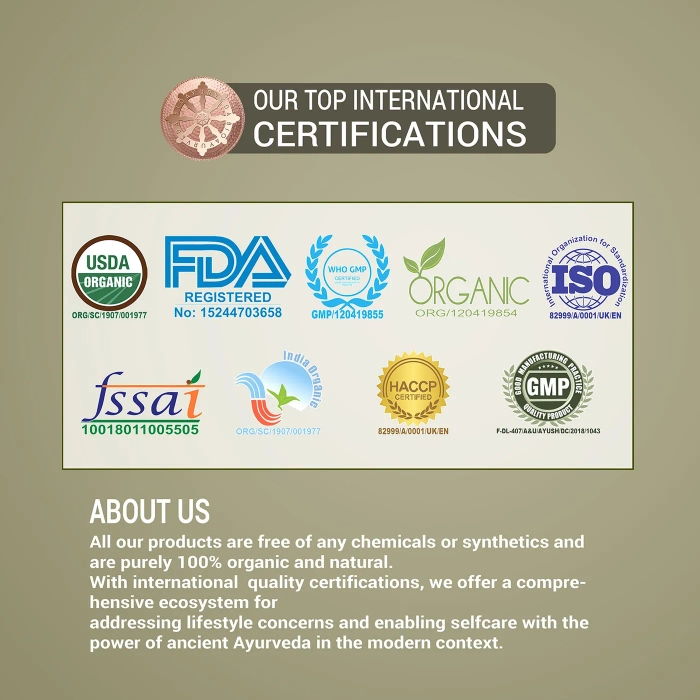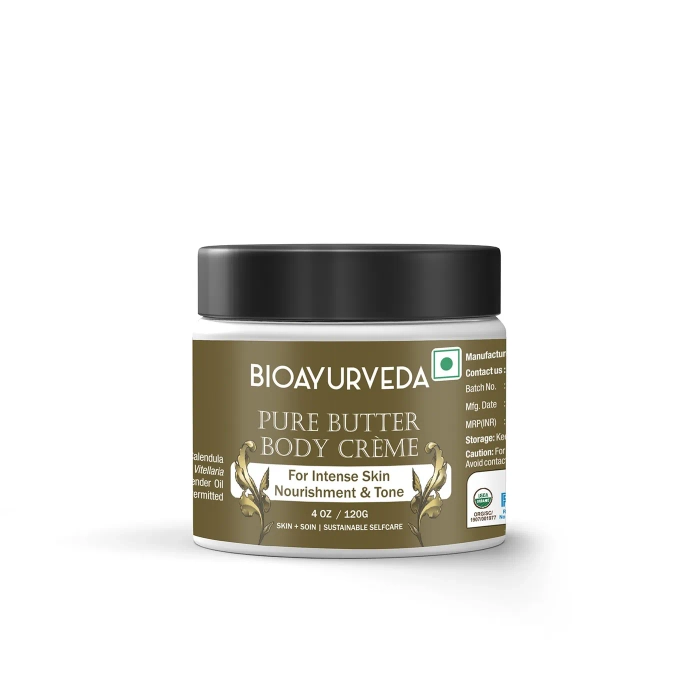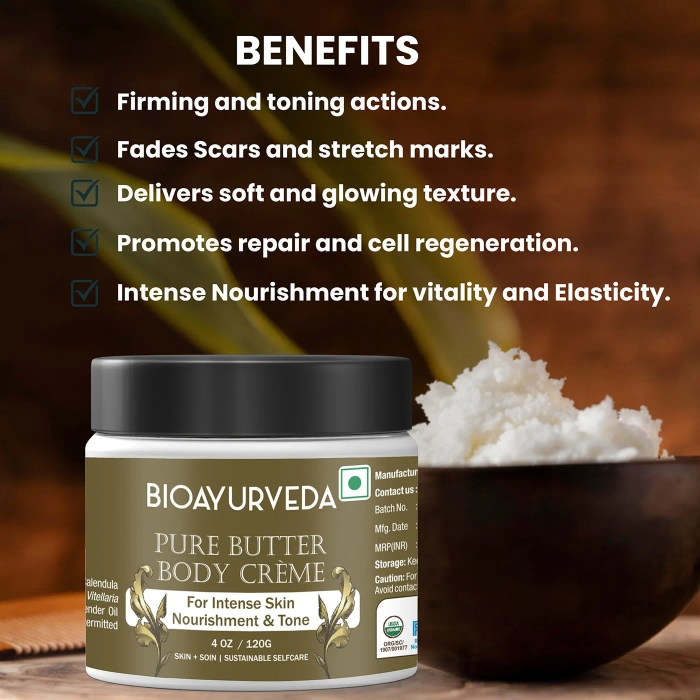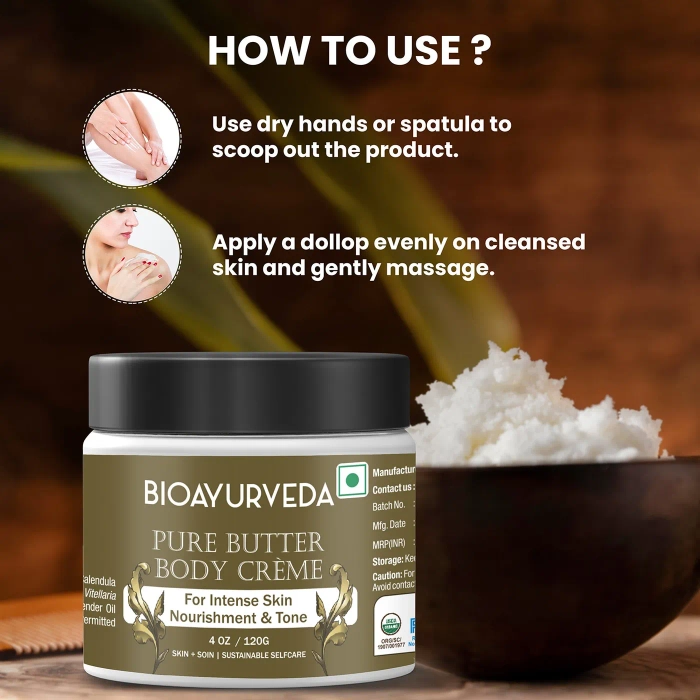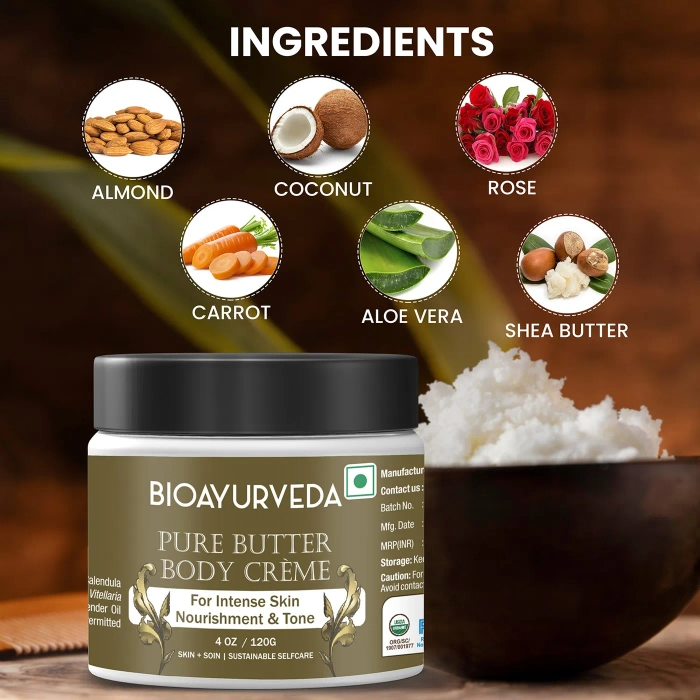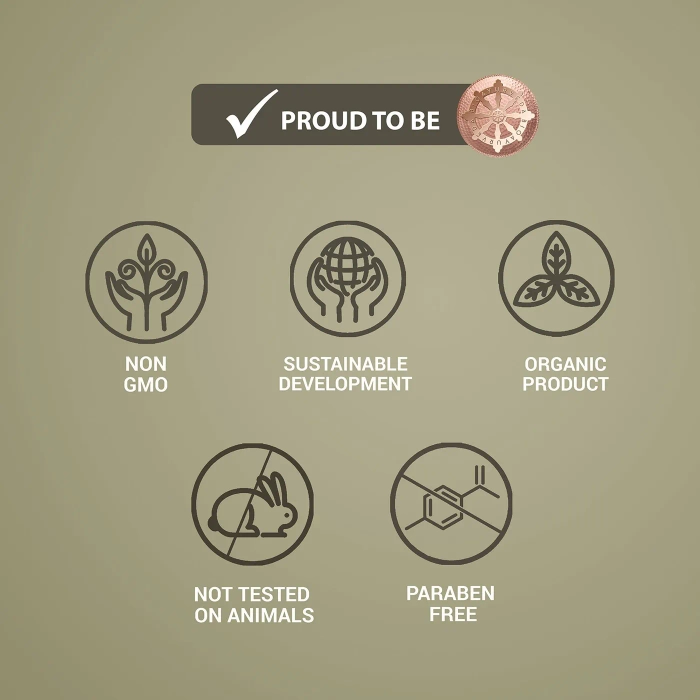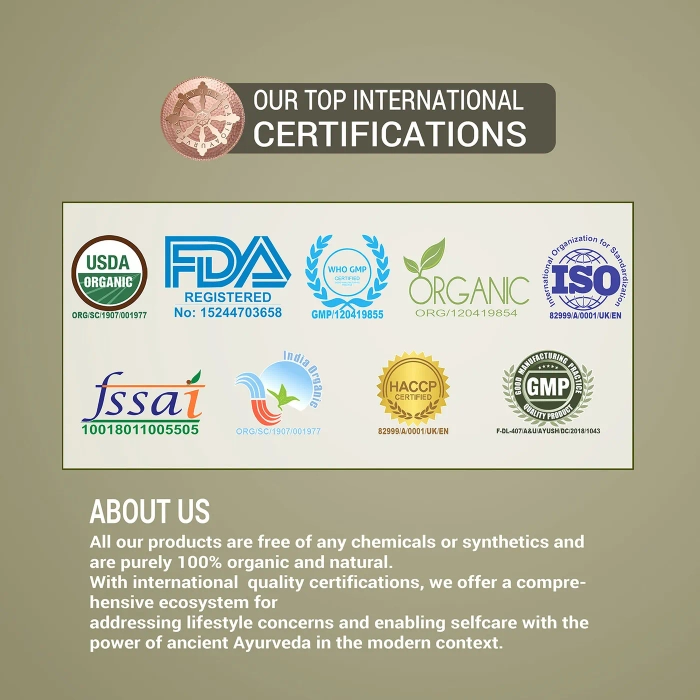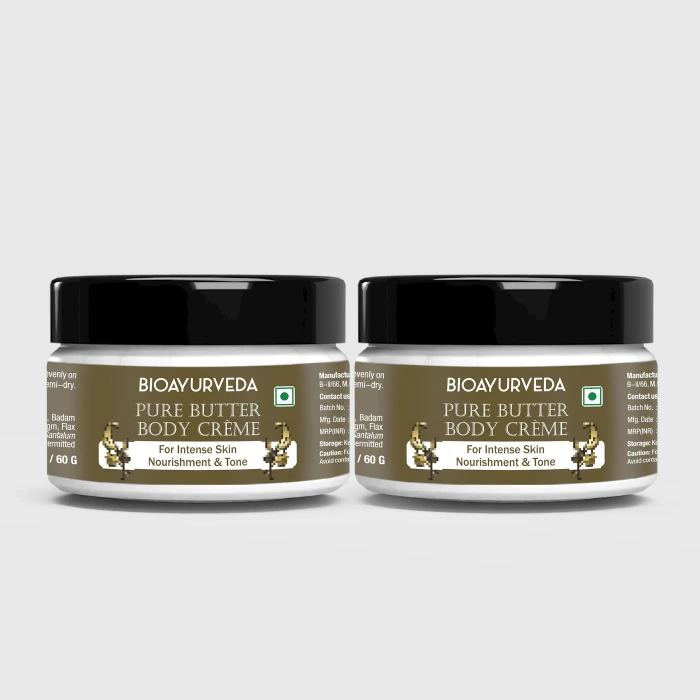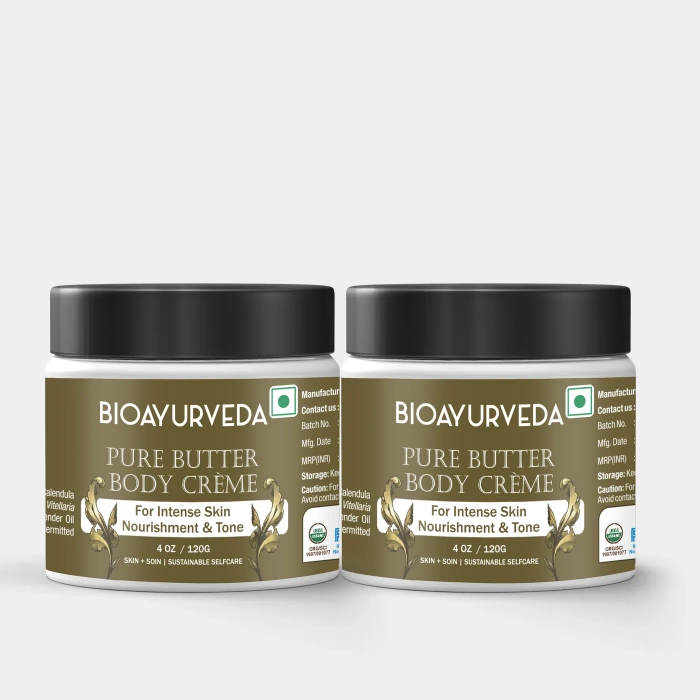 PURE BUTTER BODY CRÈME
Description
PURE BUTTER BODY CRÈME is a unique blend of organic herbs, along with vital essential & natural oils and pure shea and cocoa butter that is formulated for intense nourishment for lasting vitality and elasticity. It helps in skin repair and cell regeneration. It helps fade scars and stretch marks. It has a firming and toning effect. It has a soothing effect on sensitive skin.
HOW TO APPLY
Apply a dollop on cleansed skin and gently massage. Use dry hands or spatula to scoop out the product.
Ingredients
Kumari, Gajar, Calendula, Grapeseed, Gulab, Shea Butter, Nariyal Oil, Badam Oil, Lavender Oil, Gandhapura Oil
Product details
---
Who doesn't love smooth, soft, and glowing skin? I know we do! But, as we go about our daily lives, our skin can get exposed to a lot of harsh elements like pollution, sun damage, and dry air. That's where body creams come in! They help to nourish and protect our skin from these damaging factors, while also keeping it moisturized and healthy. Now, I know what you might be thinking - "But, I don't really need body cream, do I?" Well, the truth is, everyone can benefit from using body creams. Whether you have dry skin, oily skin, or anything in between, body creams can help to balance and regulate the moisture levels in your skin. This can help to prevent issues like dryness, flakiness, and even acne. Plus, using body creams can be a luxurious and indulgent self-care ritual.
Think about it - taking a few minutes every day to pamper your skin with a deliciously scented body cream can make you feel like you're treating yourself to a spa day, even if you're just at home. And, with so many different scents and textures available, you're sure to find a body cream that suits your personal style and preferences. That's why you might want to try BIOAYURVEDA Pure Butter Body Crème. It is an organic body cream made out of natural ingredients that nourishes your skin and improves its elasticity. It is suitable for all skin types, making it the best candidate to be in your skincare routine!
BIOAYURVEDA Pure Butter Body Crème is an exotic fusion of natural and organic ingredients like Almond, Coconut, Rose, Aloe Vera, Carrot, and Shea Butter that work in tandem to provide the best nourishment to your skin. It improves its health and increases its elasticity. It also increases cellular regeneration. More so, it helps reduce stretch marks and scars. It helps you soothe your skin as well.
Benefits
Ingredients


BIOAYURVEDA is a visionary holistic luxury brand in health and wellness offering completely natural and organic products.
Manufactured By:
Arganshe Private Limited
Address:
11/2, BADARPUR BORDER, Faridabad, Haryana, 121003