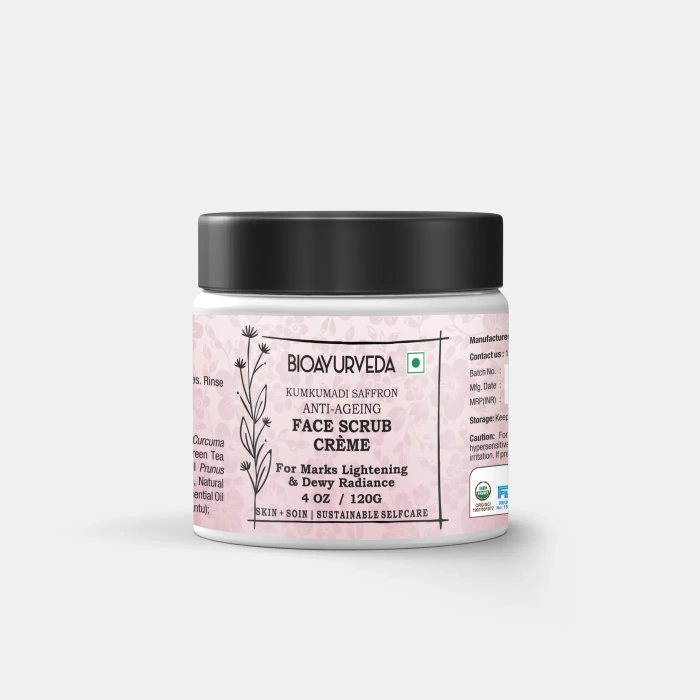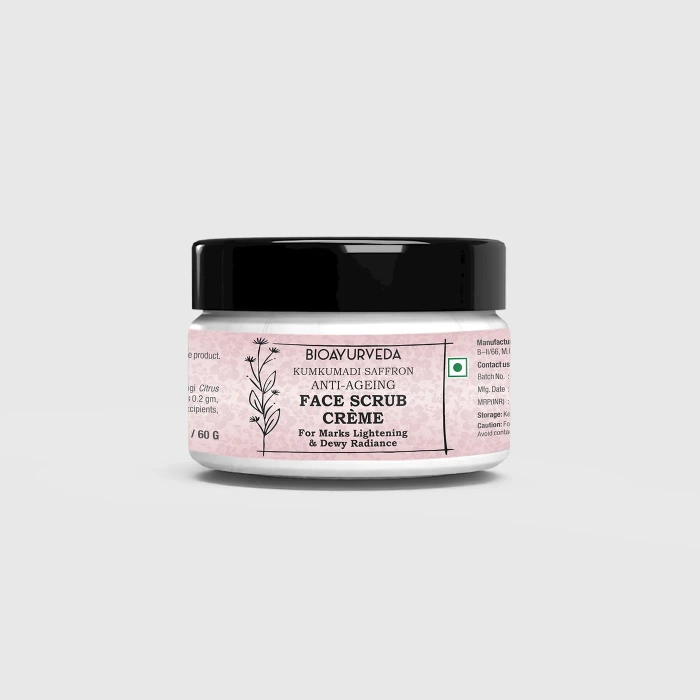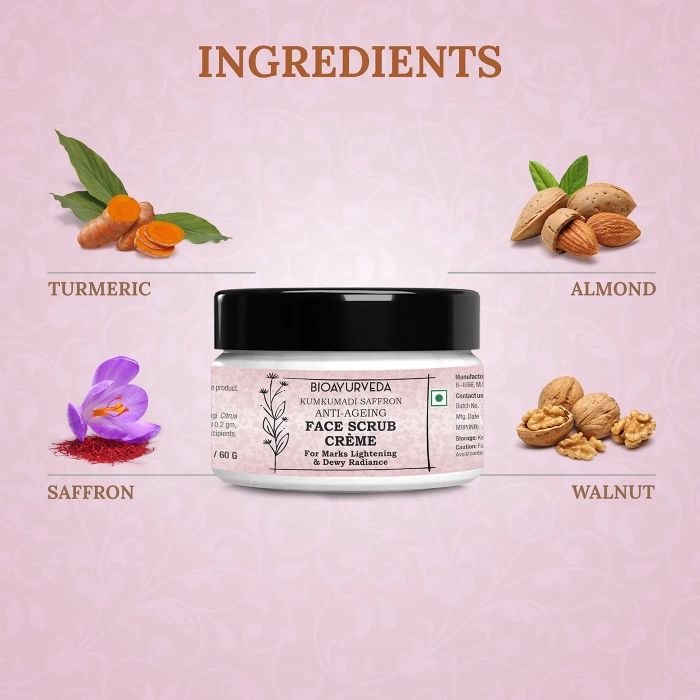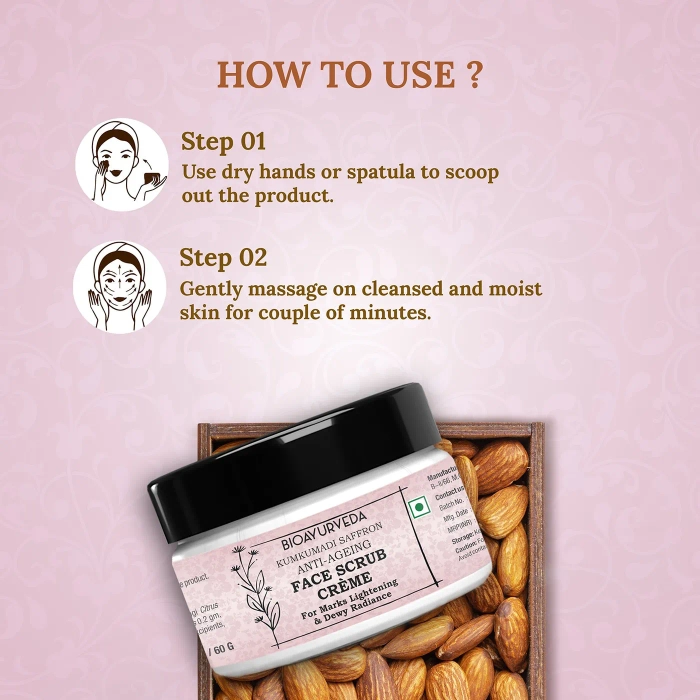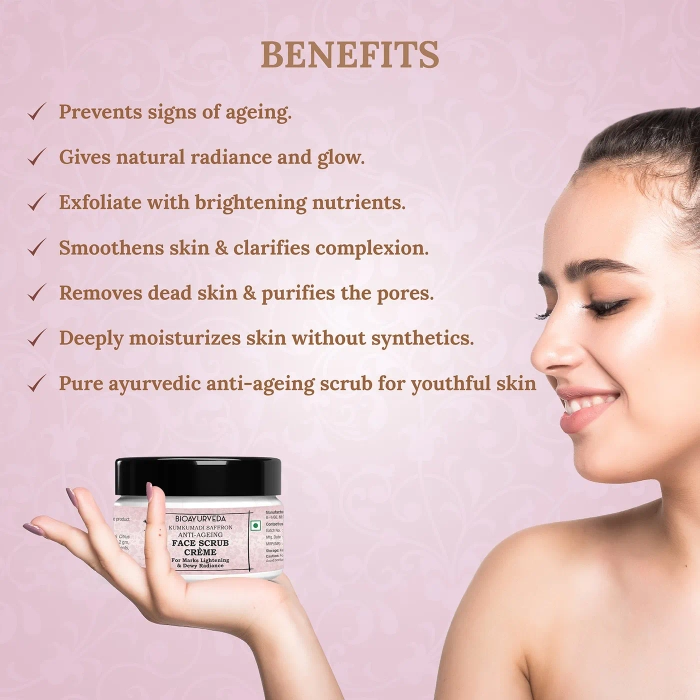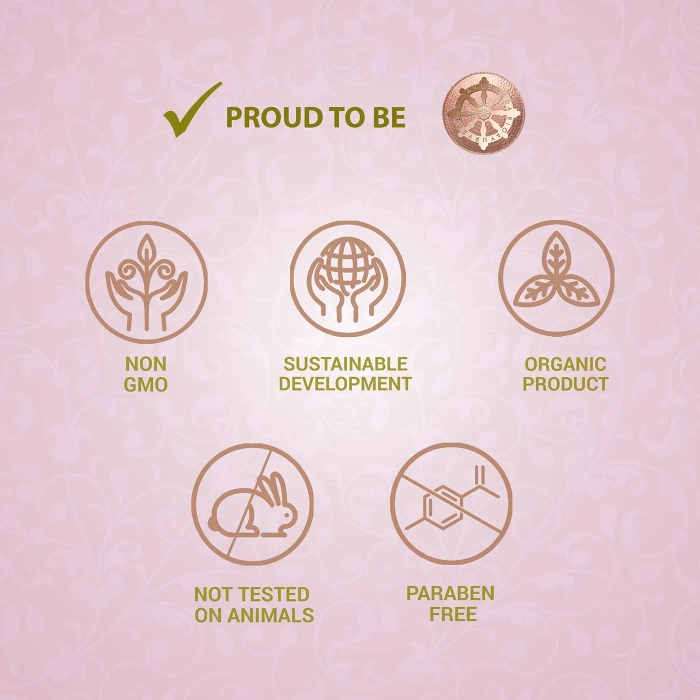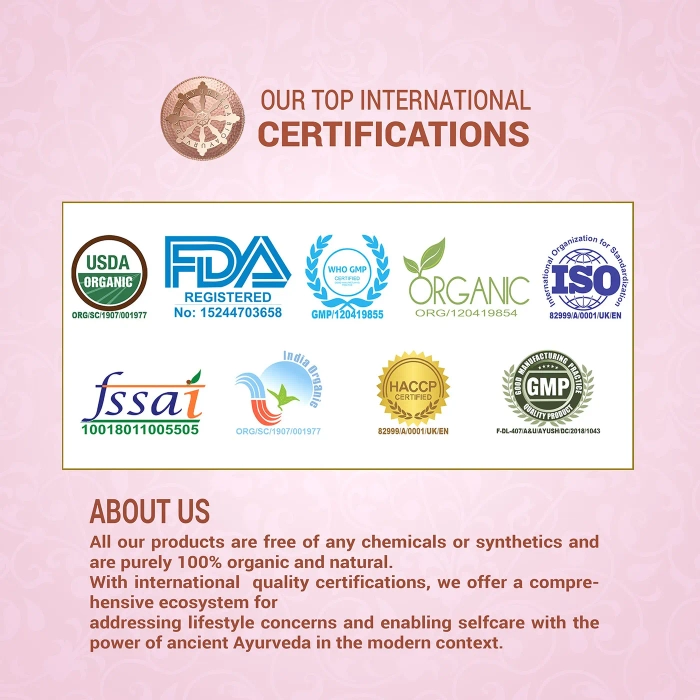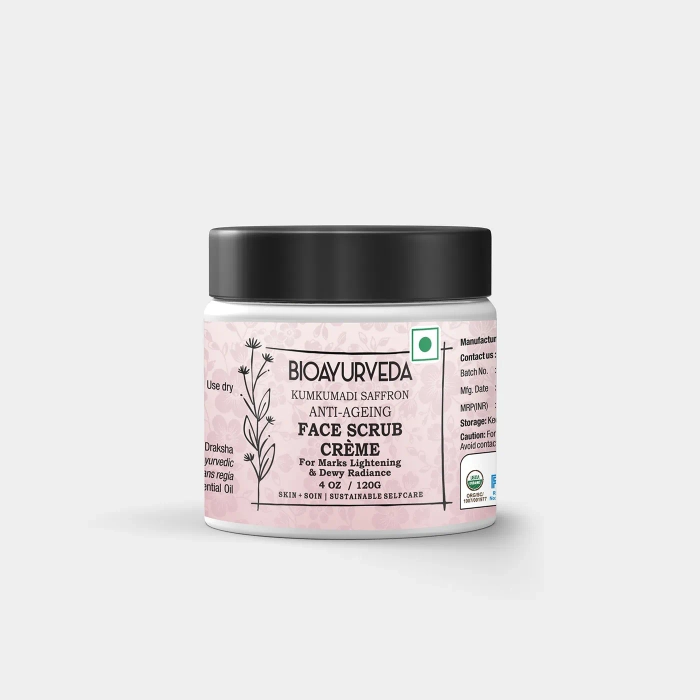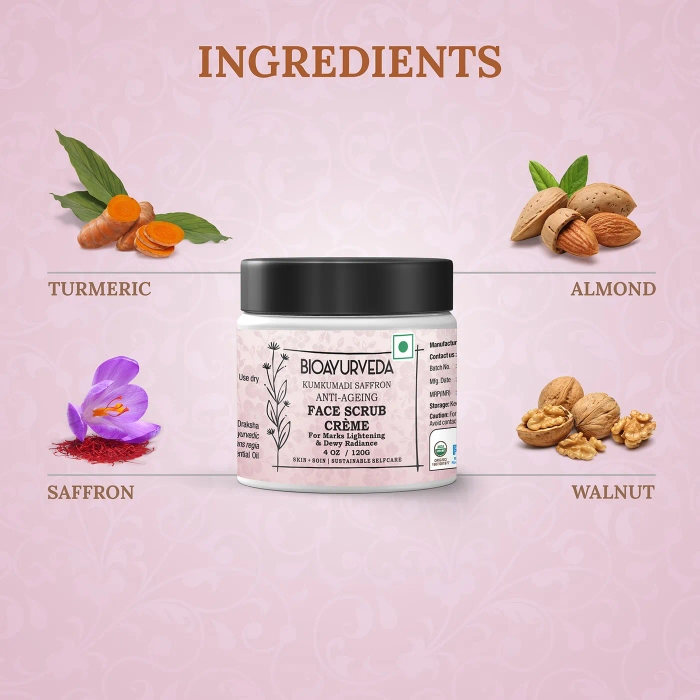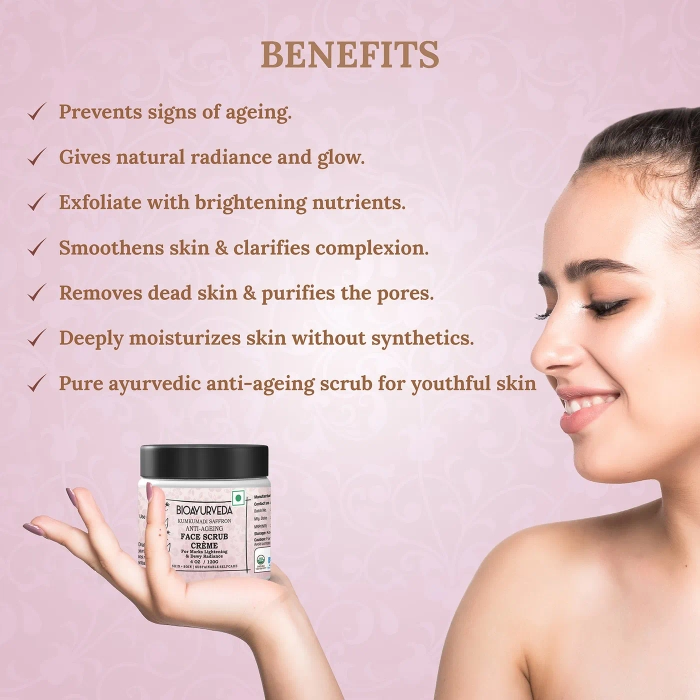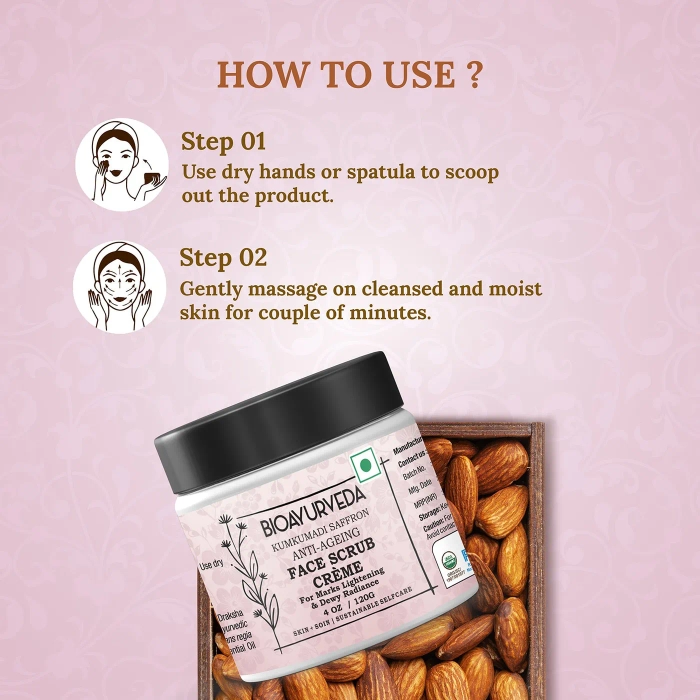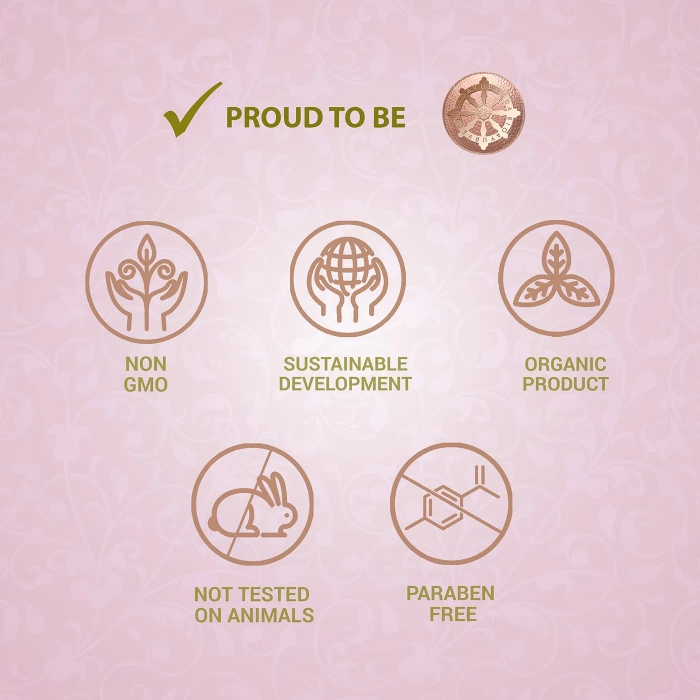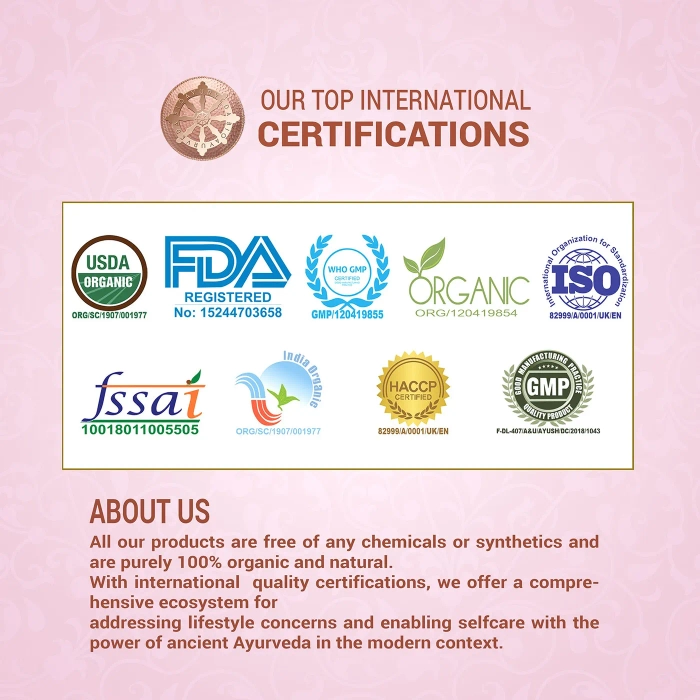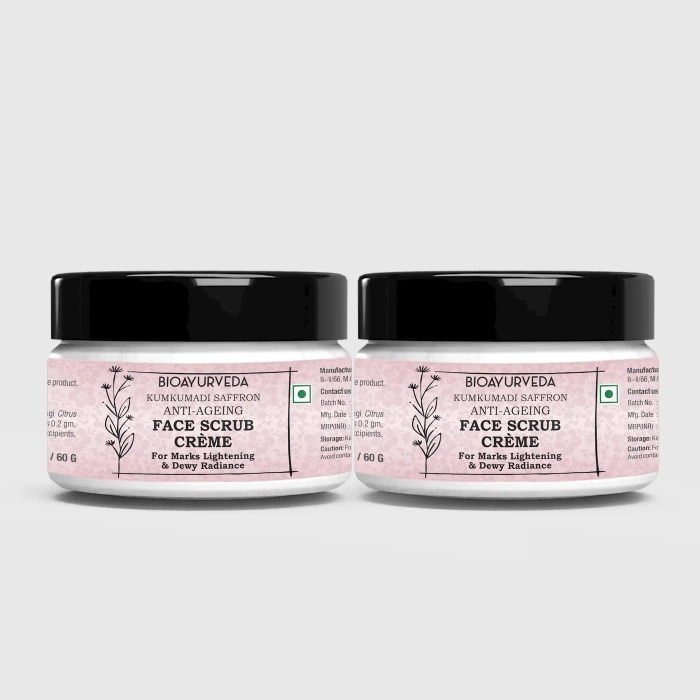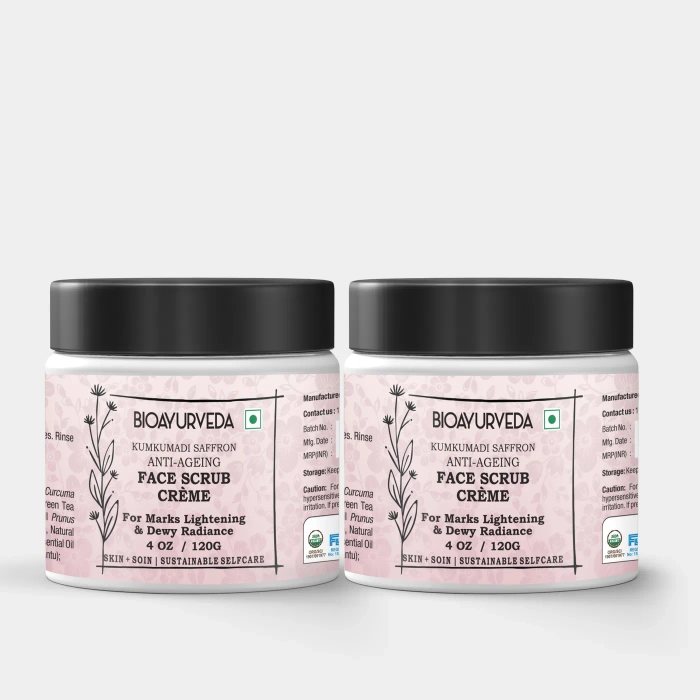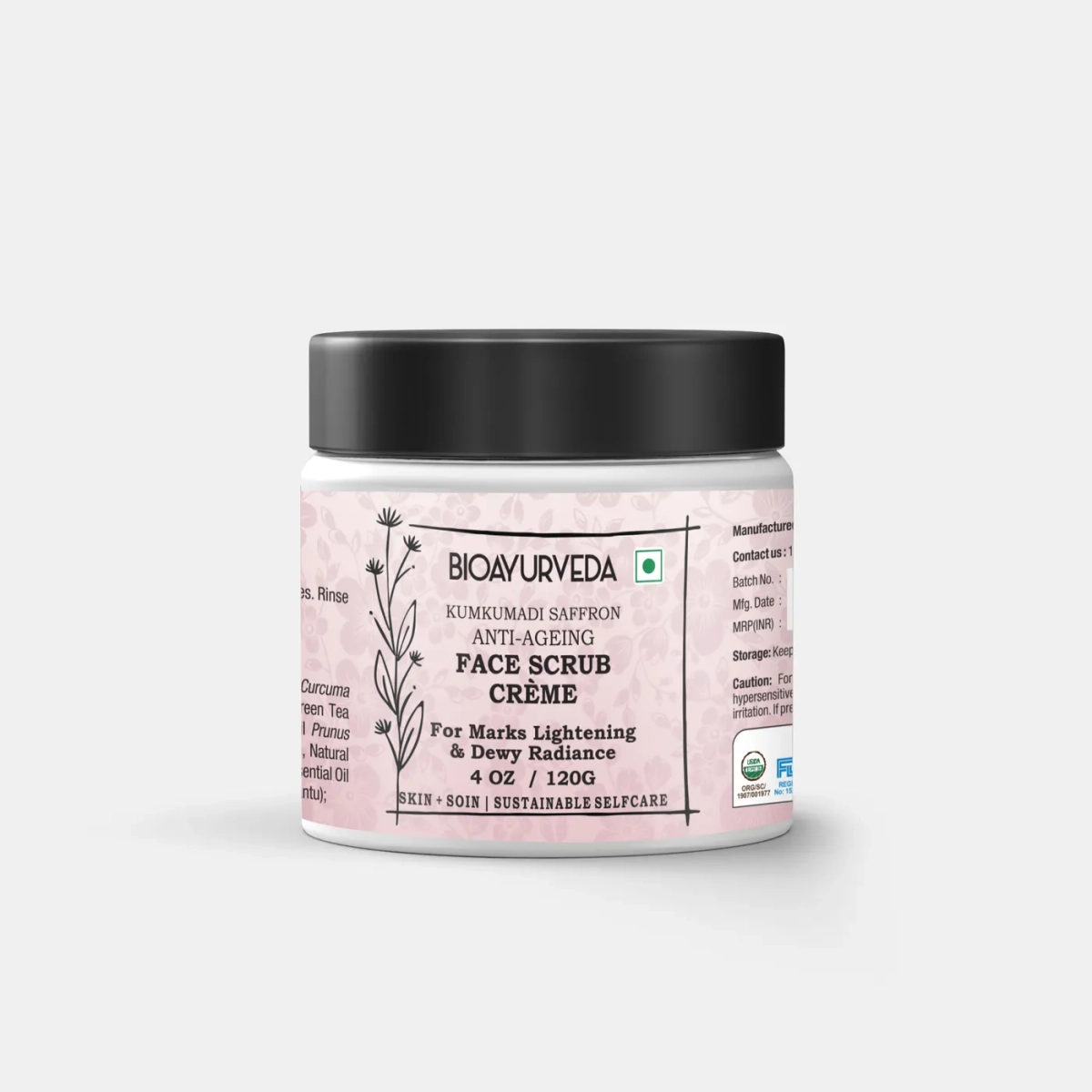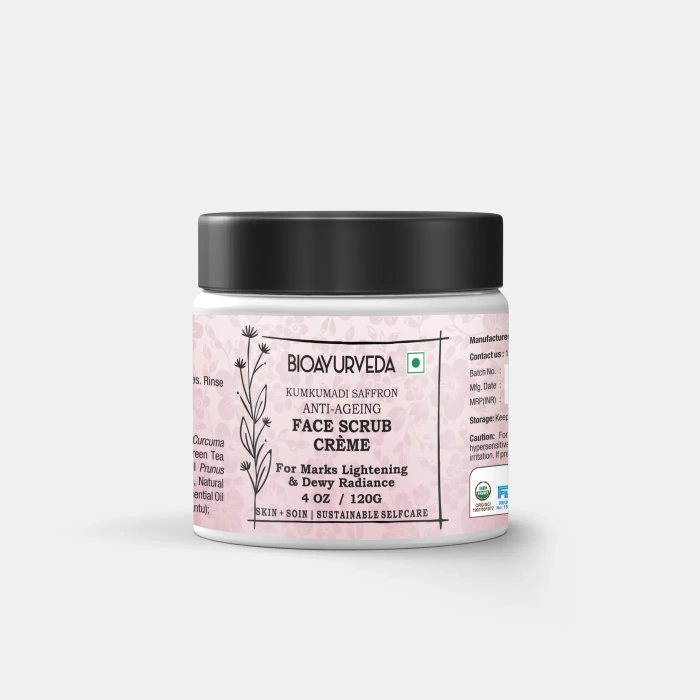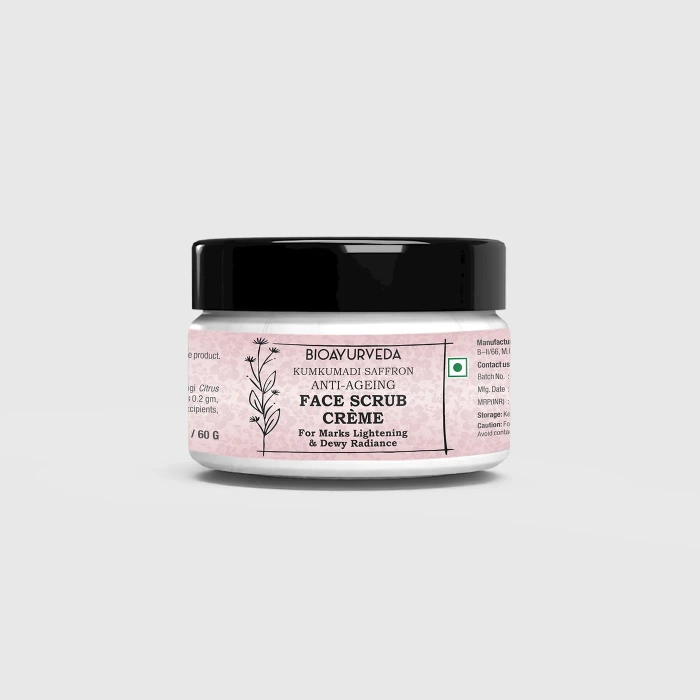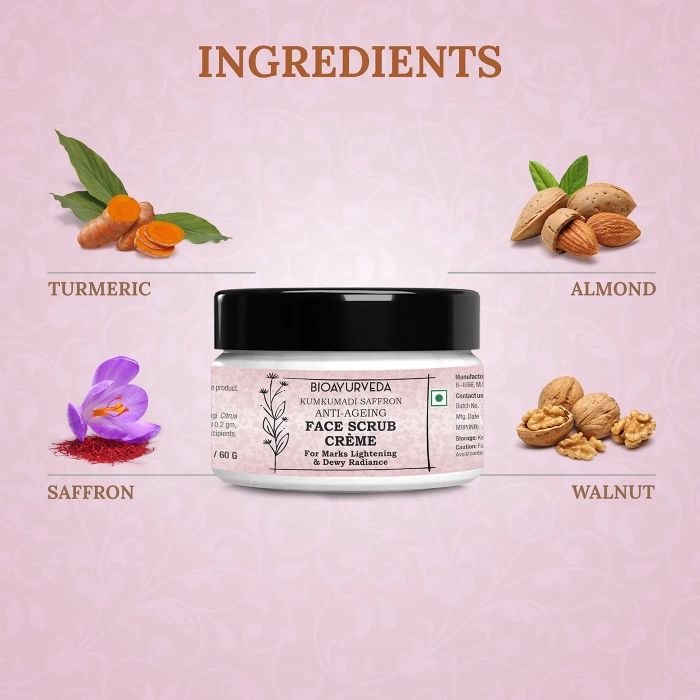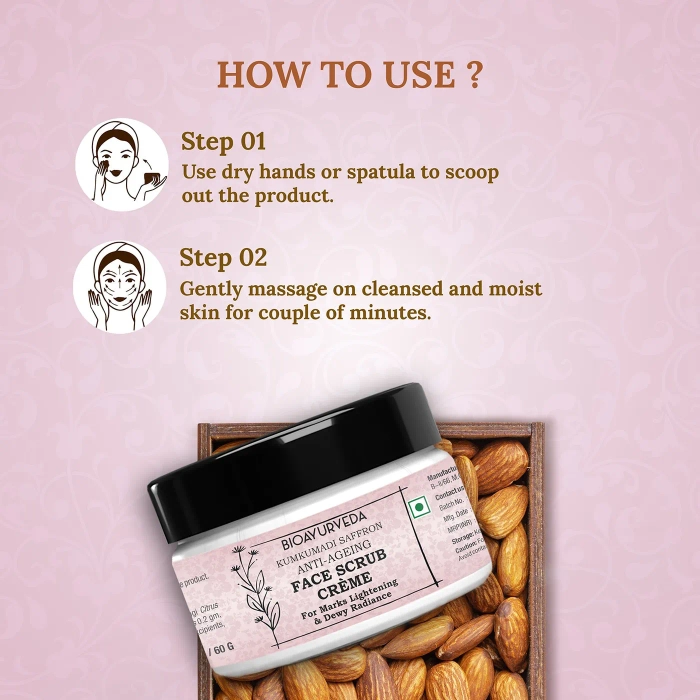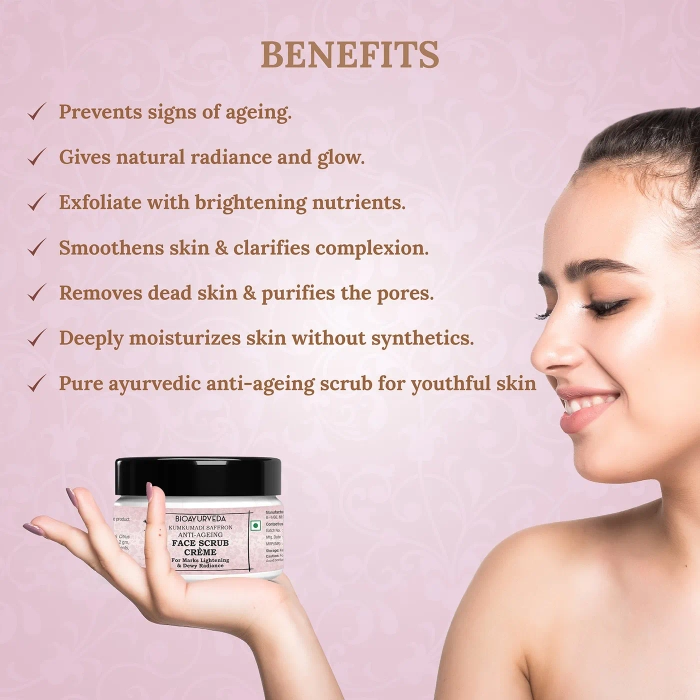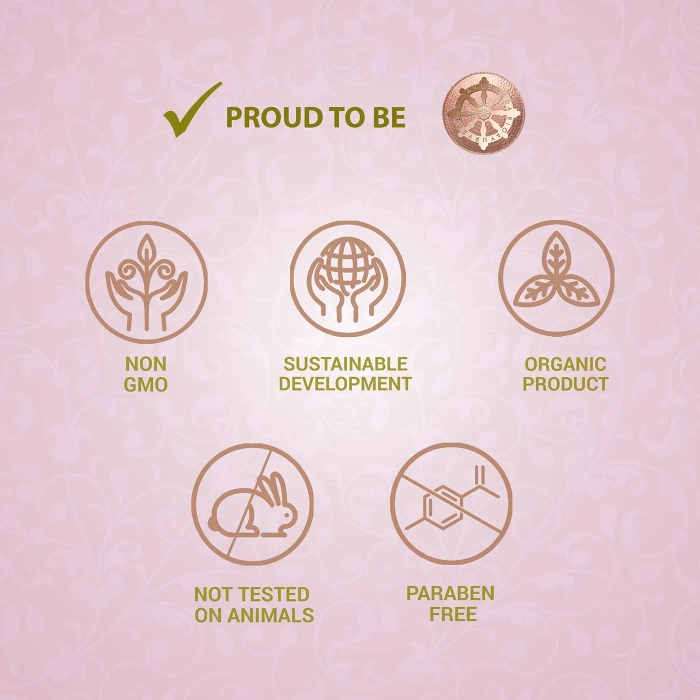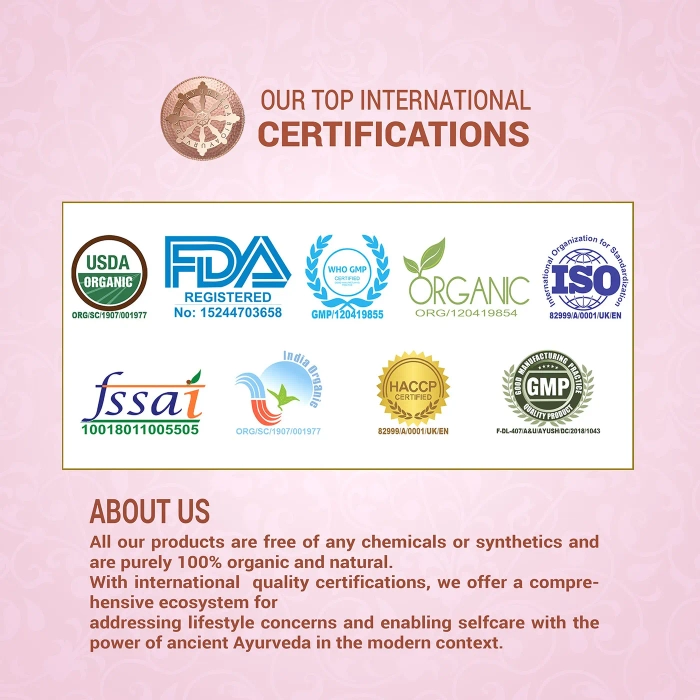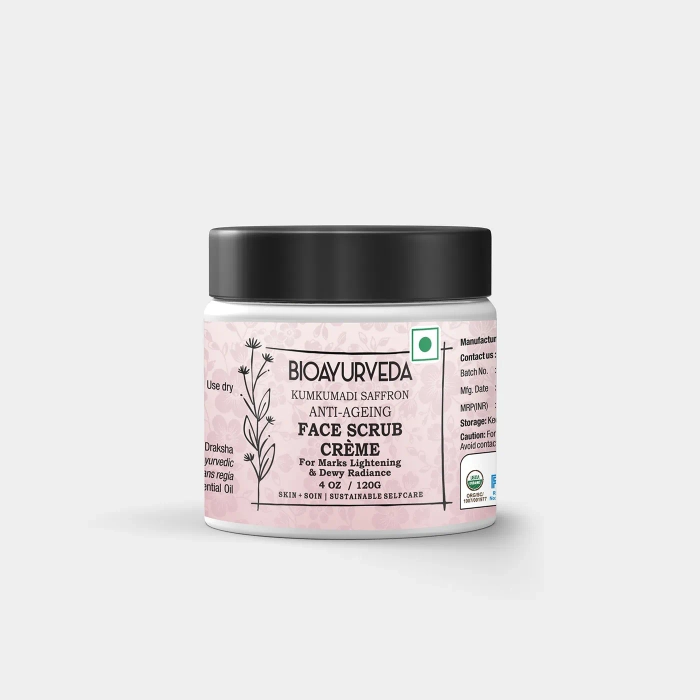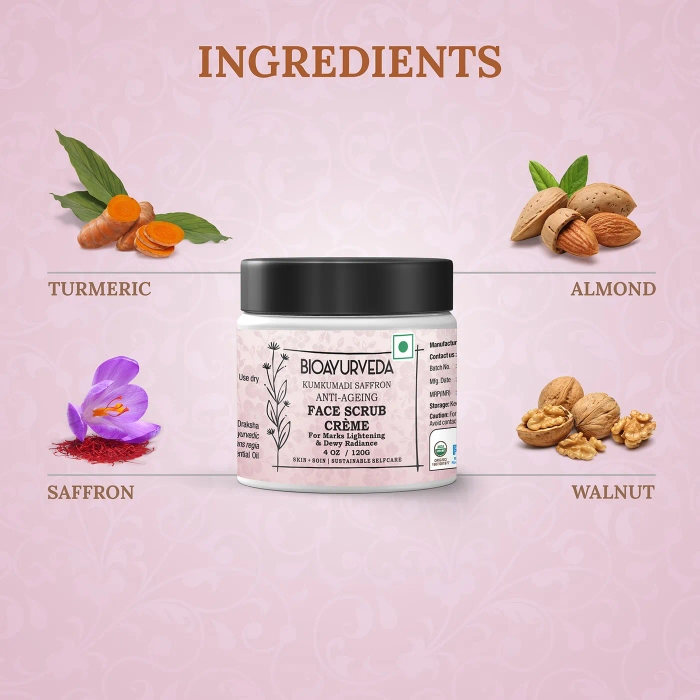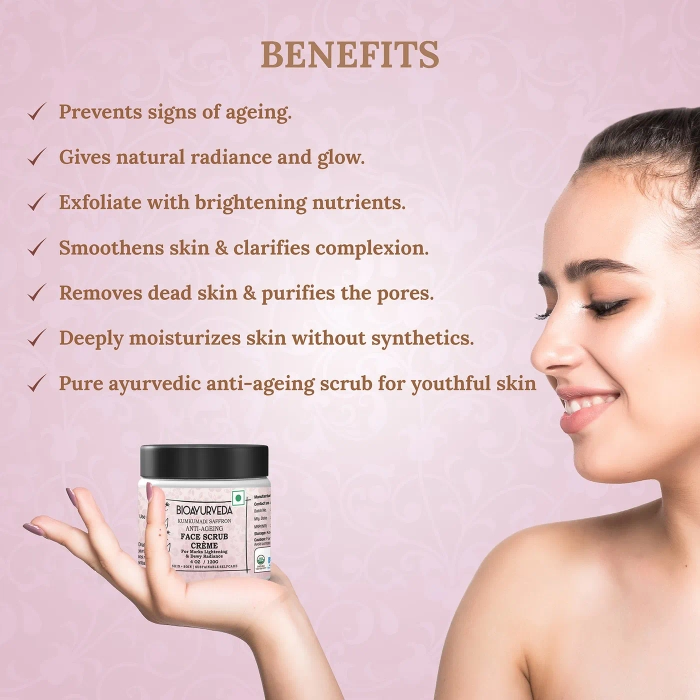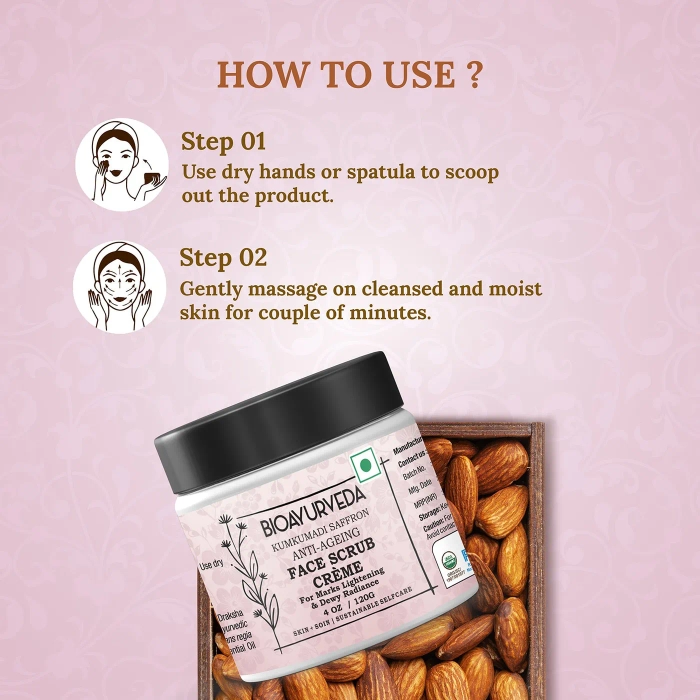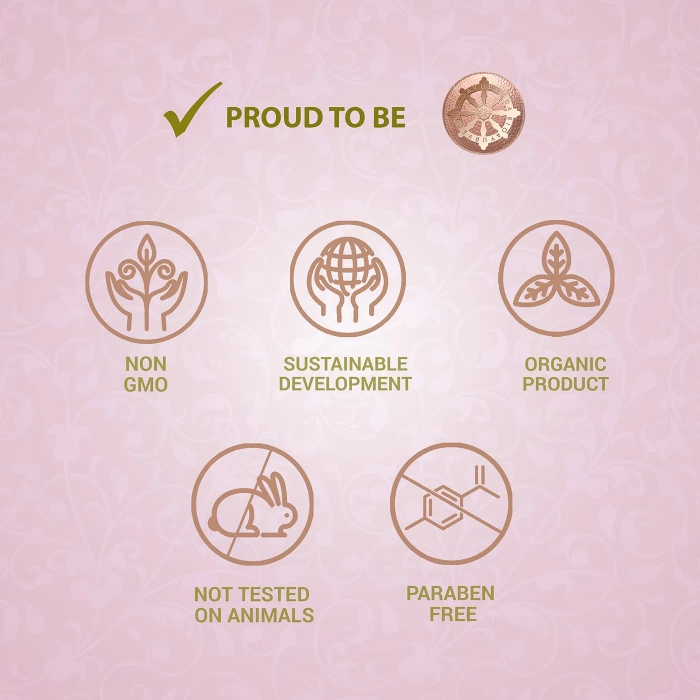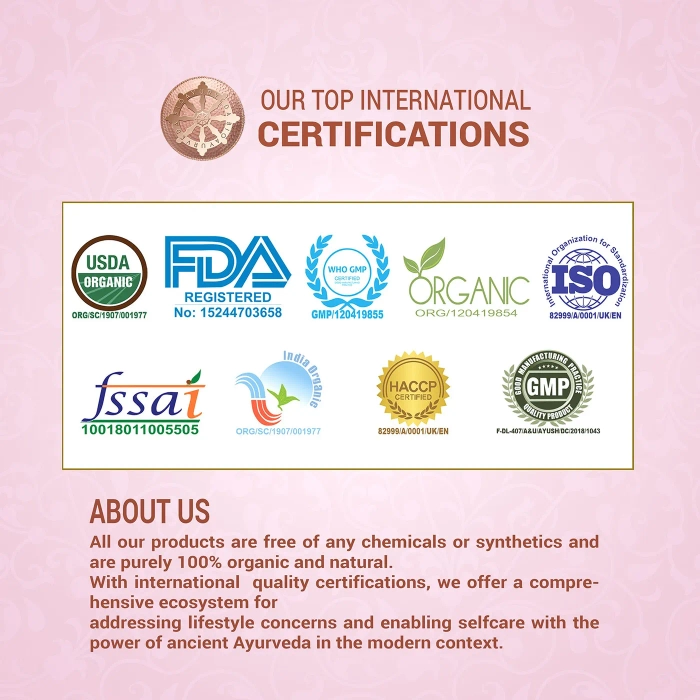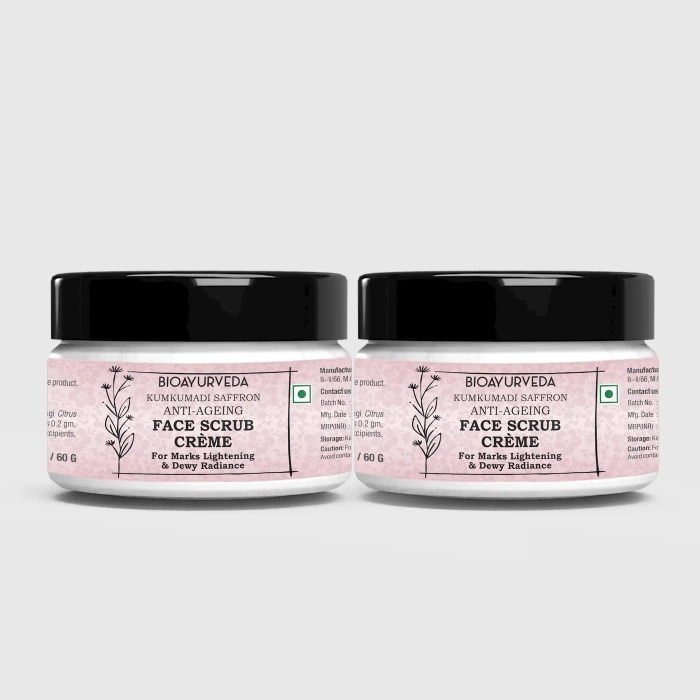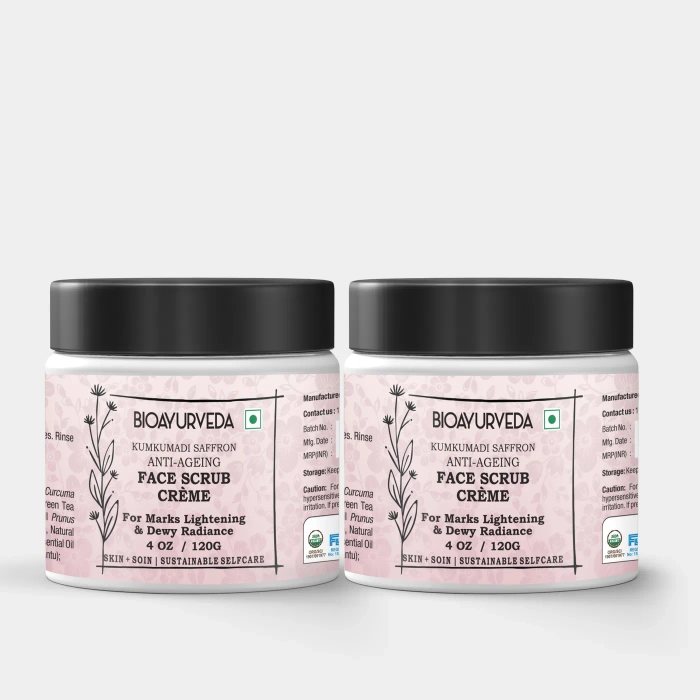 KUMKUMADI SAFFRON ANTI-AGEING FACE SCRUB CRÈME
Description
KUMKUMADI SAFFRON ANTI-AGEING FACE SCRUB CRÈME is a unique blend of organic herbs, along with vital minerals and essential & natural oils that is formulated to smoothen skin and clarify complexion with hydrated radiance and glow. Luxuriously rich in anti-ageing and brightening nutrients, it exfoliates dead skin and purifies pores, diminishes marks and spots, fades fine lines, prevents pigmentation, and facilitates cellular renewal for youthful suppleness and clearer tone. 
HOW TO APPLY
Gently massage on cleansed and moist skin for couple of minutes. Rinse and pat dry. Use dry hands or  Spatula to scoop out the product.
Ingredients
Kumari, Haldi, Draksha, Papitaa, Green Tea, Madhu, Badam Oil, Kesar, Akhrot
Product details
---
Scrub creams are an essential part of skincare routines for many people. These creams are designed to cleanse the skin, remove dead skin cells and unclog pores to reveal smoother, healthier-looking skin. There are several advantages to using scrub creams regularly as part of your skincare routine. One of the primary benefits of using scrub creams is that they help to improve the overall texture of your skin. By removing dead skin cells and unclogging pores, scrub creams leave your skin feeling smoother and softer. This can also help to reduce the appearance of fine lines and wrinkles, giving your skin a more youthful appearance. Another advantage of using scrub creams is that they can help to prevent acne and other skin blemishes. By unclogging pores and removing excess oil and dirt, scrub creams can help to reduce the likelihood of breakouts.
This is particularly important for people with oily or acne-prone skin. In addition to these benefits, using scrub creams can also help to improve circulation and promote skin cell regeneration. By stimulating blood flow to the skin's surface, scrub creams can help to nourish and revitalize your skin, leaving it looking brighter and more radiant. Why don't you then use the most efficient scrub cream: BIOAYURVEDA Kumkumadi Saffron Anti-Ageing Face Scrub Crème! It is an organic face scrub cream that helps clarify your skin and bring out a brighter complexion. It is the perfect product to be included in your skincare inventory!
BIOAYURVEDA Kumkumadi Saffron Anti-Ageing Face Scrub Crème is an organic fusion of natural and herbal ingredients like Turmeric, Saffron, Almond, and Walnut that work together to clarify your skin and bring out a better complexion. It has anti-ageing properties and is rich in nutrients as well. It helps with the removal of dead skin cells and purifies the pores of your skin. It reduces face marks, fine lines, and pigmentation. It stimulates cellular renewal as well.
Benefits
Hydrates & Removes Dead Skin
Thanks to its skin-renewing properties, it gets rid of dead skin and hydrates your face for long periods of time.
Reduces Pigmentation, Fine Lines, and Face Marks
Kumkumadi Saffron Anti-Ageing Face Scrub Crème protects you against fine lines and face marks. Moreover, it prevents pigmentation as well and cleanses the pores of your skin.
Clarifies Complexion
Shine bright and experience a brightened complexion with its natural ingredients and anti-ageing properties.
INGREDIENTS
Turmeric
Turmeric or Haldi is a spice that is very common in Indian cuisine. Its main constituent is Curcumin. Turmeric is used in Ayurvedic methodologies. It is traditionally used to treat related to the skin, upper respiratory tract, joints, and digestive system.
Saffron
Saffron, or Kumkumadi, is a very common Ayurvedic ingredient that has been widely used for rejuvenating skin cells and bringing out a bright glow to your face. It helps prevent acne and pigmentation as well.
Almond
It helps reduce dark circles with the help of Vitamin E, Vitamin K, and retinol. It also decreases puffiness through its anti-inflammatory properties. Additionally, it evens the skin tone and hydrates it.


BIOAYURVEDA is a visionary holistic luxury brand in health and wellness offering completely natural and organic products.
Manufactured By:
Arganshe Private Limited
Address:
11/2, BADARPUR BORDER, Faridabad, Haryana, 121003