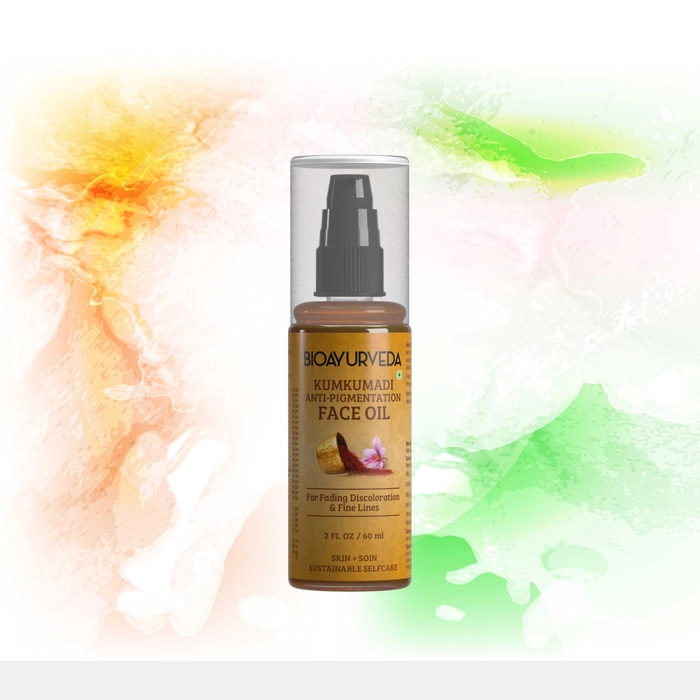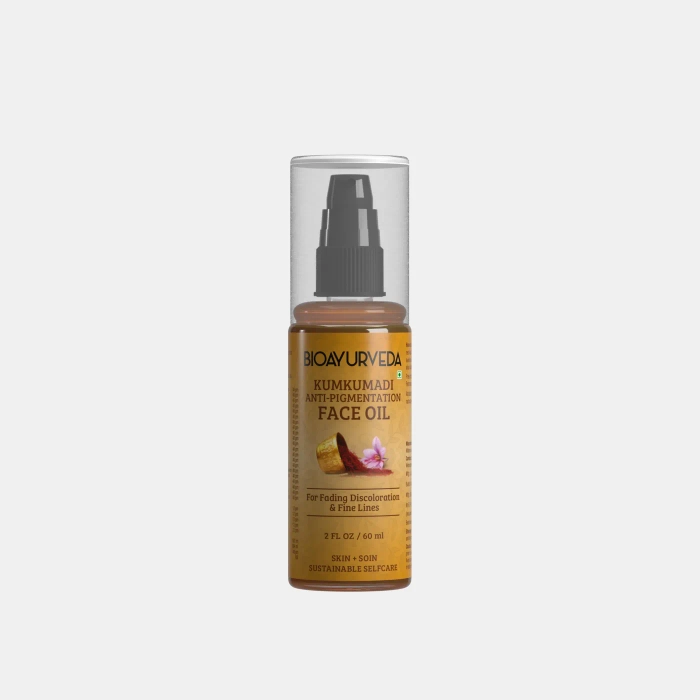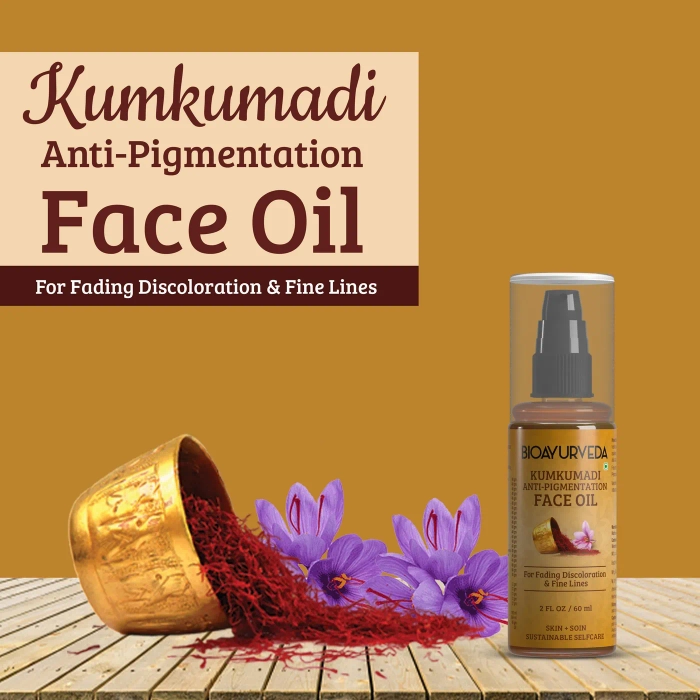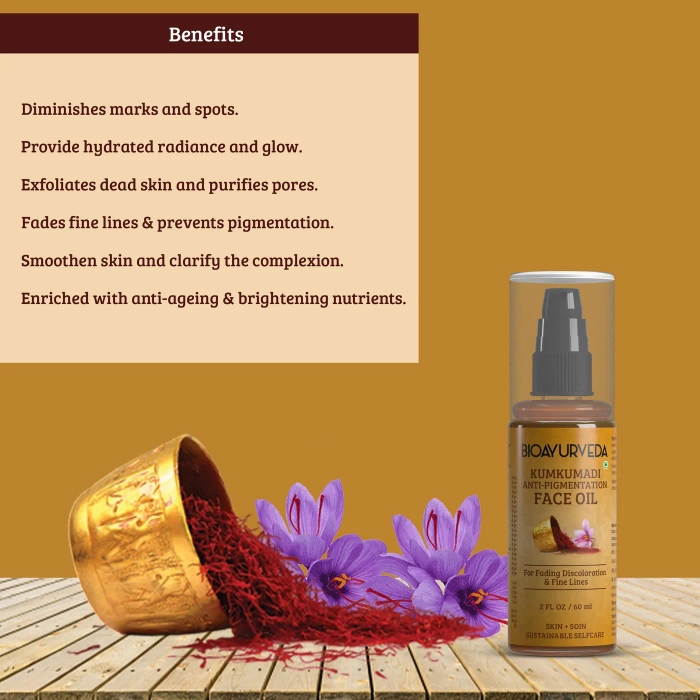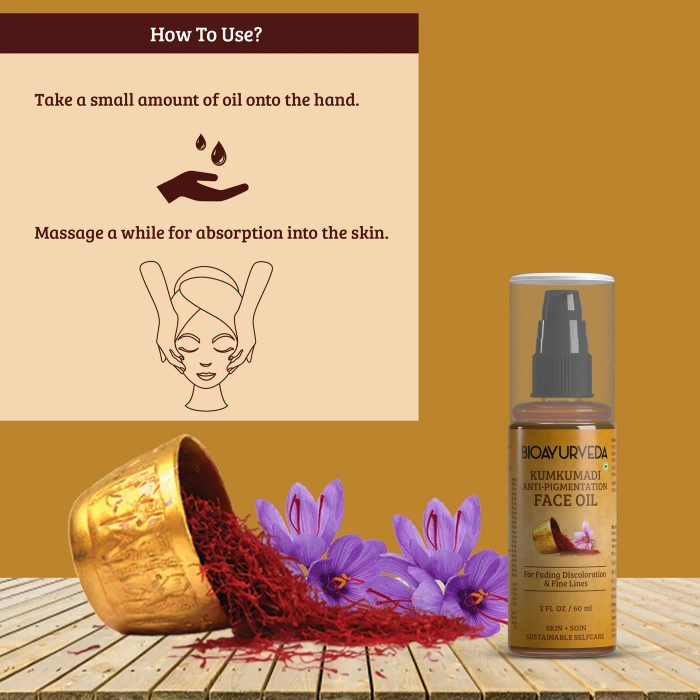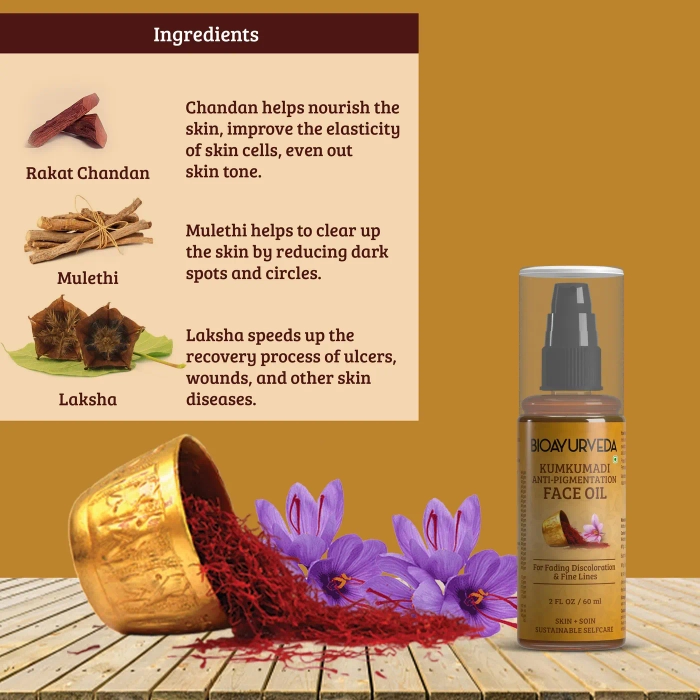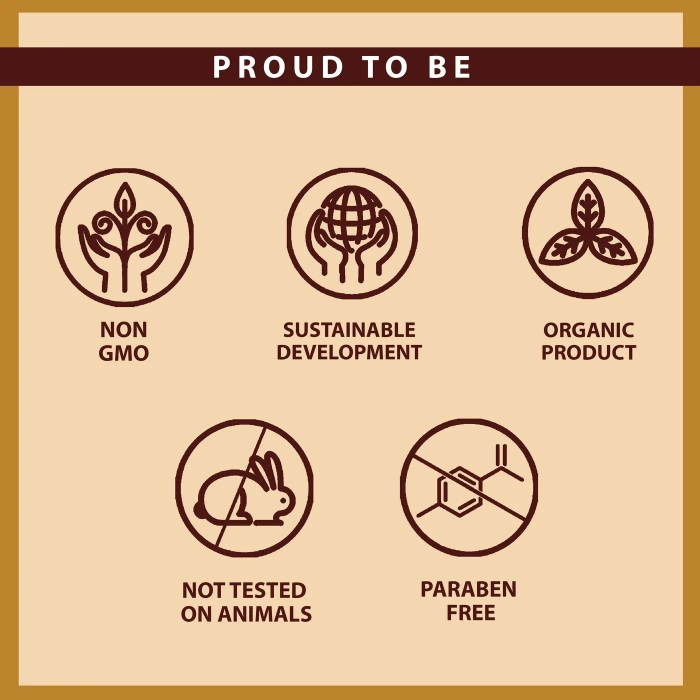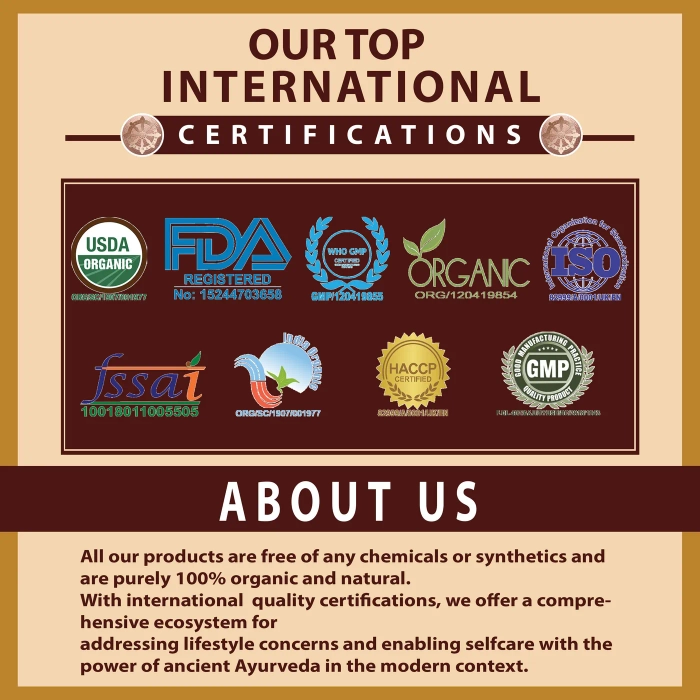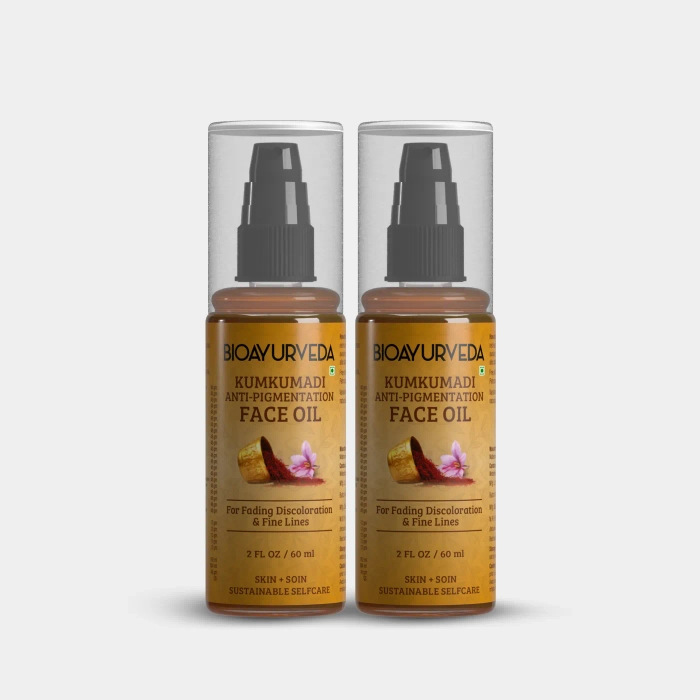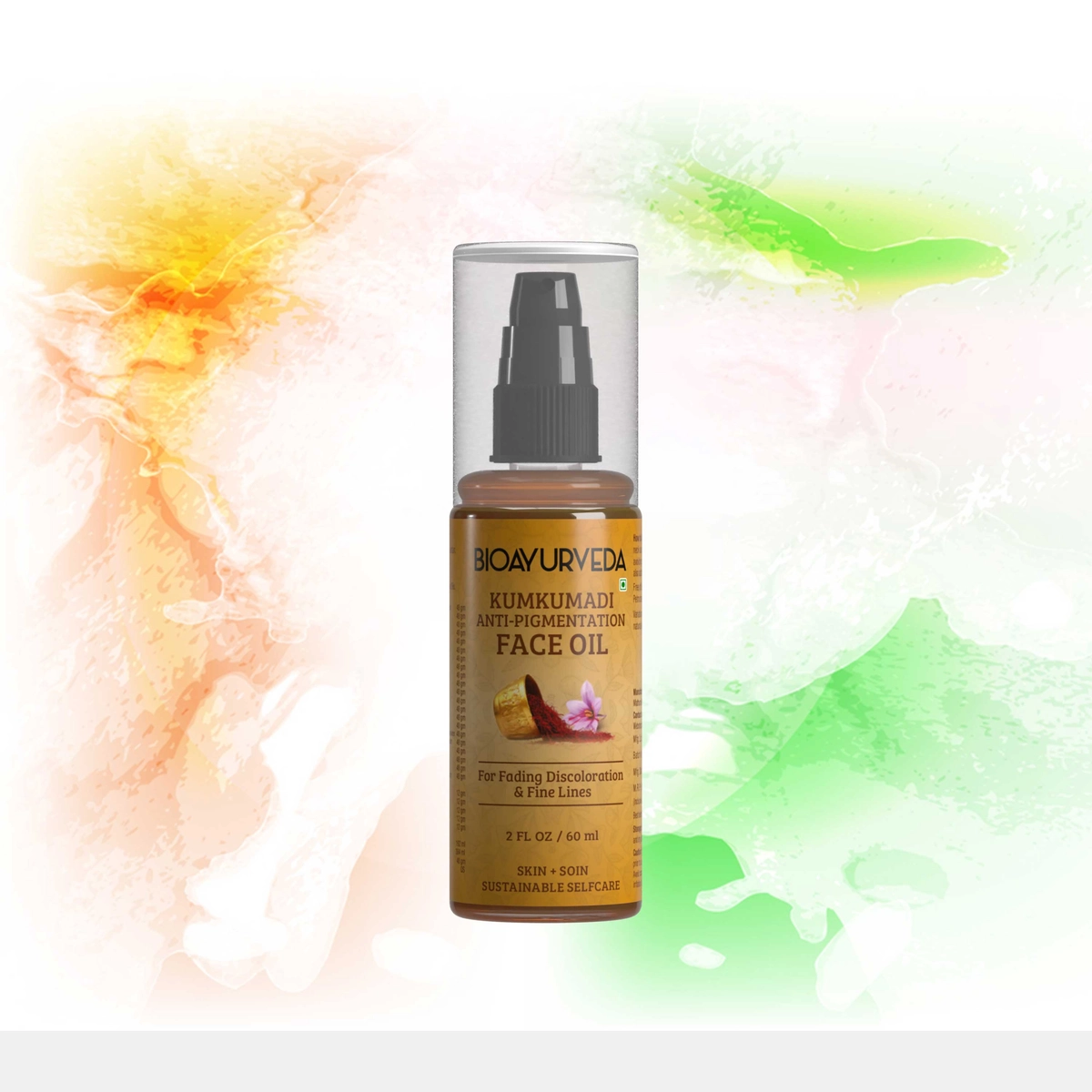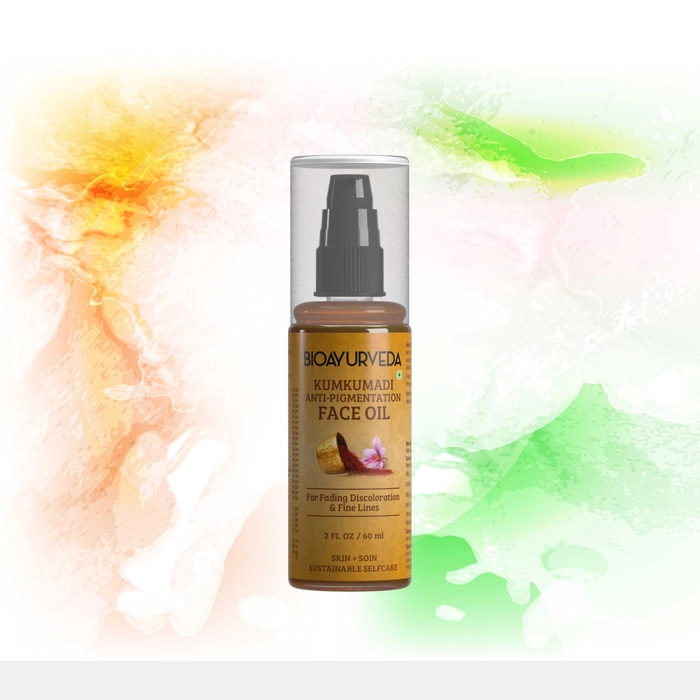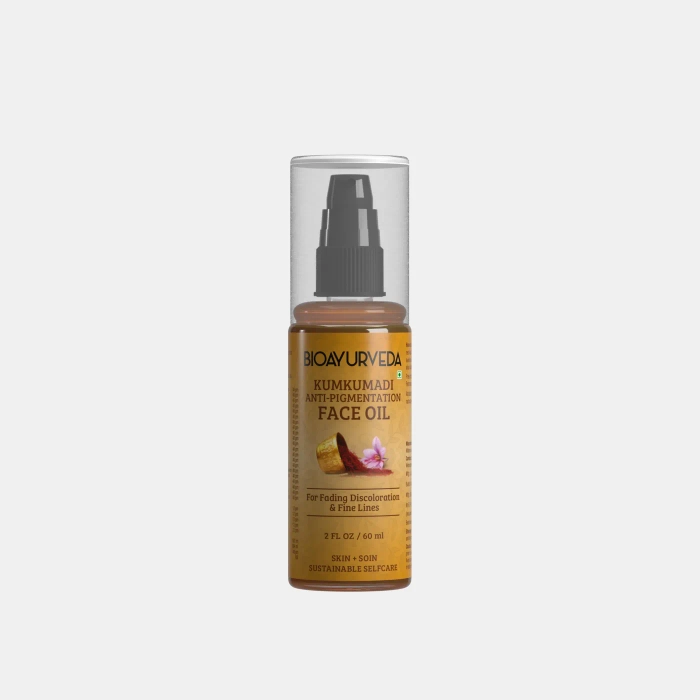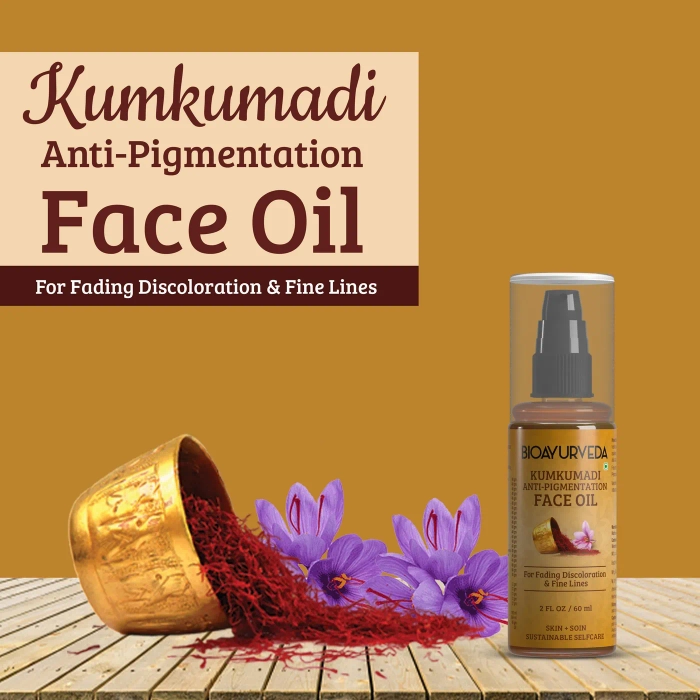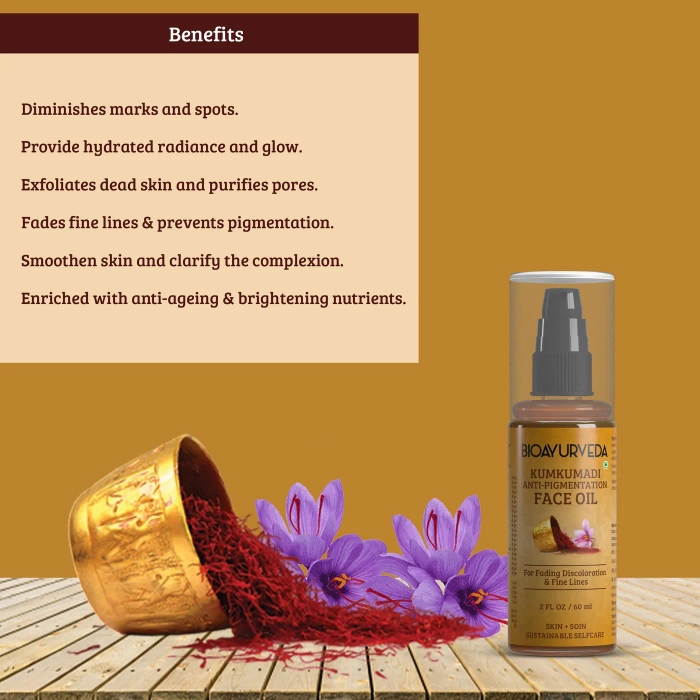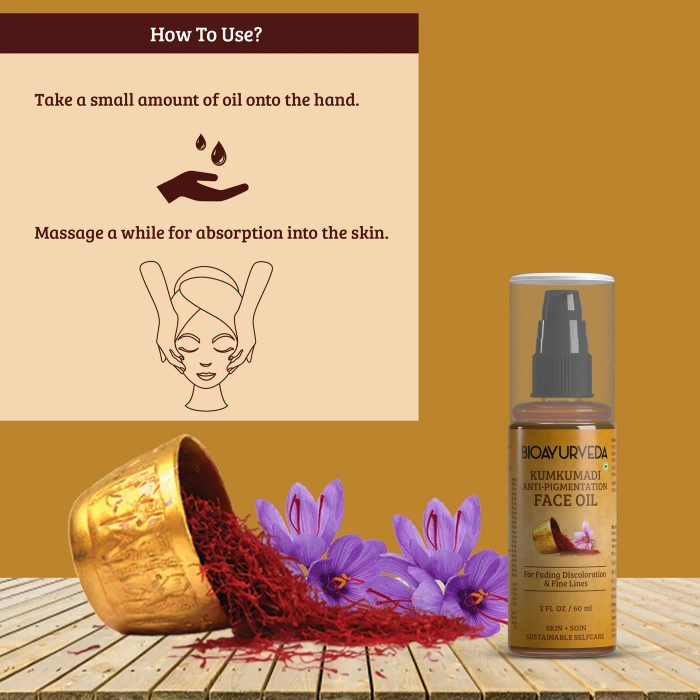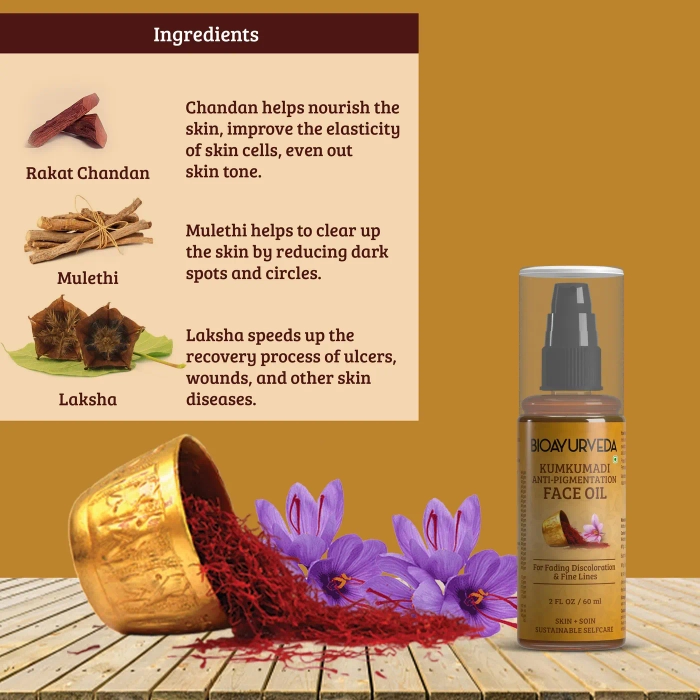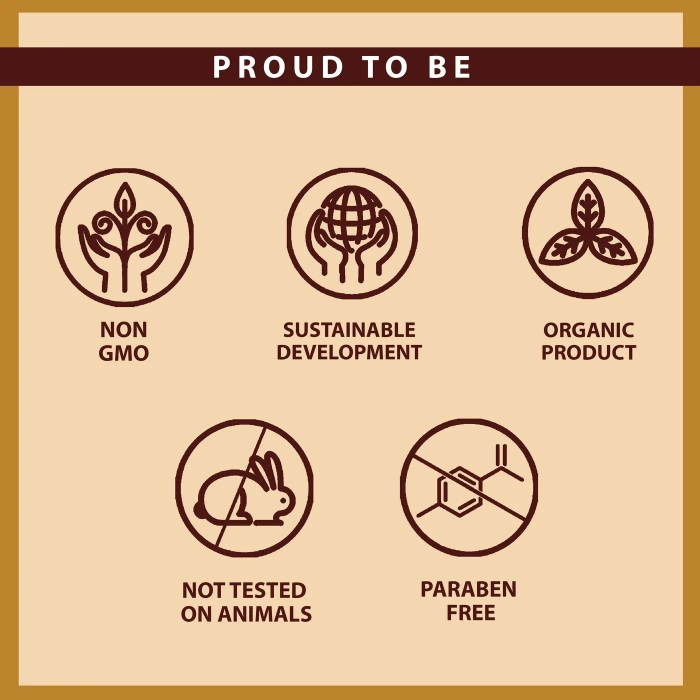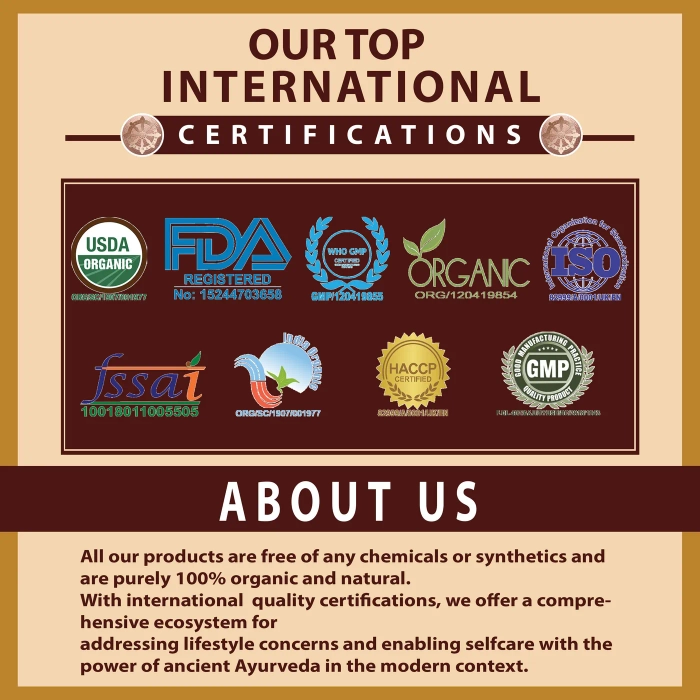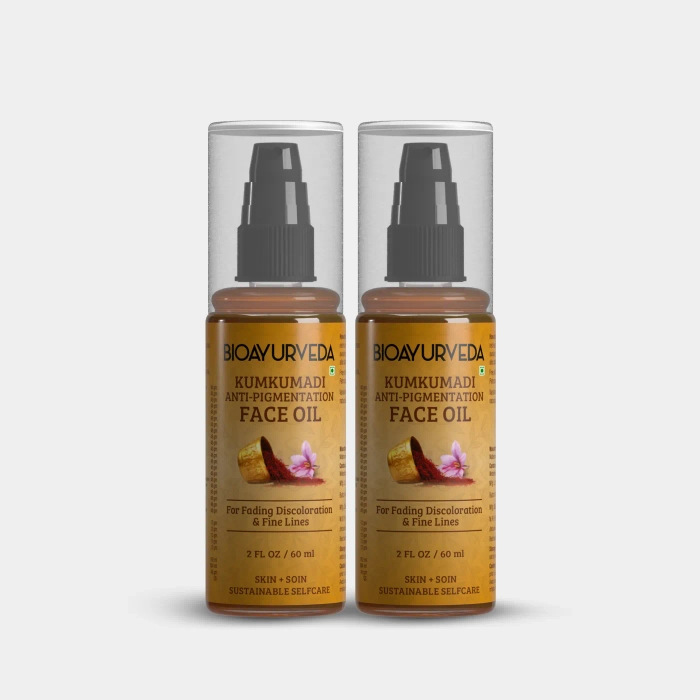 Kumkumadi Anti-Pigmentation Face Oil
Description
Kumkumadi Anti-Pigmentation Face Oil is a unique blend of organic herbs, along with vital minerals and essential & natural oils that is formulated to smoothen skin with fading discoloration & fine lines. Luxuriously rich in anti-ageing and brightening nutrient curbs marks, hyperpigmentation, scars, fine lines, wrinkles, suntan.
 
HOW TO APPLY
Dab few drops on cleansed face and neck and massage in delicate circular movements, avoiding the eye area. For sensitive skin, you can also add more of the carrier oil.
Ingredients
Rakt Chandan, Laksha, Manjistha, Mulethi, Daruhaldi, Usira, Padmak, Neel Kamal, Banyan, Pakar, Kamal Kesar, Bael, Agnimantha, Shyonaka, Gambhari, Patala, Shalaparni, Prishnaparni, Gokshura, Brihati, Kantakari, Manjistha, Mulethi, Mahua, Laksha, Pattanga, Sesame Oil, Goat Milk, Kesar
Product details
Kumkumadi face oil has been gaining popularity in recent years as a beneficial addition to our daily skincare routine. They are not just a trend, but a powerful tool that can provide numerous benefits to our skin. One of the main advantages of kumkumadi skin radiance face oils is their ability to provide hydration to the skin. They are made up of concentrated plant-based oils, which can penetrate deeply into the skin and provide long-lasting moisture. This can be particularly beneficial for those with dry or dehydrated skin, as it helps to restore the skin's natural barrier and prevent moisture loss. Face oils are also useful for those with oily skin, contrary to popular belief.
They can help to regulate sebum production, which can actually help to reduce the appearance of oiliness and breakouts. This is because when the skin is properly hydrated, it does not need to produce as much oil to compensate for dryness. Another advantage of face oils is their ability to nourish the skin with essential nutrients. Many oils contain antioxidants, vitamins, and minerals that can help to protect the skin from damage caused by free radicals, which can lead to premature ageing. Thus, we present to you the best Ayurvedic face oil: BIOAYURVEDA Kumkumadi Anti-Pigmentation Face Oil. This organic face oil prevents discoloration and reduces fine lines. The face oil for pigmentation has anti-ageing properties as well. More so, it poses no side effects! This makes it the best candidate to be included in your skincare routine!
BIOAYURVEDA Kumkumadi Anti-Pigmentation Face Oil is an organic face oil that is made out of natural and pure ingredients like Laksha, Rakat Chandan, and Mulethi that work together to avoid discoloration of your face and reduce fine lines and wrinkles. It has potent anti-ageing properties. With the help of its nutrients, it reduces face marks, hyperpigmentation, scars, and other spots on your face. It helps with the removal of dead skin and purifies pores. It also clarifies your complexion.
Benefits
Ingredients


BIOAYURVEDA is a visionary holistic luxury brand in health and wellness offering completely natural and organic products.
Manufactured By:
Arganshe Private Limited
Address:
11/2, BADARPUR BORDER, Faridabad, Haryana, 121003