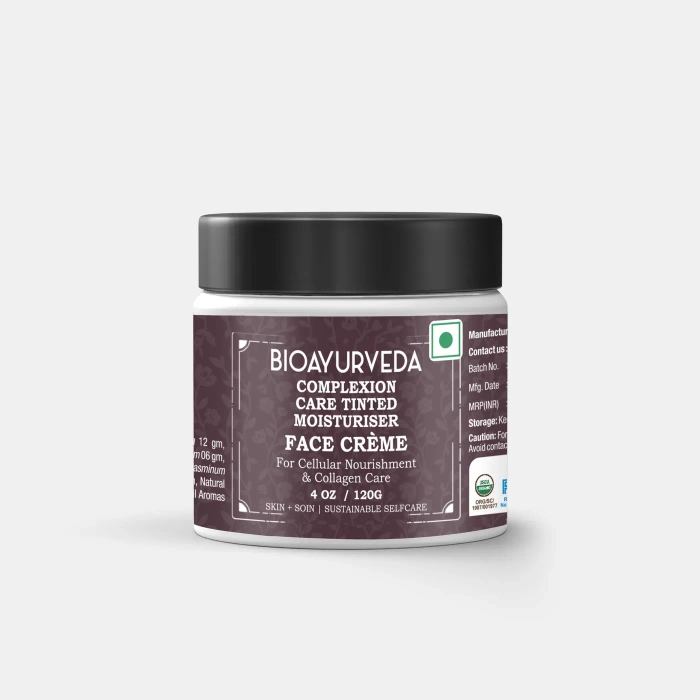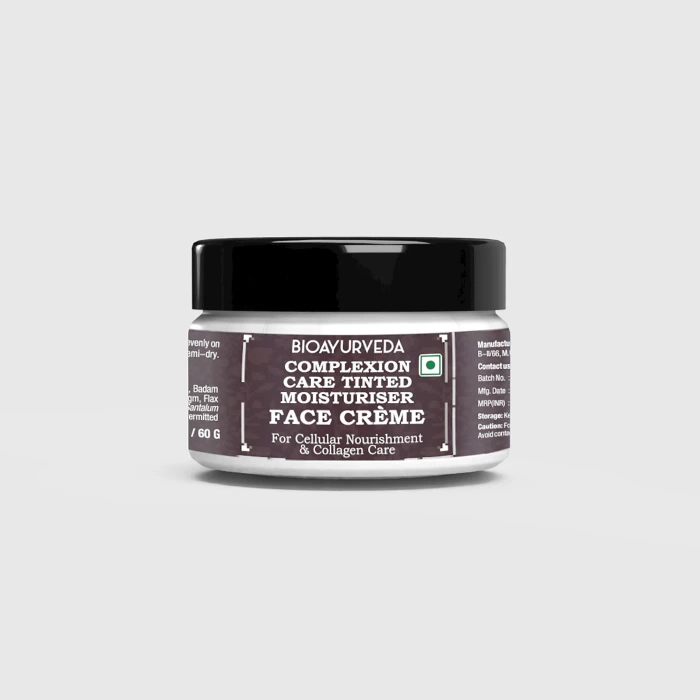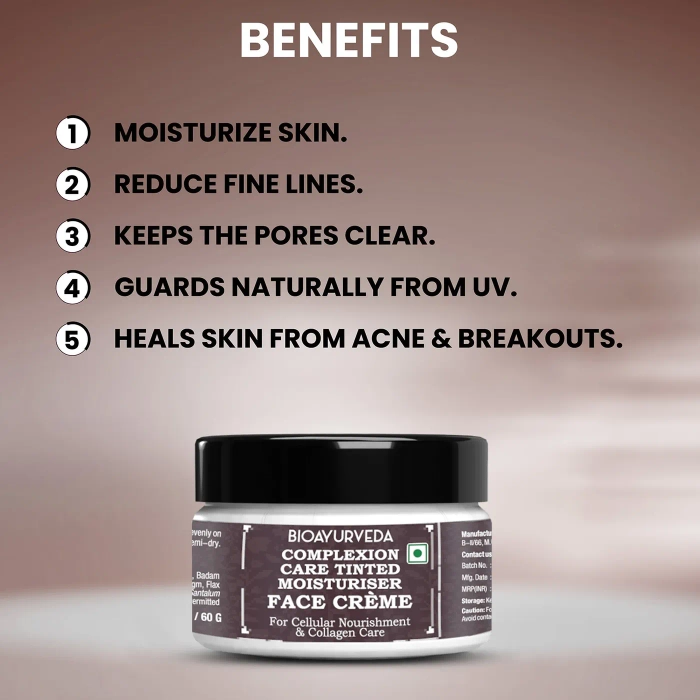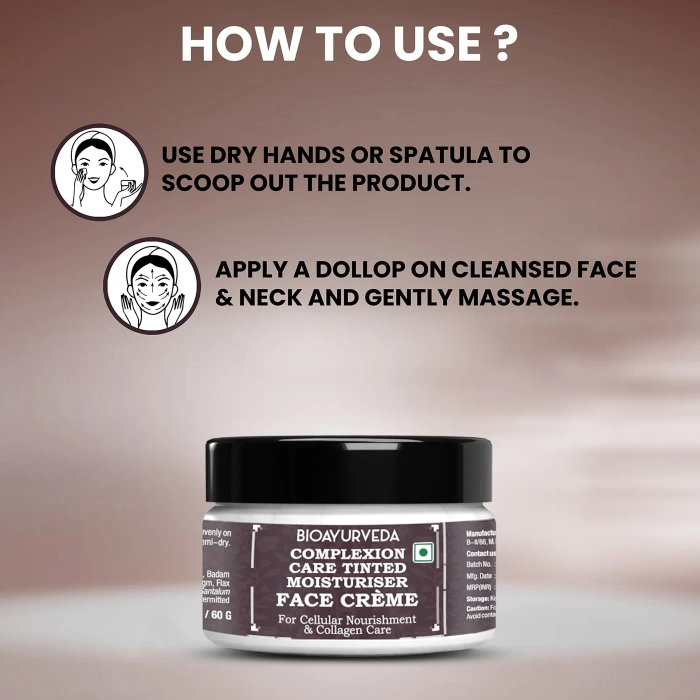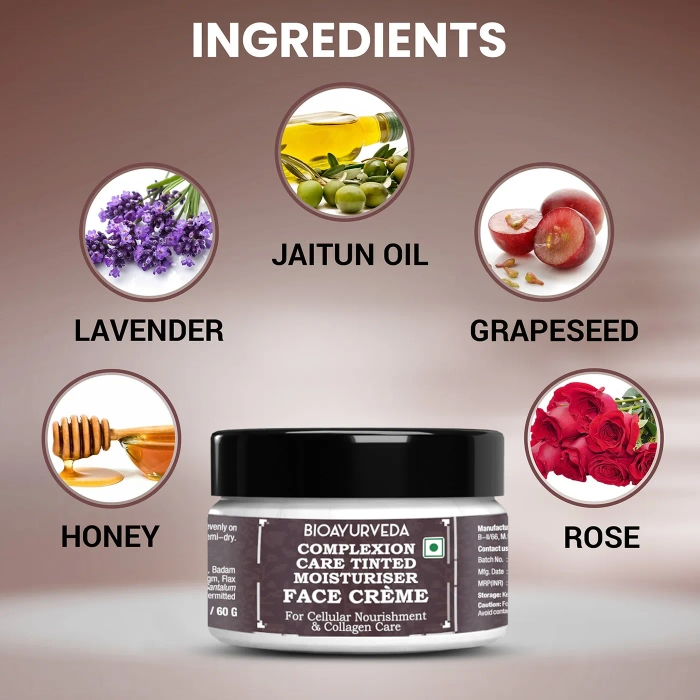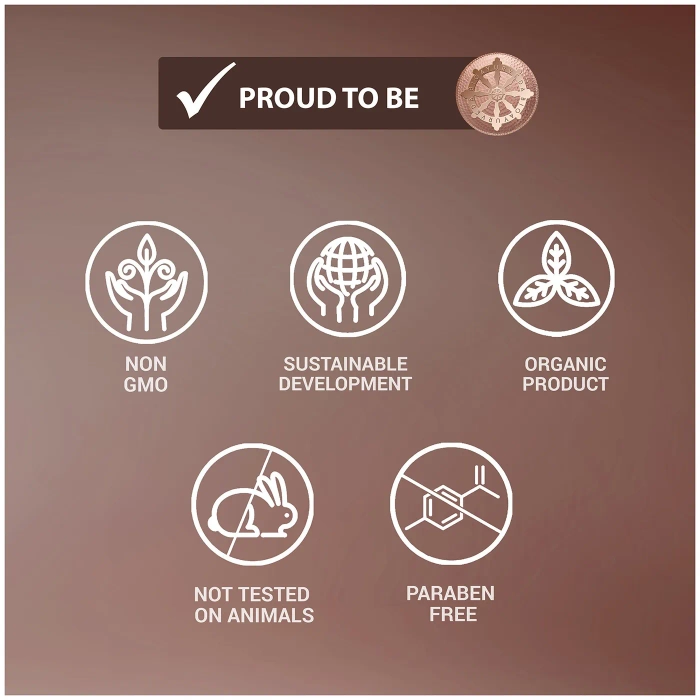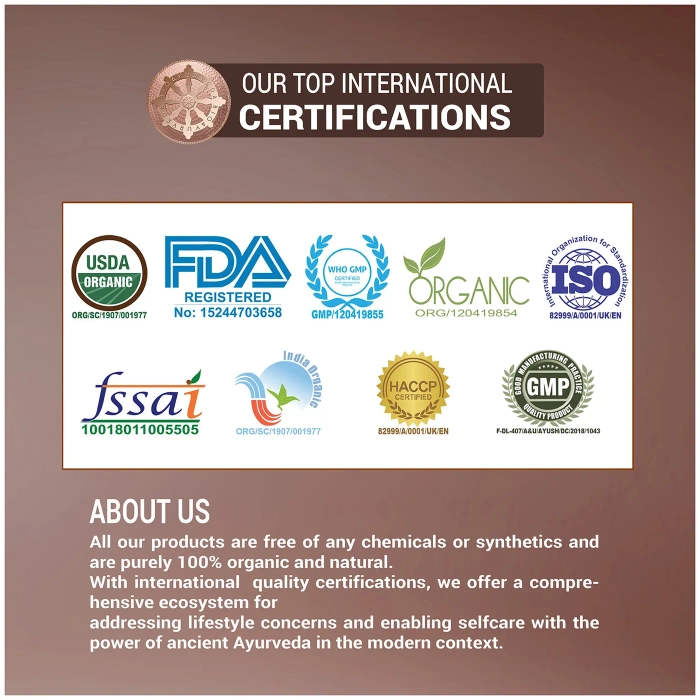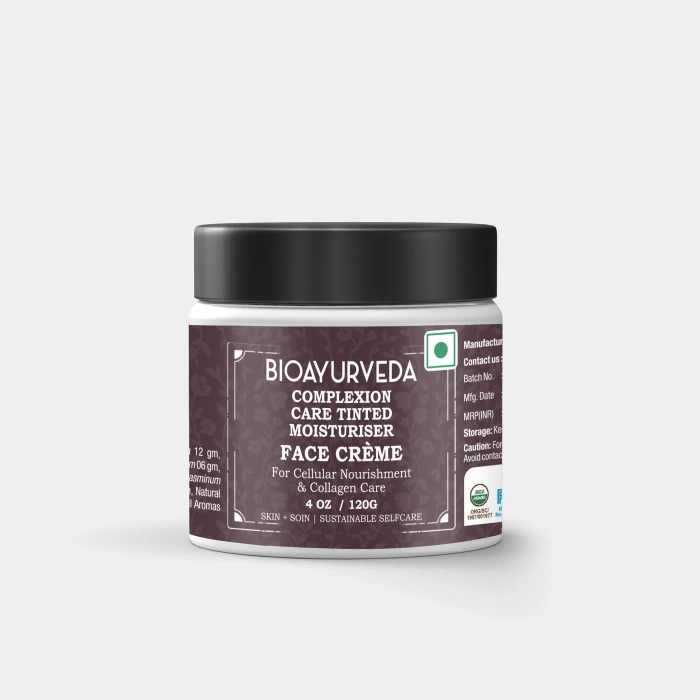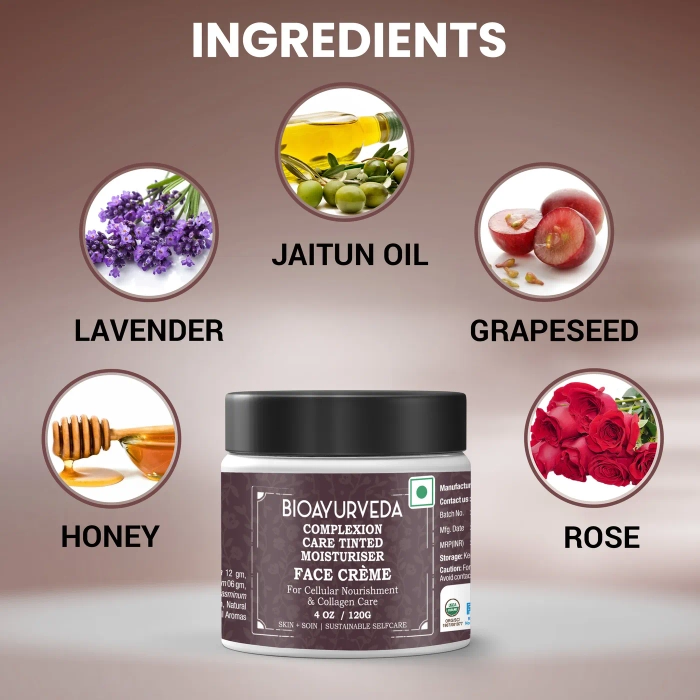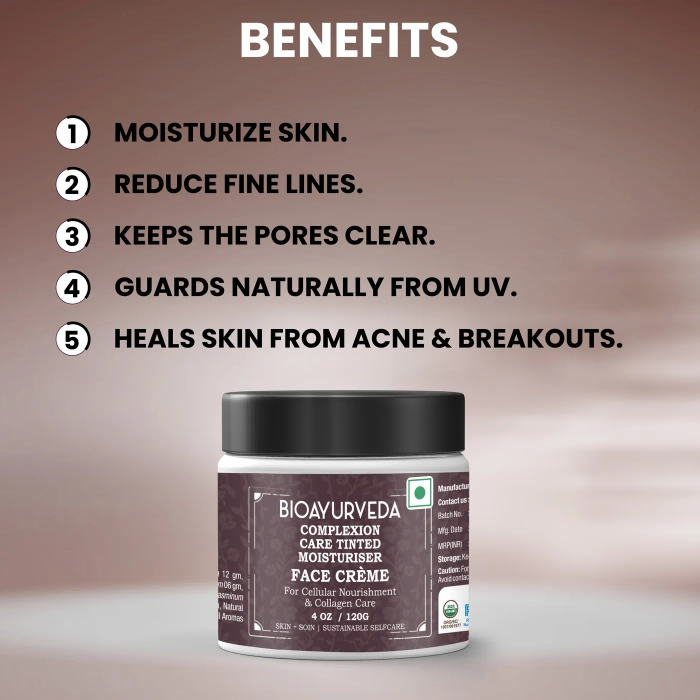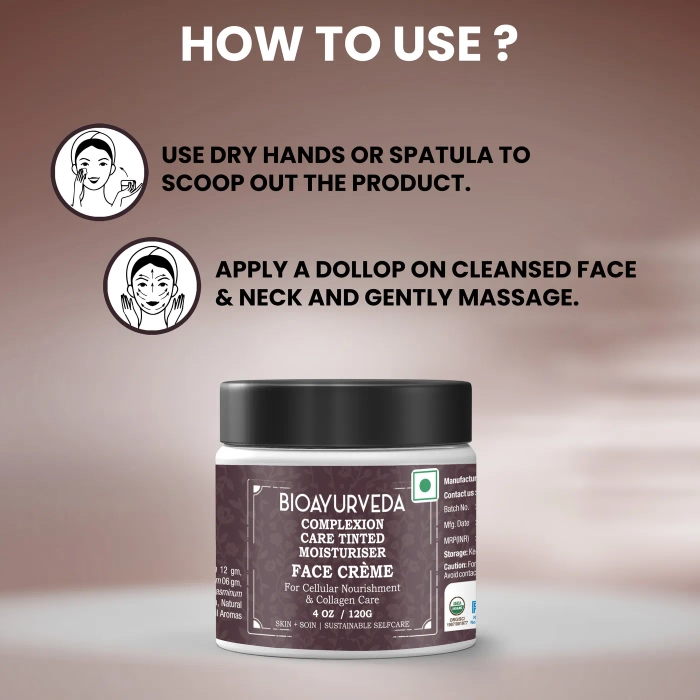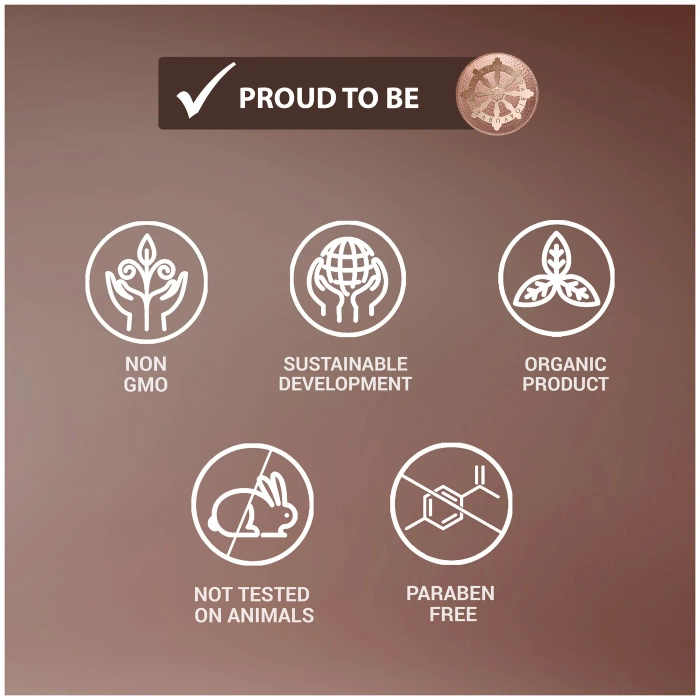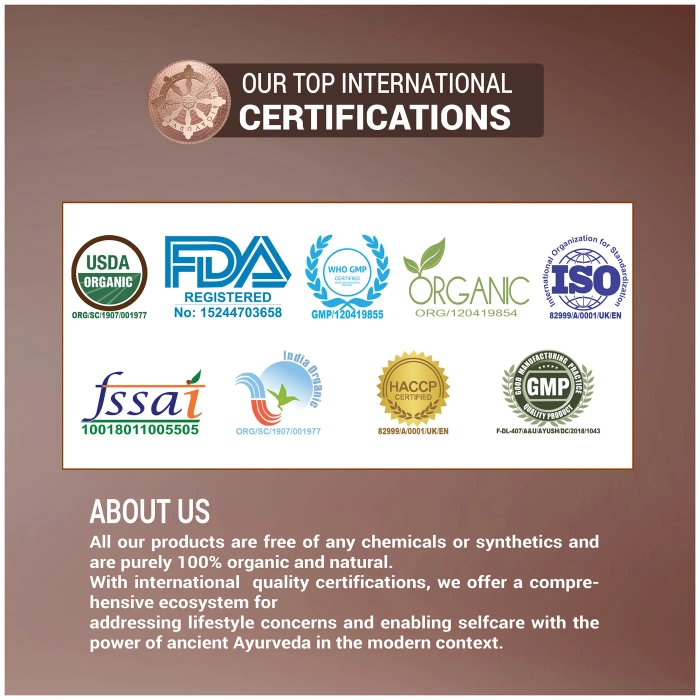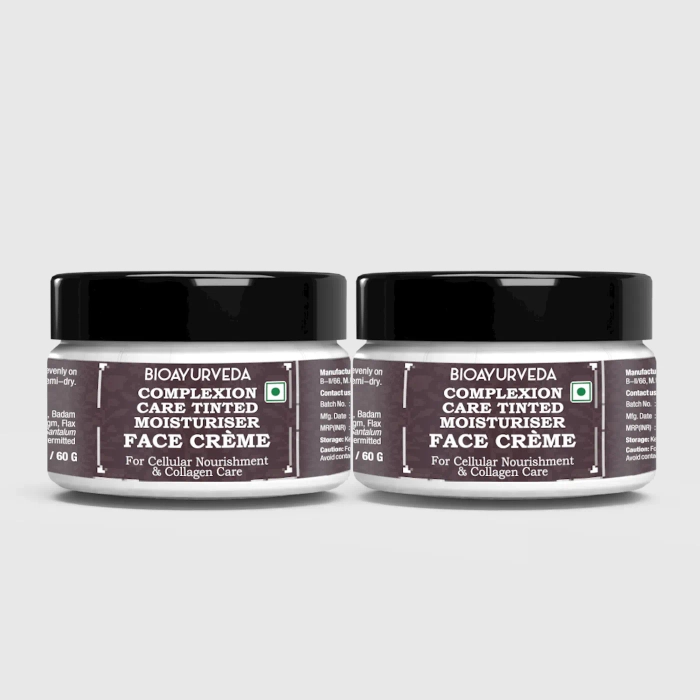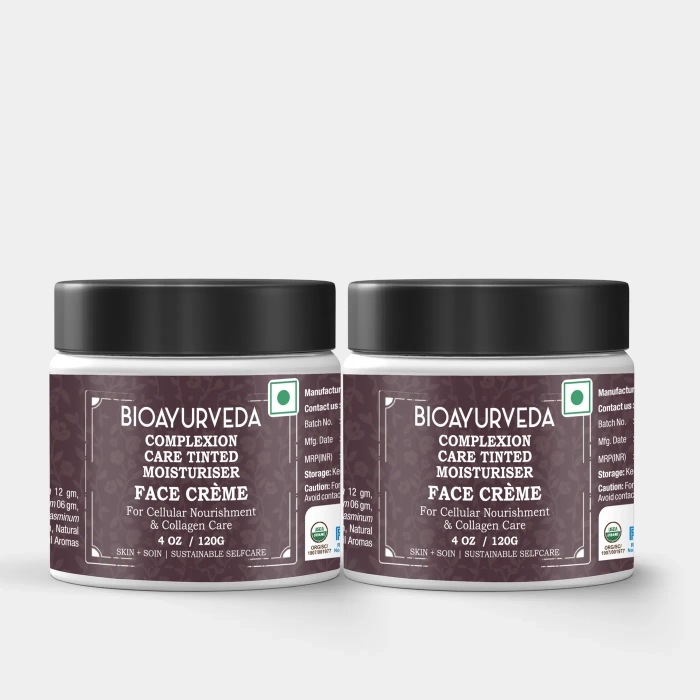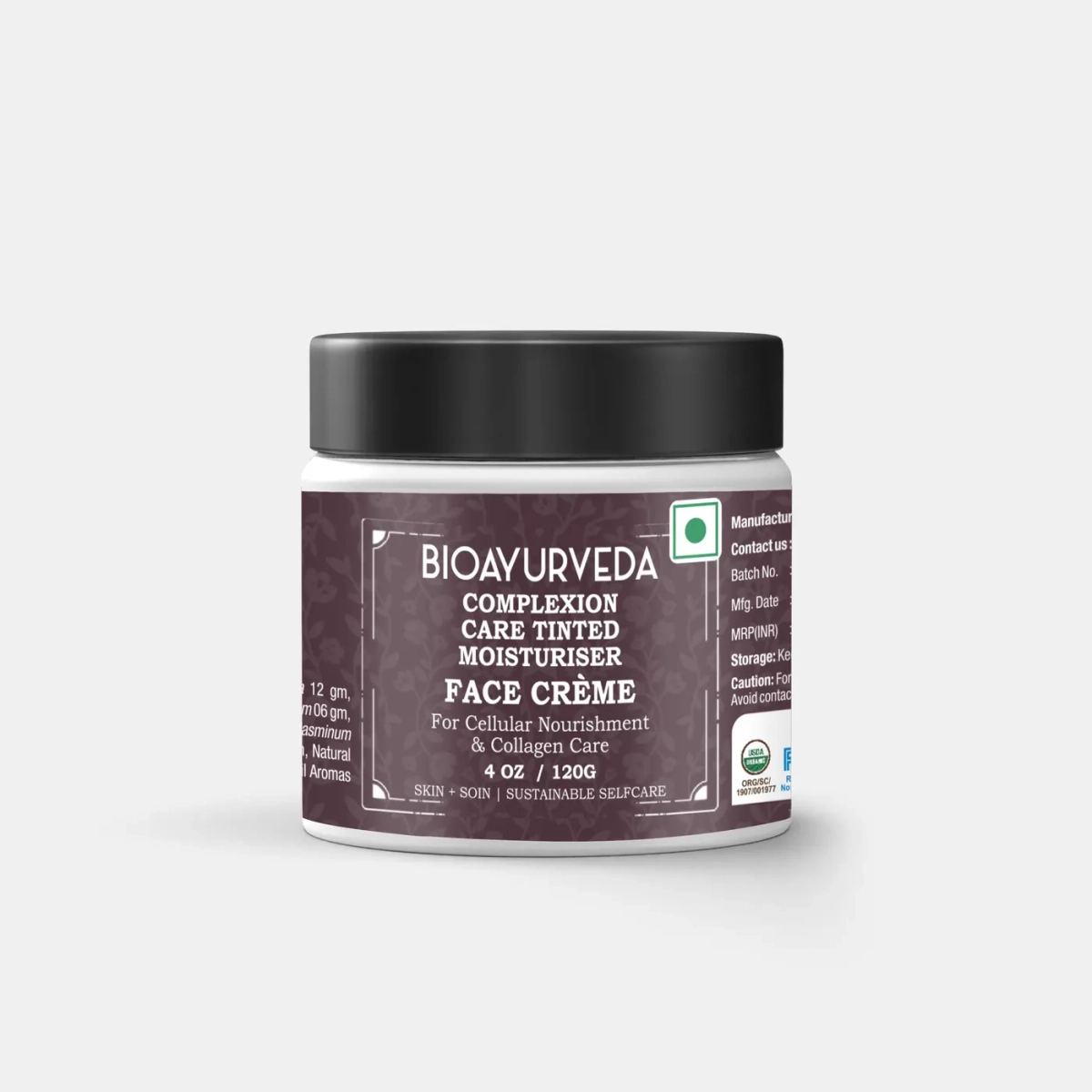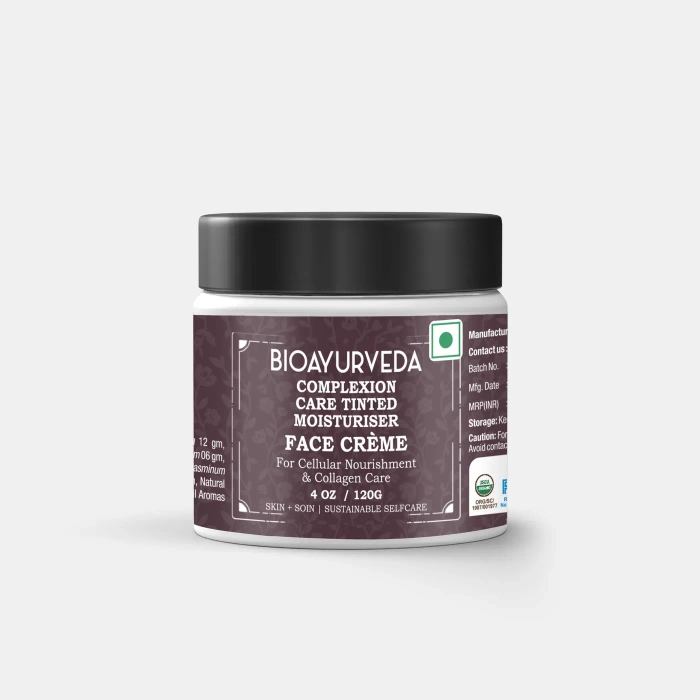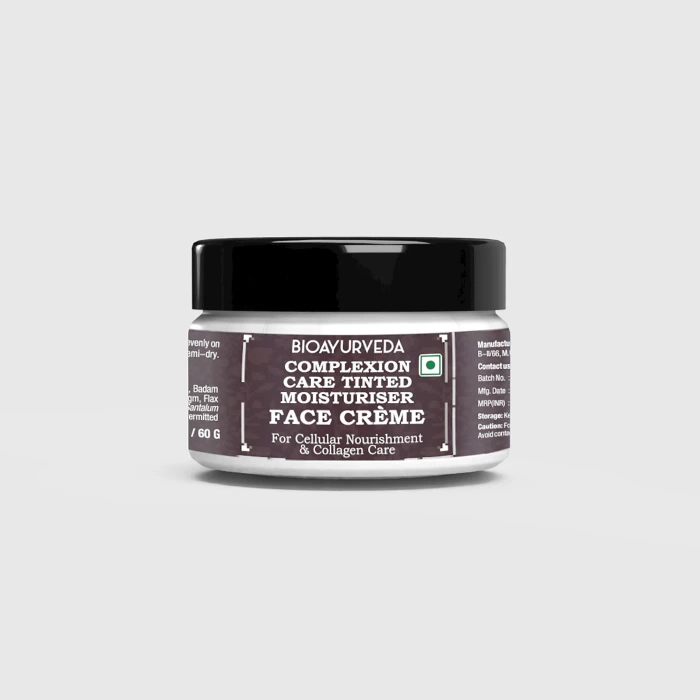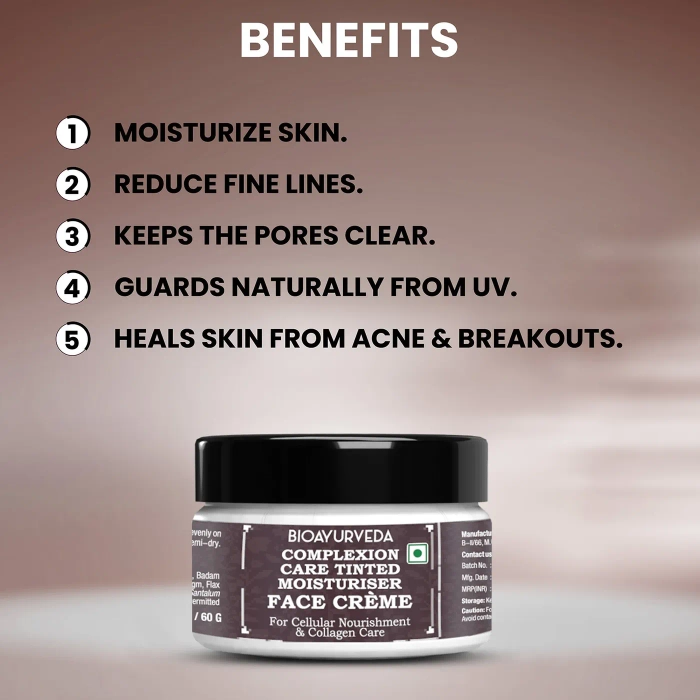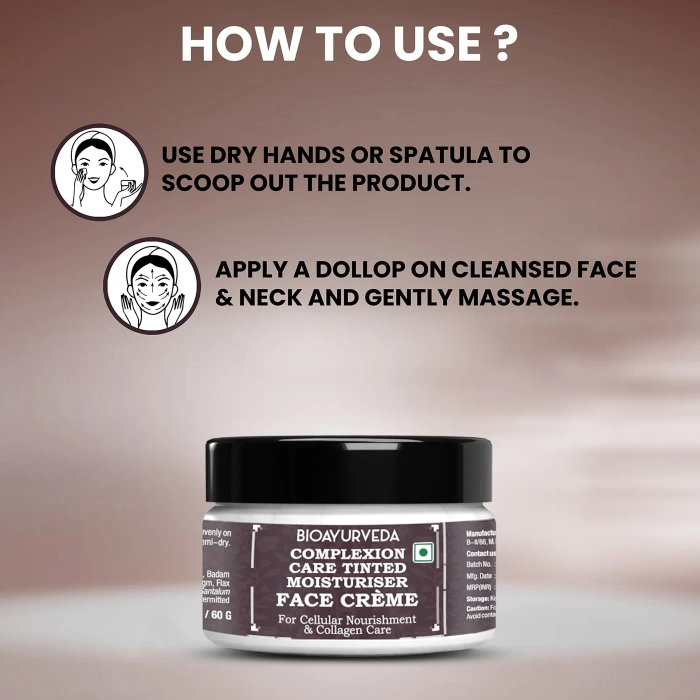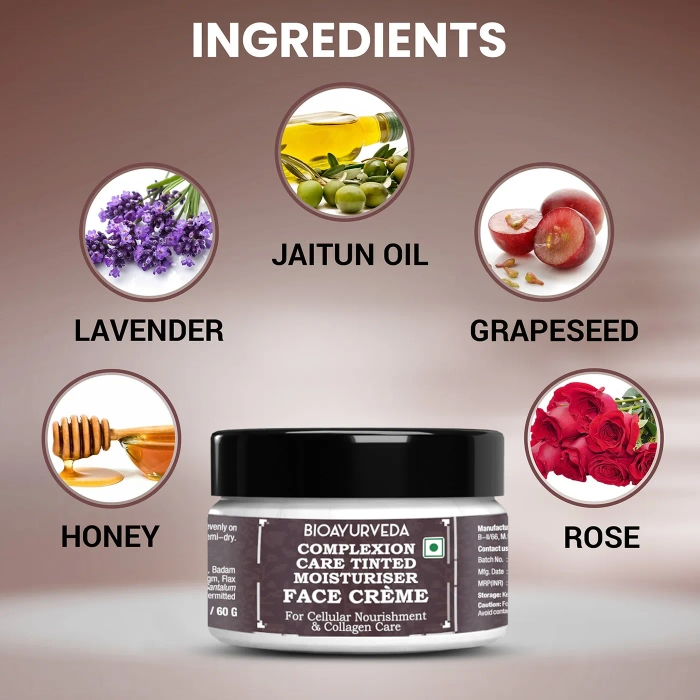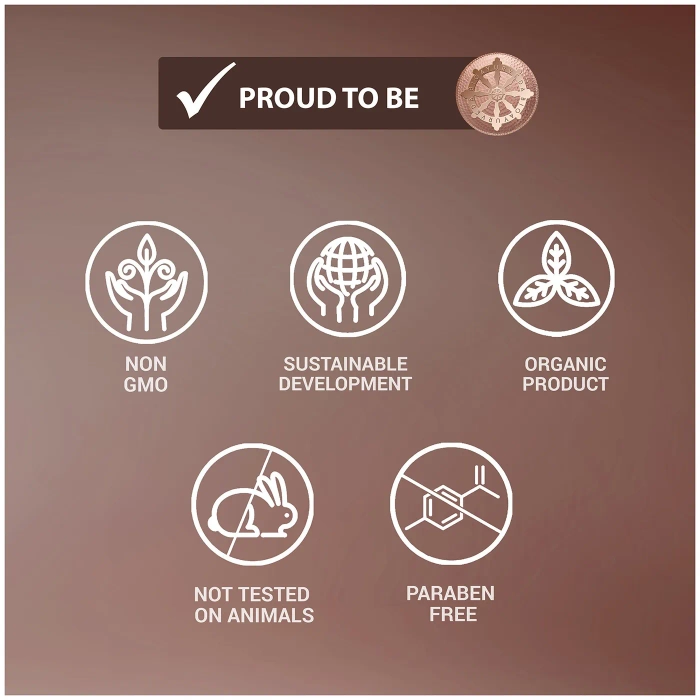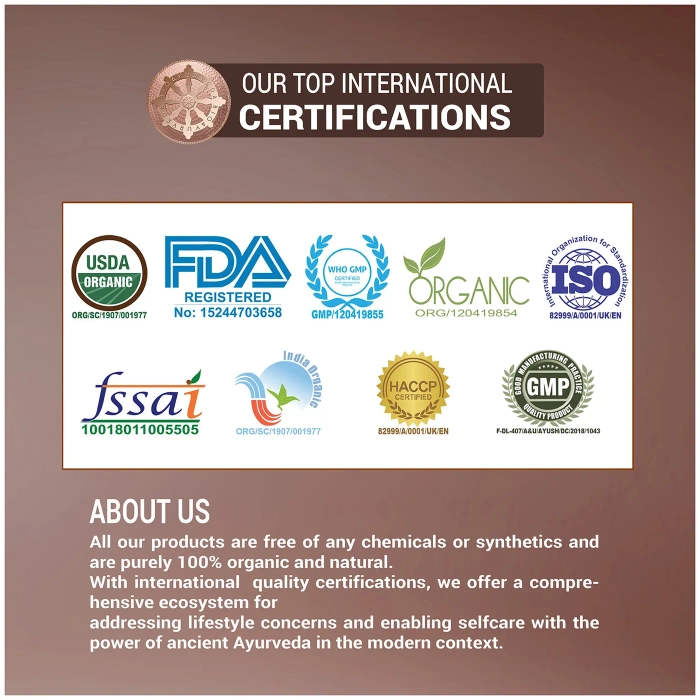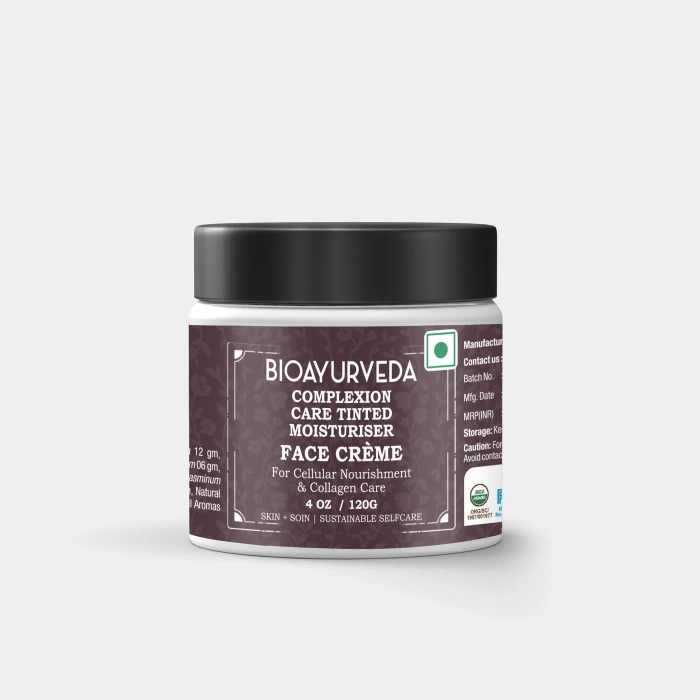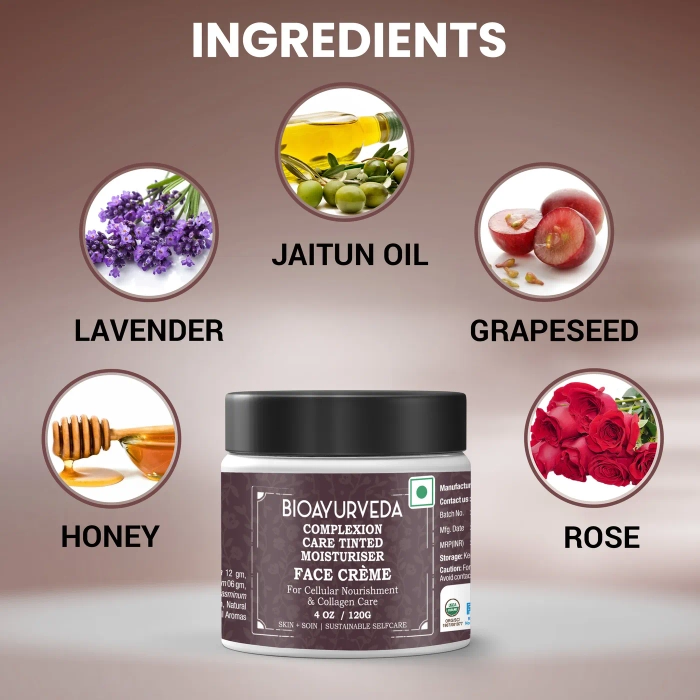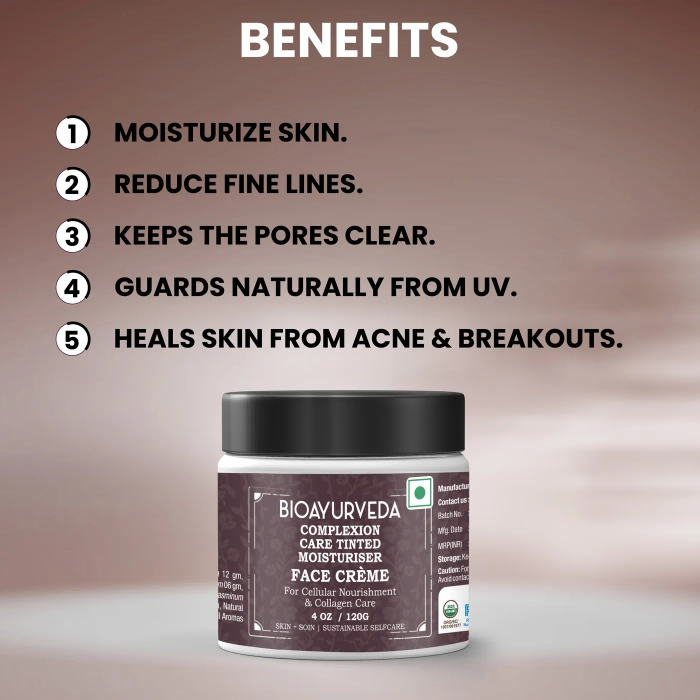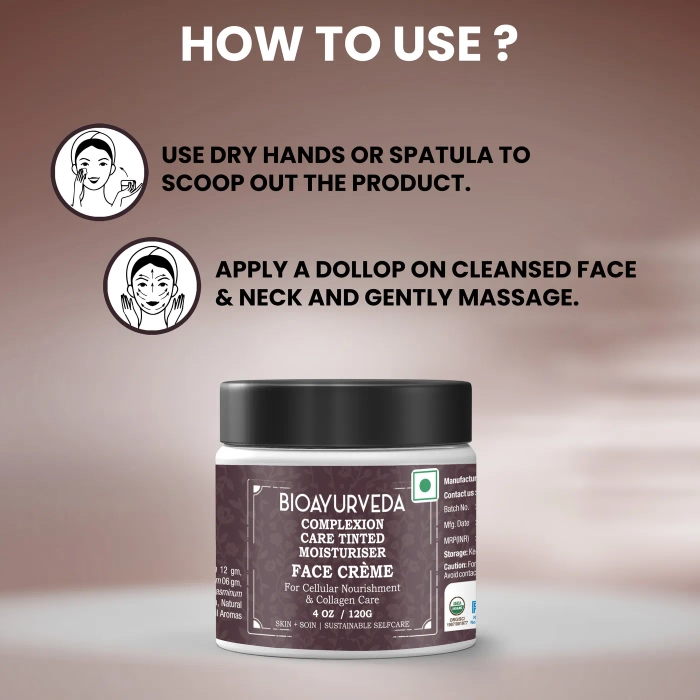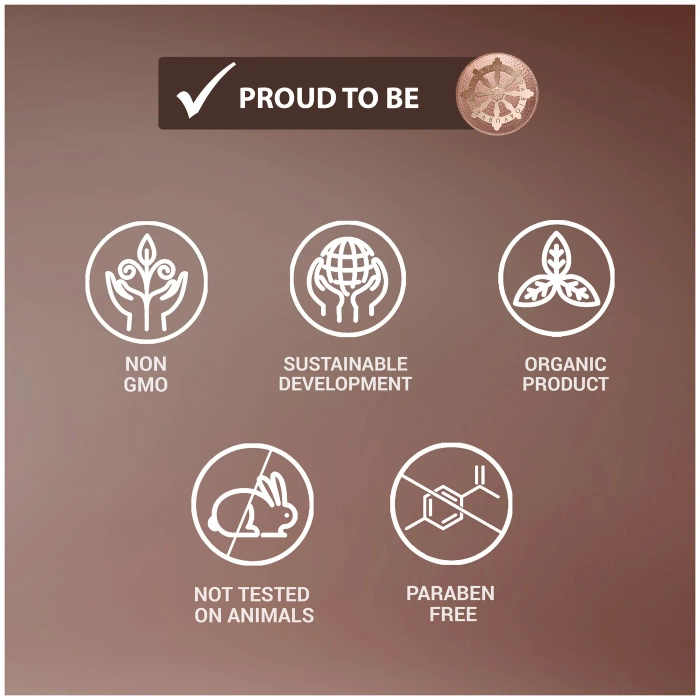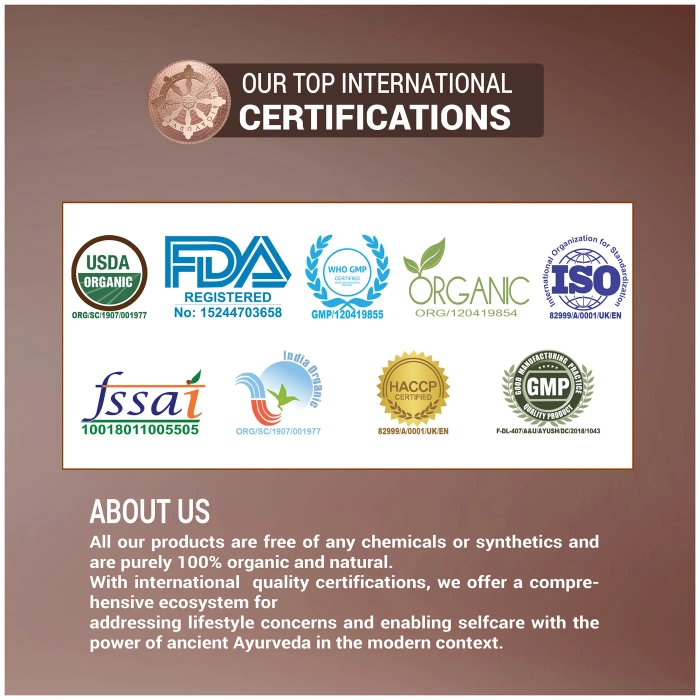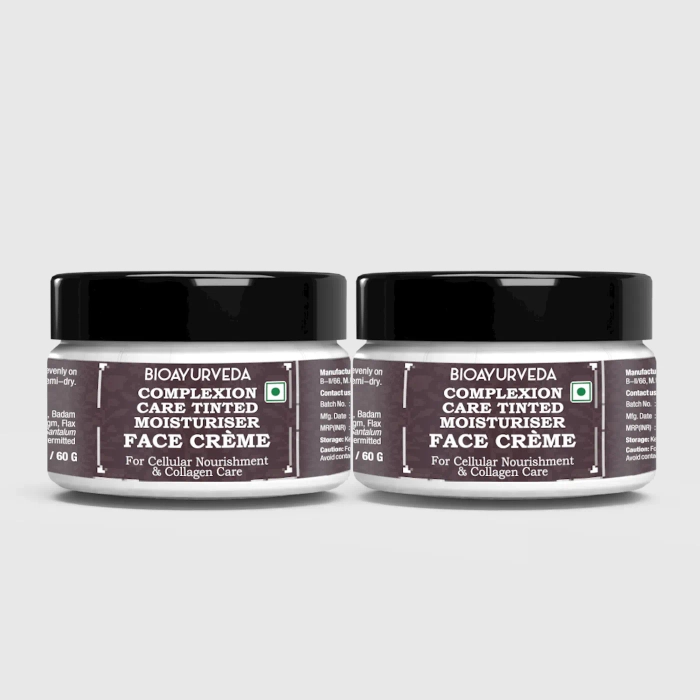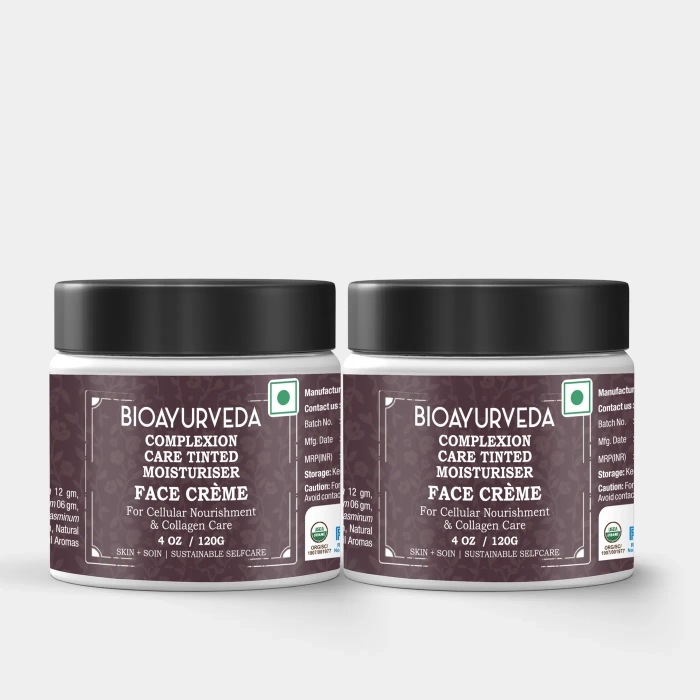 COMPLEXION CARE TINTED MOISTURISER FACE CRÈME
Description
COMPLEXION CARE TINTED MOISTURISER FACE CRÈME is a unique blend of organic herbs, along with vital essential & natural oils, that is formulated for intense hydration and rejuvenation. Anti-ageing, it supports cell renewal and smoothens fine lines. With active nutrients that penetrate deeply, it restores suppleness and luminescence. It keeps the pores clear and heals the skin from acne and breakouts.
HOW TO APPLY
Apply a dollop on cleansed face & neck and gently massage. Use dry hands or spatula to scoop out the product.
Ingredients
Kumari, Grapeseed, Latakasturi, Madhu, Geranium, Lavender Oil, Gulab Oil, Jasmine Oil, Wheat Germ Oil, Jaitun Oil
Product details
---
Some of us may roll our eyes when we hear about skincare routines, thinking it's just a way for companies to sell us more products. But hear us out, taking care of your skin is so important, and a good skincare routine can make all the difference in the world. First and foremost, your skin is your body's largest organ, and it's exposed to all sorts of environmental factors like pollution, sun damage, and harsh weather conditions. Not to mention the fact that we all have different skin types, which can be prone to different issues like acne, dryness, oiliness, and sensitivity. So, if we don't take care of our skin, it's going to show. And who wants to walk around feeling self-conscious about their skin? A skincare routine doesn't have to be complicated, and it doesn't have to involve a ton of products. But it should be consistent.
Starting with a basic routine of cleansing, toning, and moisturizing can do wonders for your skin. So, why don't you start your skincare routine by trying out something that rejuvenates your face? Presenting BIOAYURVEDA Complexion Care Tinted Moisturiser Face Crème. It is an exotic fusion of natural ingredients that work together to provide rejuvenation and nourishment to your face. More so, it is completely Ayurvedic and suitable for all skin types. This makes it a great product to be included in your skincare routine!
BIOAYURVEDA Complexion Care Tinted Moisturiser Face Crème is made with organic and natural ingredients like Honey, Lavender, Rose, Grapeseed, and Jaitun Oil that work in tandem to not only provide nourishment but also protect your skin from acne and breakouts. Besides, it also heals your skin of fine lines, wrinkles, and marks. To make it even better, it can further protect your skin from the UV rays of the sun!
Benefits
Ingredients
Rose
Rose has antioxidant properties that can help protect the cells of your skin from harmful elements. Rose helps soothe skin irritation and reduces its redness too. Moreover, it has anti-ageing properties that smoothen the skin and give it a firmer tone.
Lavender
Lavender is an herbal flower that is traditionally known for its color and distinct smell. However, it is also believed to be quite effective in treating acne and other skin blemishes when used as an ingredient.
Honey
Honey is a sweet and viscous substance that has a golden brown color. It is known to have healing properties with respect to wounds and burns. It can reduce cough, cold, and fever symptoms. More so, it can fight infections quite effectively.
Jaitun Oil
Jaitun Oil, commonly known as Olive Oil, has been in use as a cooking agent. As an ingredient, it helps moisturize your skin and has anti-ageing properties. It is also known to be quite effective in healing cracked heels.
---


BIOAYURVEDA is a visionary holistic luxury brand in health and wellness offering completely natural and organic products.
Manufactured By:
Arganshe Private Limited
Address:
11/2, BADARPUR BORDER, Faridabad, Haryana, 121003