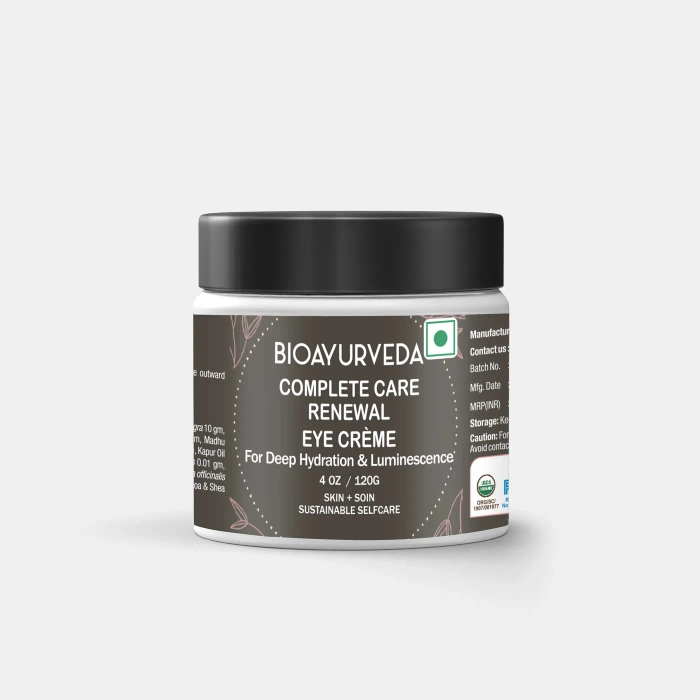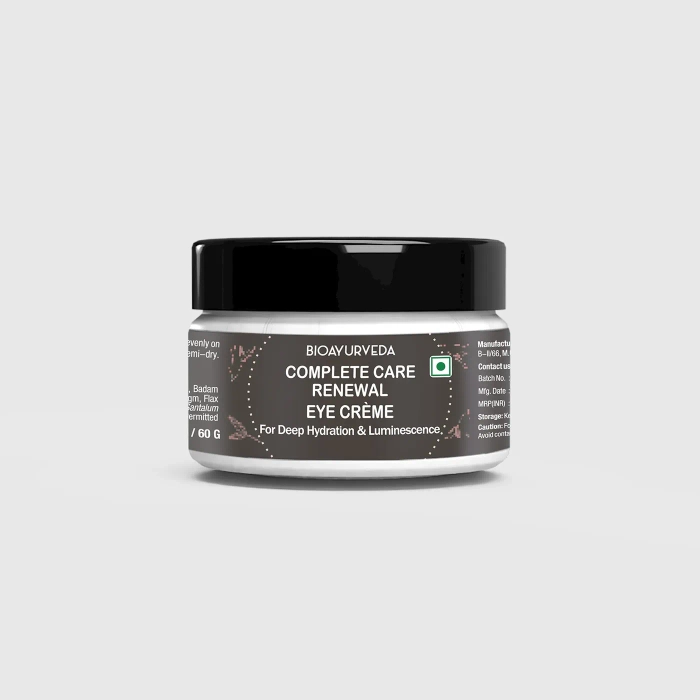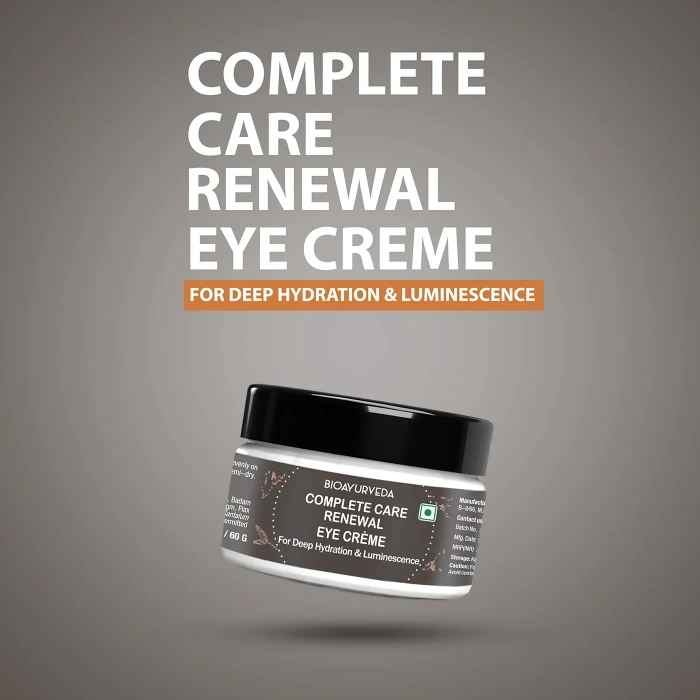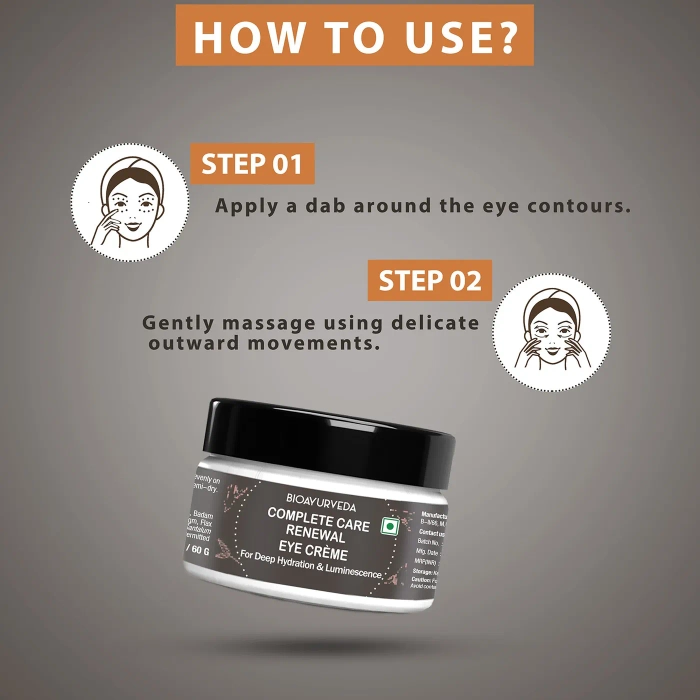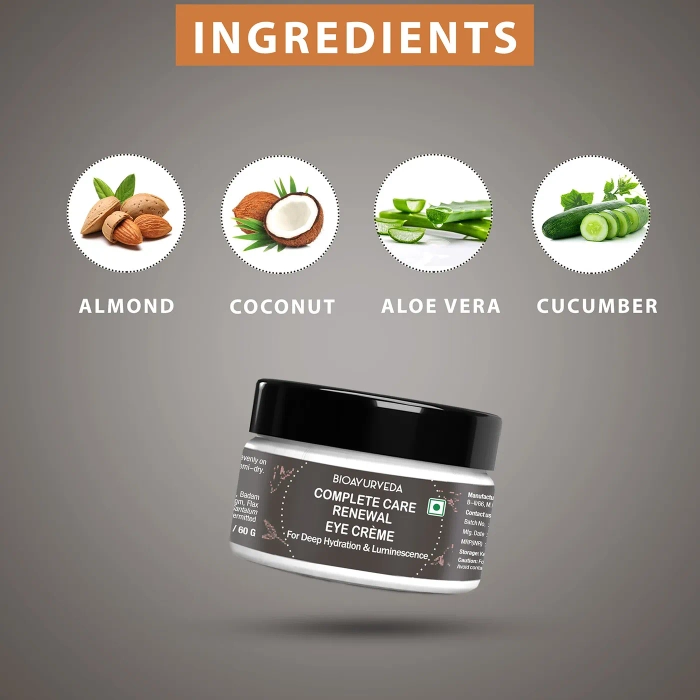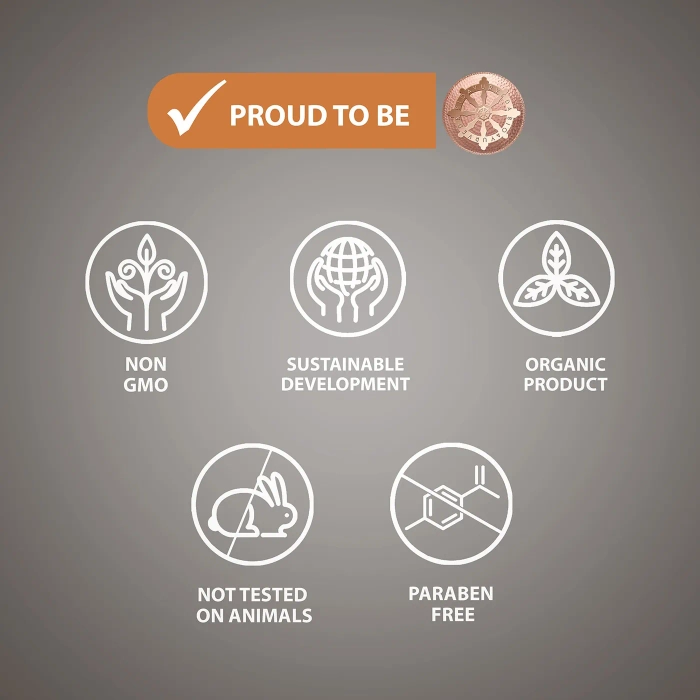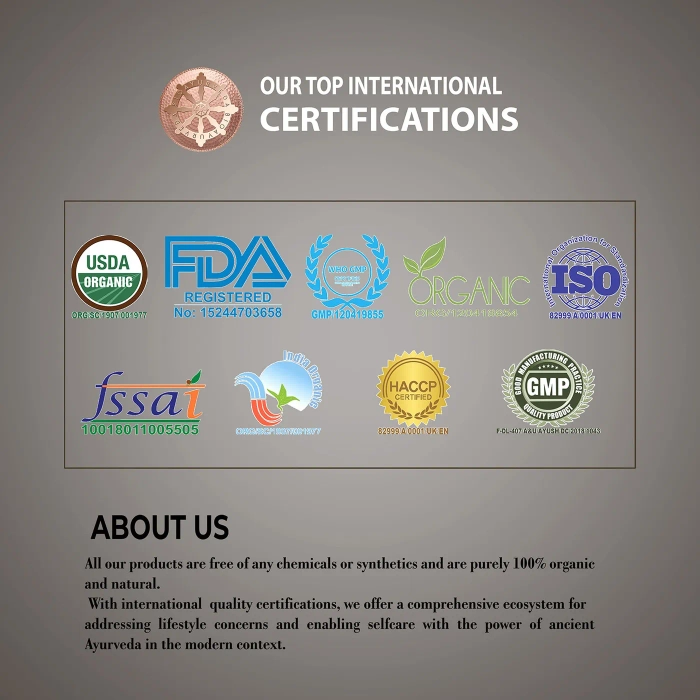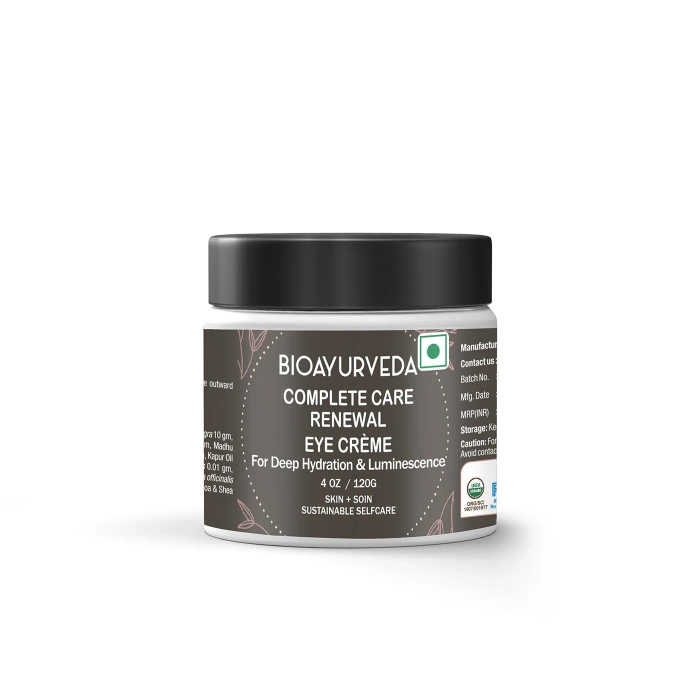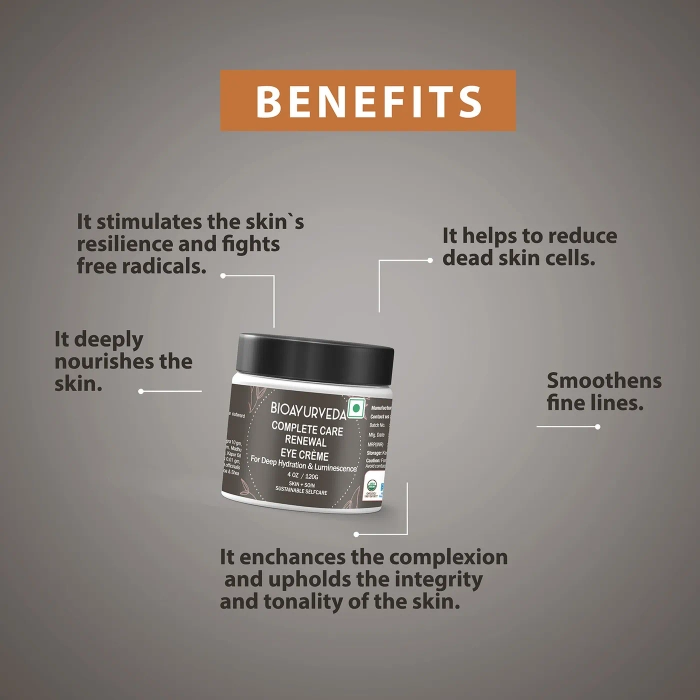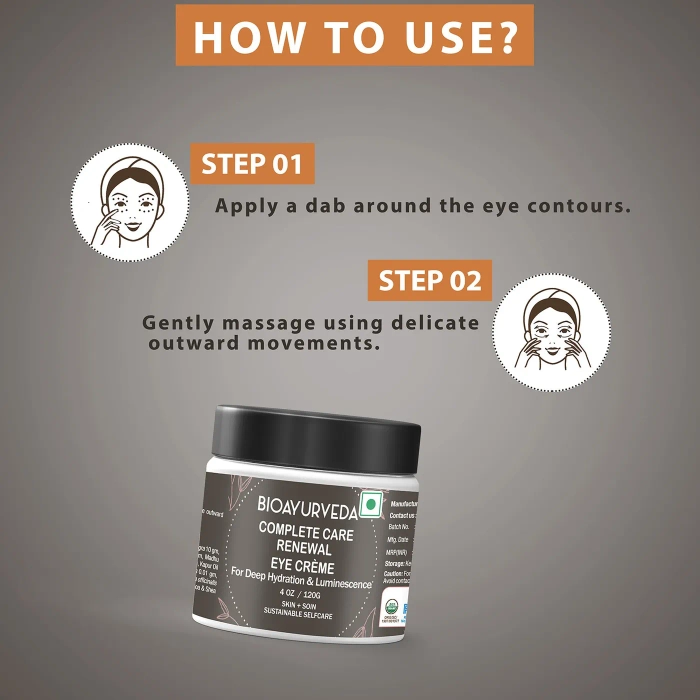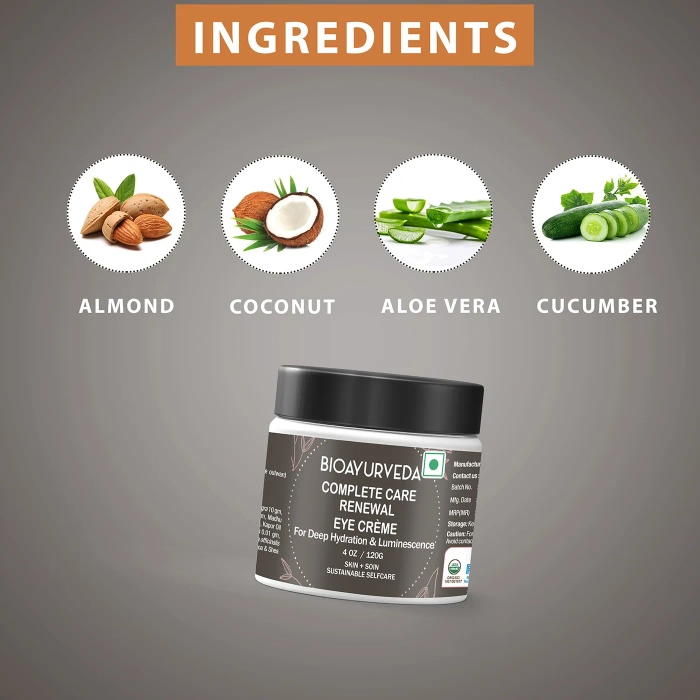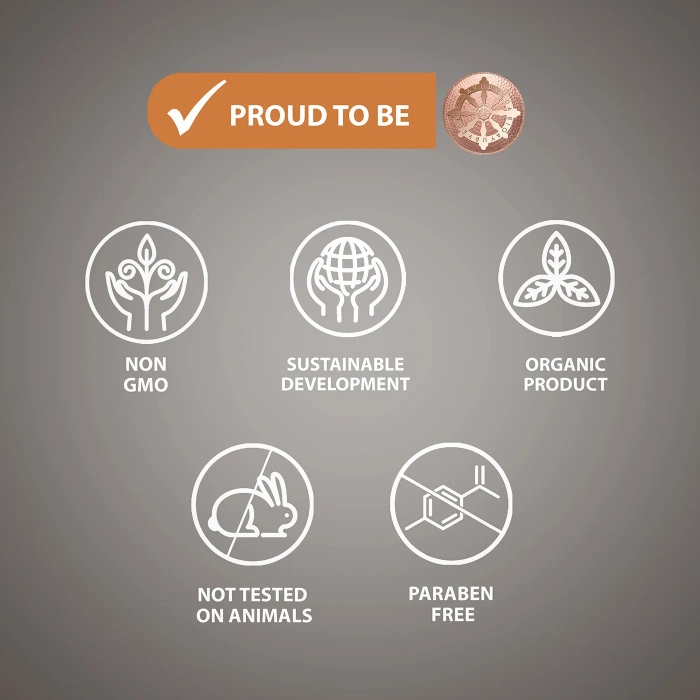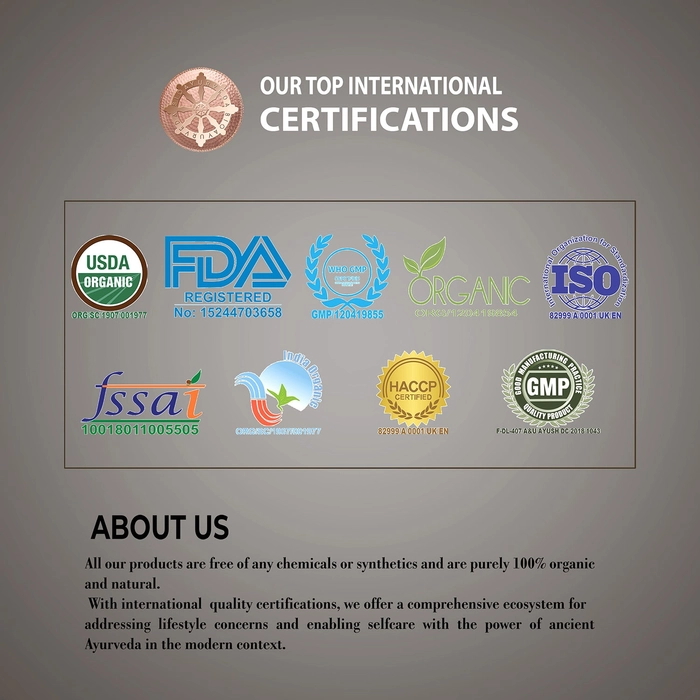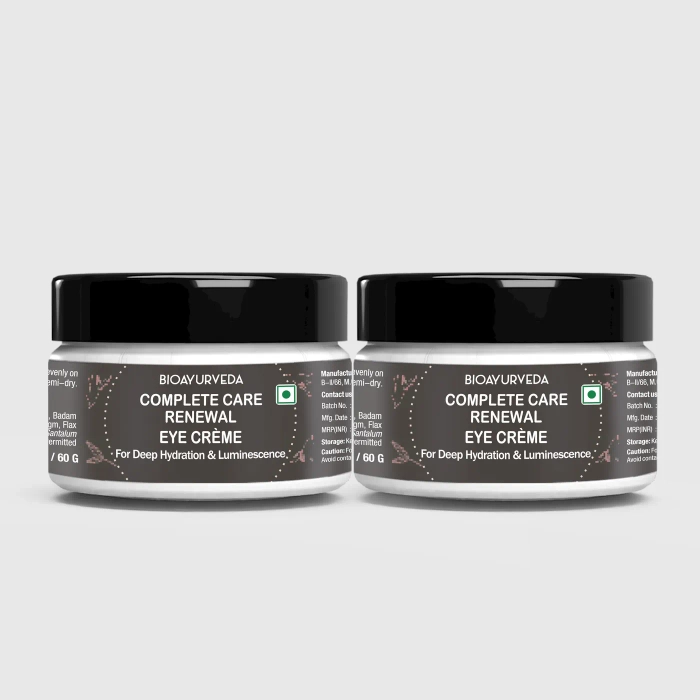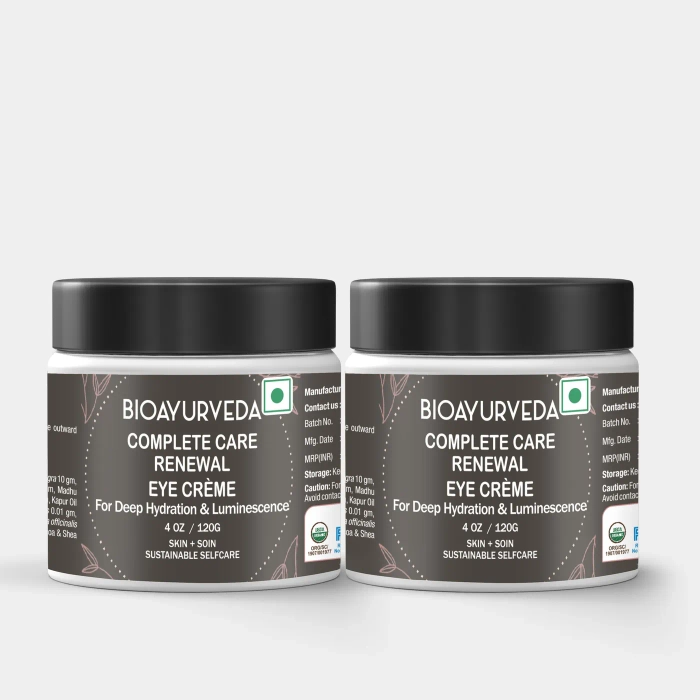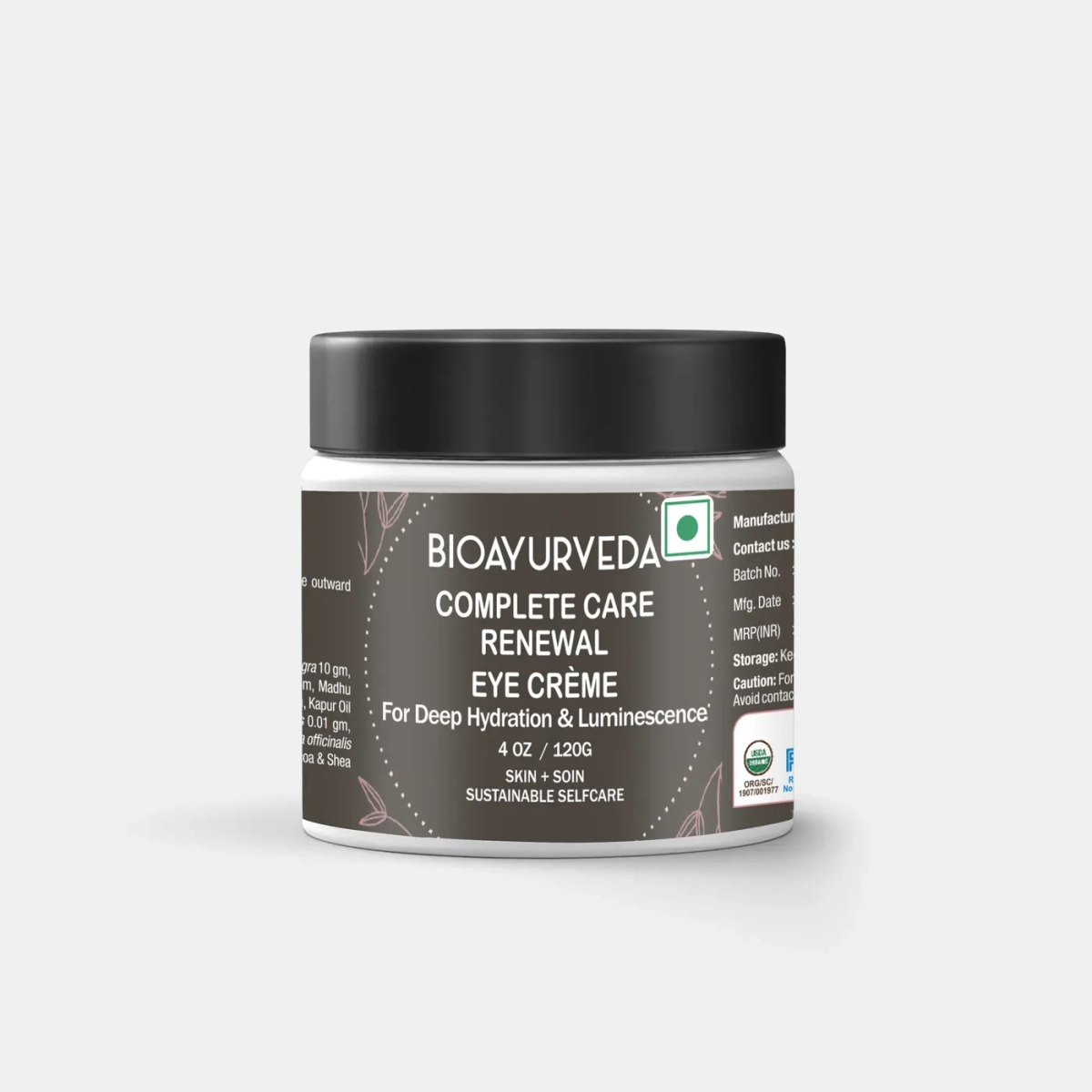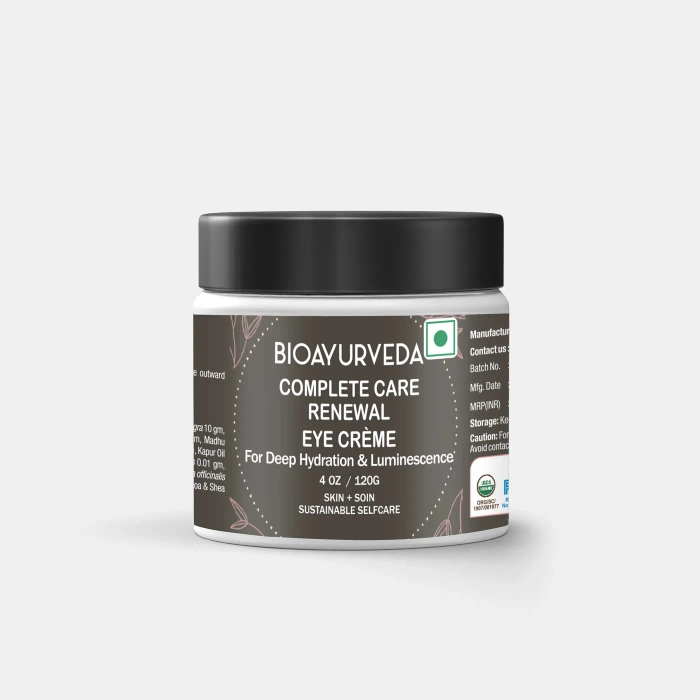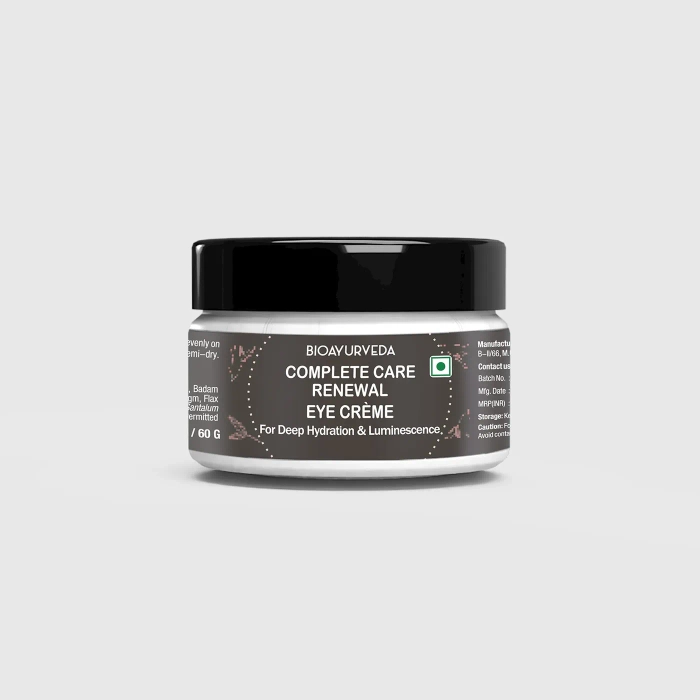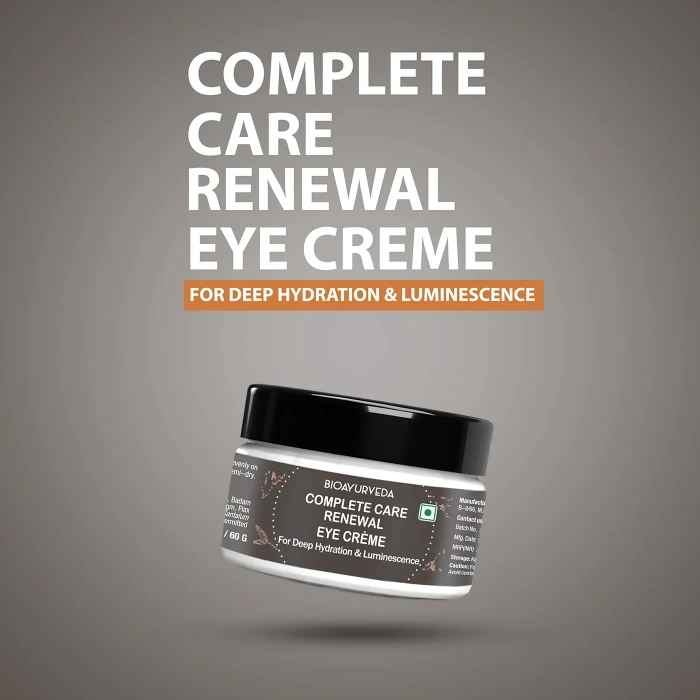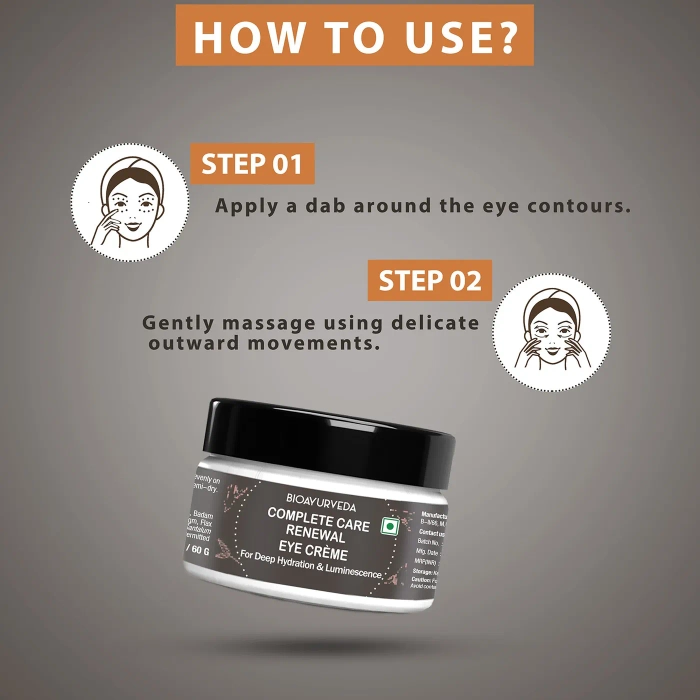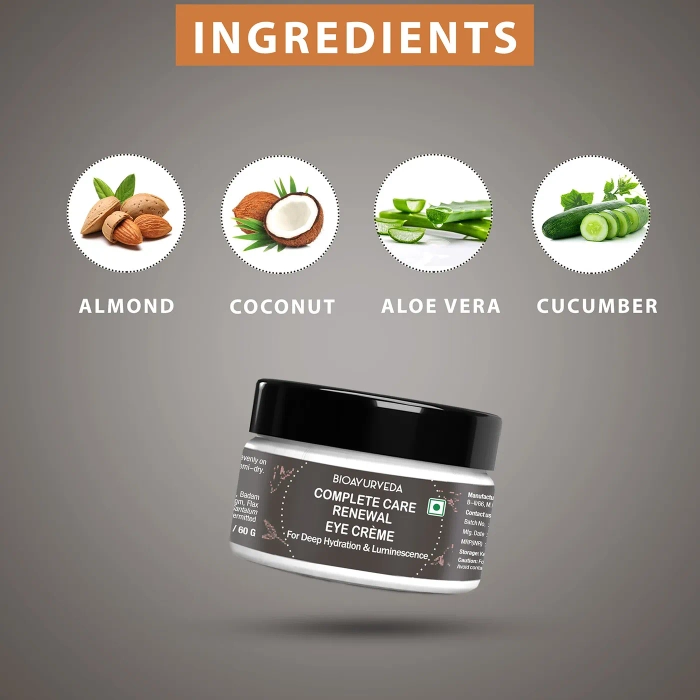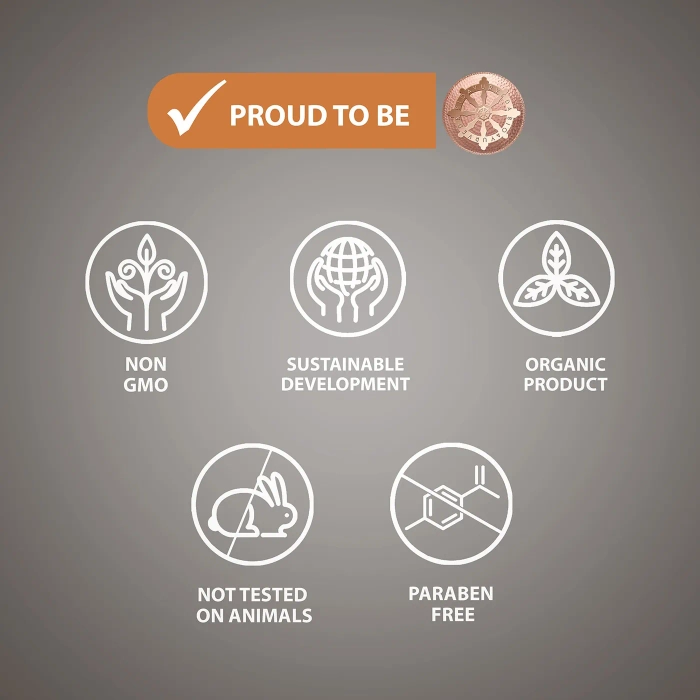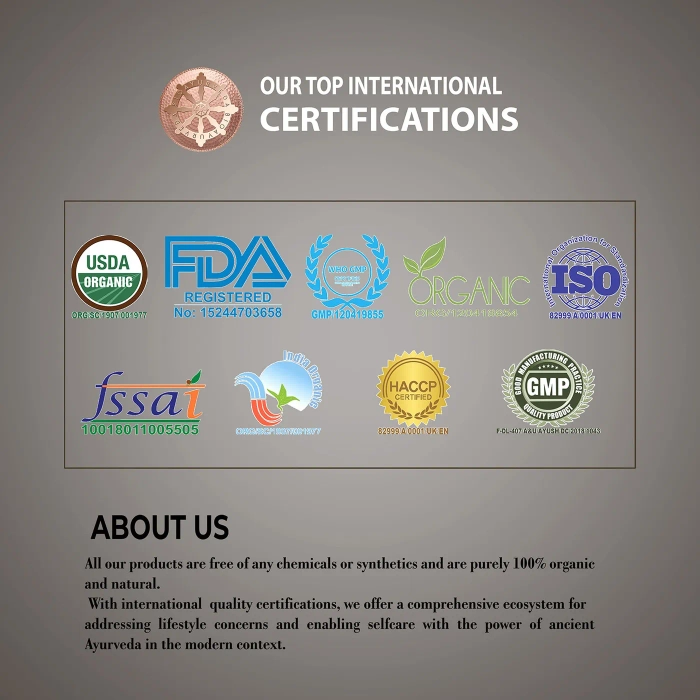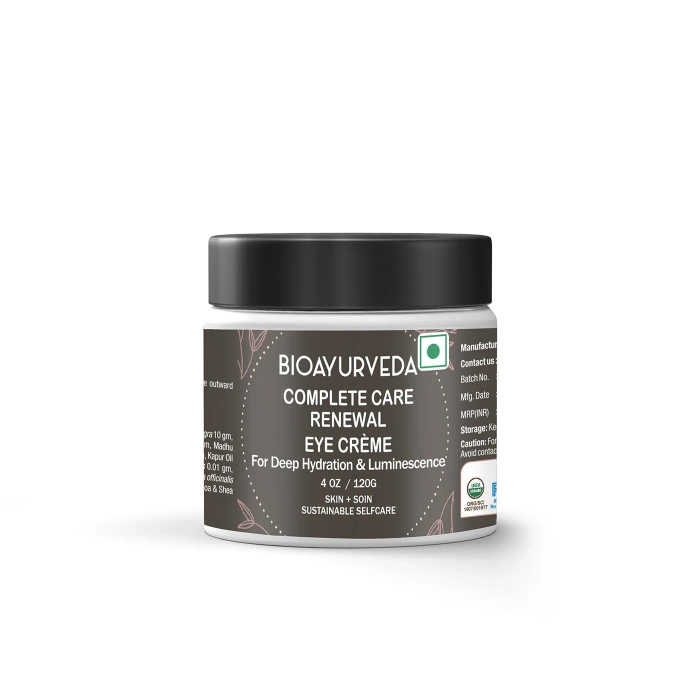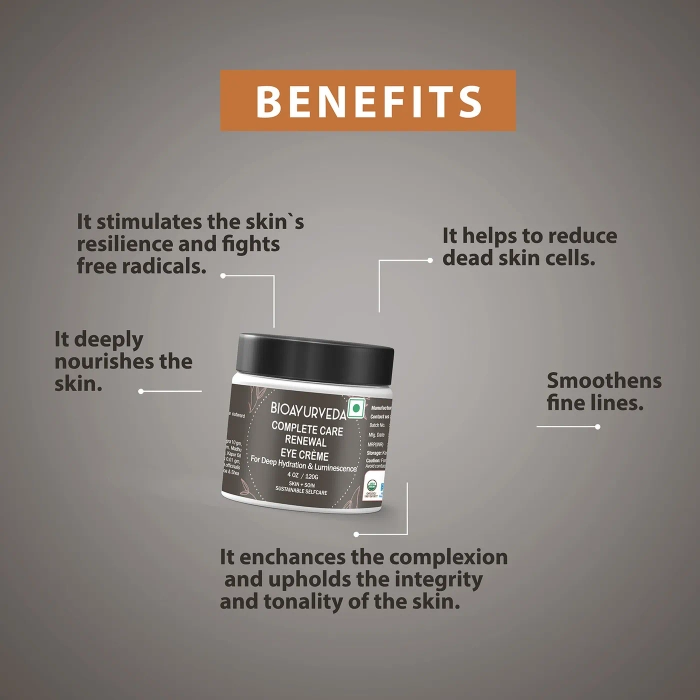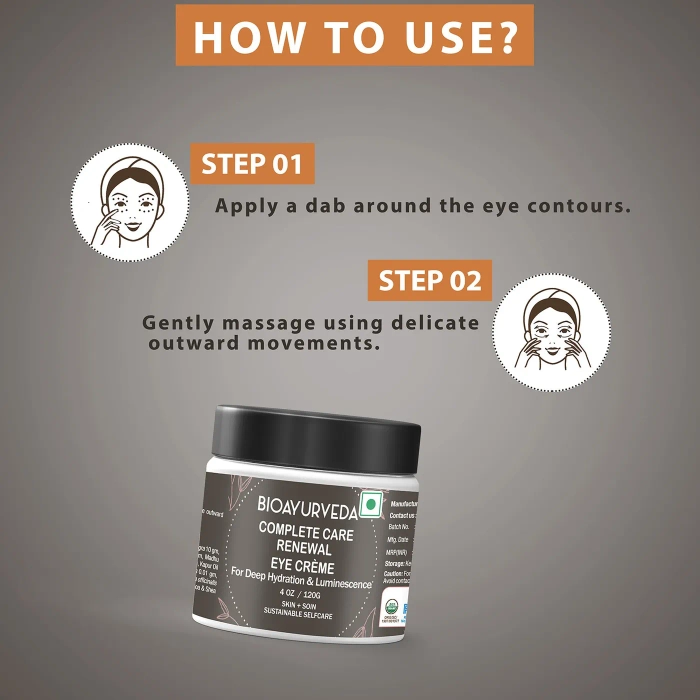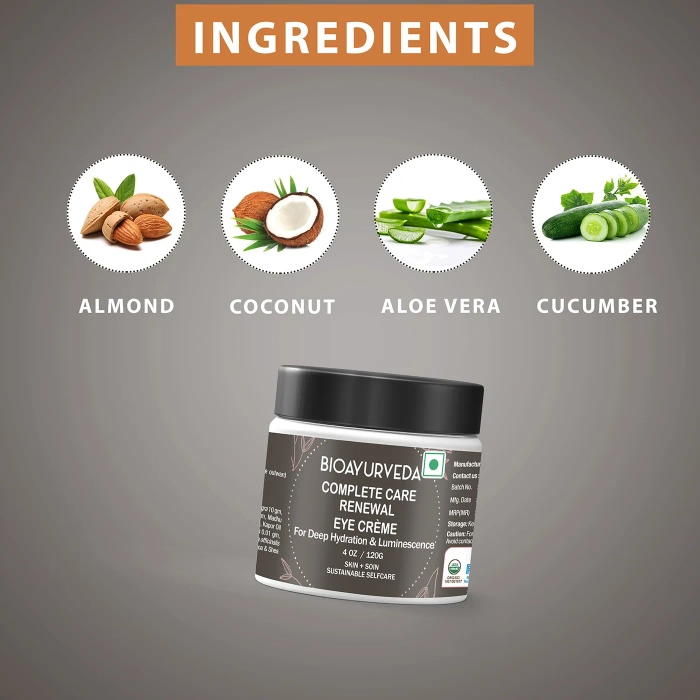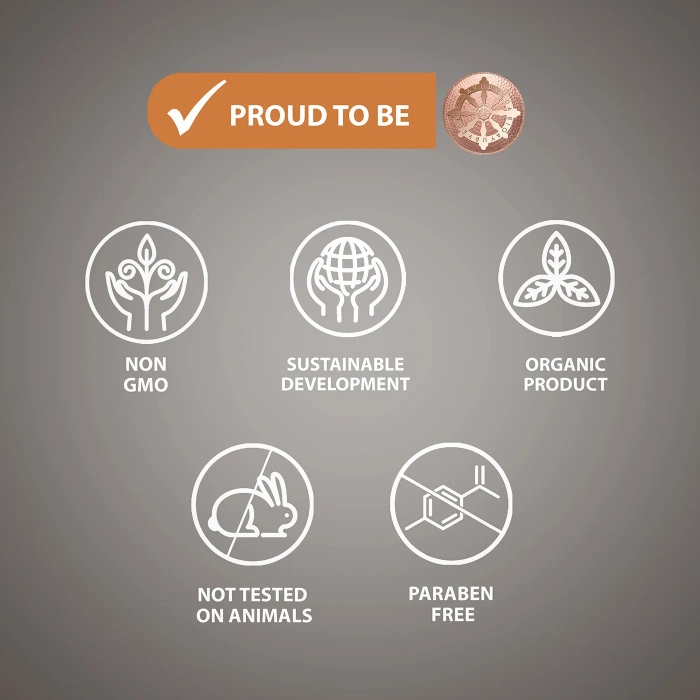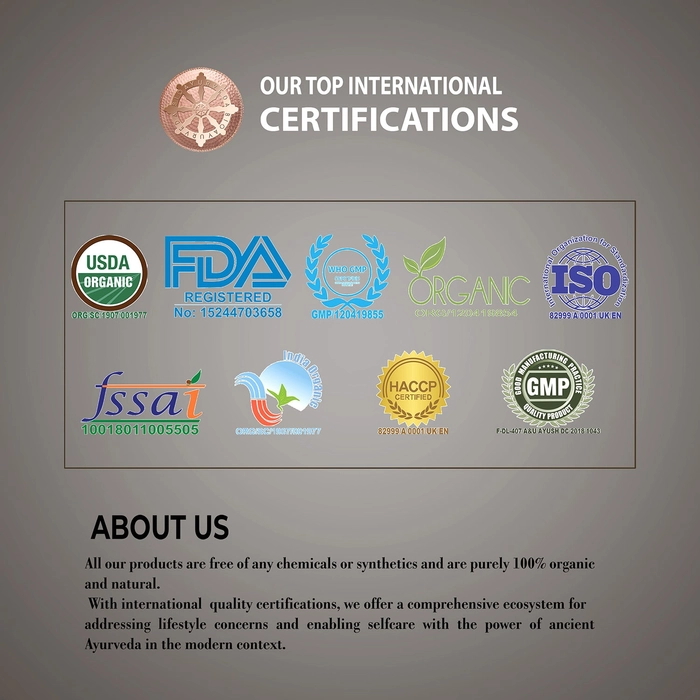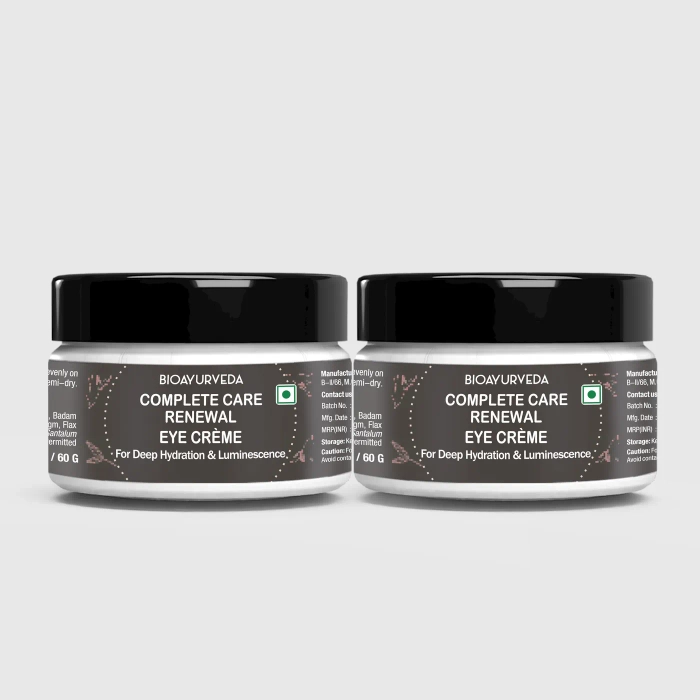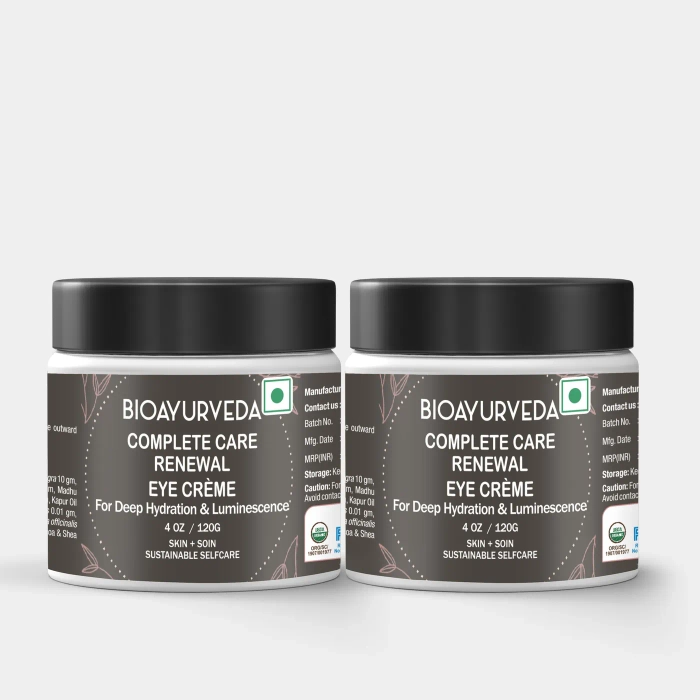 COMPLETE CARE RENEWAL EYE CRÈME
Description
COMPLETE CARE RENEWAL EYE CRÈME is a unique blend of organic herbs, along with vital essential & natural oils that is formulated for reducing fine lines, puffiness and crow's feet. It deeply nourishes the skin, refreshing tired eyes. Nutrient-rich, it has detoxifying and revitalizing properties. It improves the firmness of the skin and stimulates collagen and elastin restoration.
HOW TO APPLY
Apply a dab around the eye contours and gently massage using delicate outward movements. Use dry hands or spatula to scoop out the product.
Ingredients
Manjistha, Khamaan Kabir, Pashanbhed, Tulasi, Soybean, Madhu, Kumari, Kheera Oil, Kapur Oil, Tila Oil, Badam Oil, Wheat Germ Oil, Nariyal Oil, Calendula Oil, Kesar Oil
Product details
We are blessed to have eyes. This surreal creation helps us see everything in detail. Even modern-day cameras and DSLRs cannot match the quality at which the human eye can see things. It is truly a thing of beauty. However, as the saying goes, with great power comes great responsibility. Eyes are exposed to a lot of foreign elements and stress. Not only does it have to fight against dust, dirt, and other physical elements, but it also has to combat excessive light, stress, sleep, and more. These poor little things have to bear the brunt of every activity we do. As a result, our eyes can become dull and weak at any given time. The scary aspect is that it does not even need us to be old to get weaker. Even kids as young as 6 can have weak eyes. To prevent such a foul fate, we present to your our Complete Care Renewal Eye Crème!
This product, infused with natural, organic, and pure ingredients, is made solely to provide extensive care and nourishment to your eyes. It has essential oils that help reduce wrinkles and spots under your eyes. Not only that, but it also provides nourishment that makes your eyes feel less tired and exhausted. Plus, with the ingredients that we use, your eyes are in safe hands. These ingredients will never harm you. Treat your eyes with love and include this eye cream in your skincare routine!
Complete Care Renewal Eye Cream
BIOAYURVEDA Complete Care Renewal Eye Cream is a unique combination of natural and organic ingredients that provide nourishment and hydration to your eyes. They help reduce fine lines, wrinkles, spots, and crow's feet. They boost collagen production and make your eyes look less tired with the help of their detoxifying properties. People of any gender can use it. It also moisturizes your skin and provides it with the healthy amount of nutrients it needs.
An Organic Eye Cream with the Purity of Organic Ingredients
Chemical and Synthetic Free
Suitable for all skin types
Ayurvedic Formulation
Natural and Organic Ingredients
Nourishes your Eyes via Natural Means
INGREDIENTS


BIOAYURVEDA is a visionary holistic luxury brand in health and wellness offering completely natural and organic products.
Manufactured By:
Arganshe Private Limited
Address:
11/2, BADARPUR BORDER, Faridabad, Haryana, 121003