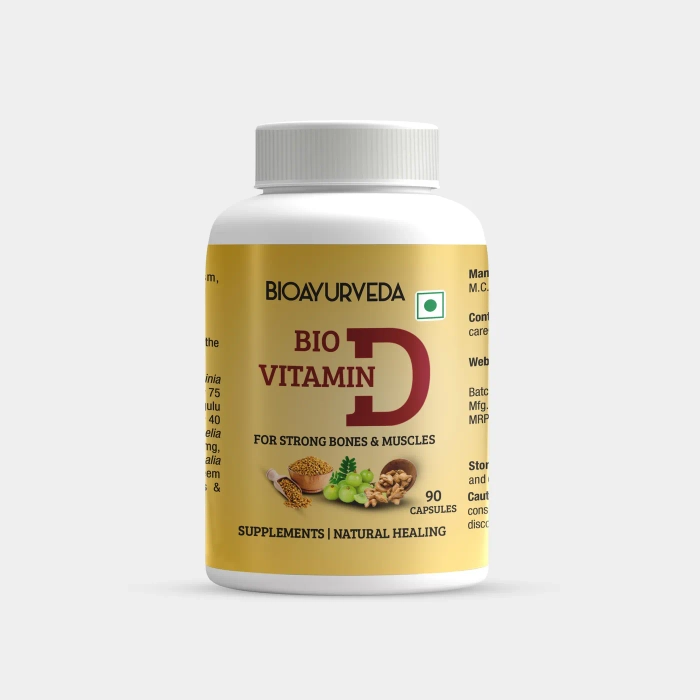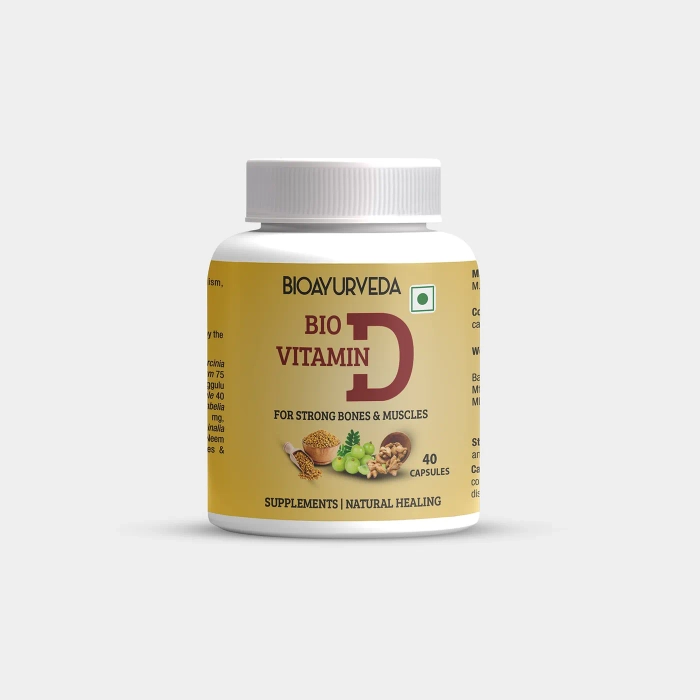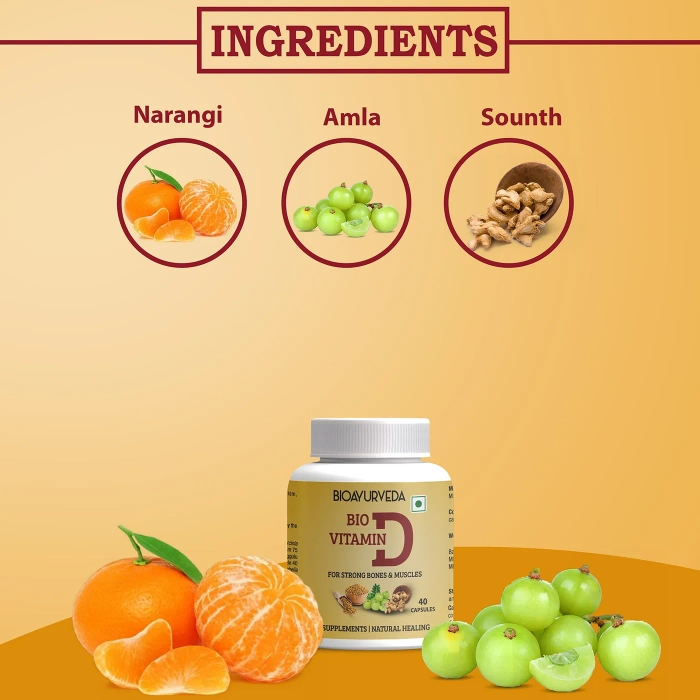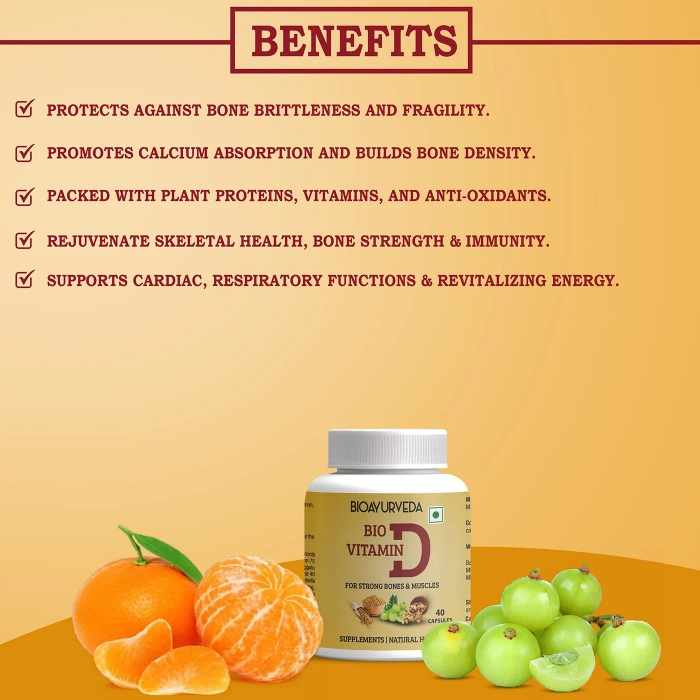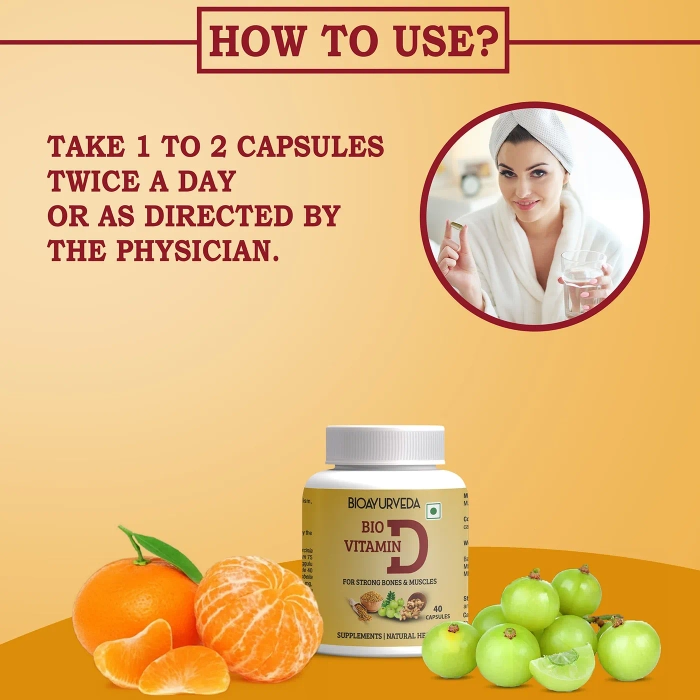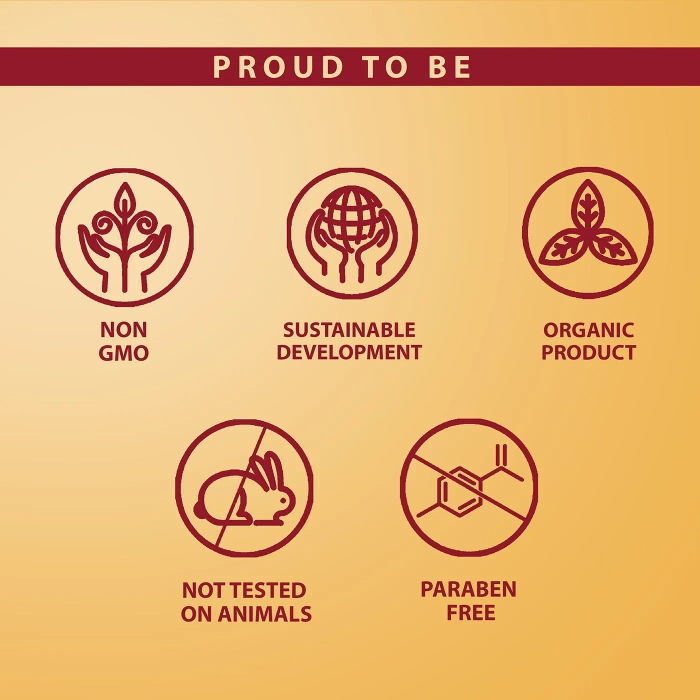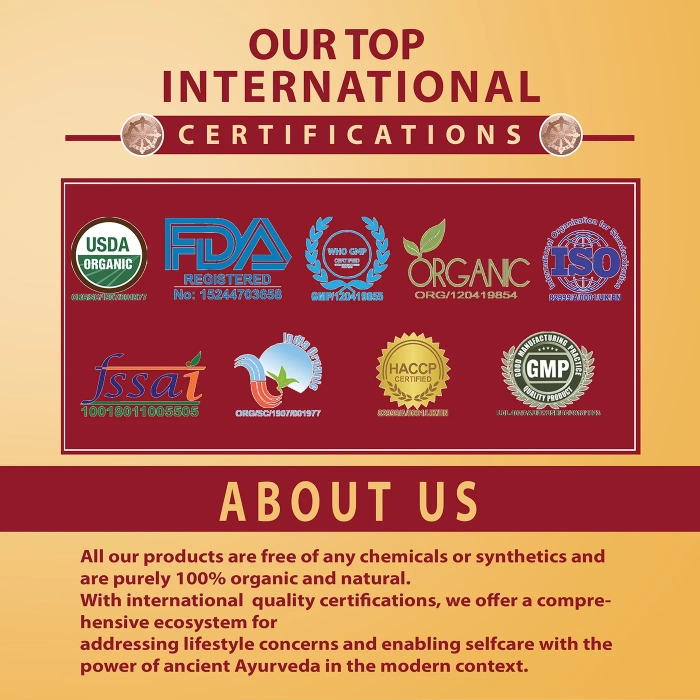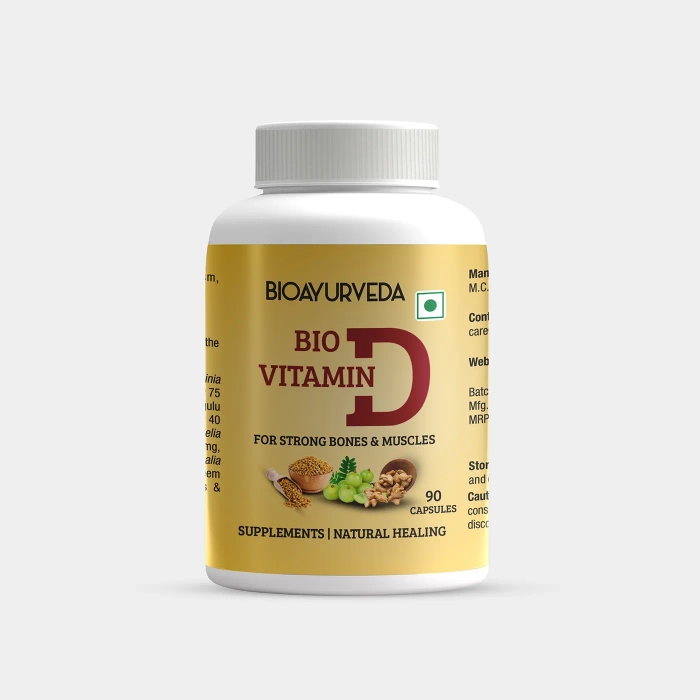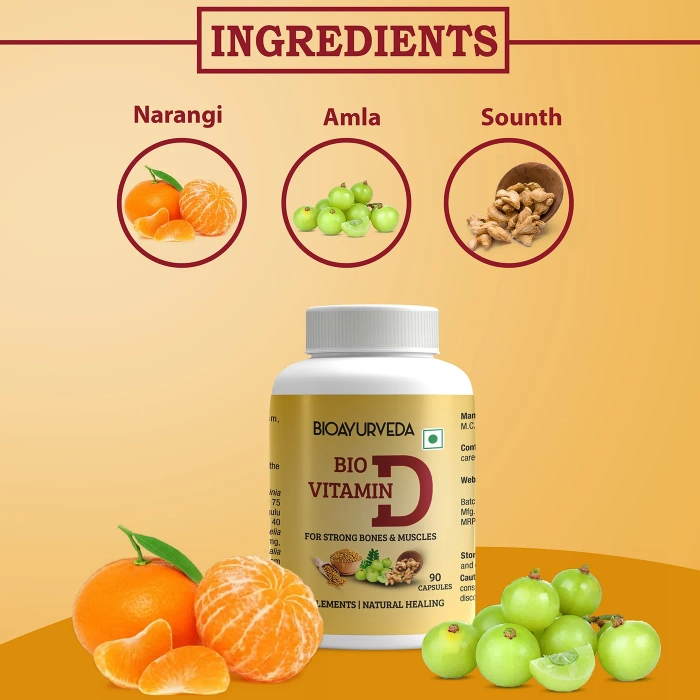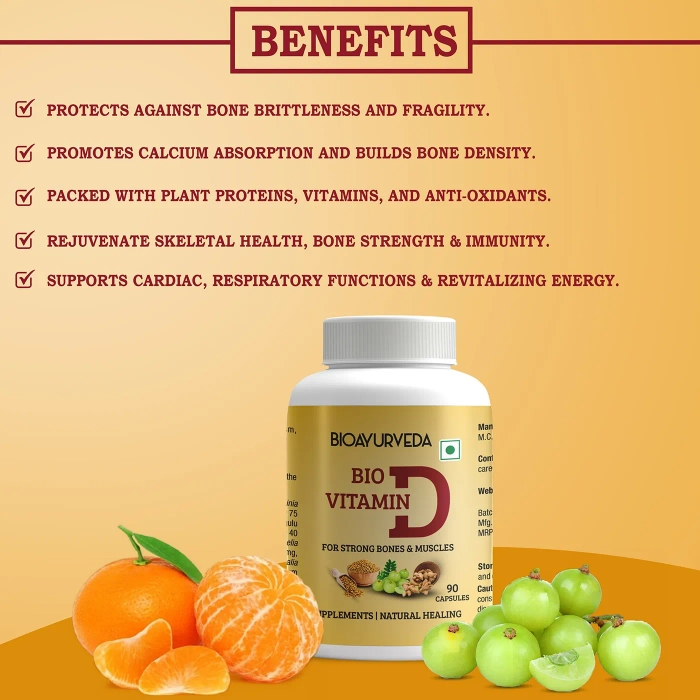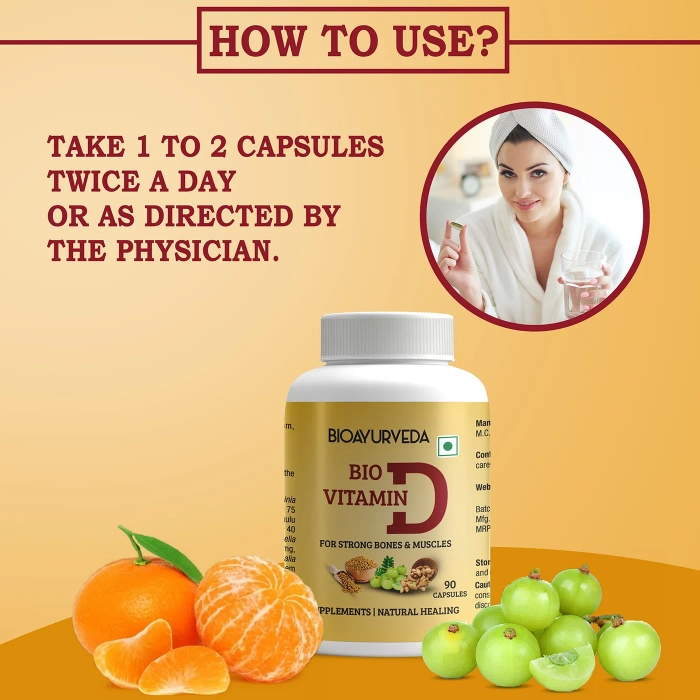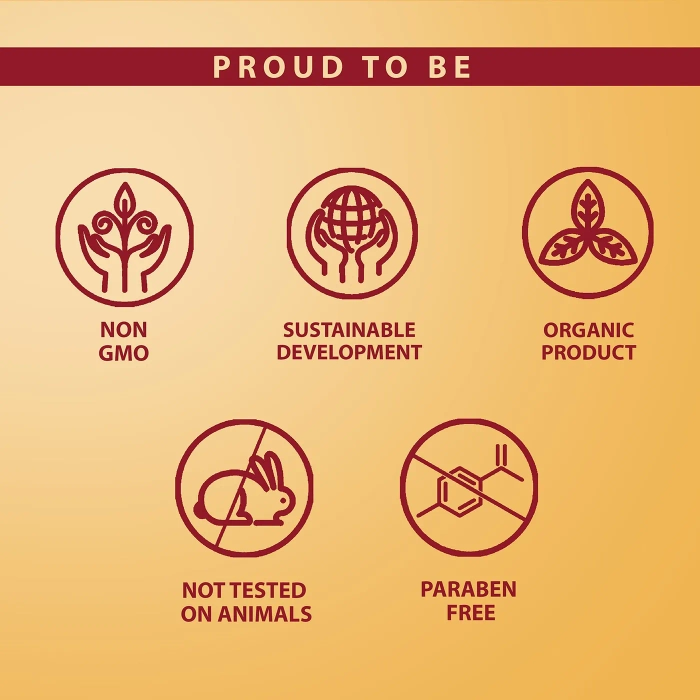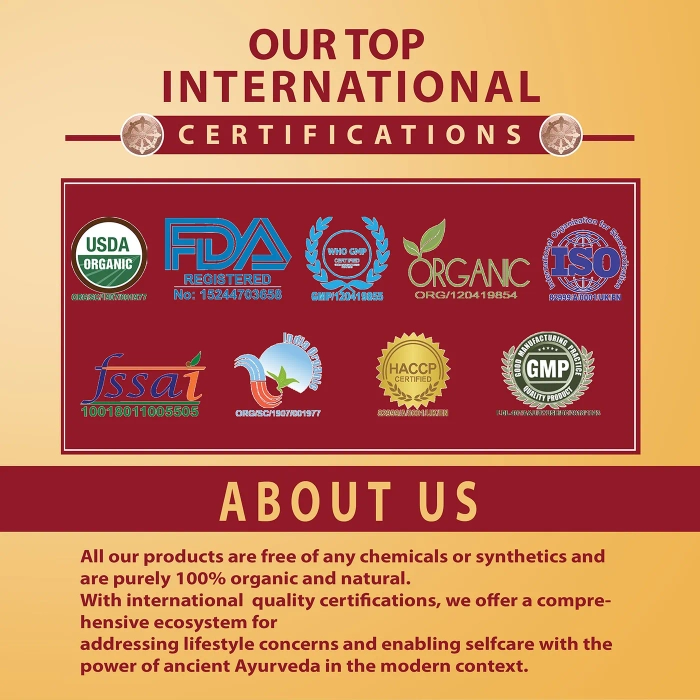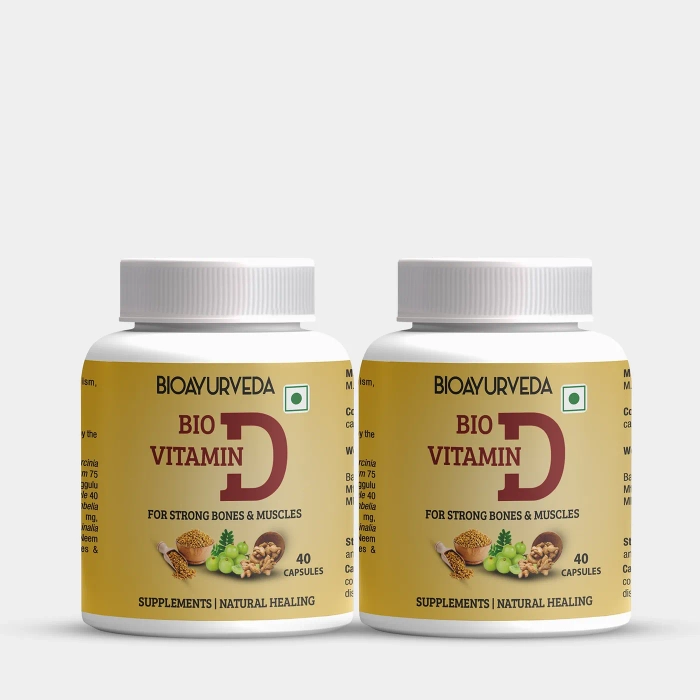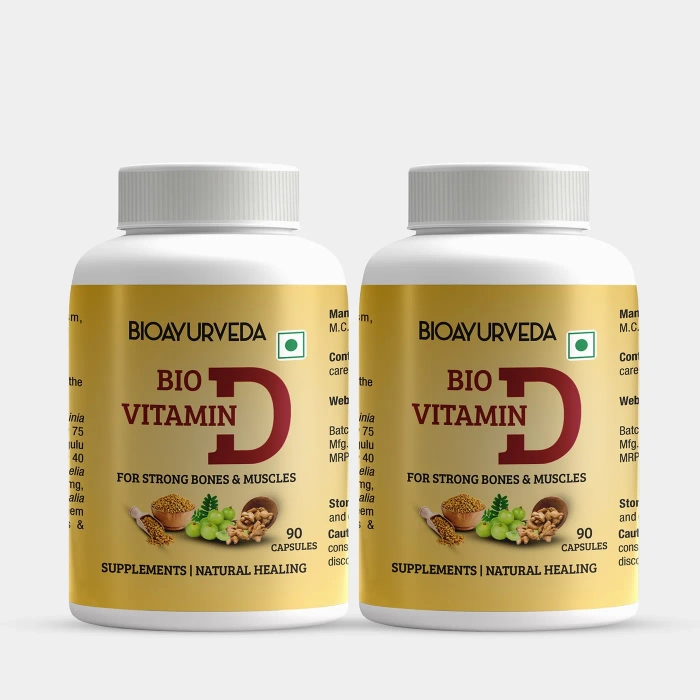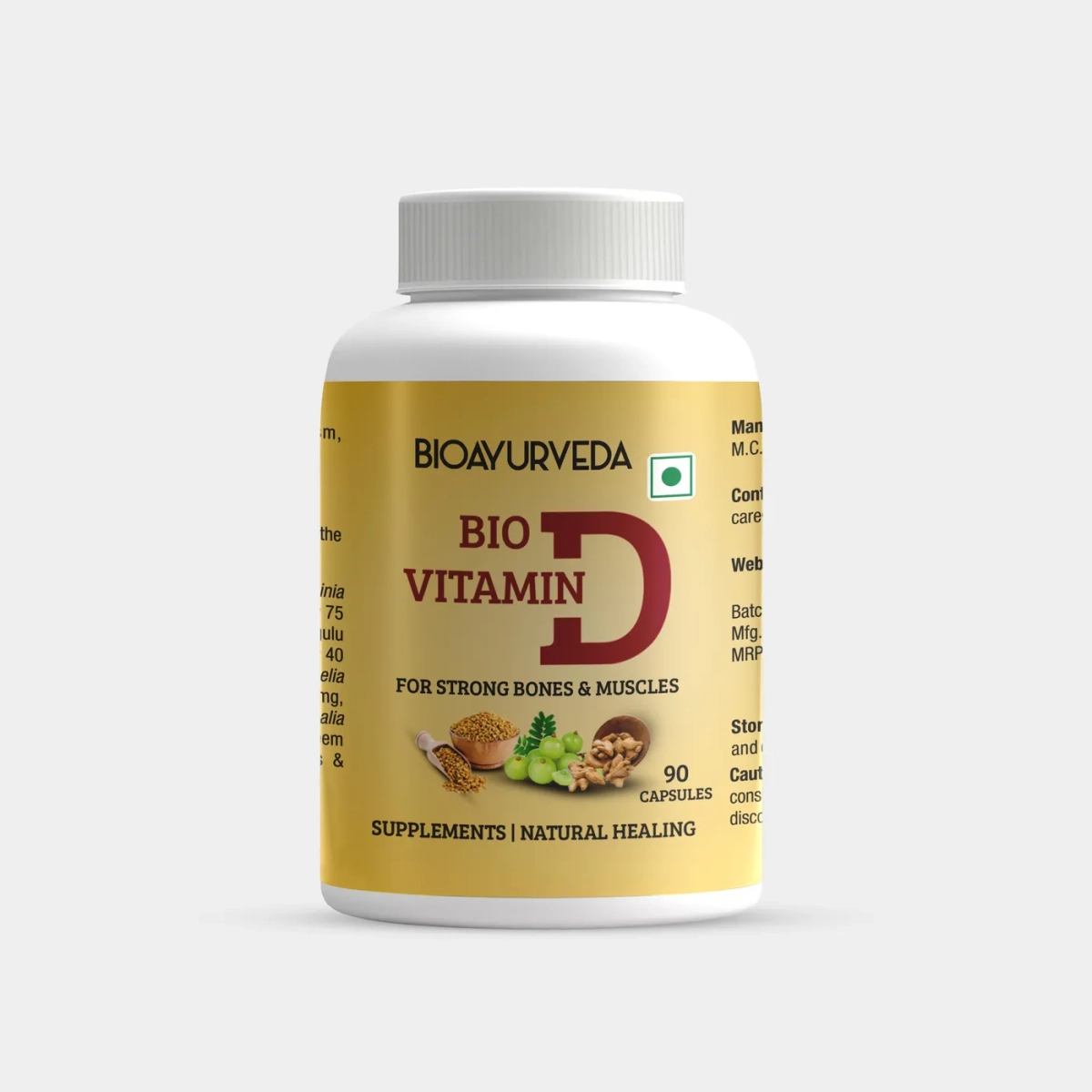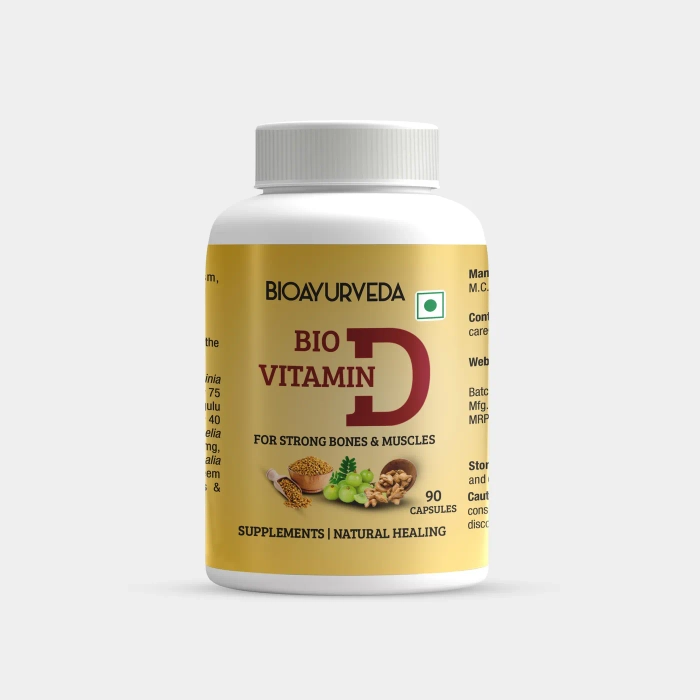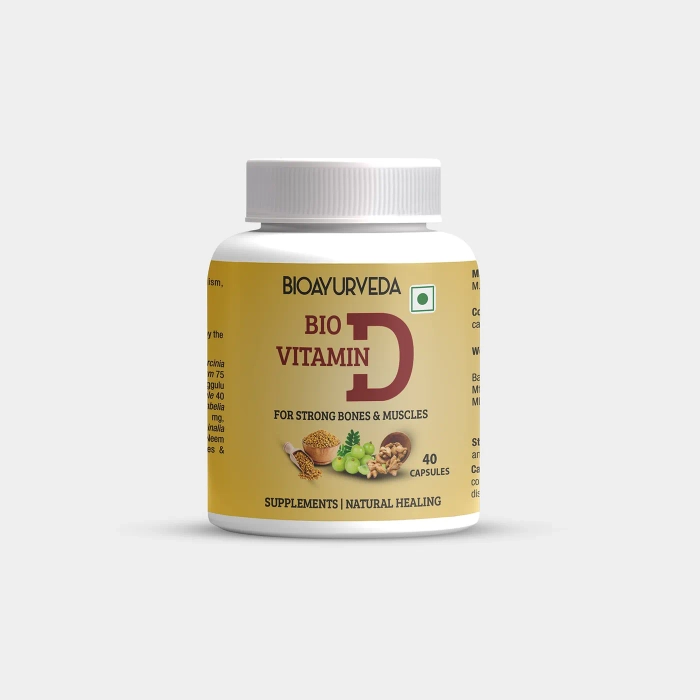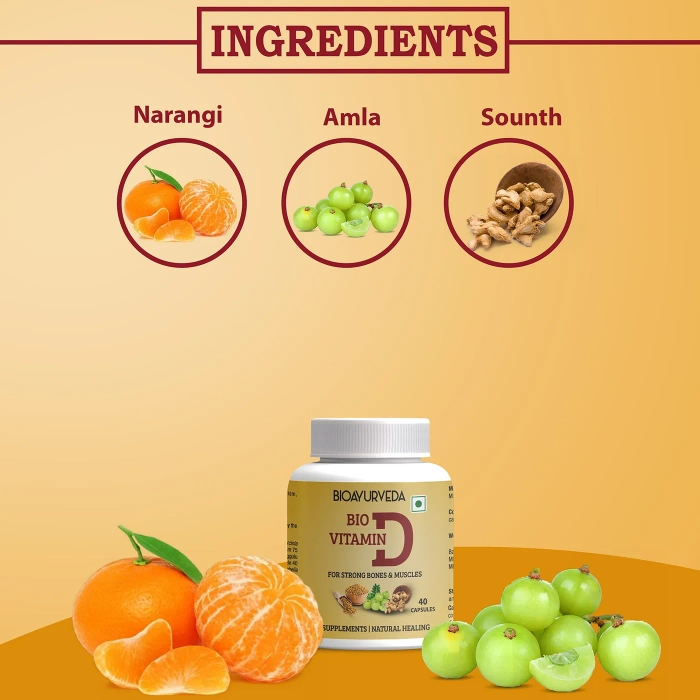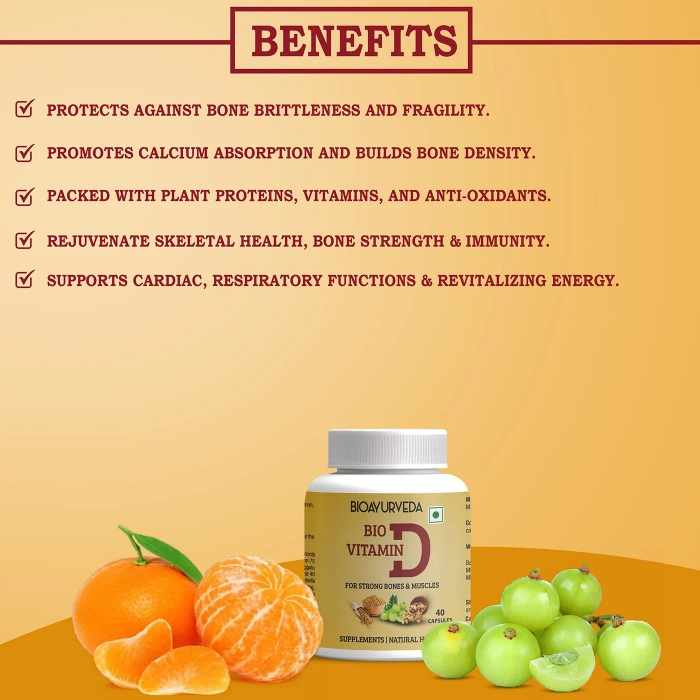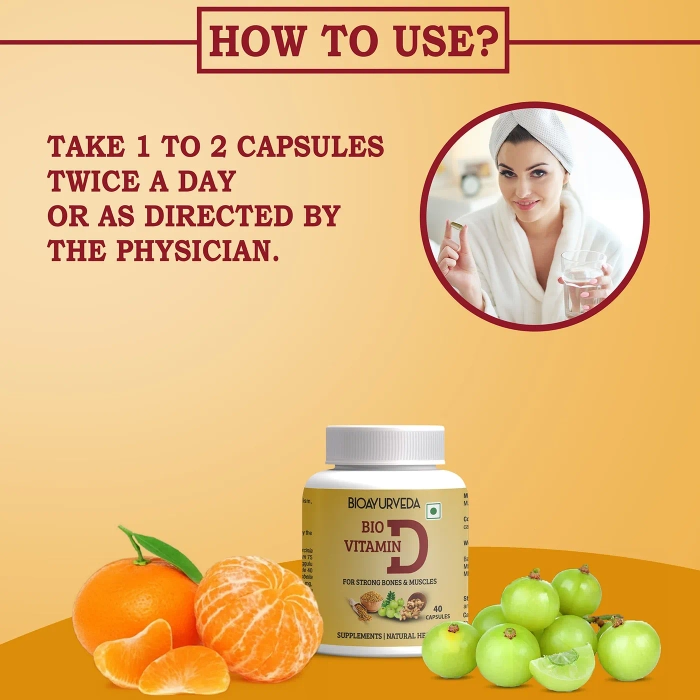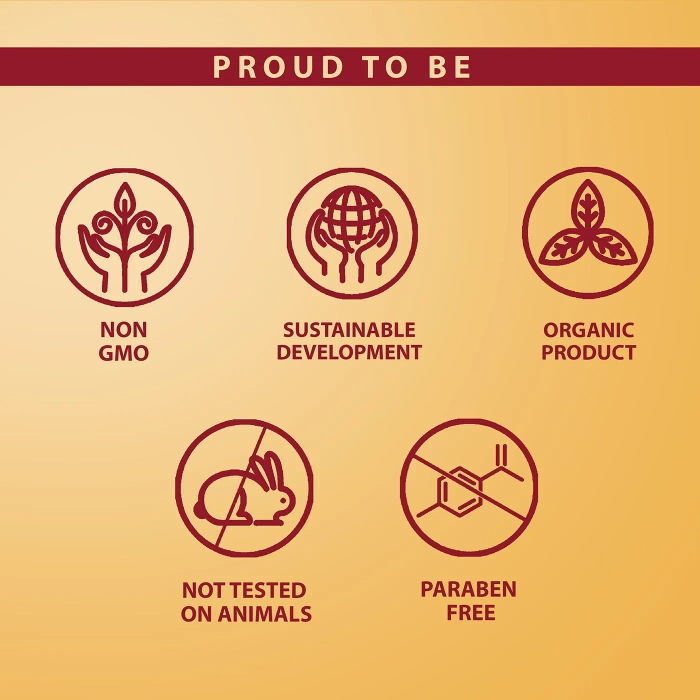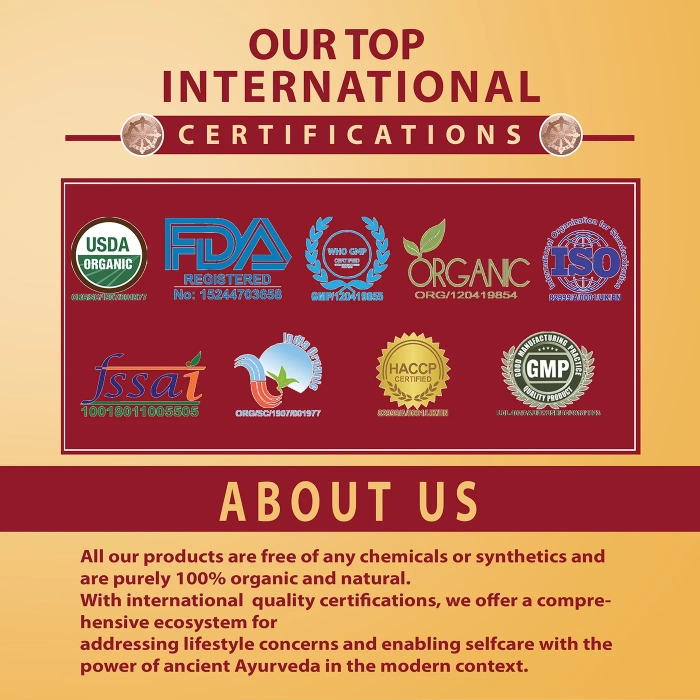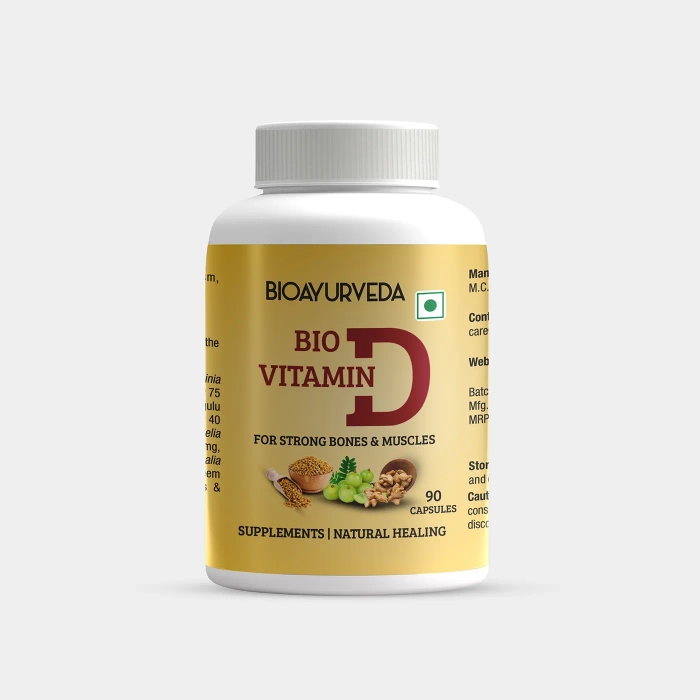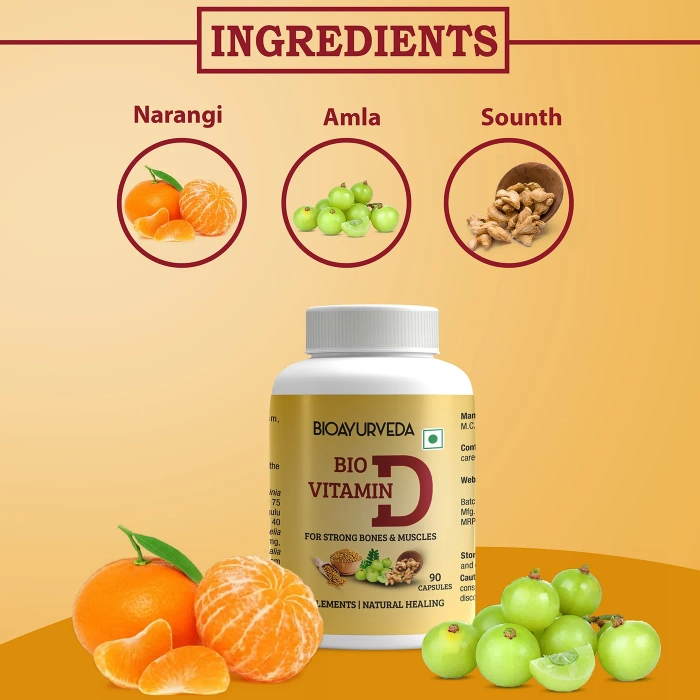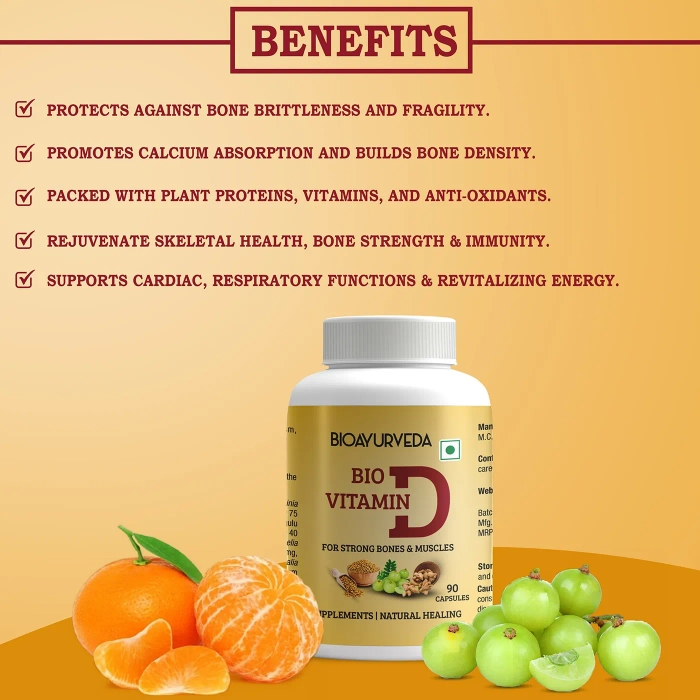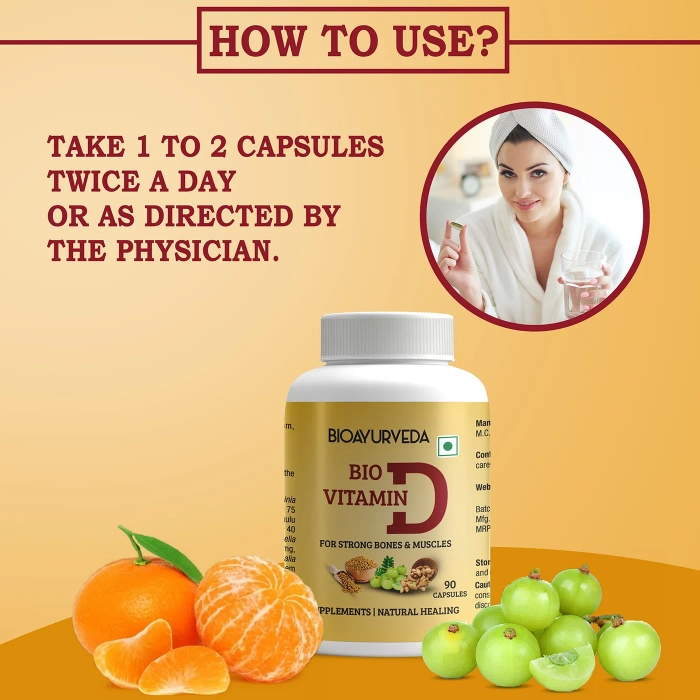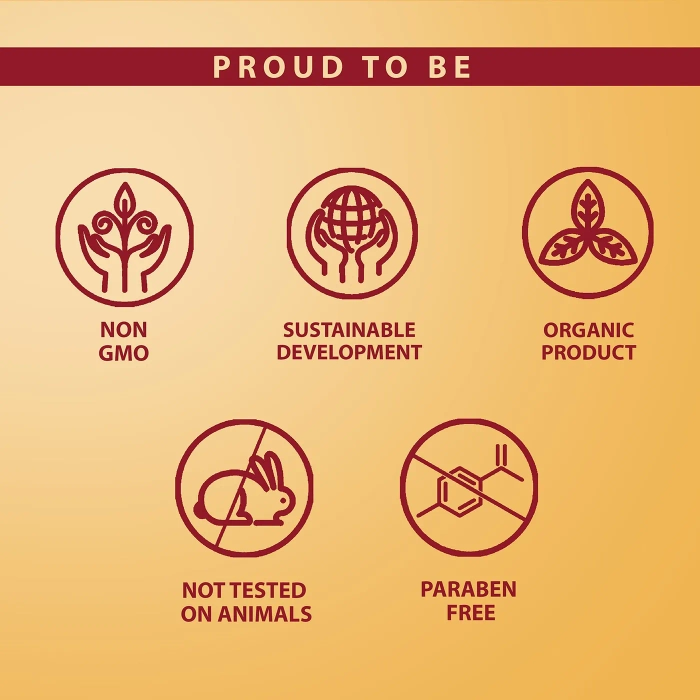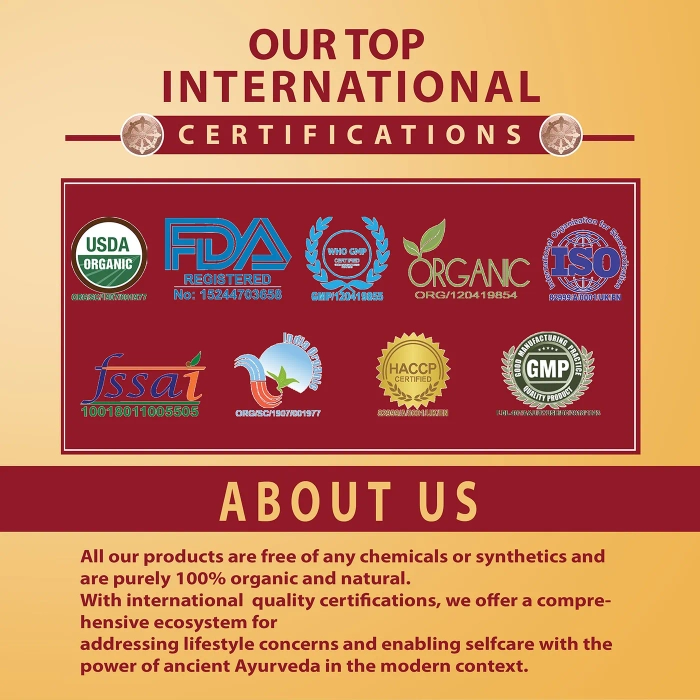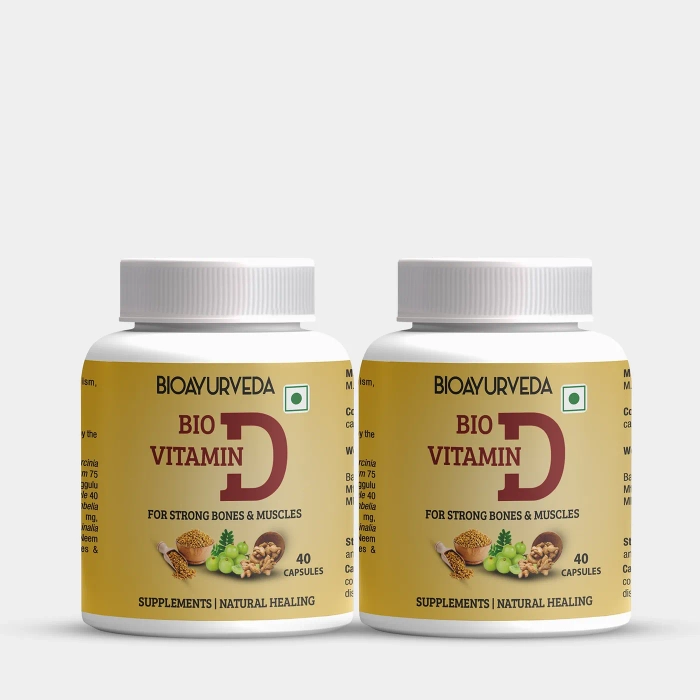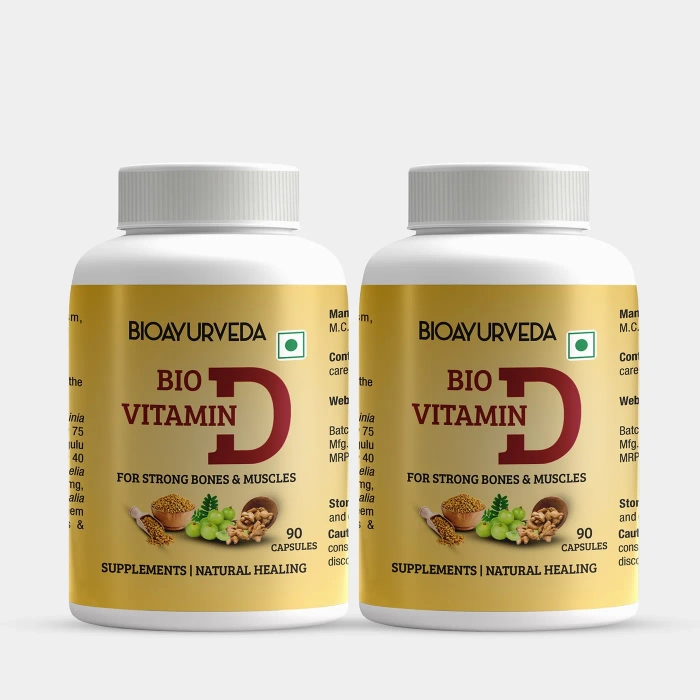 BIO VITAMIN-D CAPSULE
Description
BIO VITAMIN-D CAPSULE is a unique combination of organic herbs and natural nutrient sources that is formulated to rejuvenate skeletal health and bone strength. Packed with plant proteins, vitamins and anti-oxidants, it promotes calcium absorption and builds bone density. Strengthening and fortifying, it protects against bone brittleness and fragility, reducing the risk of fractures. It mitigates joint inflammation, arthritic aches and muscular debility. It also supports cardiac and respiratory functions, revitalising energy and immunity.
DOSAGE
 
1 to 2 Capsules twice a day or as directed by the physician.
Ingredients
Moringa, Bala, Ashwagandha, Narangi, Tulasi, Sounth, Amla, Methi, Musta, Erand
Product details
Humans are fragile beings. From birth to death, we require a lot of care throughout our lives in order to stay healthy, safe, and secure. This includes everything from hair to skin, liver to heart, bones to joints, and more. Speaking of bones and joints, these are something that can really start to weaken after a point in time. And the worst part about this is that it is inevitable. After crossing a certain age, our bones tend to become weak and we begin experiencing joint pain and discomfort. It can really be a difficult situation to deal with. To add more to the misfortune, we use joints in almost every moment, and if they become weak, it can be seriously hard to do even the most trivial activities in our daily life. However, the good news is that we are proud to bring to you BIOAYURVEDA Bio Vitamin-D Capsules. These bone strengthening supplements are made out of organic and natural ingredients that do not harm your body at all. As the name suggests, they are rich in Vitamin D and help restore strength to your bones and joints. !
It will not be a sudden change but a gradual recovery that will both be beneficial for your physical endurance and your overall immunity. Supplements to build bone go a long way in supporting the health of your body and the Bio Vitamin D Capsules are no different. Start your recovery journey now and include this super-worthy supplement in your inventory as soon as possible!
---
Multiple Benefits Bio Vitamin-D Capsule
As we grow old, our bones and joints start becoming weak, thin, and fragile. To counter this, Vitamin D capsules provide our bones and joints with the appropriate nutrients and vitamins to initiate strength renewal.
---
Calcium is a very important nutrient to keep our bones strong and supportive. Upon its deficiency, our bones get weak and thinner. Thus, Vitamin D capsules increase calcium absorption to promote bone density and prevent such a disaster from ever occurring.
And the best part about this product is that you get all these benefits because of organic and natural ingredients. They are bound to never harm your body or leave side effects. Moreover, on the brighter side, these ingredients include many more benefits of their own too.
---
As an added side benefit, it goes a great deal of good work for your heart. This indirectly results in you being more healthy and energetic than before. Not only does it restore the strength of your bones and joints, but it also revitalizes your body and makes you roll back the years in terms of performance!
INGREDIENTS


BIOAYURVEDA is a visionary holistic luxury brand in health and wellness offering completely natural and organic products.
Manufactured By:
Arganshe Private Limited
Address:
11/2, BADARPUR BORDER, Faridabad, Haryana, 121003