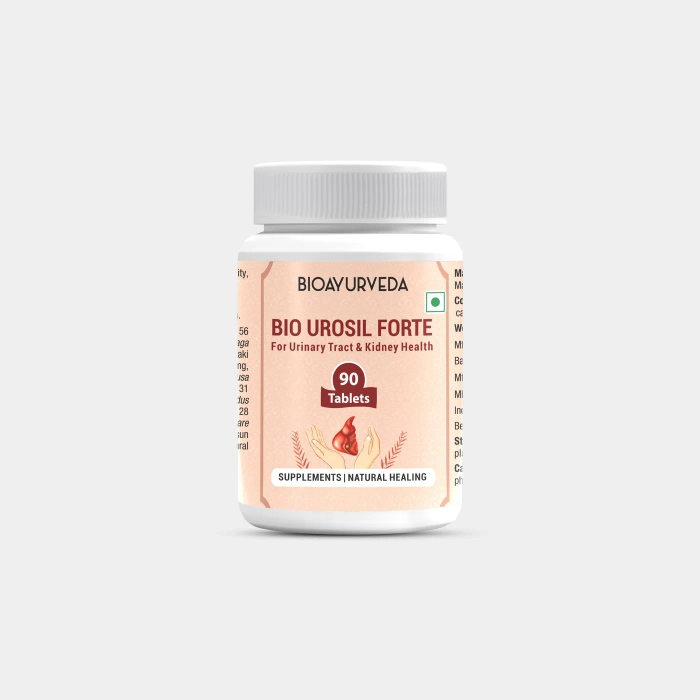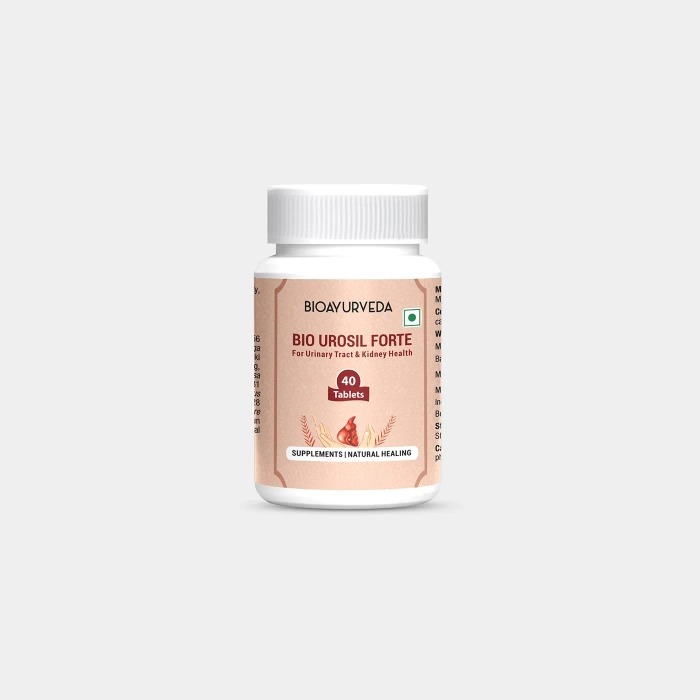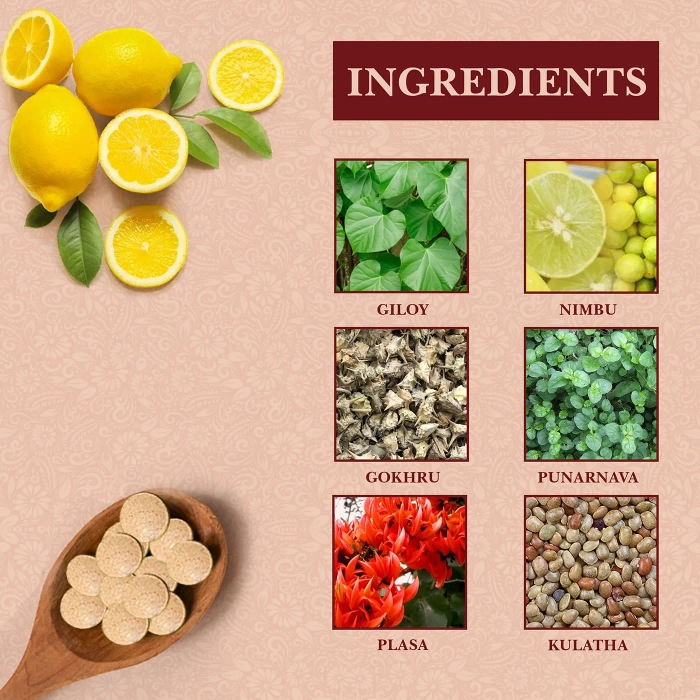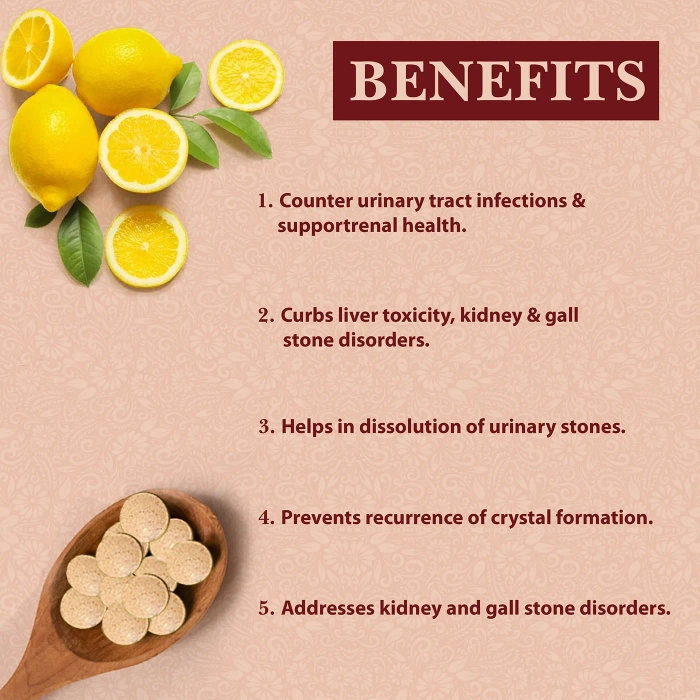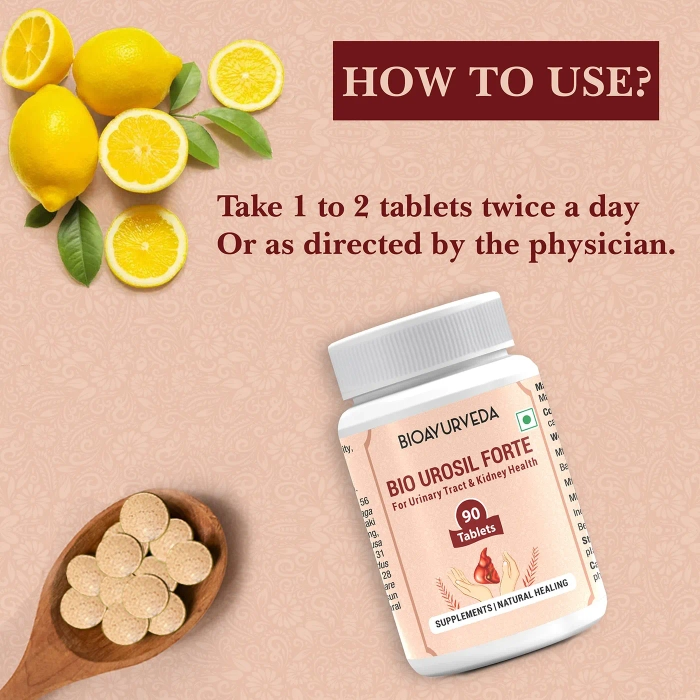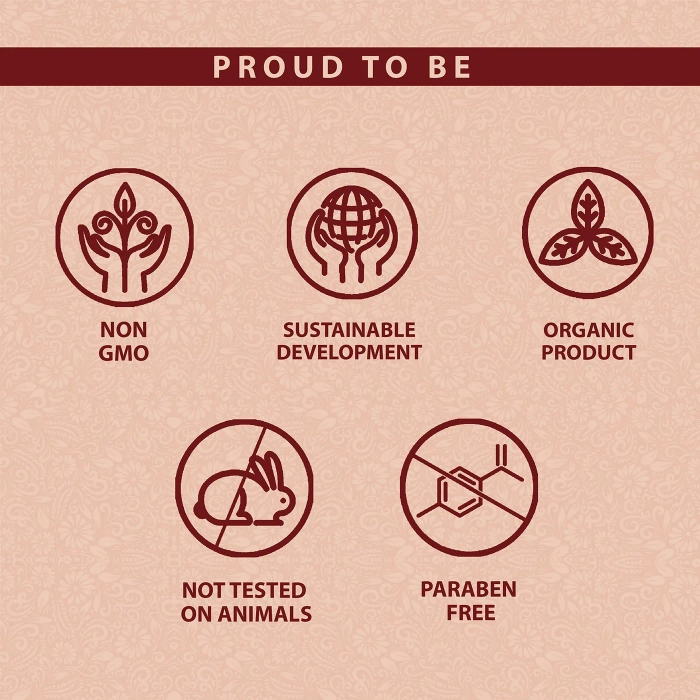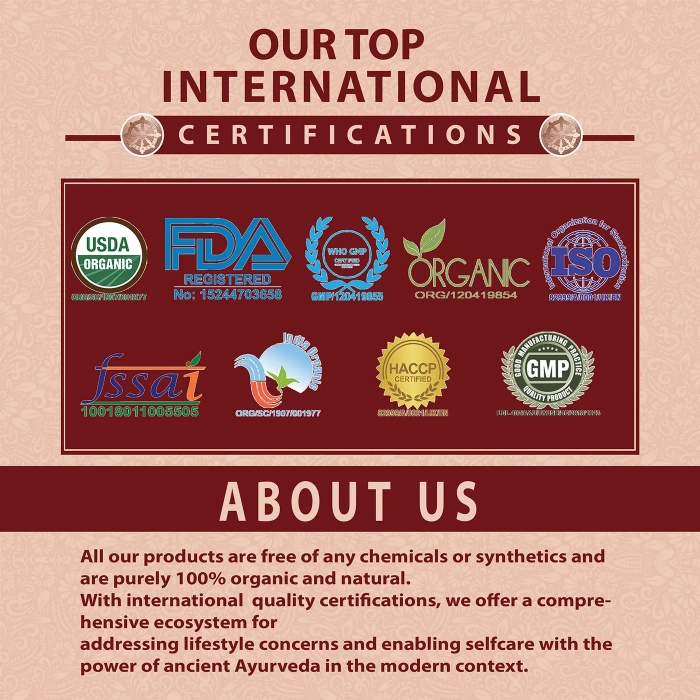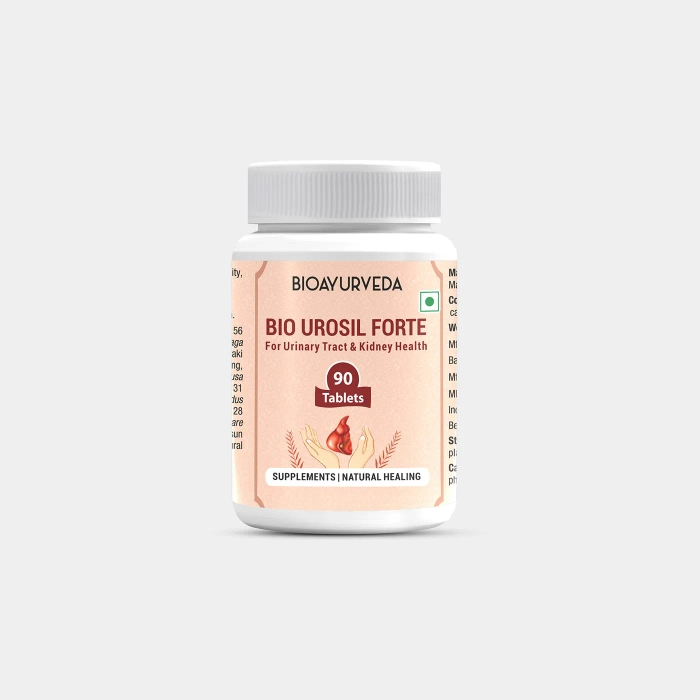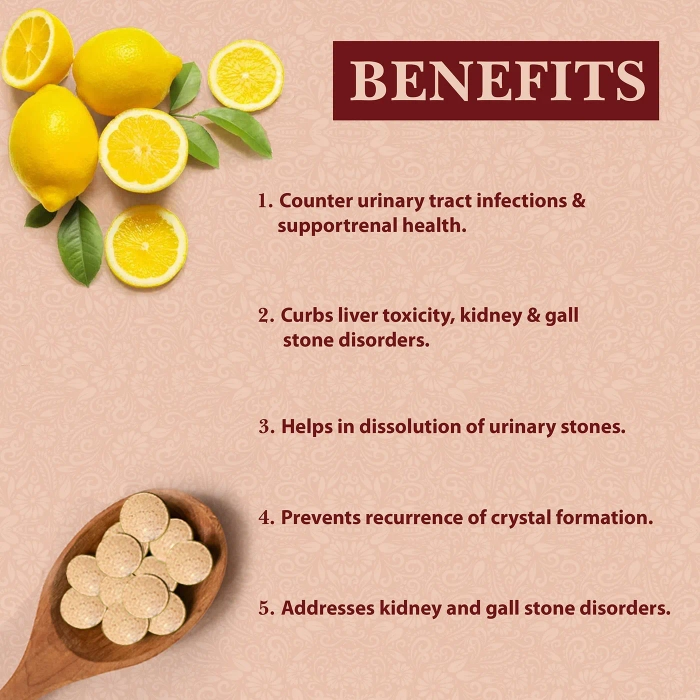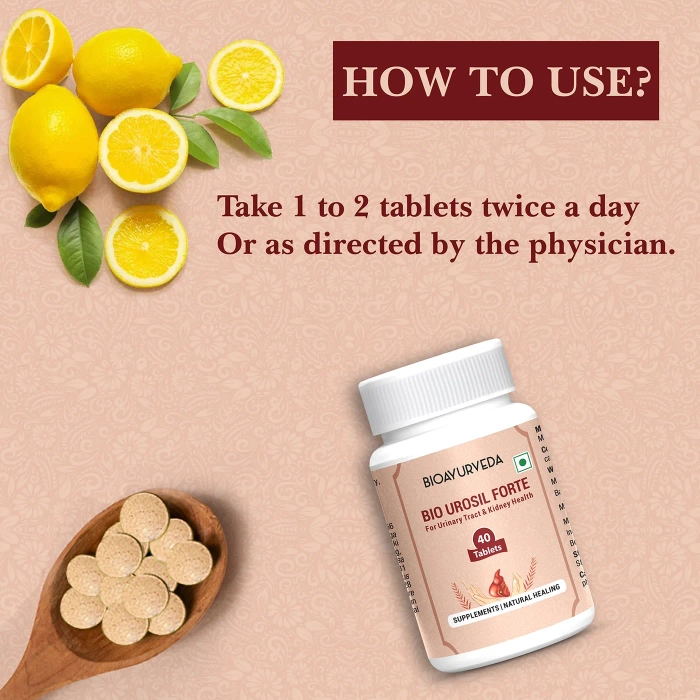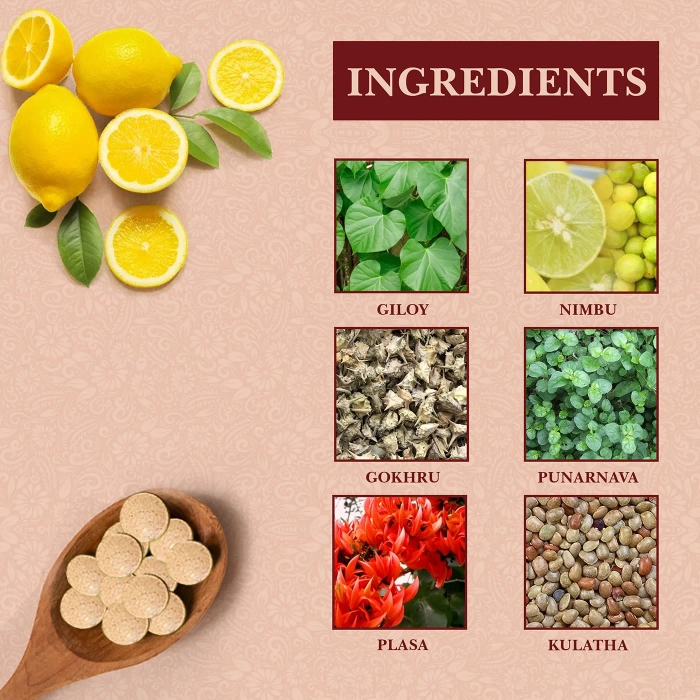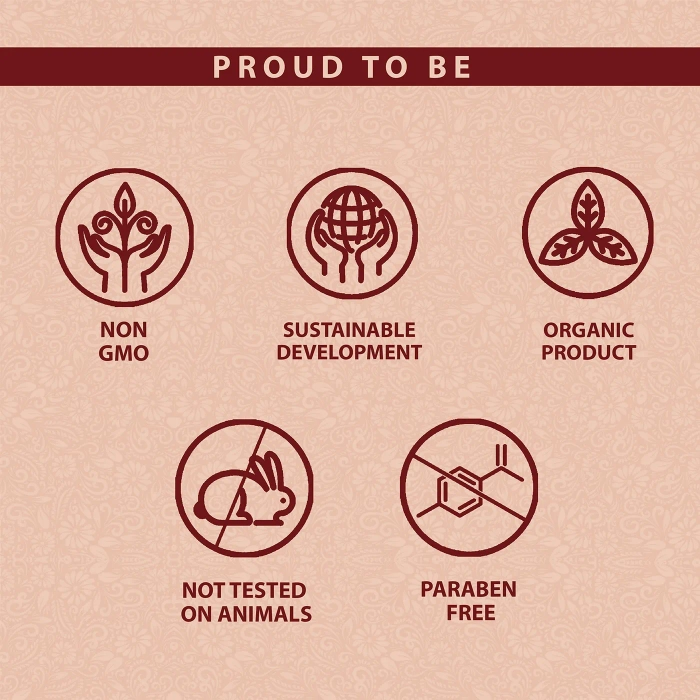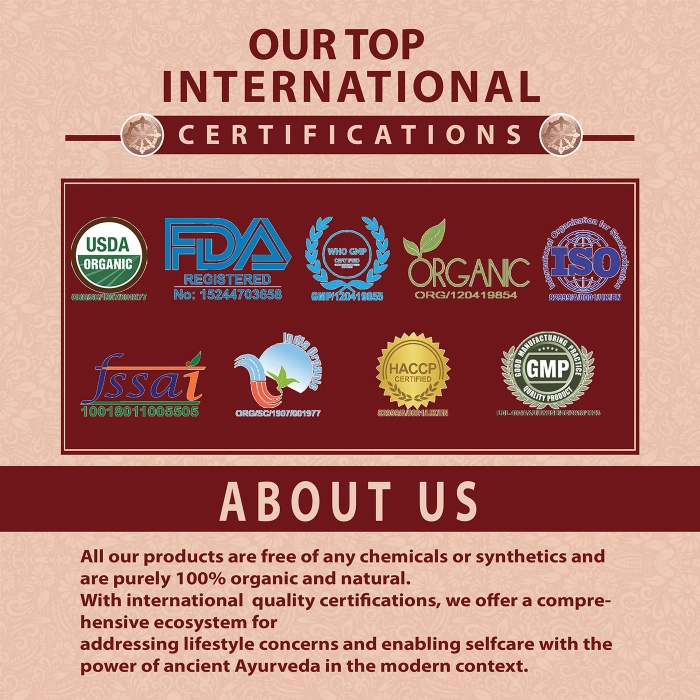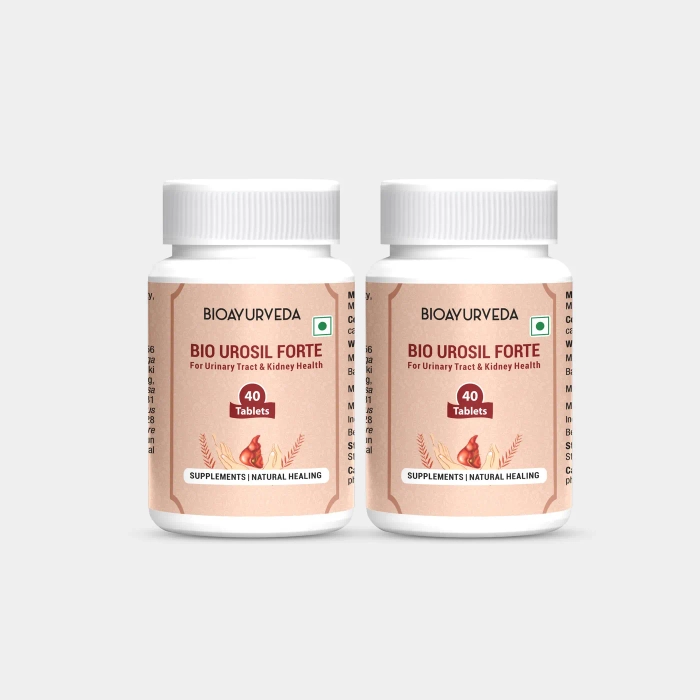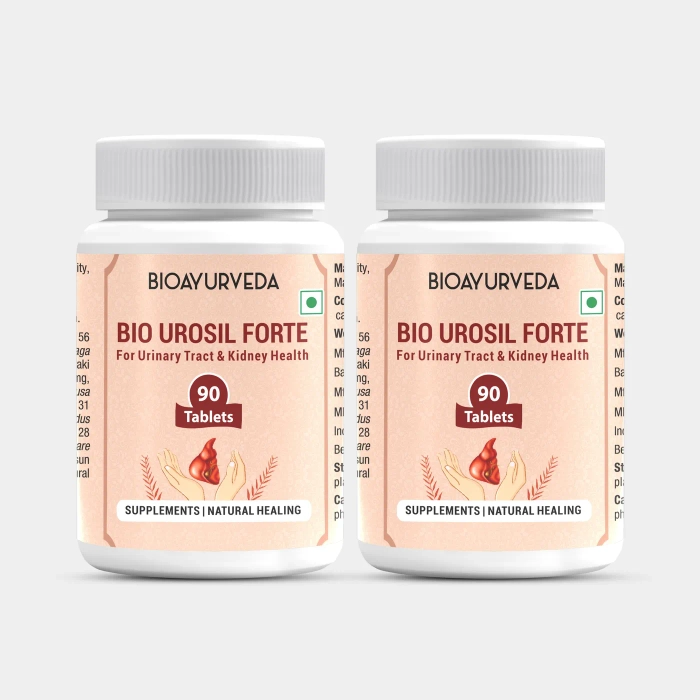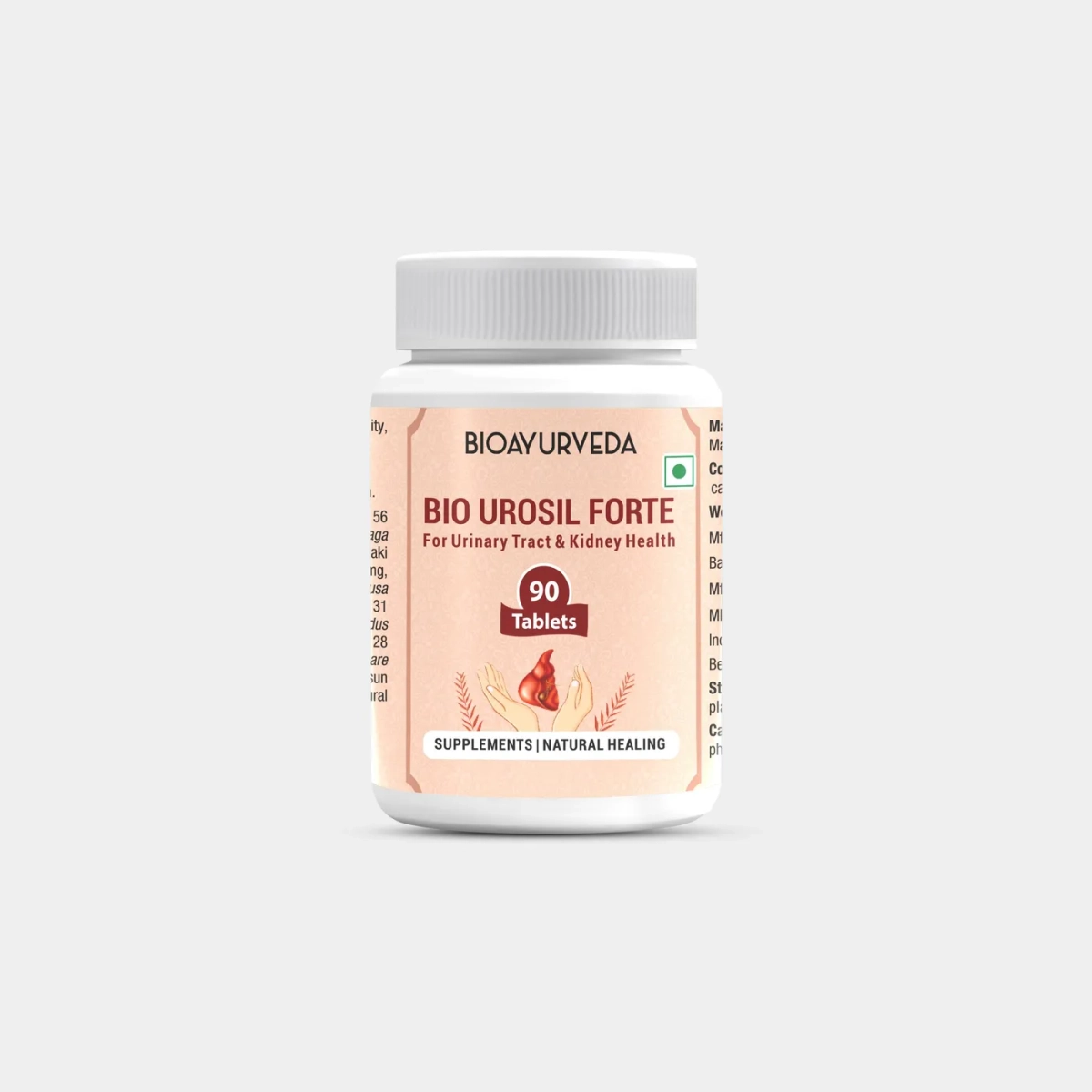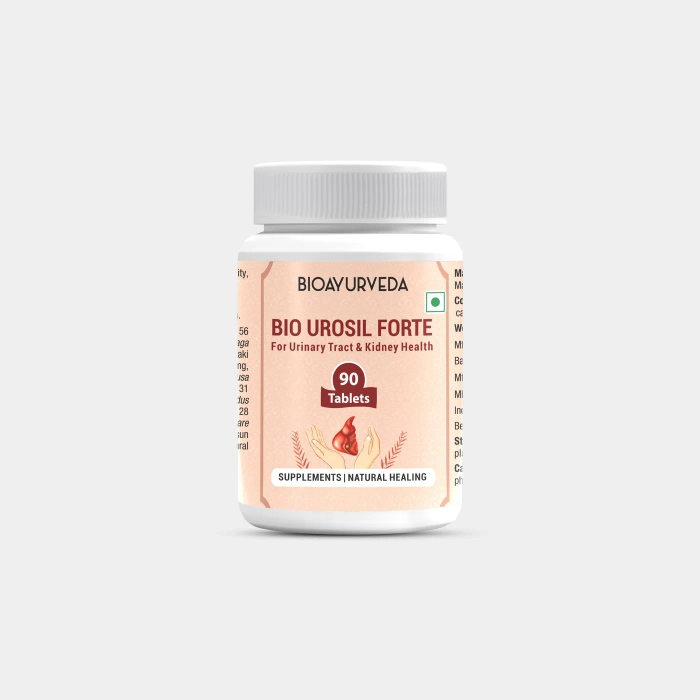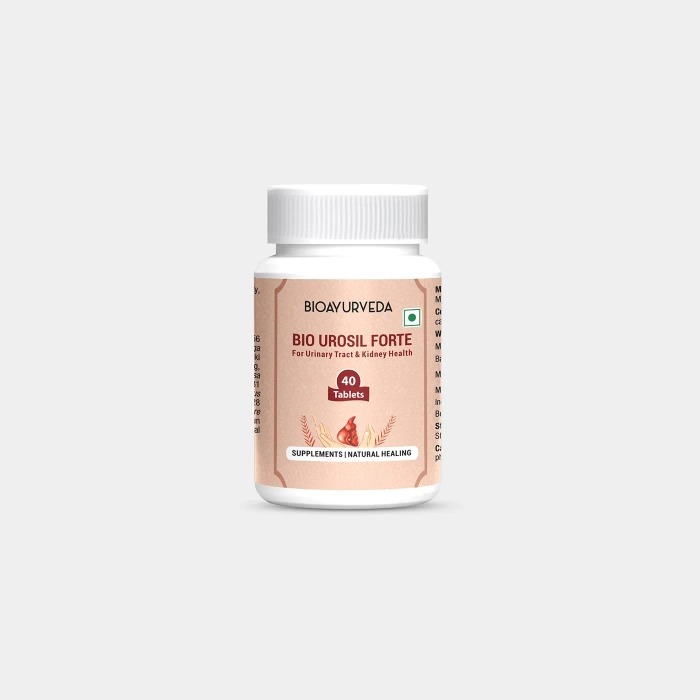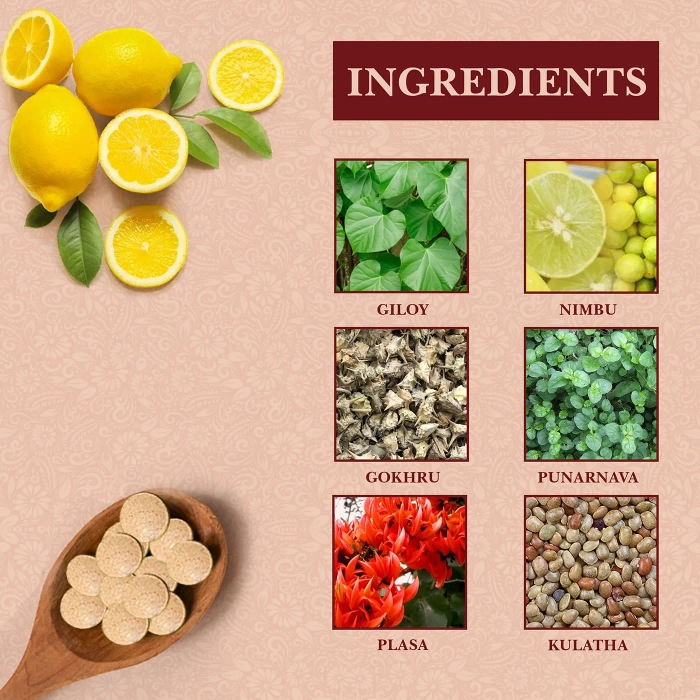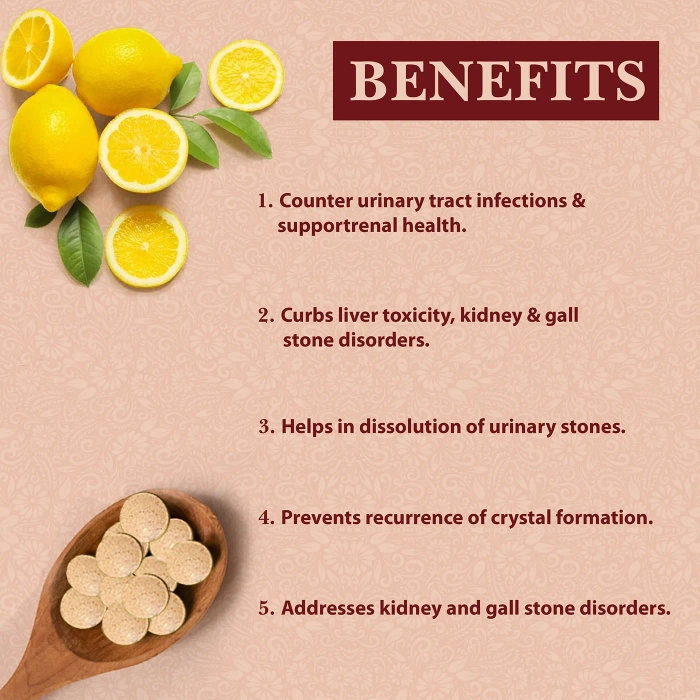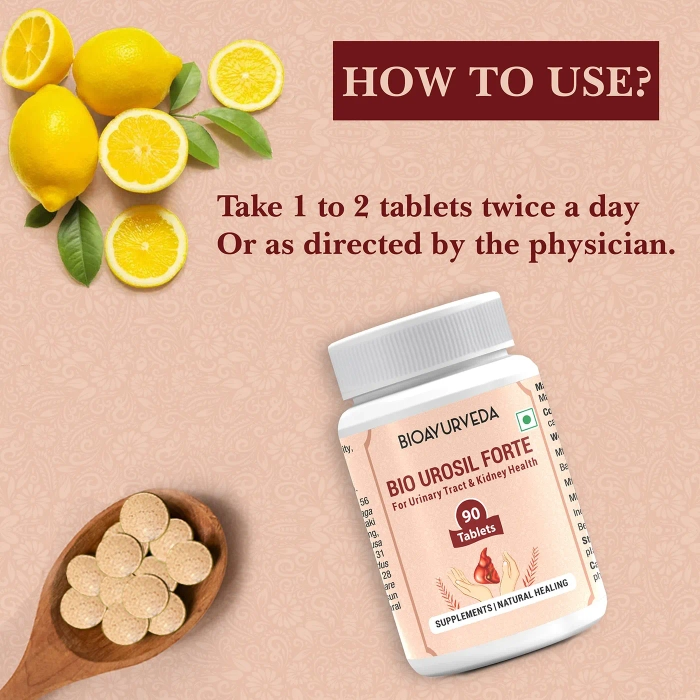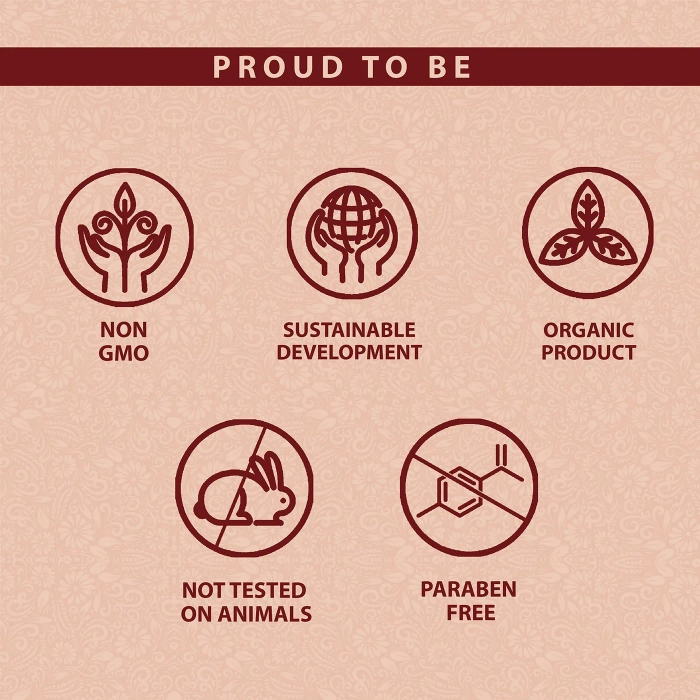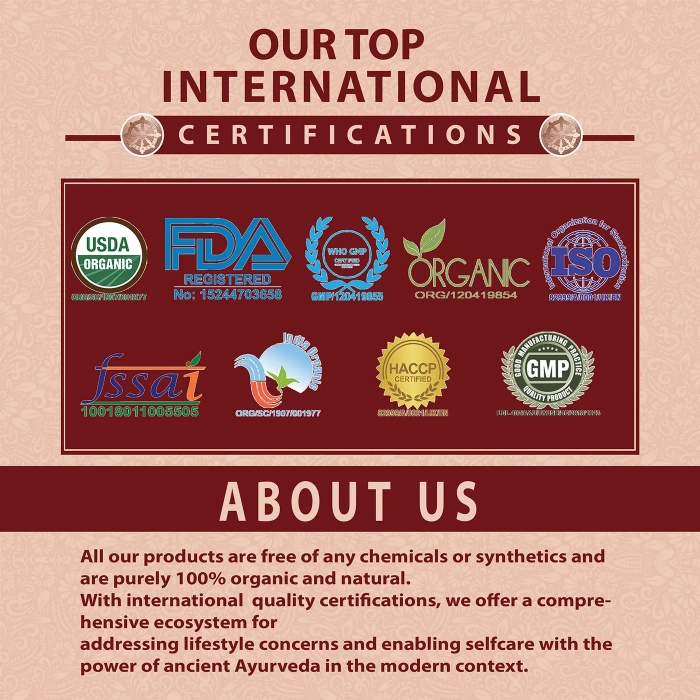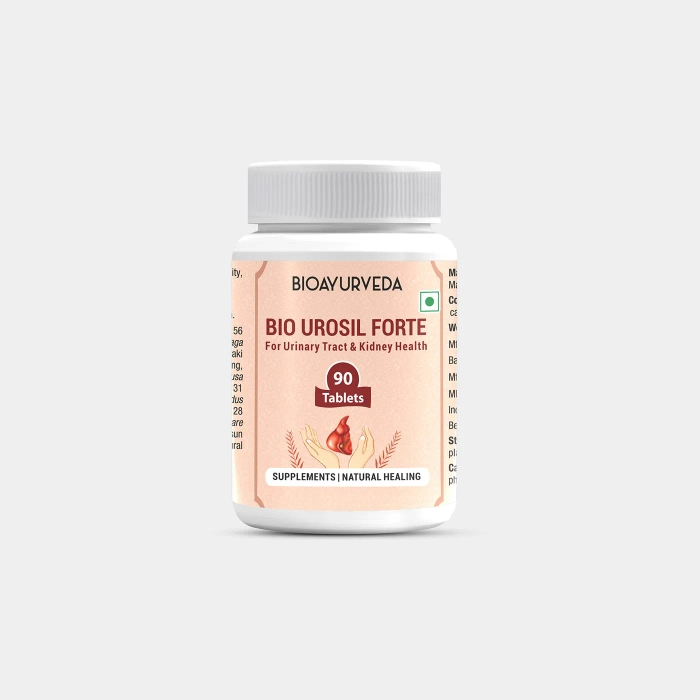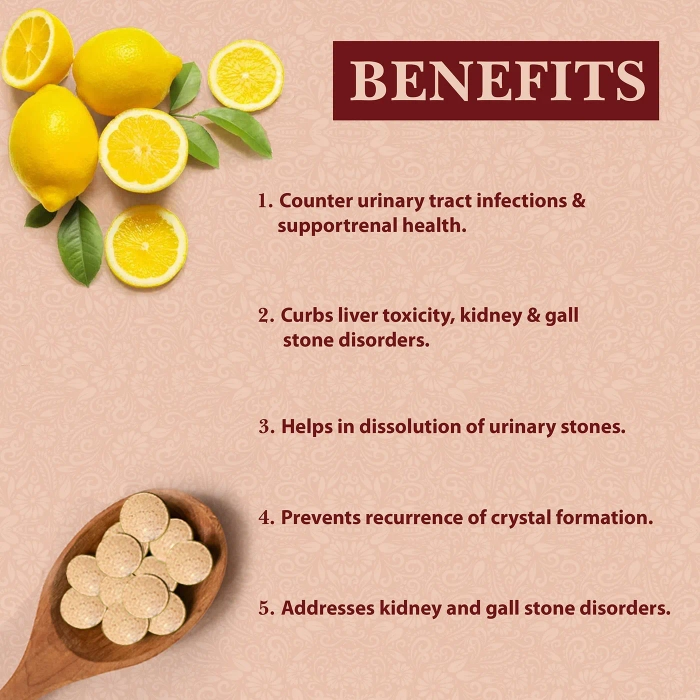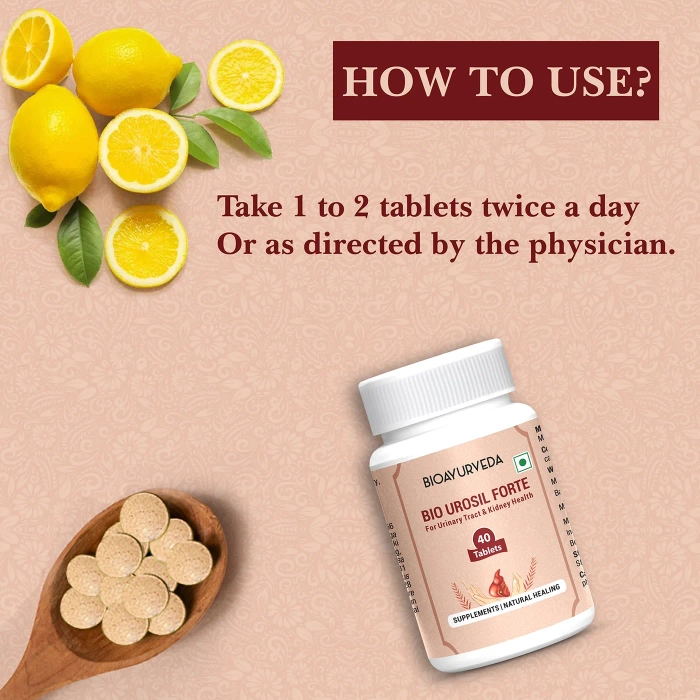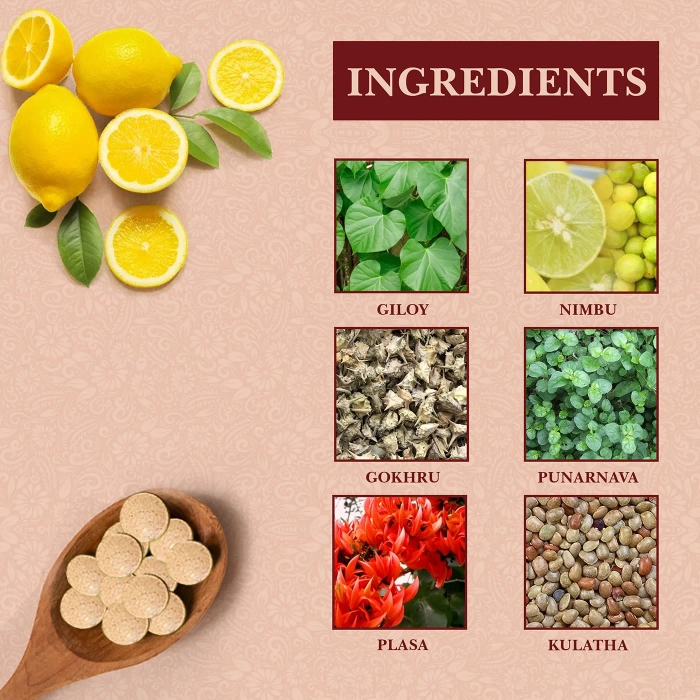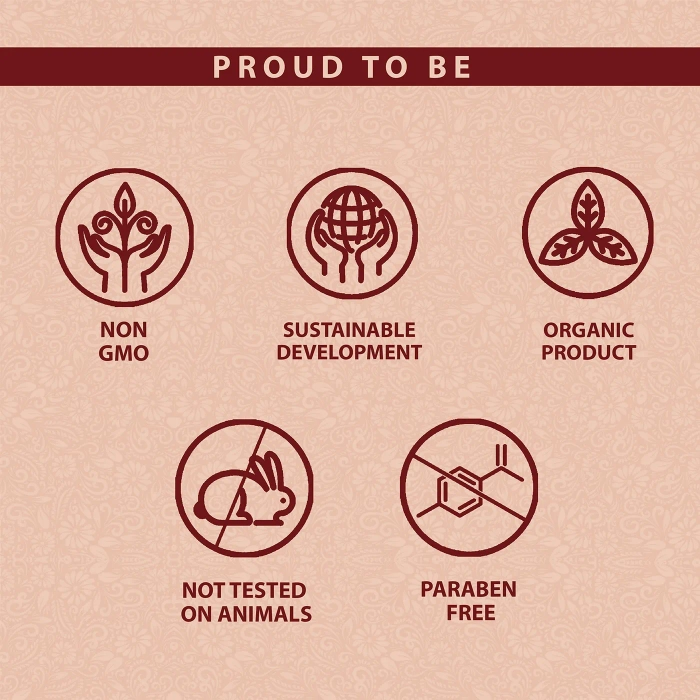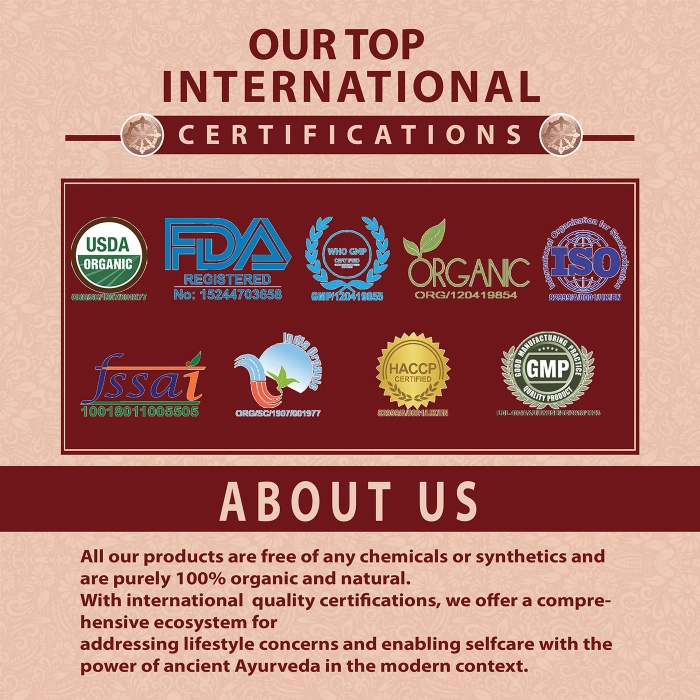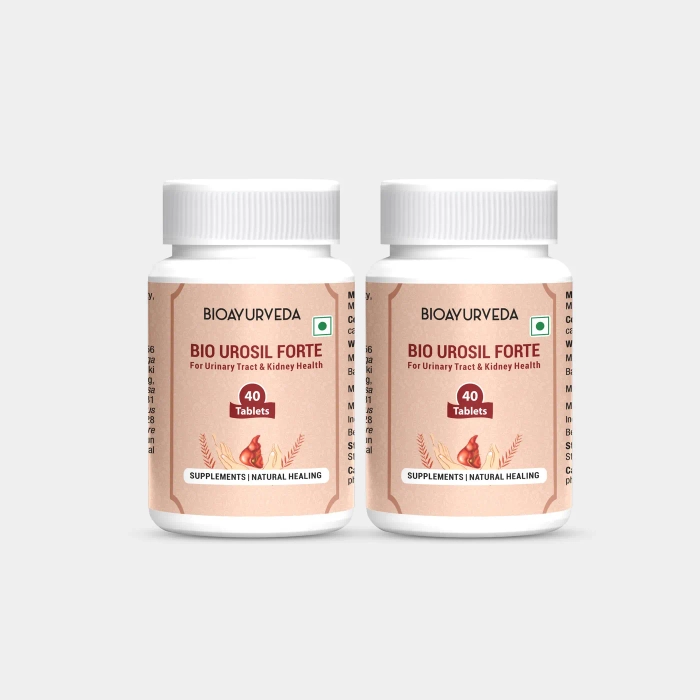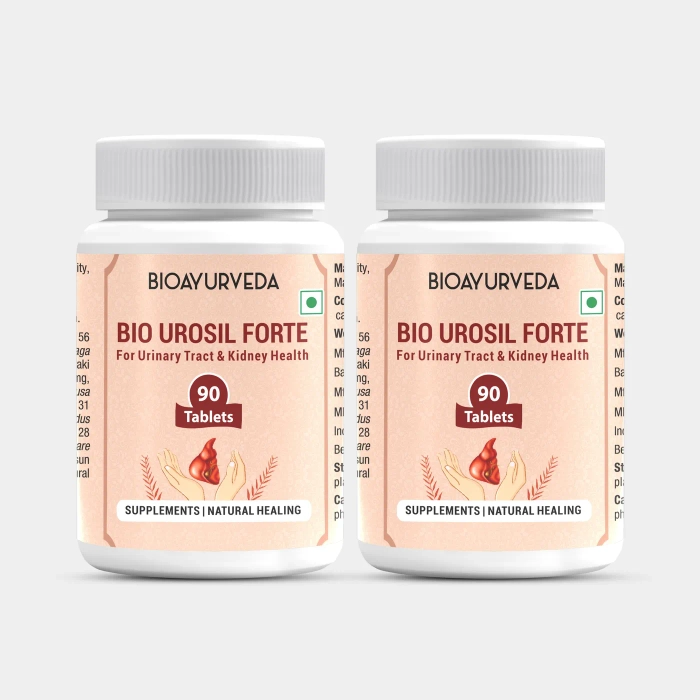 BIO UROSIL FORTE
Description
The oral formula to reduce Kidney and Urinary tract problems to nil is here. BIOAYURVEDA's UROSIL FORTE is your fortune to better kidney and UT health. BIOAYURVEDA's UROSIL FORTE tablets an organic mix of Giloy, Hogweed, Lemon and Gokhru. It fights the toxins in the liver. Curbs formation of crystals in kidney and gall bladder.While it also tracks your Urinary tract health from infections.
Ingredients
Pashanbhed, Varuna, Punarnava, Kulatha, Gokhru, Yavkshar, Sajji Kshar, Palasa, Apamarga, Kutki, Giloy, Nimbu
Product details
---
Urinary tract infections are quite common and can be bothersome to deal with. When bacteria enter the urinary tract through the urethra and start multiplying, it leads to an infection. The urinary tract consists of various parts, including the bladder, urethra, ureters, and kidneys. UTIs can affect different areas of this system, causing discomfort and inconvenience. The signs and symptoms of a UTI can vary but often include a frequent urge to urinate, even when little urine is produced. The act of urination may be accompanied by a burning sensation or pain. The urine itself can appear cloudy or have a strong, unpleasant odor. Some individuals may experience lower abdominal pain or pelvic discomfort. In severe cases, UTIs can lead to fever, chills, and even blood in the urine. It's essential to be aware of these symptoms and seek medical attention if they arise. What is apparent is that this infection, once contracted, should be dealt with as soon as possible. Luckily for all of you, we are happy to present to you our BIOAYURVEDA Bio Urosil Forte.
It is an organic and natural dietary supplement that prevents Urinary Tract Infections, deals with bladder stones, and improves its overall health. More so, it is completely safe to consume and causes no side effects at all. This makes this dietary supplement a good choice to be included in your healthcare inventory!
Benefits
Prevents Urinary Tract Infections
The main function of this tablet is to get rid of urinary tract infections and it does so with extreme efficiency.
Detoxifies Liver
Another highly important function of this Ayurvedic supplement is to remove toxins from your liver and it does so very well.
Prevents Stone Formation
Kidney stones and gallbladder stones can be detrimental to our health. Thus, this tablet will help you not only get rid of them but also prevent their formation.
INGREDIENTS
Gokhru
Gokhru, also known as Tribulus Terrestris, is a medicinal plant commonly used in traditional Ayurvedic sciences. It is believed to contain various health benefits, including improving bodily functions, boosting athletic performance, and supporting kidney health.
Giloy
Giloy is a remedial herb that is widely used in Ayurvedic practices. It is known to be highly efficient in increasing immunity. It may also reduce high blood sugar levels and high cholesterol levels.
Lemon
It has antibacterial and antifungal properties that help to fight off bacteria and germs on the skin. It also helps to brighten and tone the skin, leaving it looking refreshed and revitalized.


BIOAYURVEDA is a visionary holistic luxury brand in health and wellness offering completely natural and organic products.
Manufactured By:
Arganshe Private Limited
Address:
11/2, BADARPUR BORDER, Faridabad, Haryana, 121003