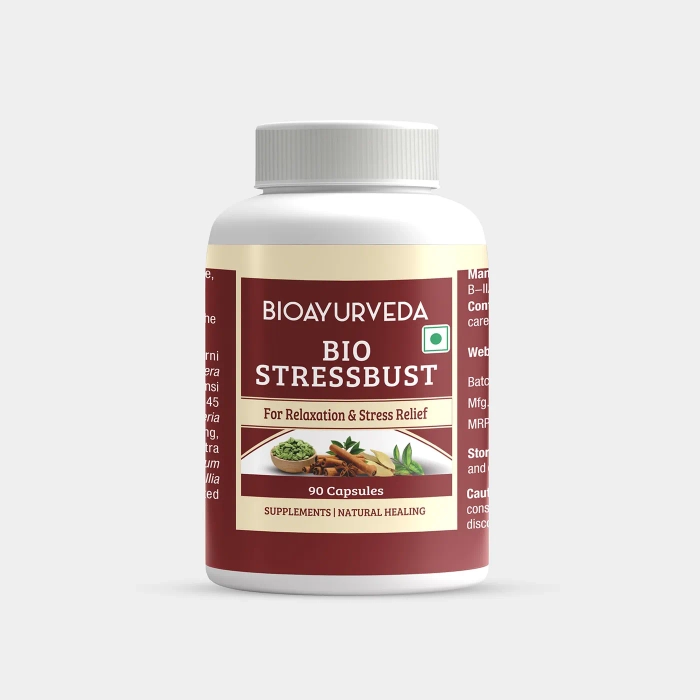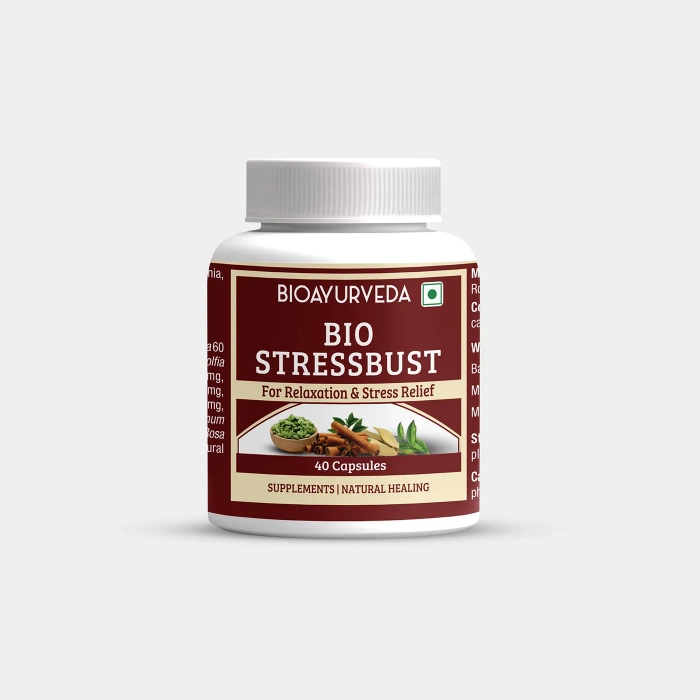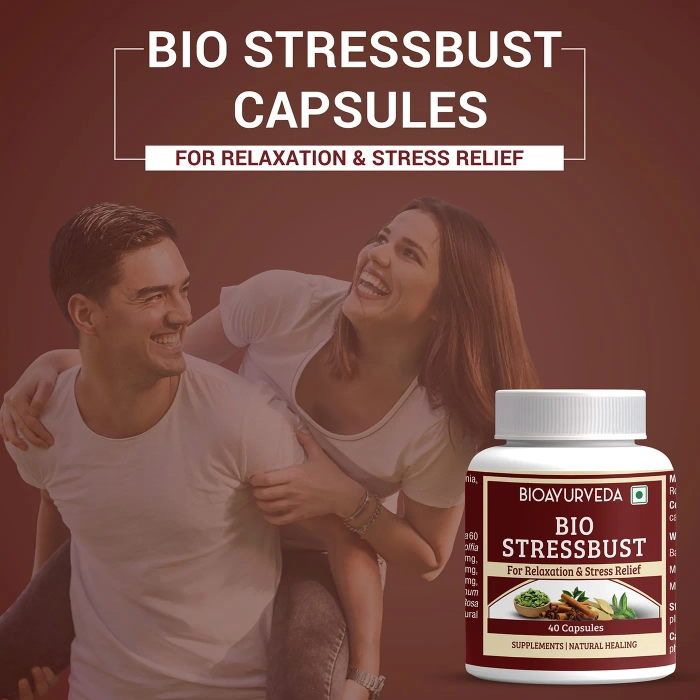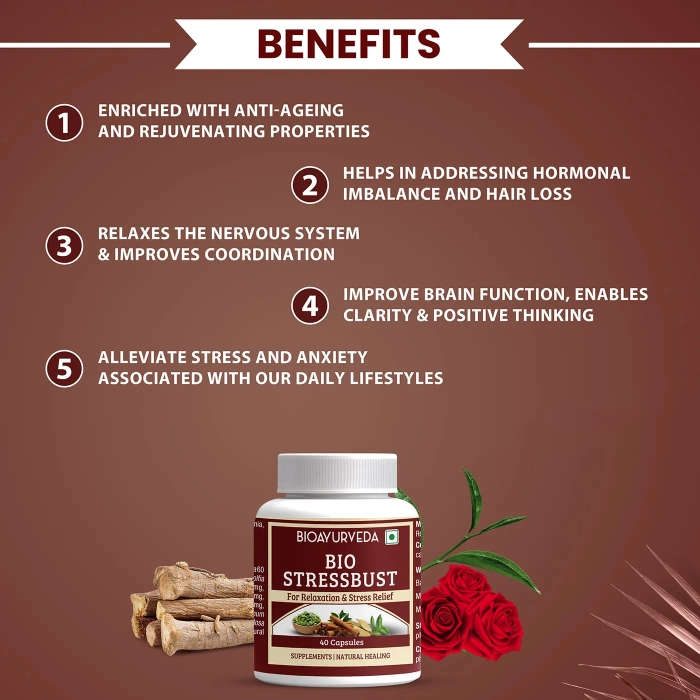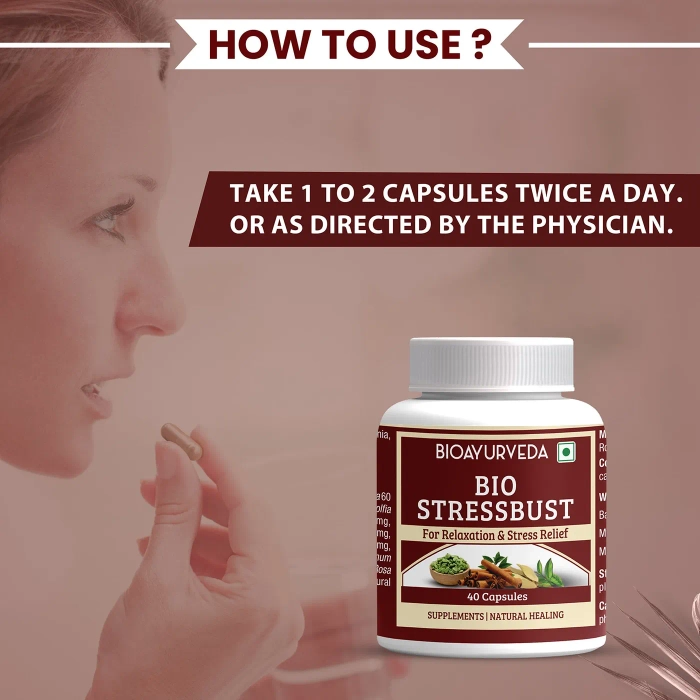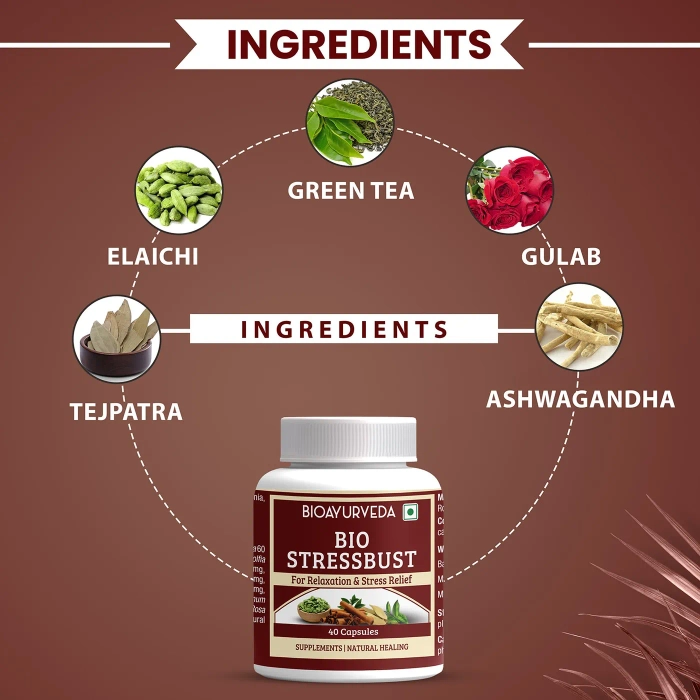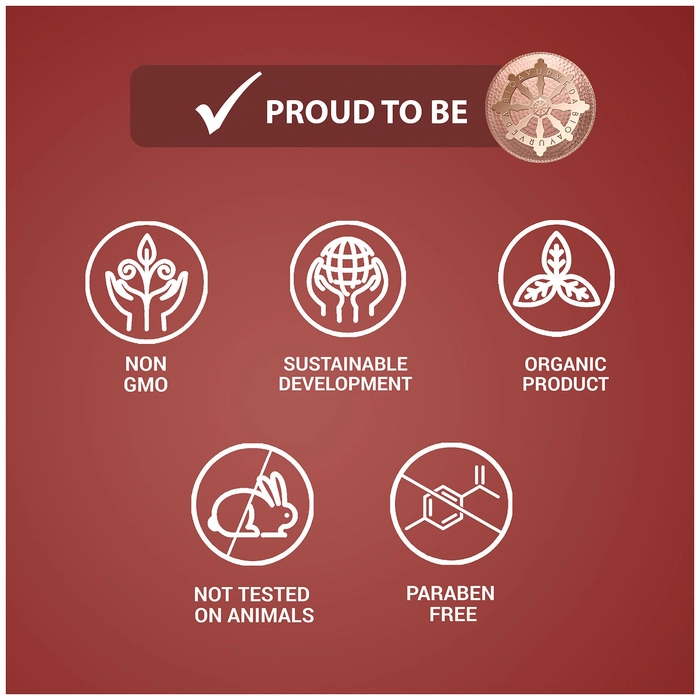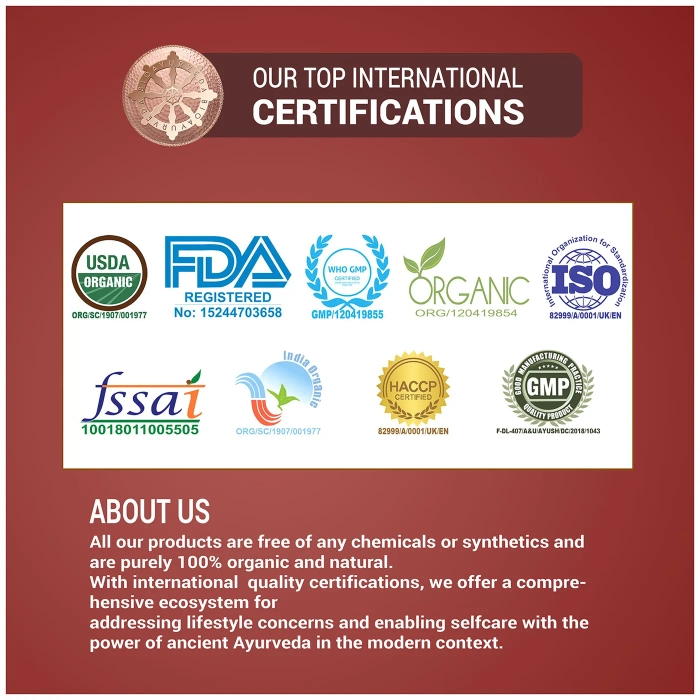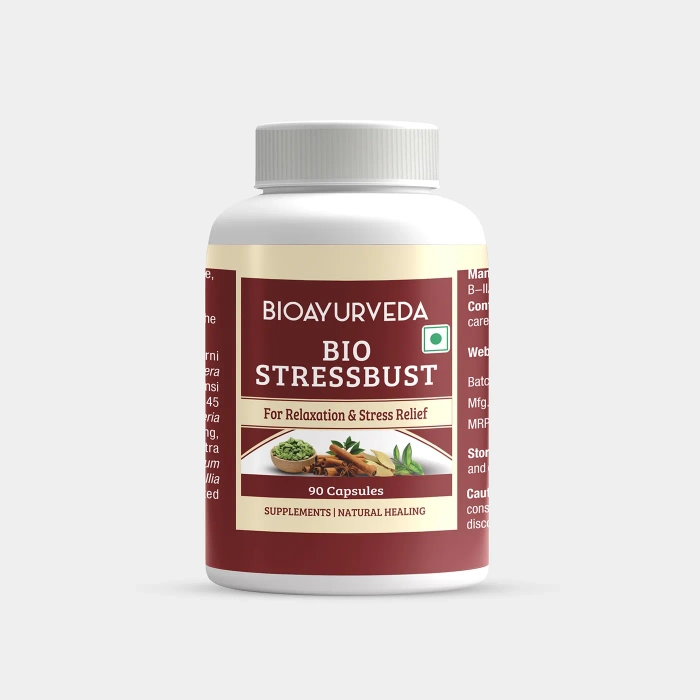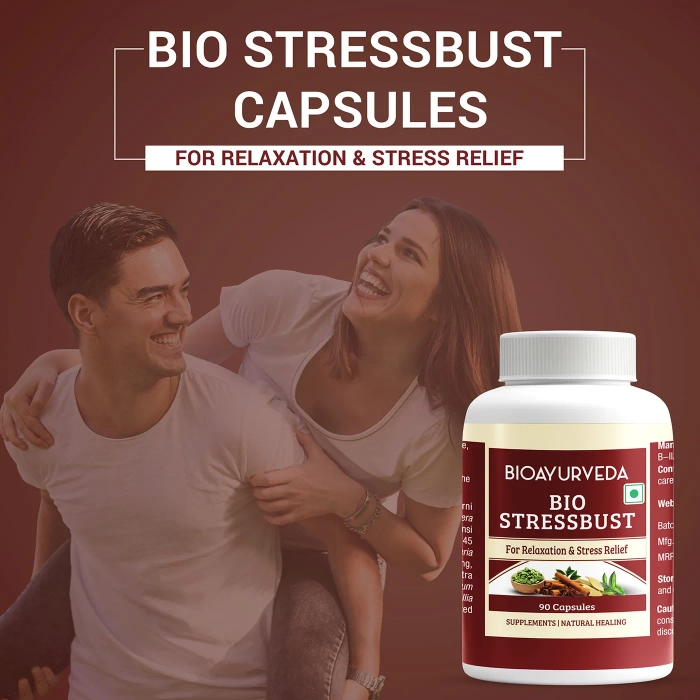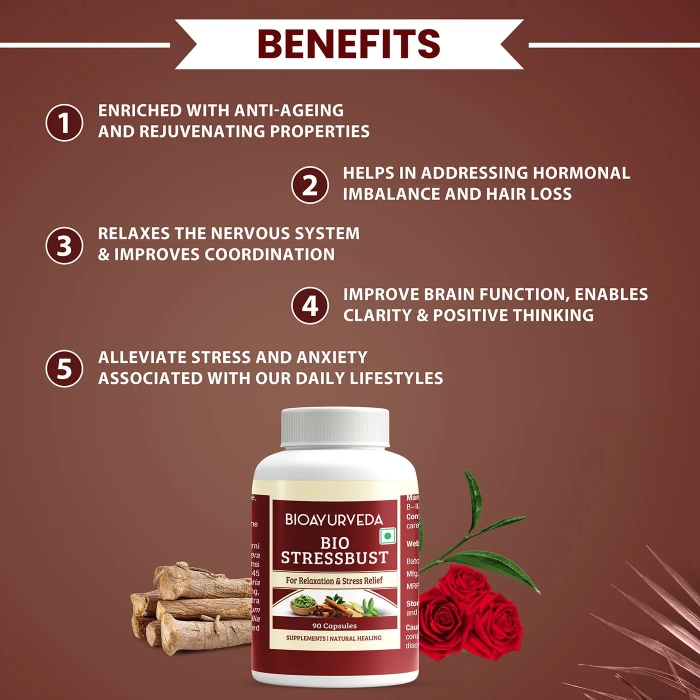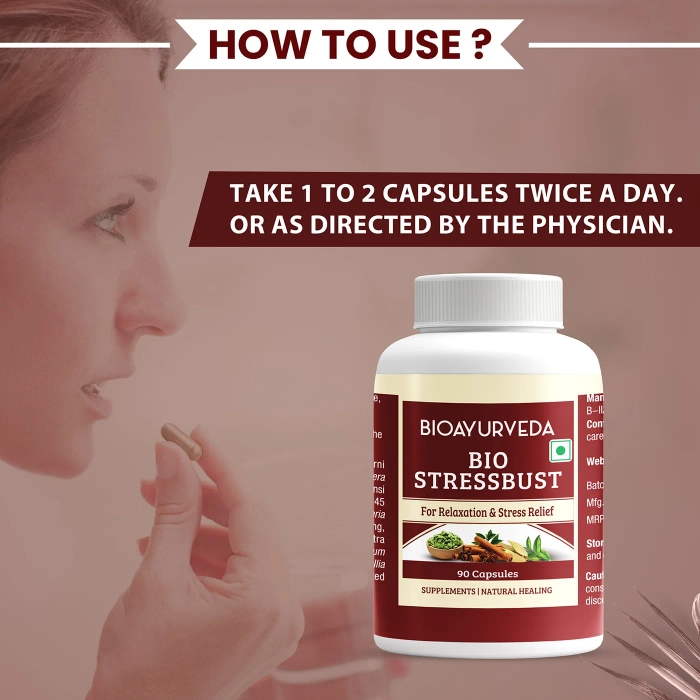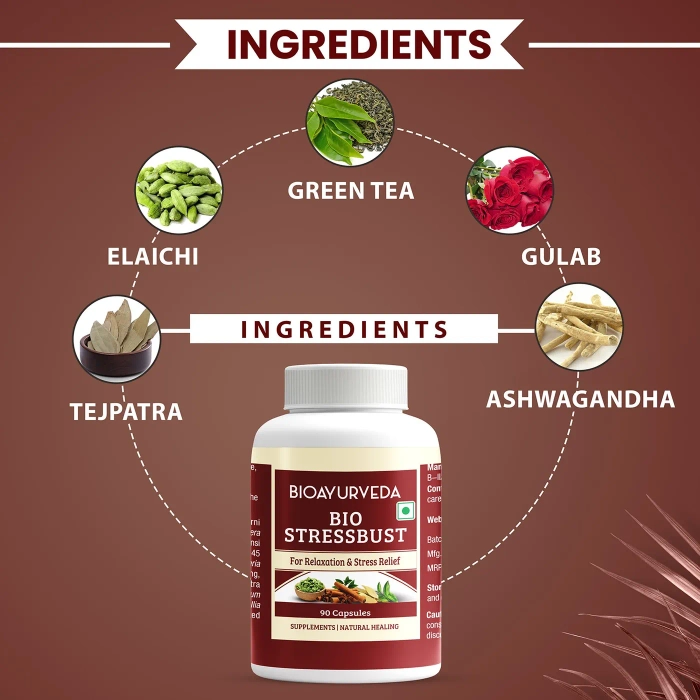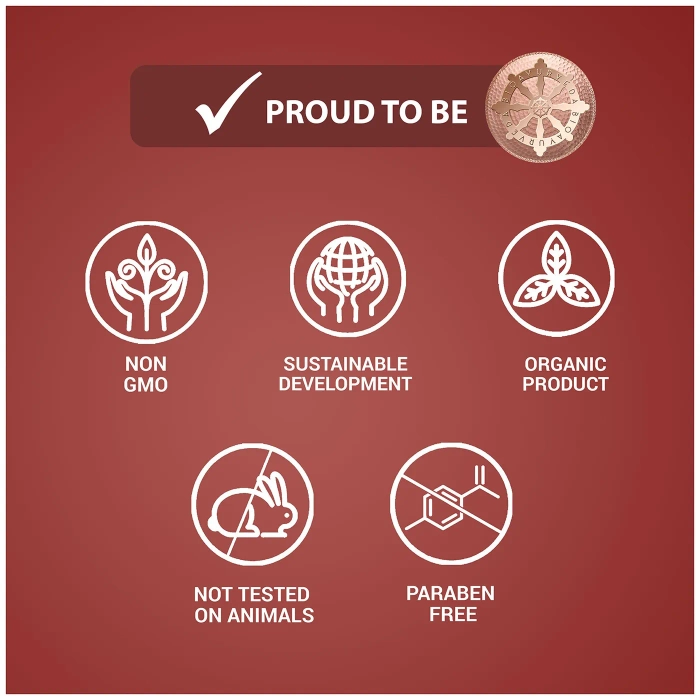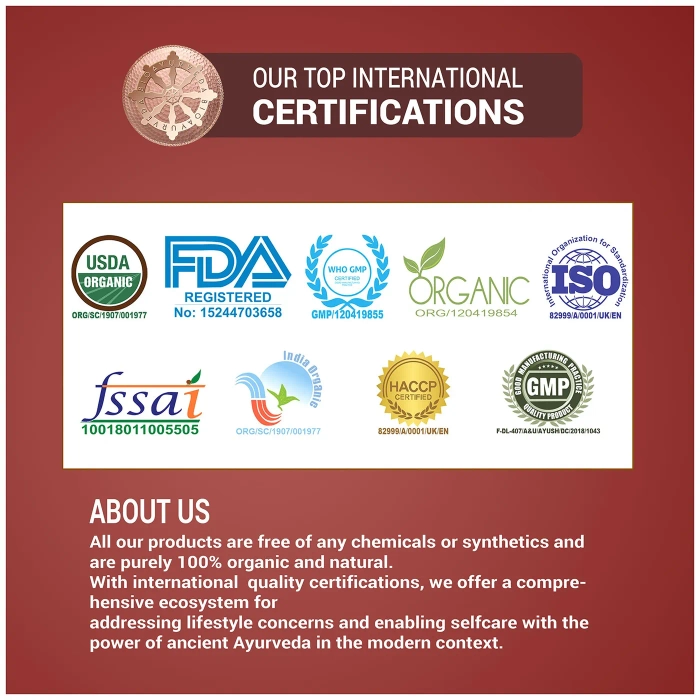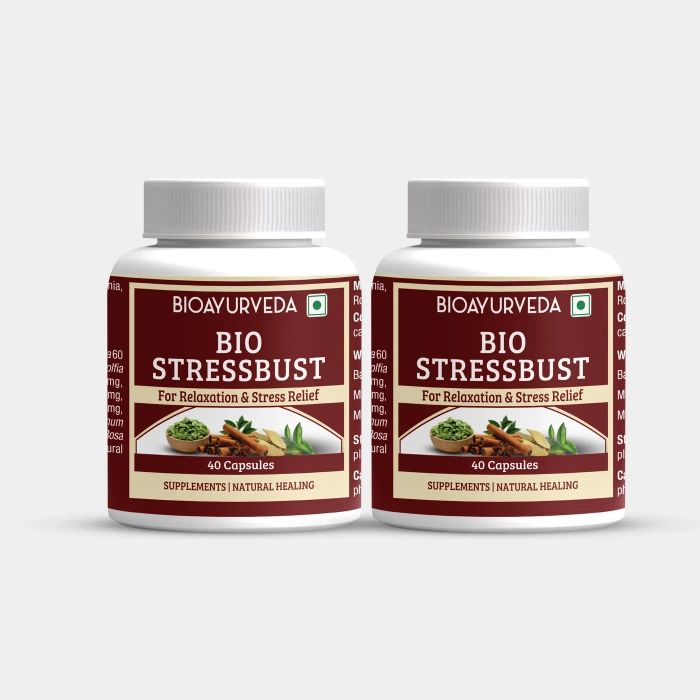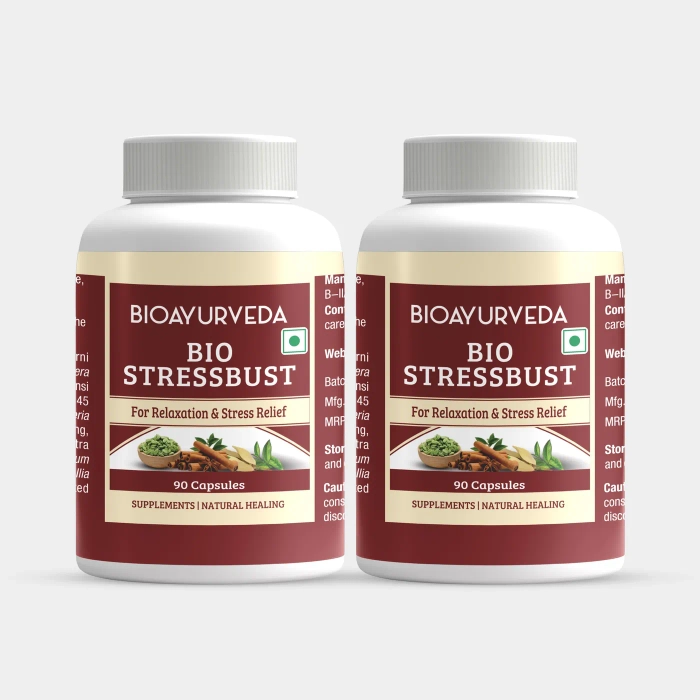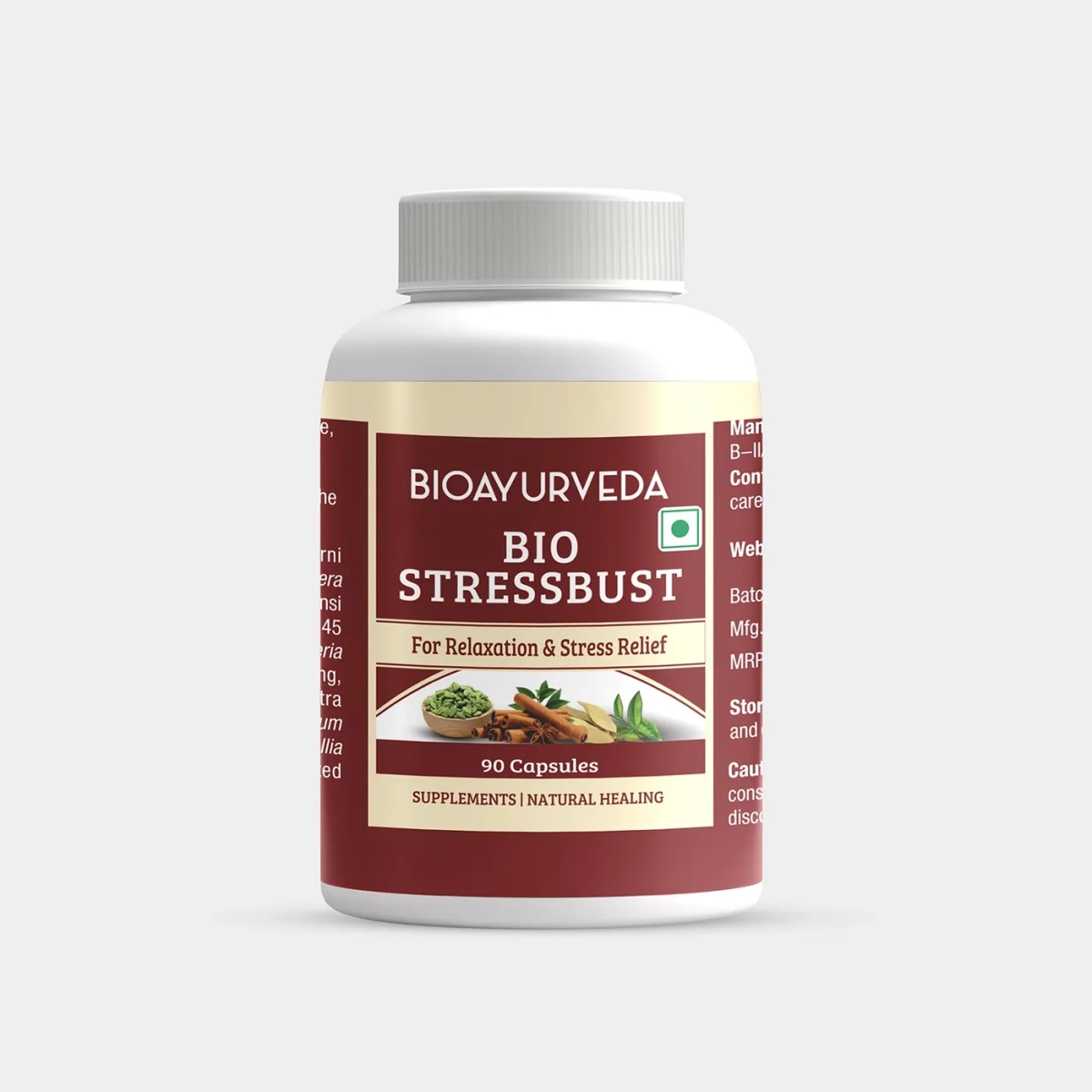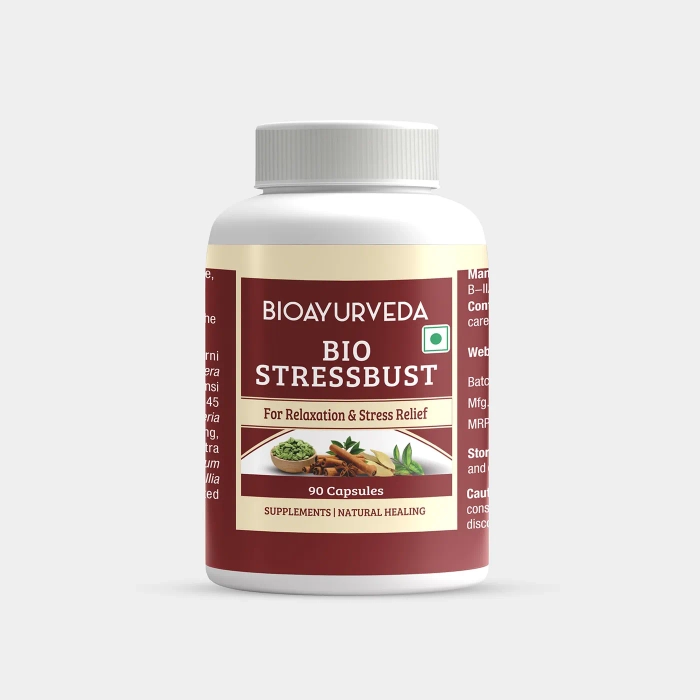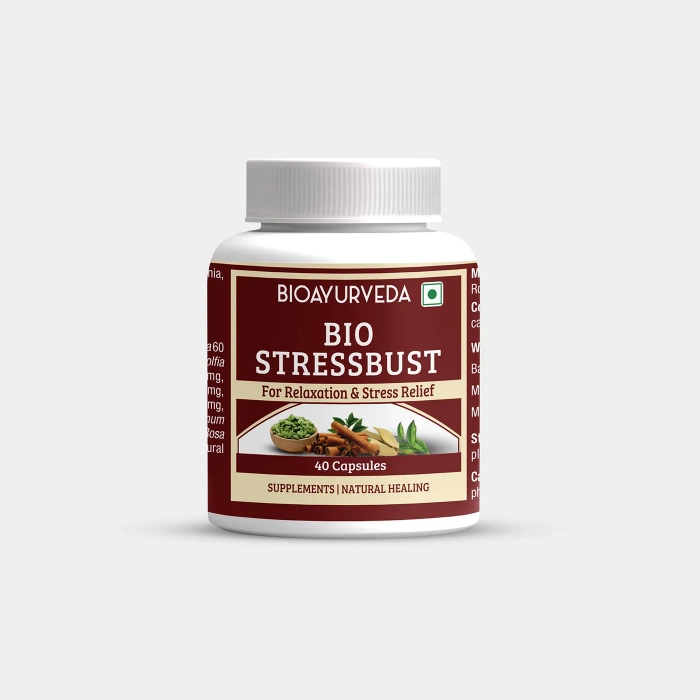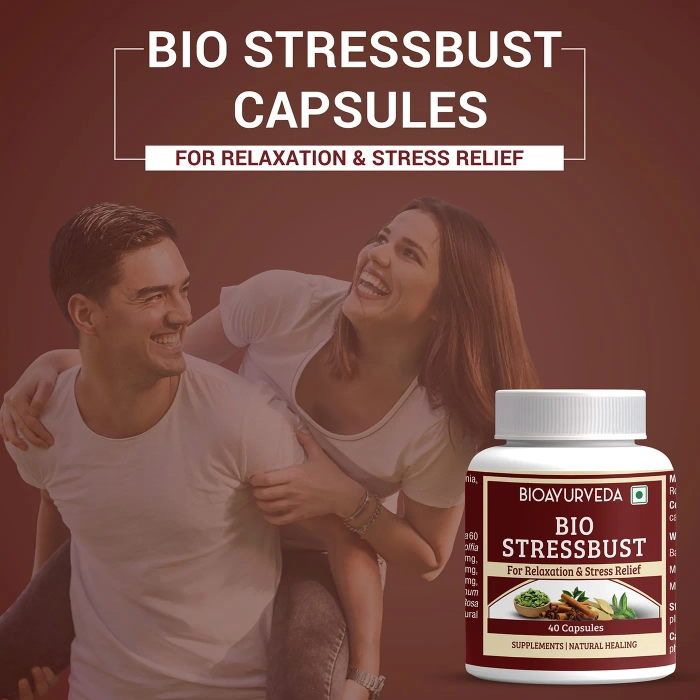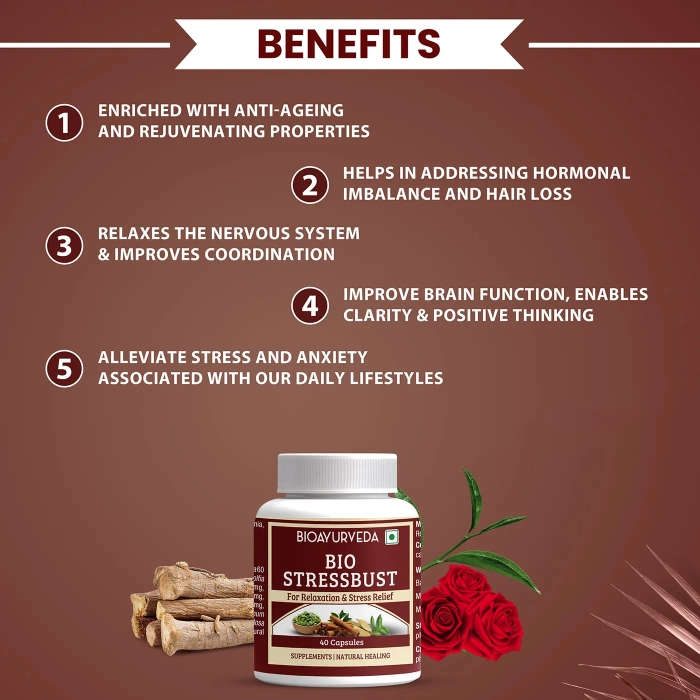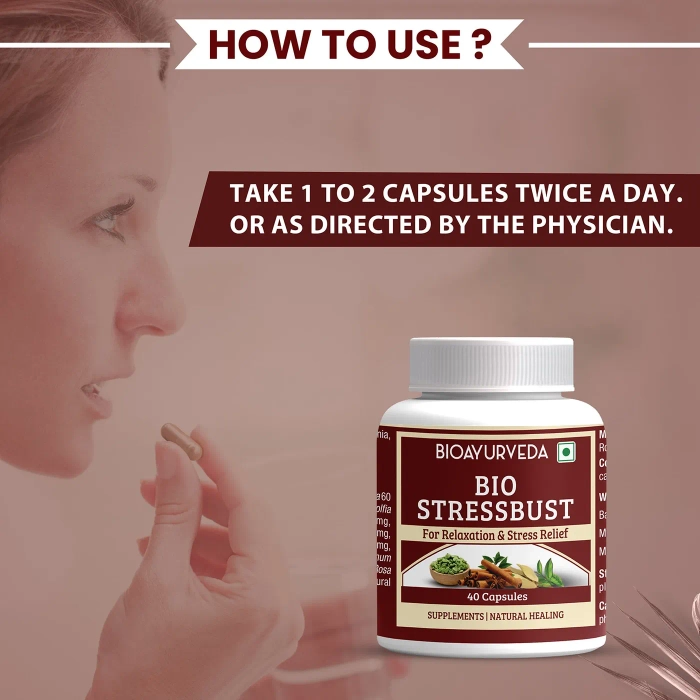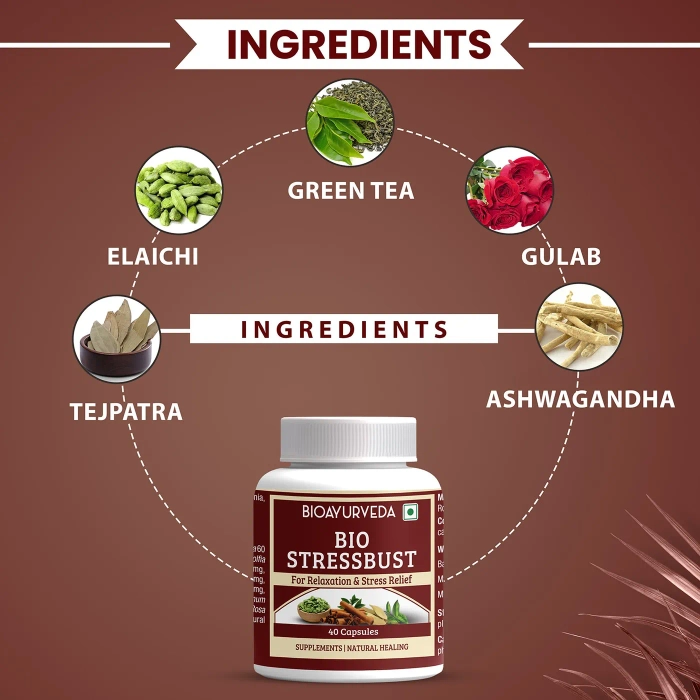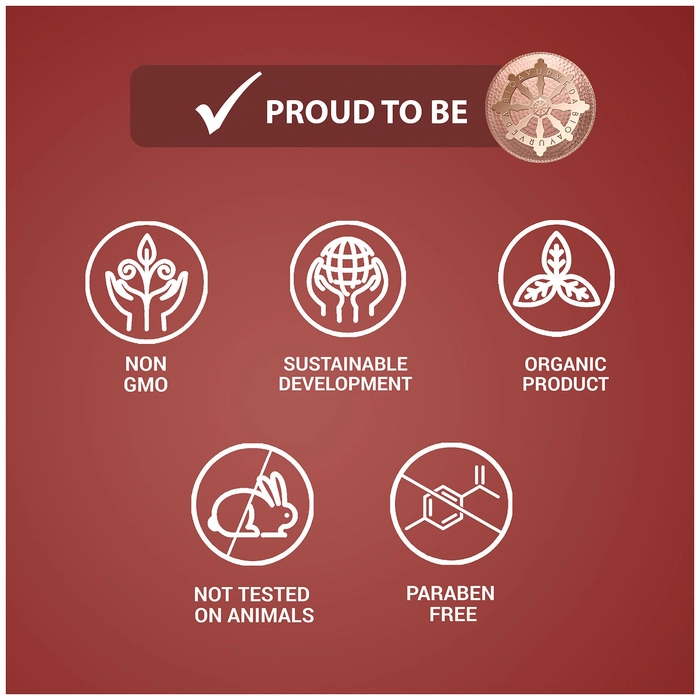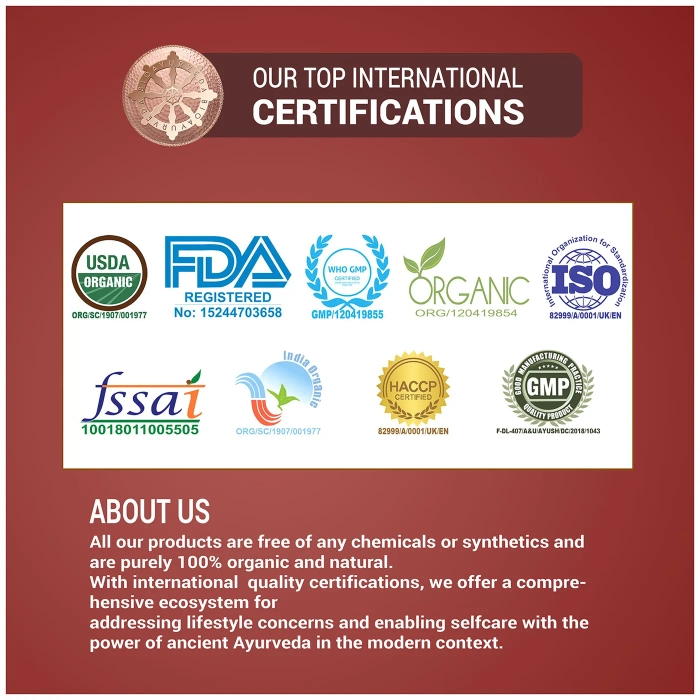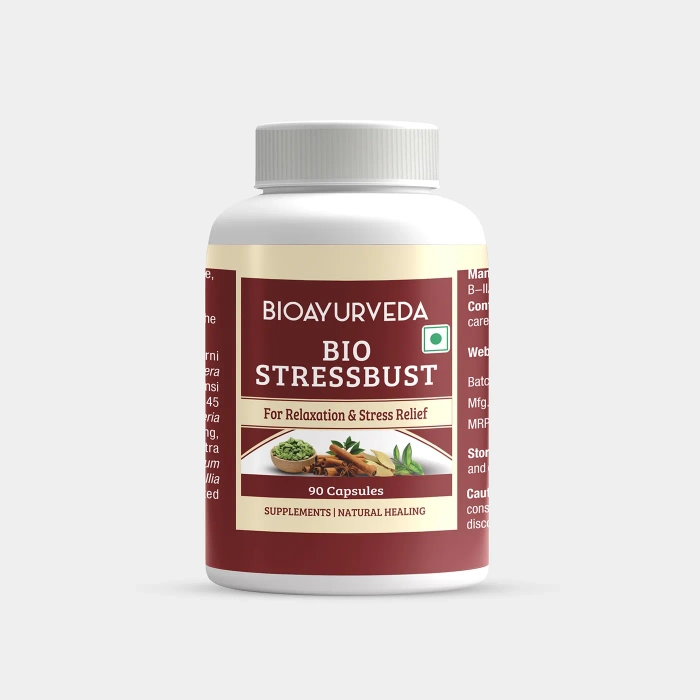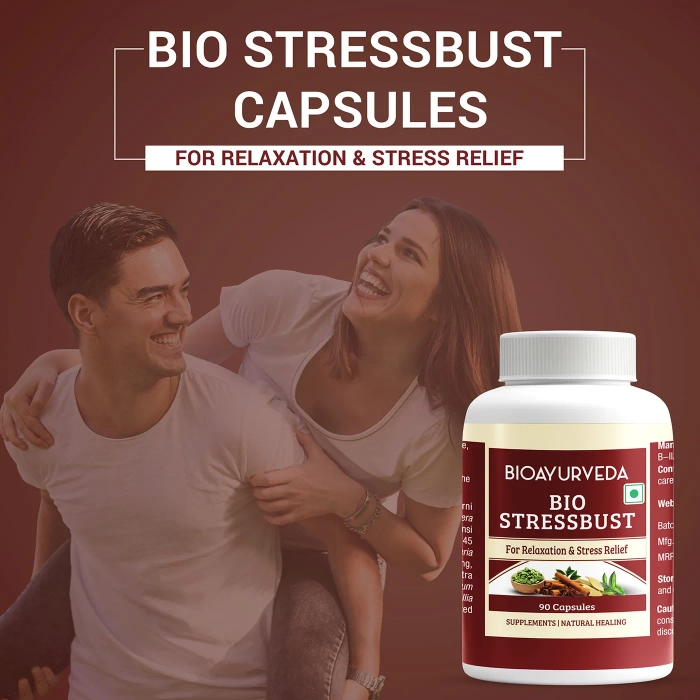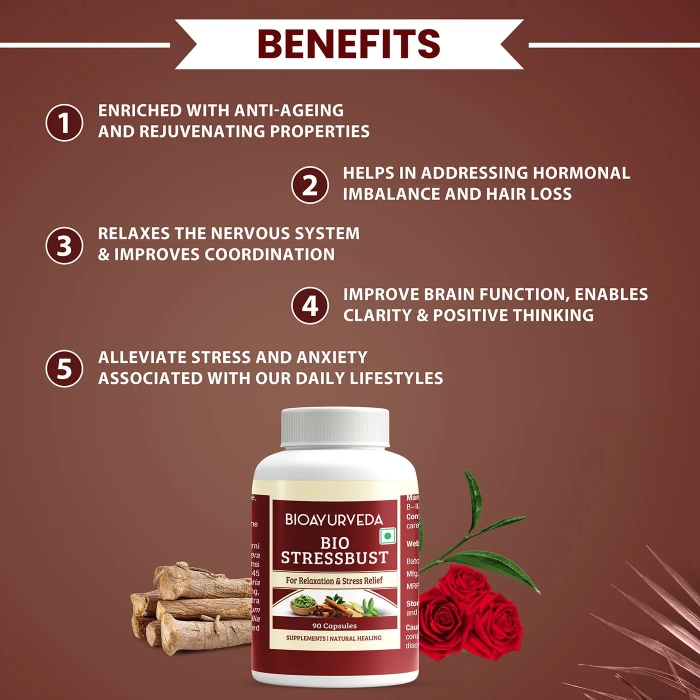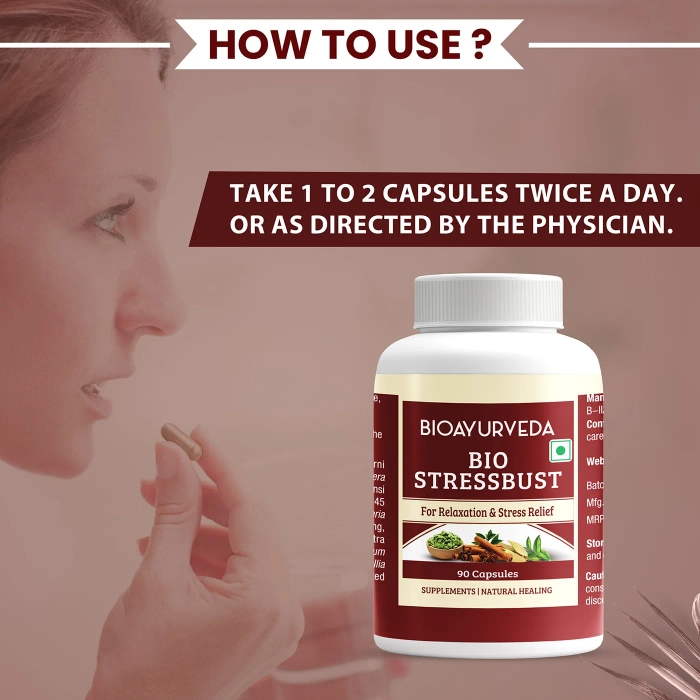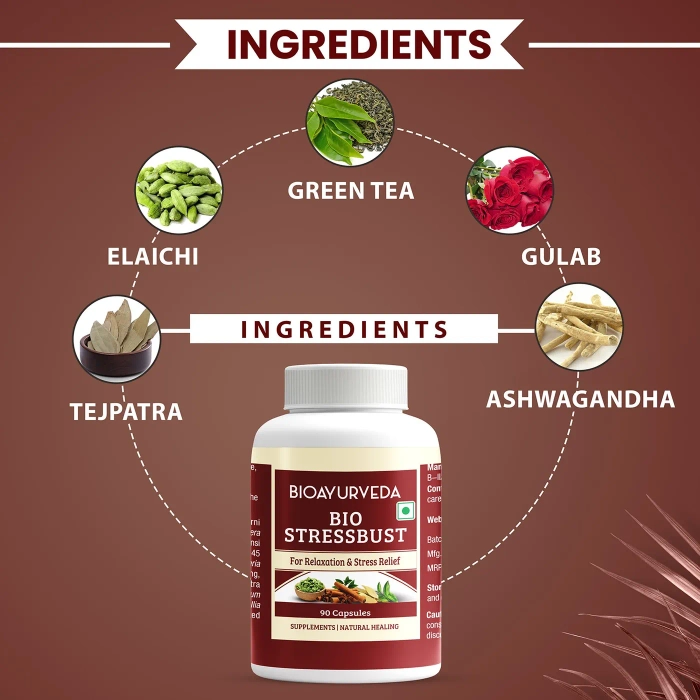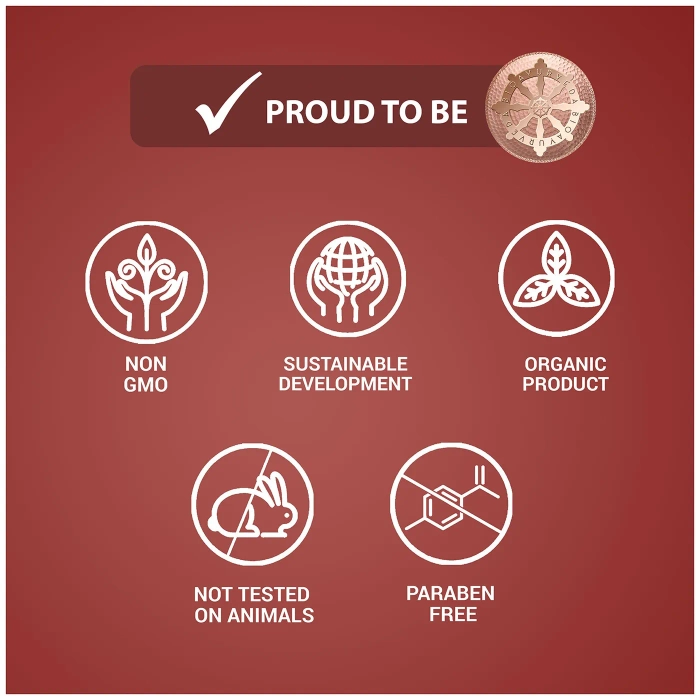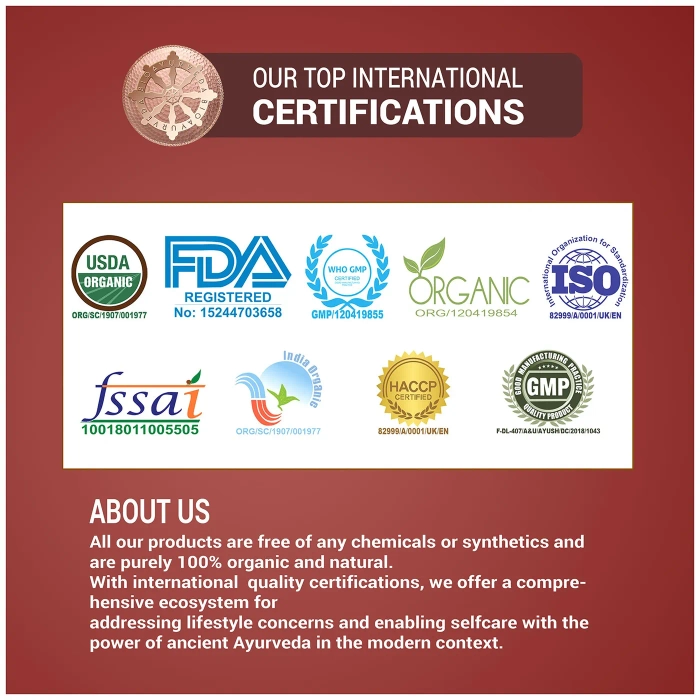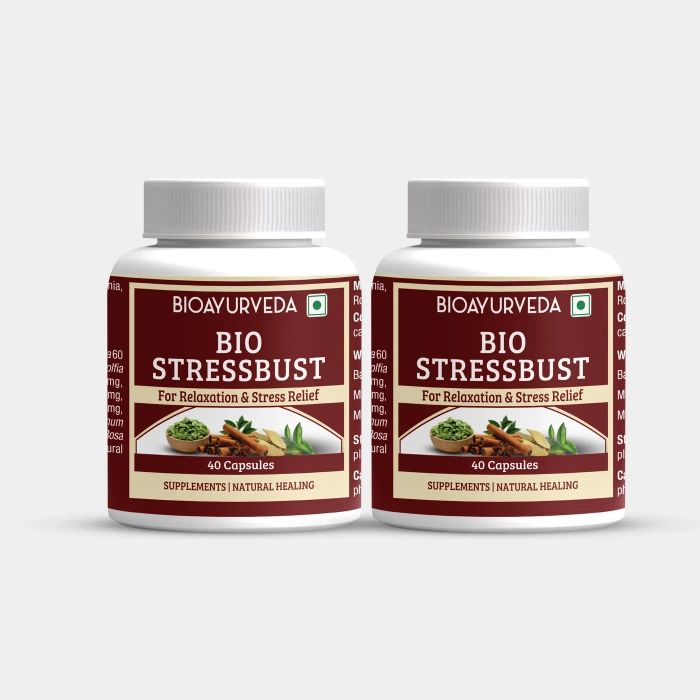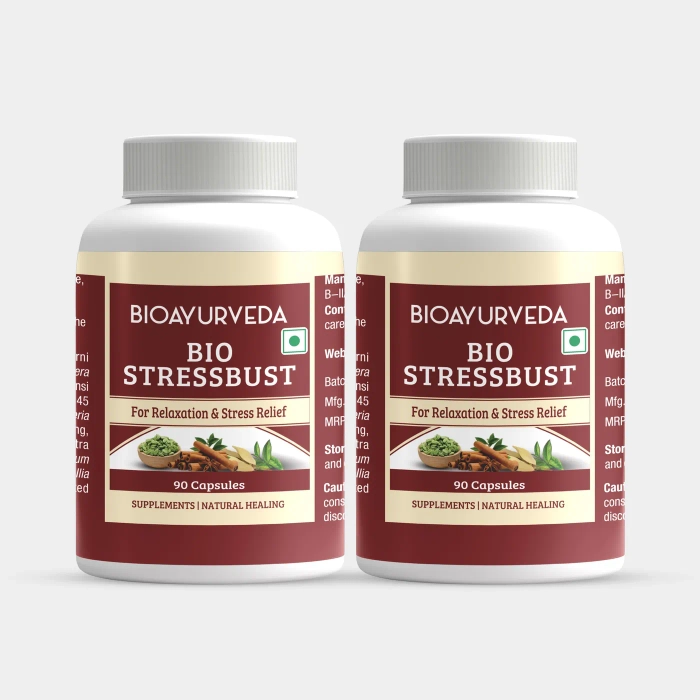 BIO STRESSBUST CAPSULE
Description
BIO STRESSBUST Capsule is a unique combination of organic herbs and natural nutrient sources that is formulated to help alleviate stress and anxiety associated with our daily lifestyles. It relaxes the nervous system, improves coordination and brain function, enables clarity and positive thinking. It uplifts confidence, energy and mood. With anti-ageing and rejuvenating properties, it also helps in addressing hormonal imbalance as well as hair loss.
DOSAGE
1 to 2 Capsules twice a day or as directed by the physician
Ingredients
Madukaparni, Ashwagandha, Sarpgandha, Jatamansi, Nagakesar, Svetchandana, Usira, Devadaru, Dalchini, Tejpatra, Elaichi, Gulab, Green Tea
Product details
---
Let's face it; stress is the ultimate party pooper. It's like that annoying guest who shows up uninvited and just won't leave. It can turn even the most fun and exciting moments into a complete nightmare. You could be dancing the night away, but as soon as stress shows up, your feet feel like lead and your body is completely drained of energy. Stress can ruin your mood, your sleep, your appetite, and even your relationships. But the thing is, stress is a natural part of life. We all experience it to some degree, and it can even be helpful in certain situations. It can give us the extra push we need to meet a deadline or make a big decision. The problem arises when stress becomes chronic and overwhelming, and we don't have the tools to manage it effectively. That's why it's important to take steps to reduce and manage stress in our lives. This can mean different things for different people, but some strategies that may be helpful include exercise, meditation or mindfulness practices, spending time in nature, and talking to a trusted friend or professional.
An easy way to manage stress is by using BIOAYURVEDA Bio Stressbust Capsule. It is an organic dietary supplement that helps you alleviate stress and anxiety. It helps you relax your mind. It is also suitable for every single one of you, making it worthy to be included in your healthcare inventory!
BIOAYURVEDA Bio Stressbust Capsule is an organic dietary supplement that is made out of natural and pure ingredients like Tejpatra, Ashwagandha, Rose, Elaichi, and Green Tea that work together to reduce stress and anxiety. It helps relax the nervous system and improves brain functioning. It enables us to think positively and clearly. It increases our confidence, uplifts our mood, and encourages us to do better things. It has anti-ageing and rejuvenating properties. It addresses hormonal imbalances as well.
Benefits
Alleviates Stress & Anxiety
The first step to a healthy mind requires us to get rid of stress and anxiety. This capsule does so flawlessly.
Uplifts Mood
It increases our confidence, uplifts our mood, and encourages us to do better activities. It helps us focus on positive things in our lives.
Contains Anti-Ageing & Rejuvenating Properties
As an additional benefit, BIOAYURVEDA Bio Stressbust Capsule contains anti-ageing and rejuvenating properties to further support your health.
INGREDIENTS
Ashwagandha
Ashwagandha, or Withania somnifera, is a shrub found in India. It is highly medicinal and is known to decrease stress and anxiety along with many other benefits like increasing strength, enhancing stamina, boosting immunity, and supporting the overall health of your body. Fun fact: Its name in Sanskrit means 'smell of the horse'!
Elaichi
Elaichi, or Cardamom, is a unique spice that is used as both a flavoring agent and a medicinal ingredient. It is widely used in Ayurvedic sciences. It has antioxidant properties that help regulate blood pressure. It can also reduce inflammation with its anti-inflammatory properties.
Rose
Rose has antioxidant properties that can help protect the cells of your skin from harmful elements. Rose helps soothe skin irritation and reduces its redness too. Moreover, it has anti-ageing properties that smoothen the skin and give it a firmer tone.


BIOAYURVEDA is a visionary holistic luxury brand in health and wellness offering completely natural and organic products.
Manufactured By:
Arganshe Private Limited
Address:
11/2, BADARPUR BORDER, Faridabad, Haryana, 121003