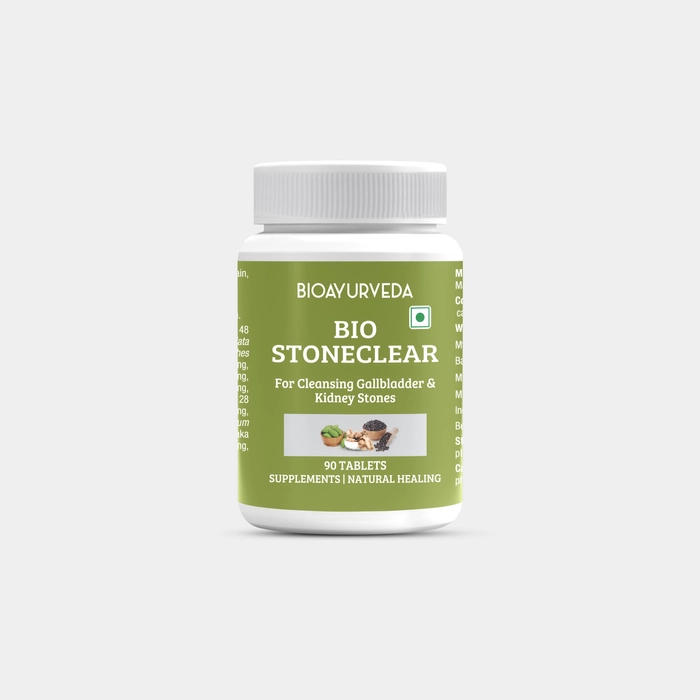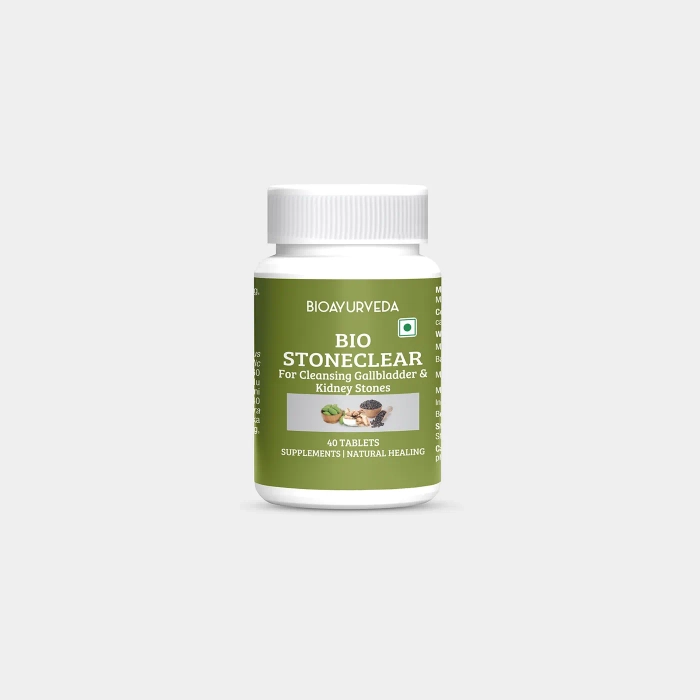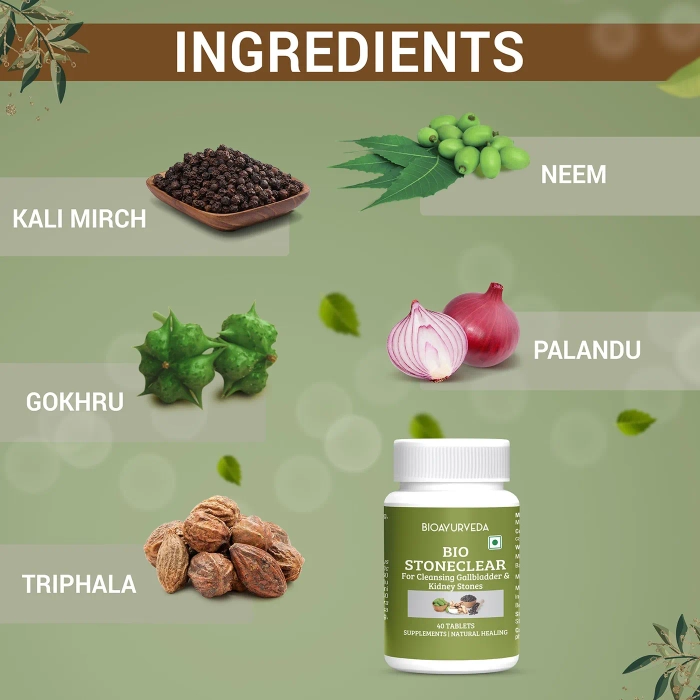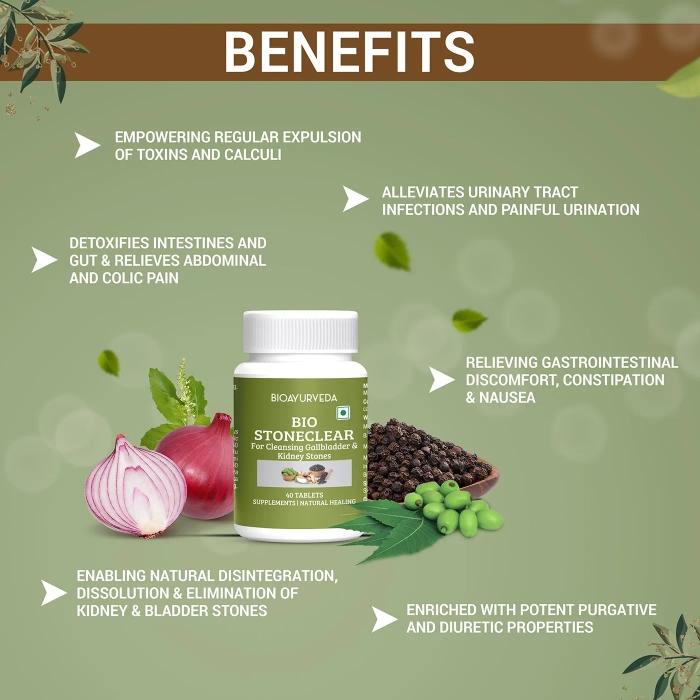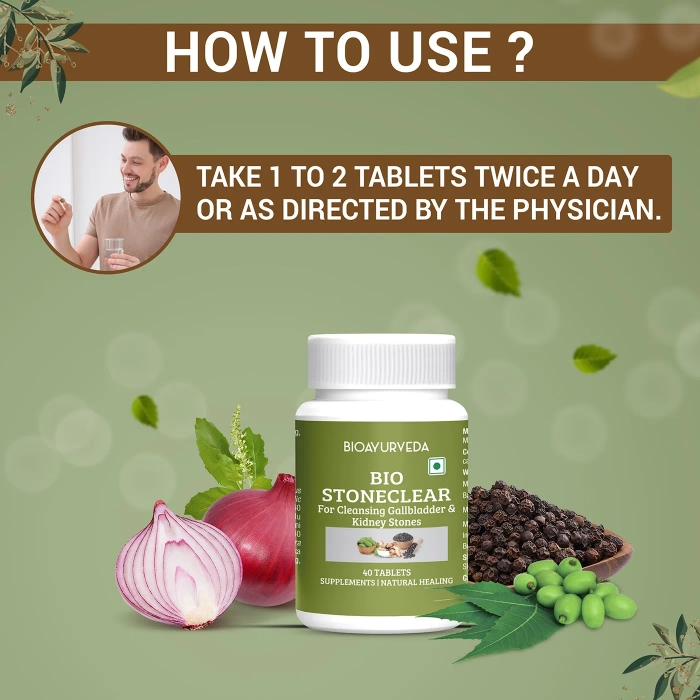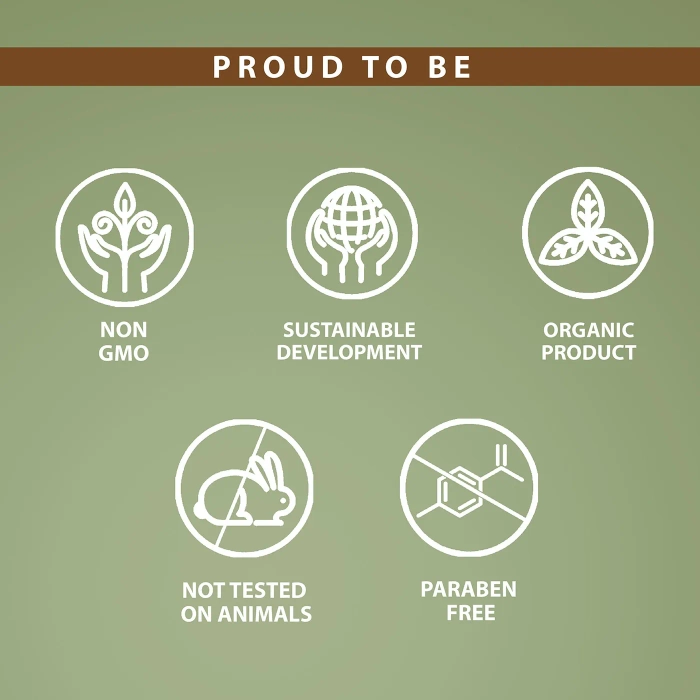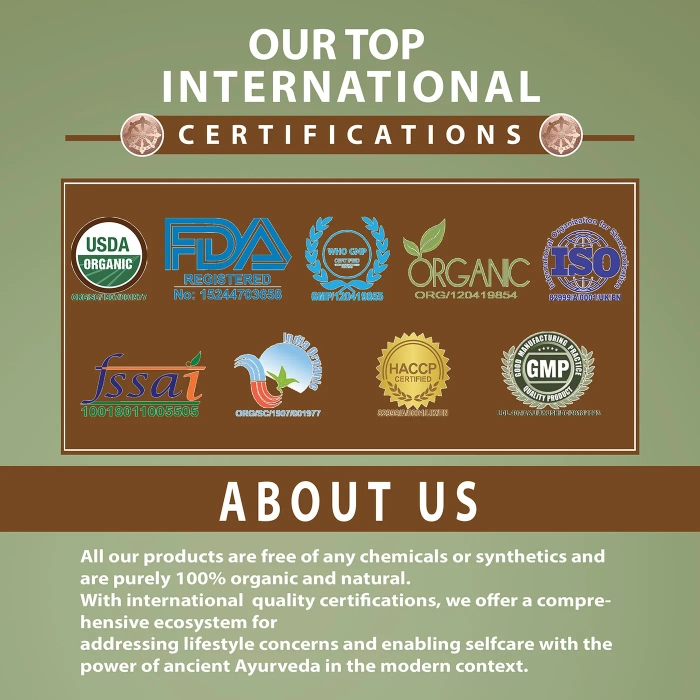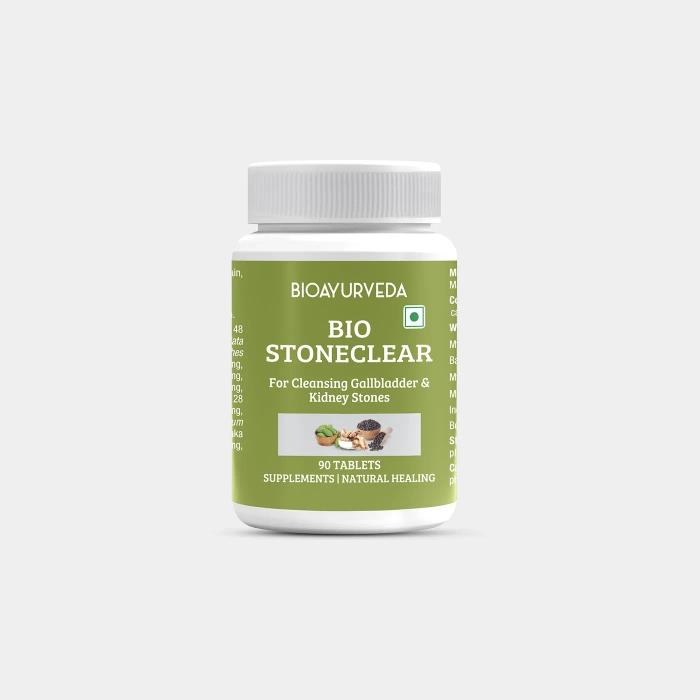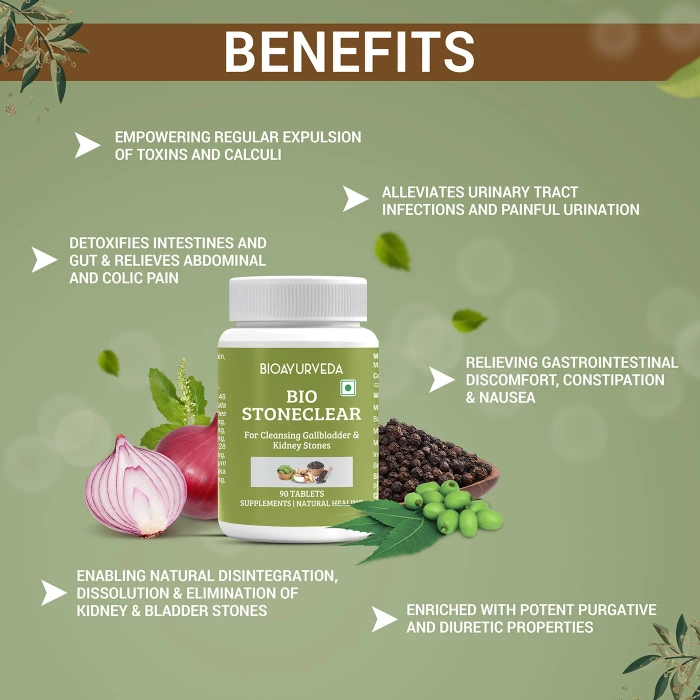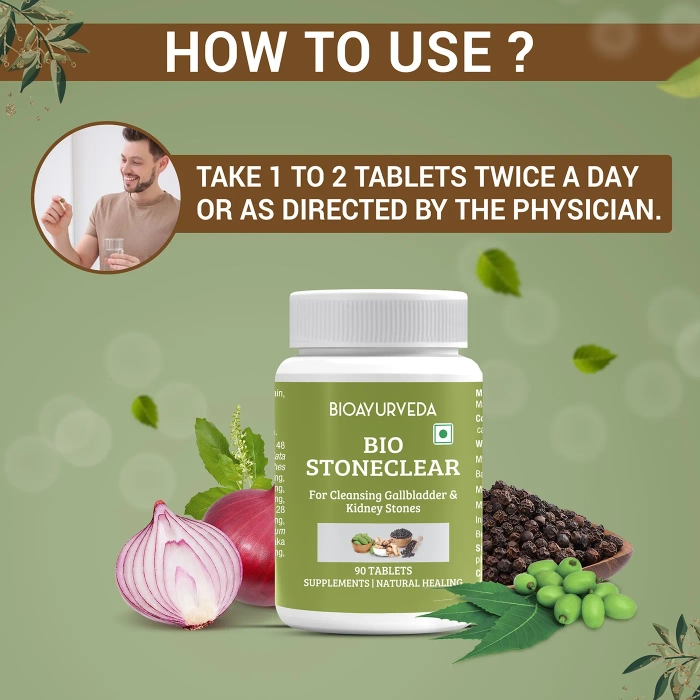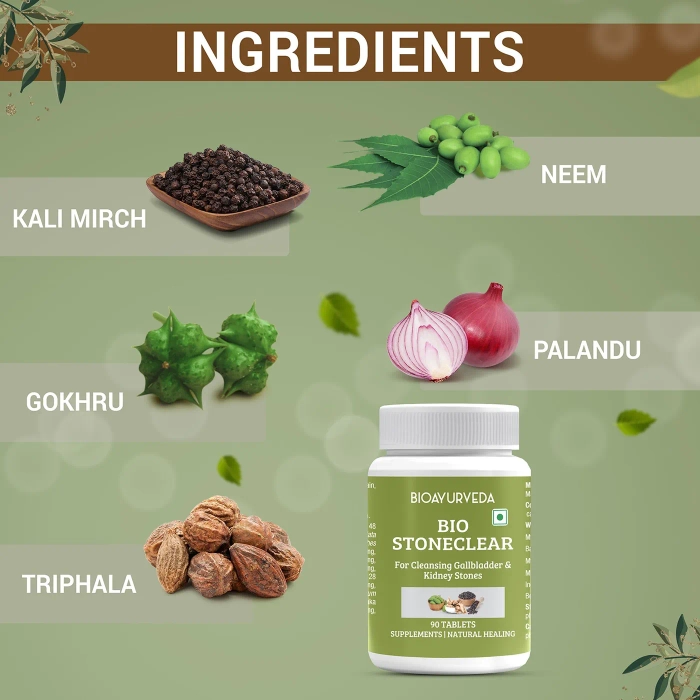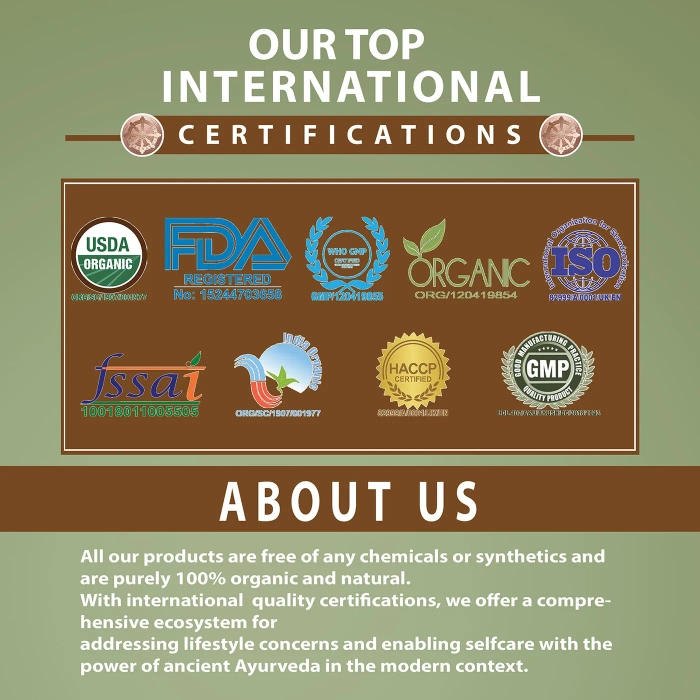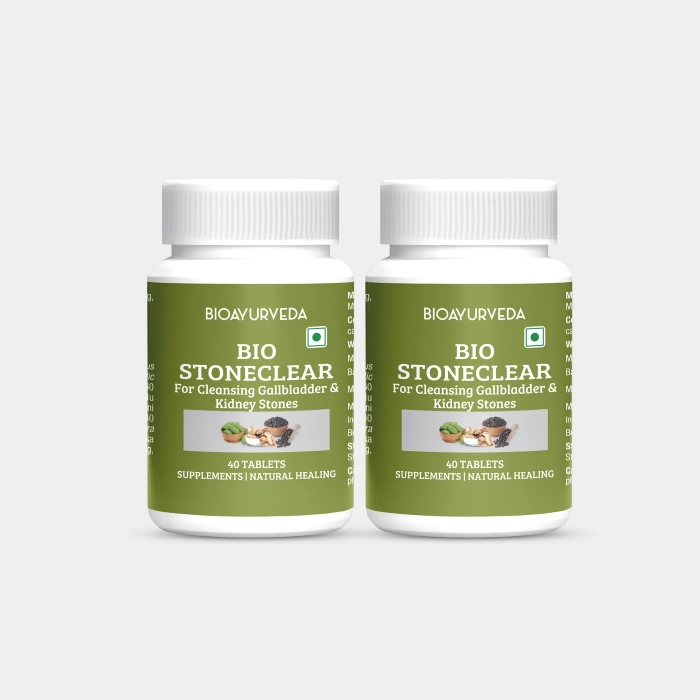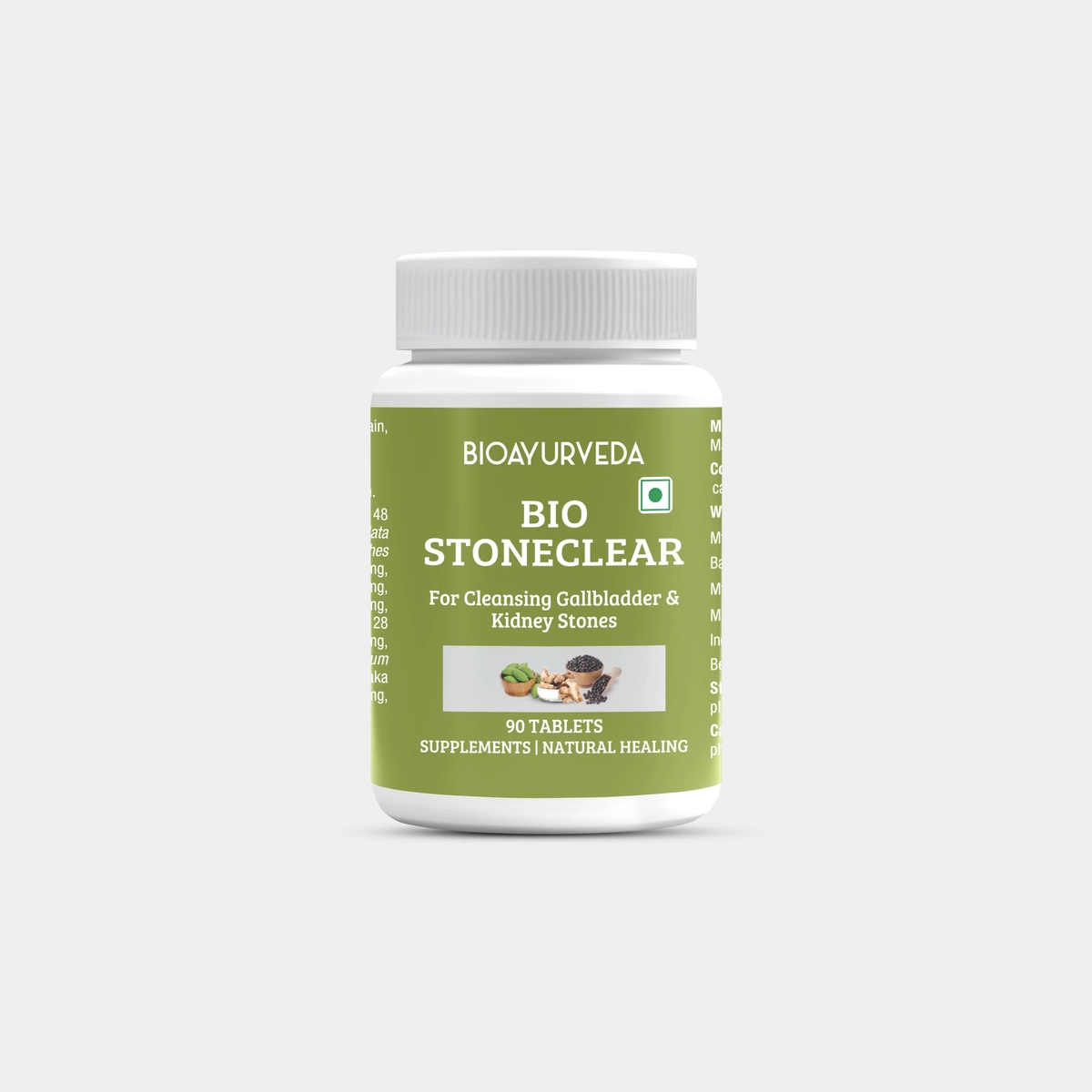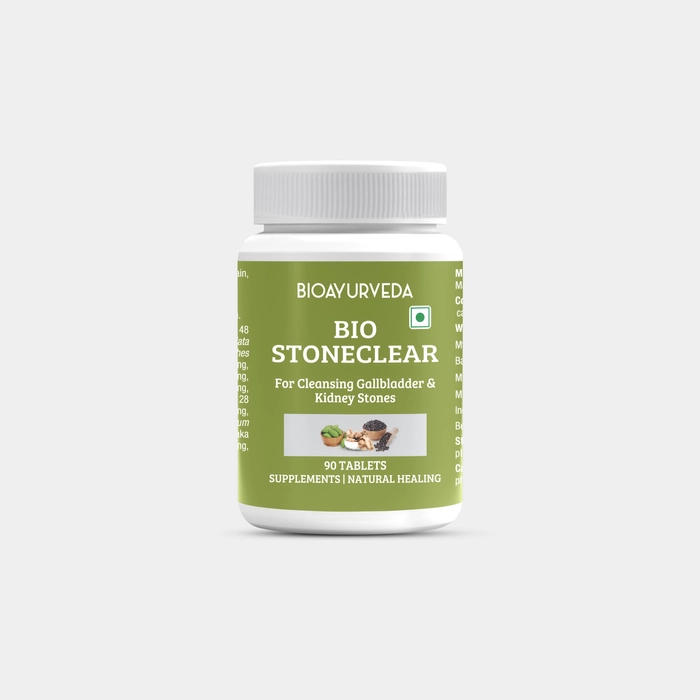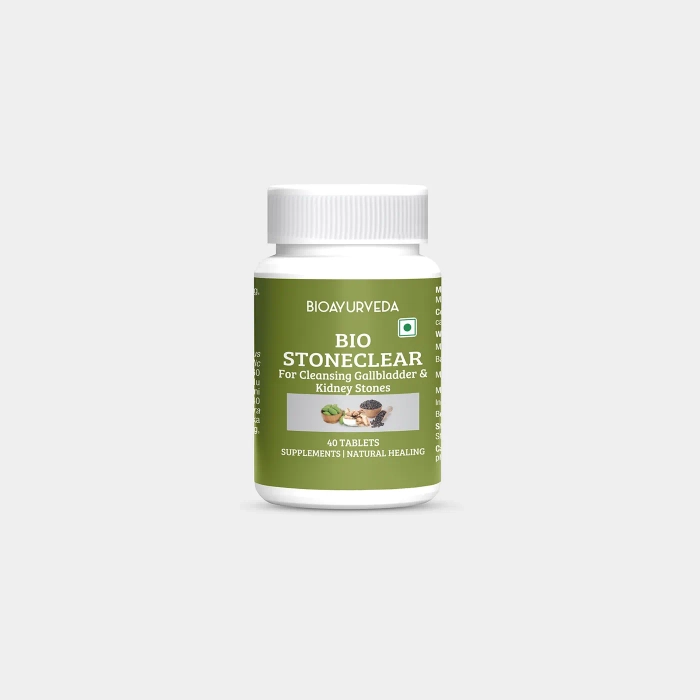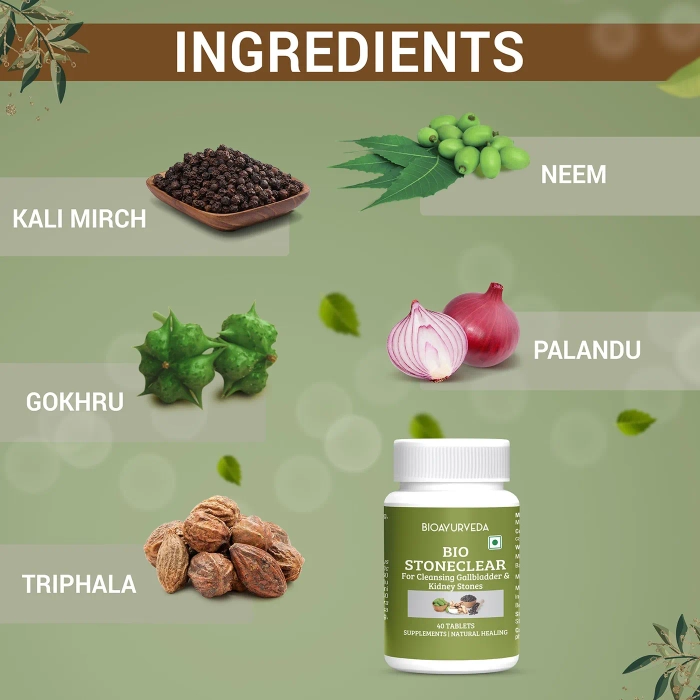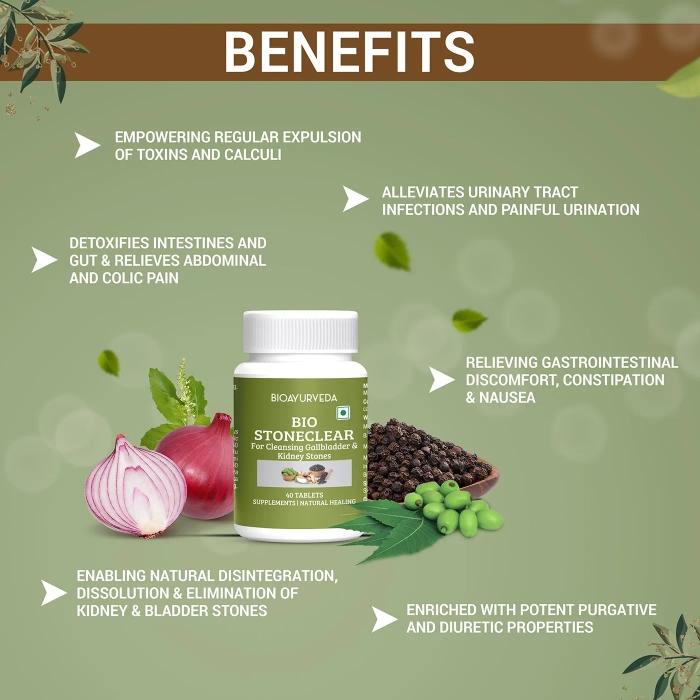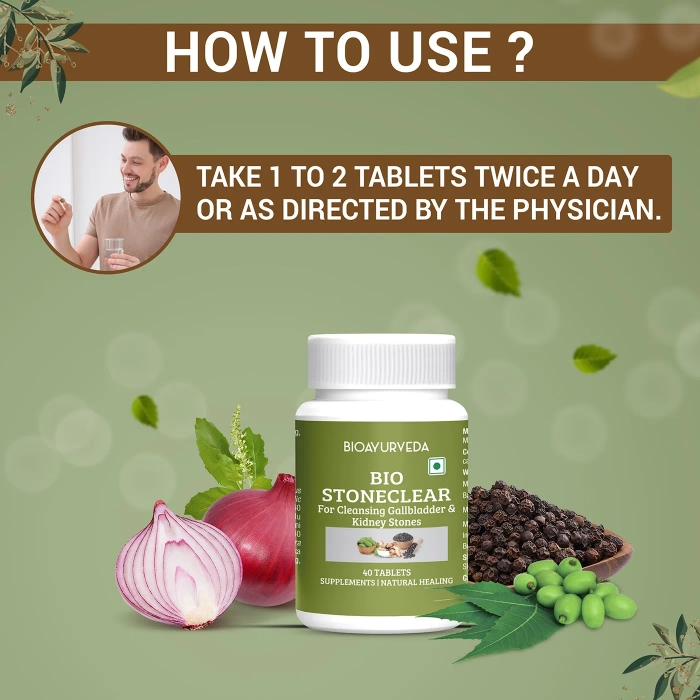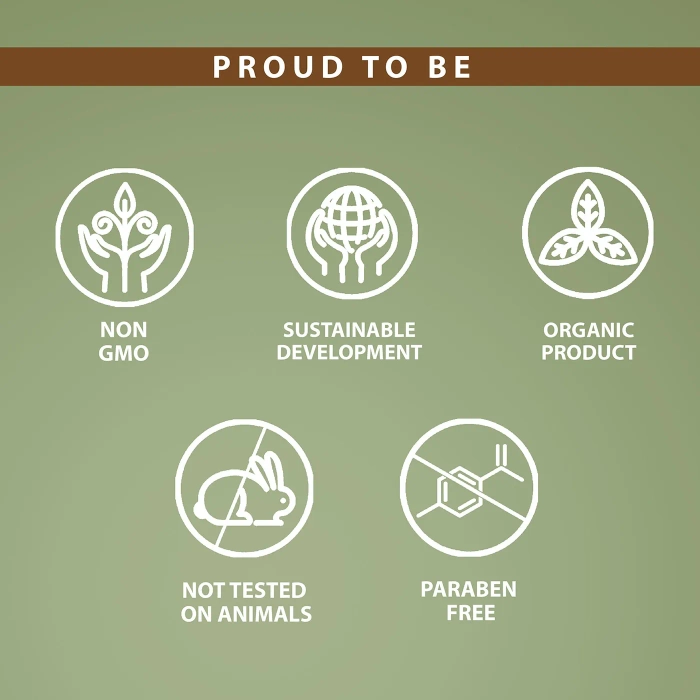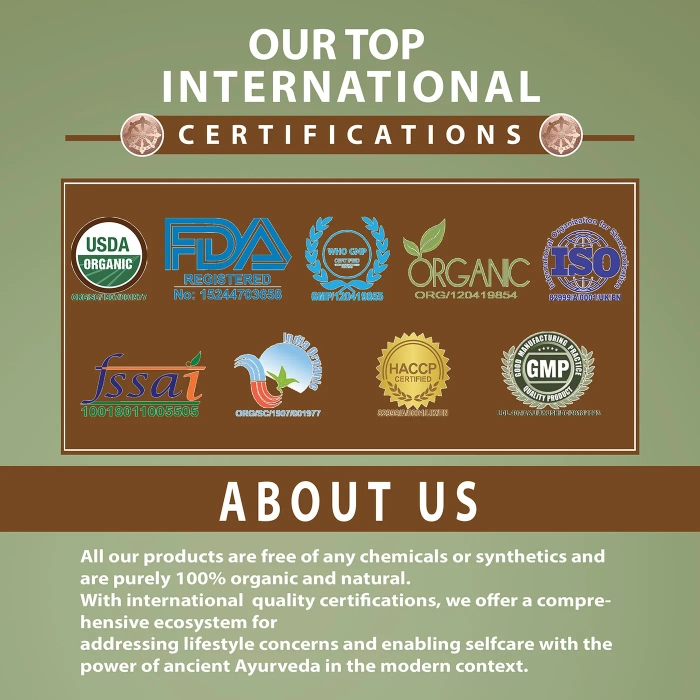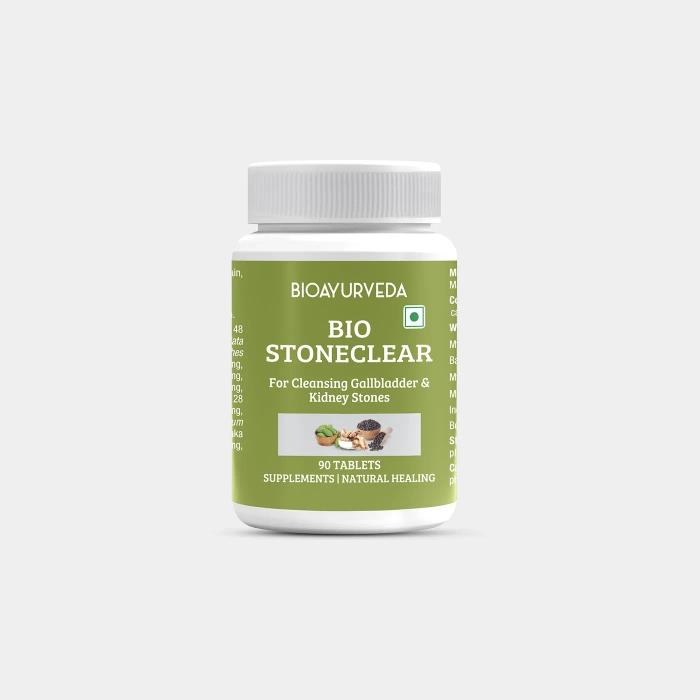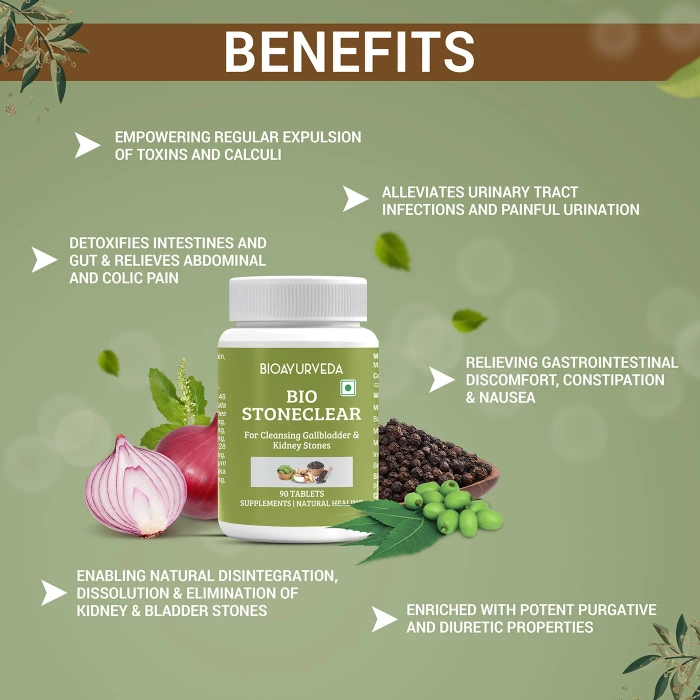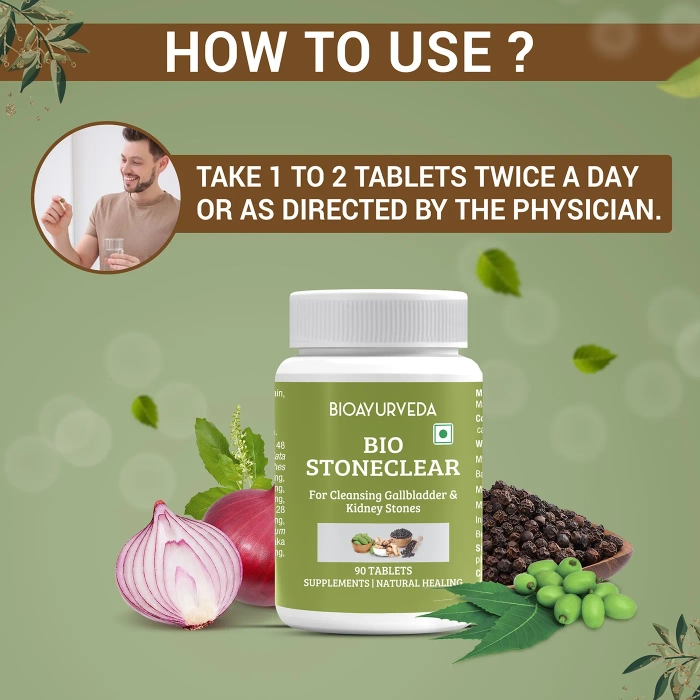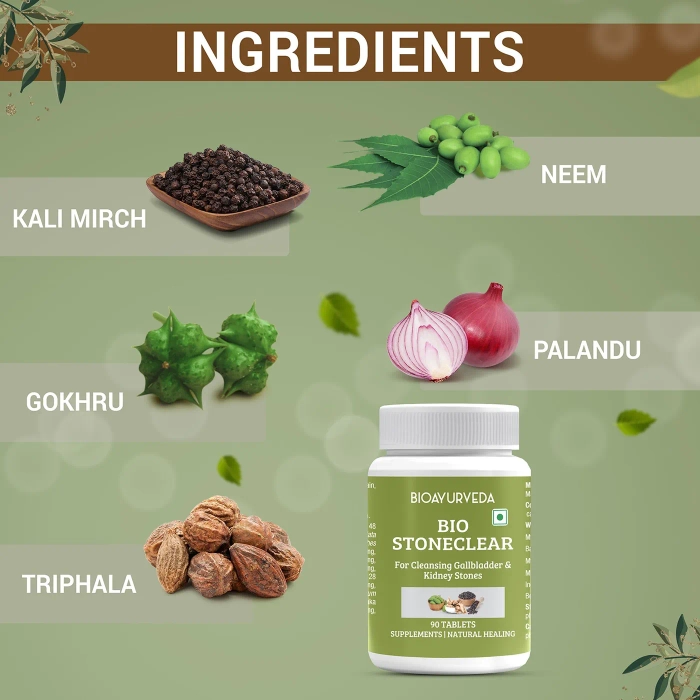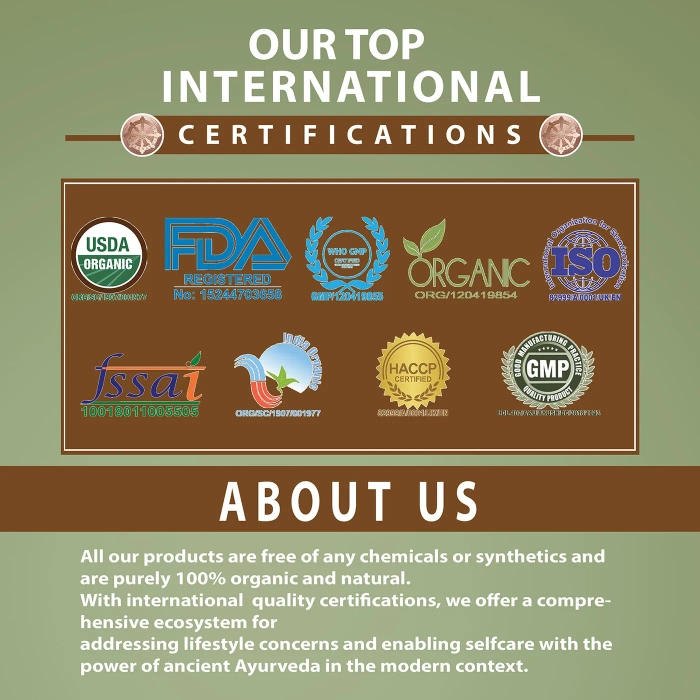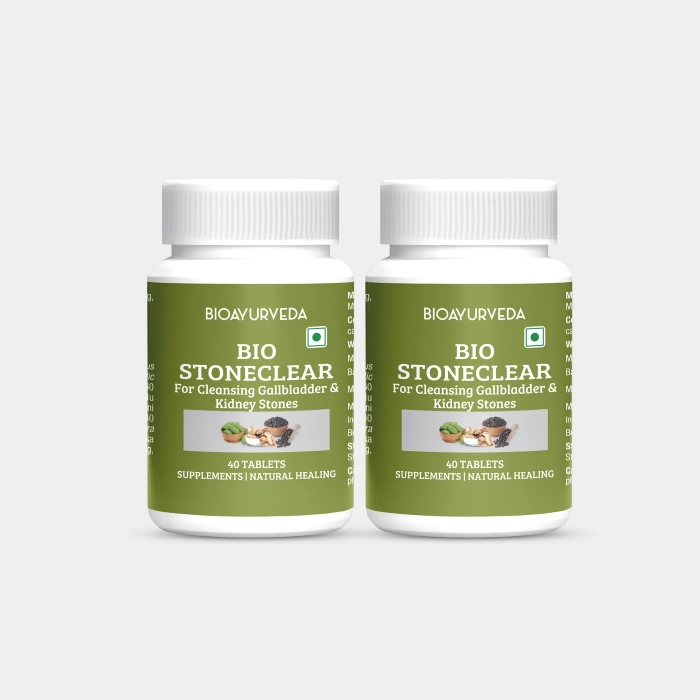 BIO STONECLEAR TABLET
Description
BIO STONE CLEAR TABLET is a unique combination of organic herbs and natural nutrient sources that is formulated for enabling natural disintegration, dissolution and elimination of kidney, bladder and gall stones. With anti-inflammatory action, it alleviates urinary tract infections and painful urination. It cleanses and detoxifies intestines and gut, and relieves abdominal and colic pain. Relieving gastrointestinal discomfort, constipation and nausea, it has potent purgative and diuretic properties, empowering regular expulsion of toxins and calculi. 
DOSAGE
1 to 2 Tablets twice a day or as directed by the physician.
Ingredients
Gokhru, Kulatha, Pashanbhed, Varuna, Apamarga, Triphala, Daruharidra, Bael, Neem, Sounth, Punarnava, Bakayan, Palandu, Aragavadha, Vidarikand, Danti, Kali Mirch, Mulaka, Palasa,
Product details
---
Kidney and bladder stones are common ailments that can affect anyone at any age. These stones are formed when certain substances in the urine, such as calcium, oxalate, and uric acid, become too concentrated and start to crystallize. Over time, these crystals can grow into hard and solid masses, known as stones, which can cause a great deal of pain and discomfort. Kidney stones are particularly dangerous because they can cause blockages in the urinary tract, preventing the normal flow of urine. This can lead to a buildup of pressure in the kidney and bladder, causing pain, swelling, and infection. In some cases, if left untreated, kidney stones can even cause permanent damage to the kidney. Bladder stones, on the other hand, can cause a range of symptoms, including frequent urination, painful urination, and urinary incontinence. In severe cases, they can also lead to bladder infections and even bladder cancer. Aside from the physical symptoms, kidney and bladder stones can also have a negative impact on a person's mental and emotional well-being. !
The pain and discomfort can make it difficult to carry out daily activities and can even lead to anxiety and depression. To help you get rid of the same, we have BIOAYURVEDA Bio Stoneclear Tablet. kidney stones supplements are an organic dietary supplements those help with the dissolution of kidney and bladder stones. Gallbladder stone tablet does naturally with the help of its pure ingredients. More so, it is completely healthy and poses no side effects!
BIOAYURVEDA Bio Stoneclear Tablet is an organic dietary supplement made out of natural and pure ingredients like Neem, Kali Mirch, Gokhru, Palandu, Triphala, and more that work in tandem to dissolve kidney and bladder stones. It has anti-inflammatory properties that prevent urinary tract infections and get rid of painful urination. More so, it cleanses and detoxifies the gut and the intestines. It provides comfort in the gastrointestinal area and prevents constipation too. Our gallstone tablet has purgative and diuretic properties that expulse toxins from the body.
Benefits
Ingredients


BIOAYURVEDA is a visionary holistic luxury brand in health and wellness offering completely natural and organic products.
Manufactured By:
Arganshe Private Limited
Address:
11/2, BADARPUR BORDER, Faridabad, Haryana, 121003