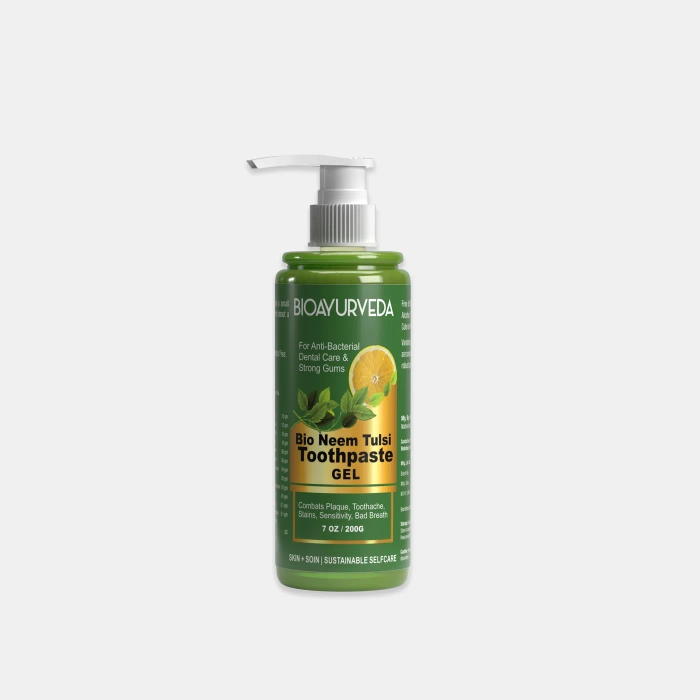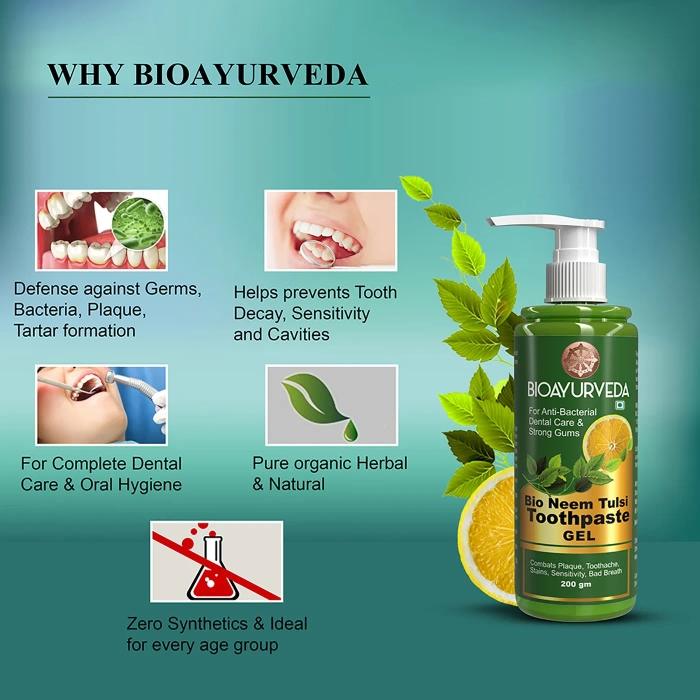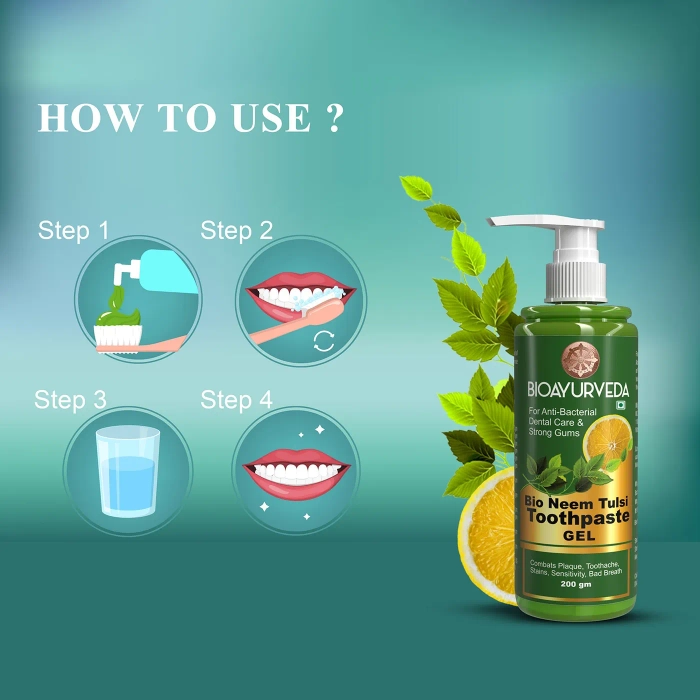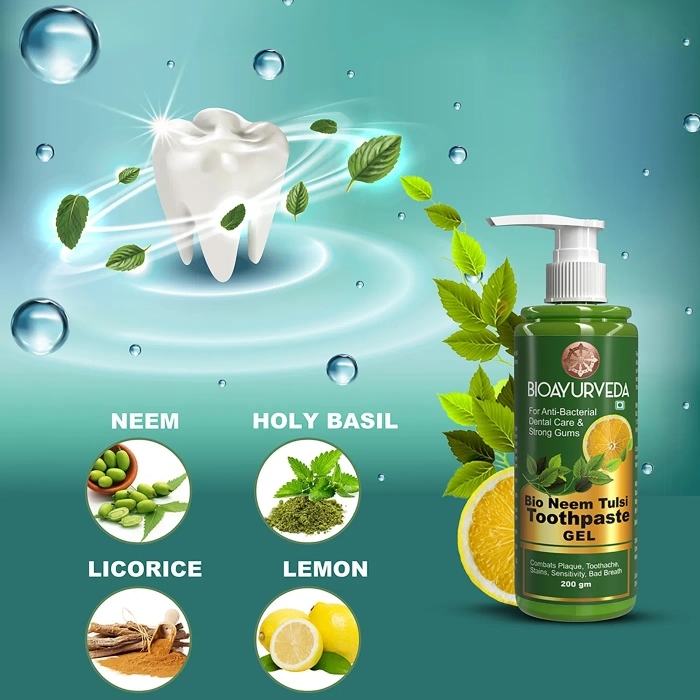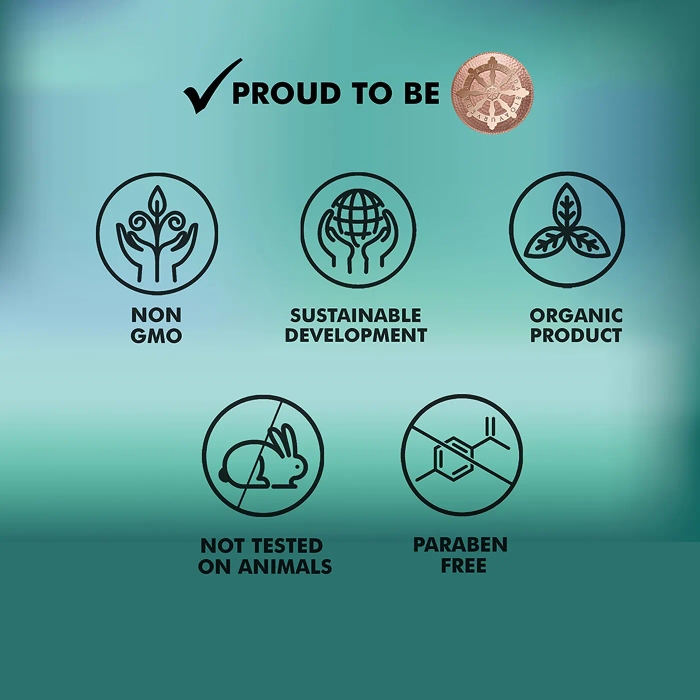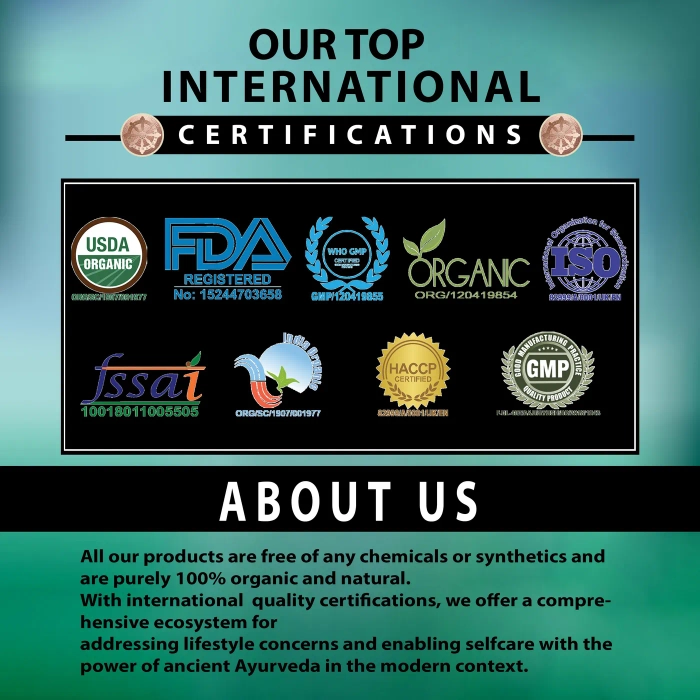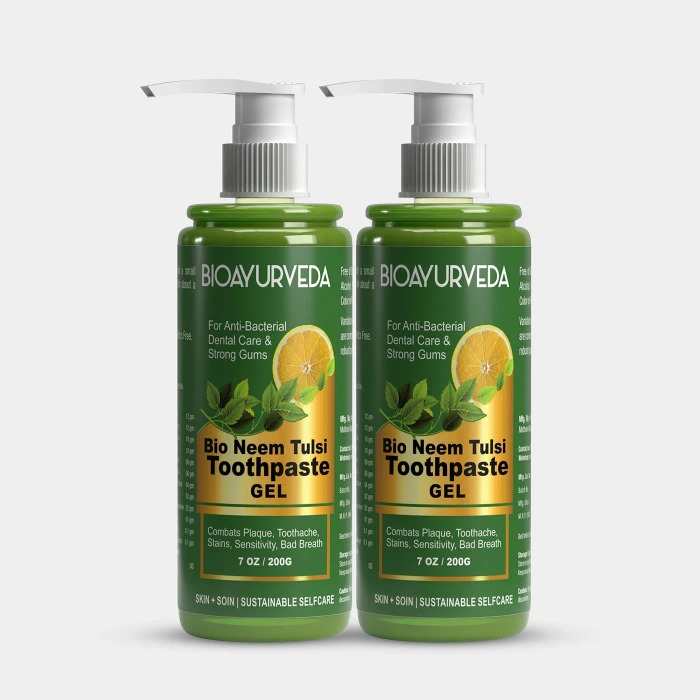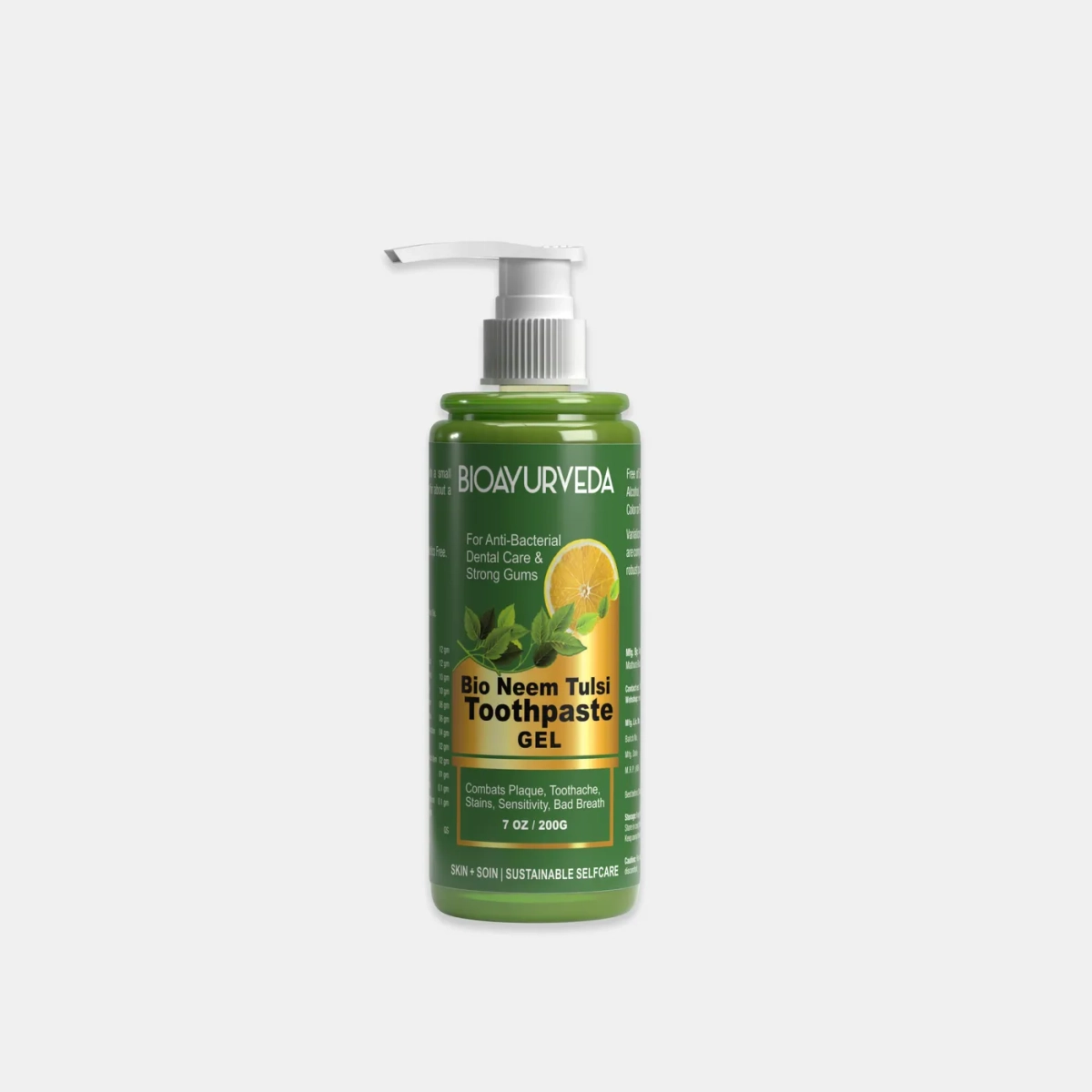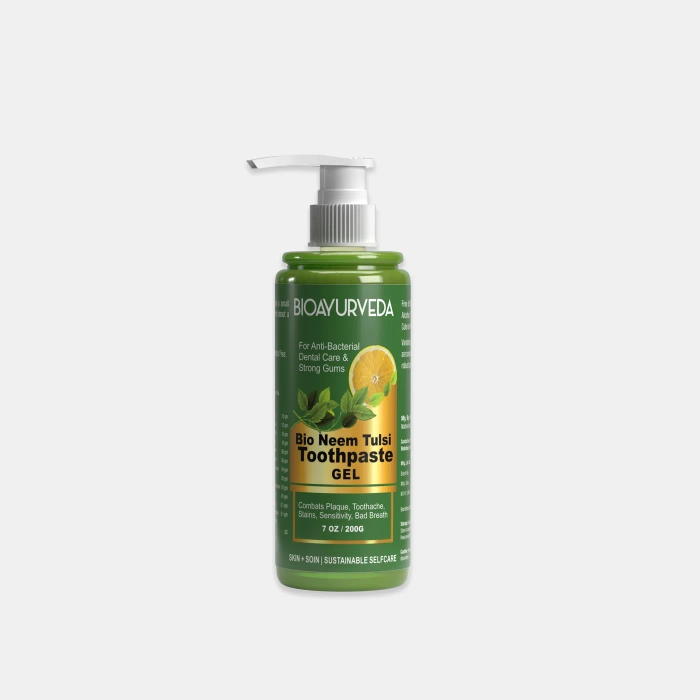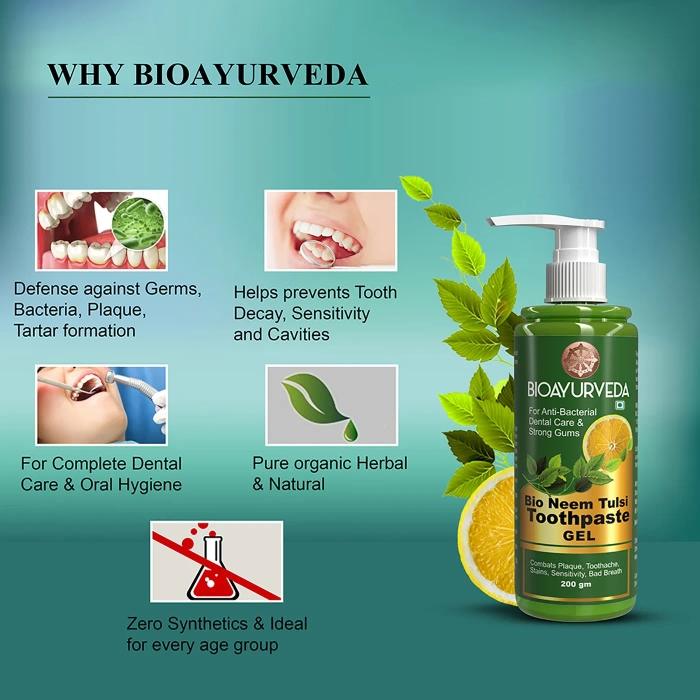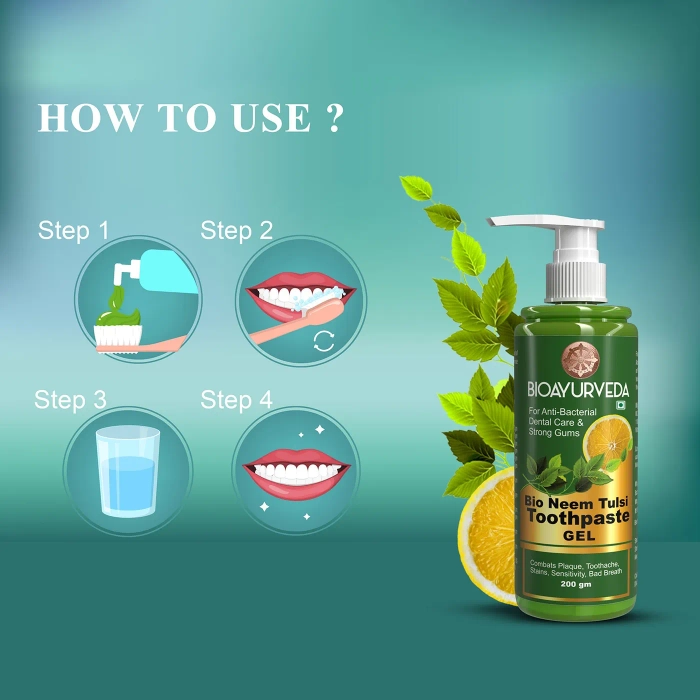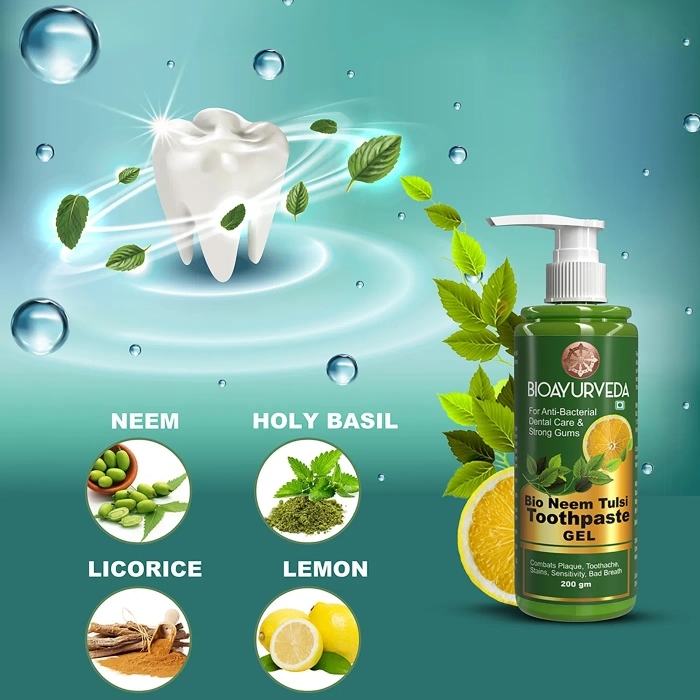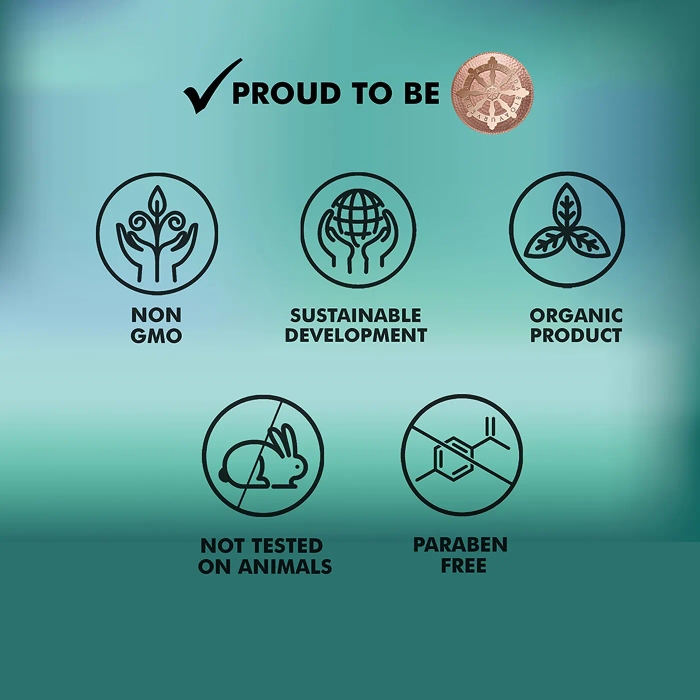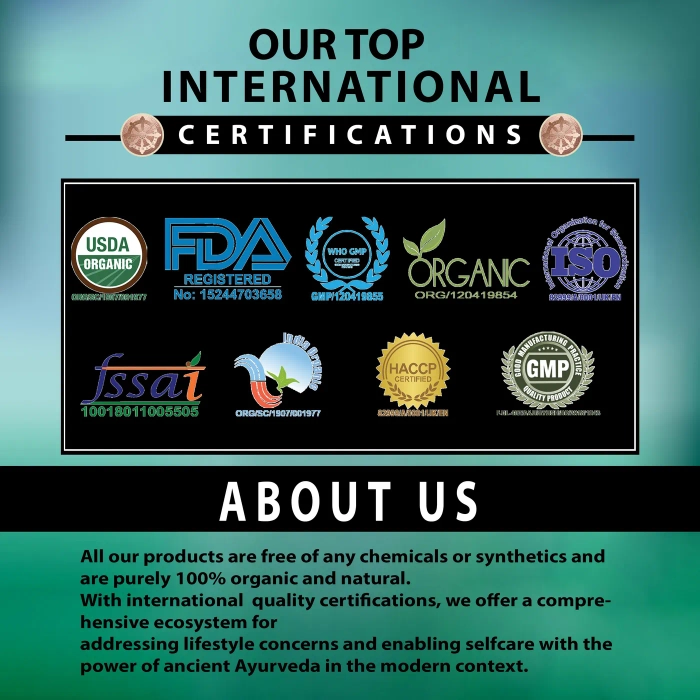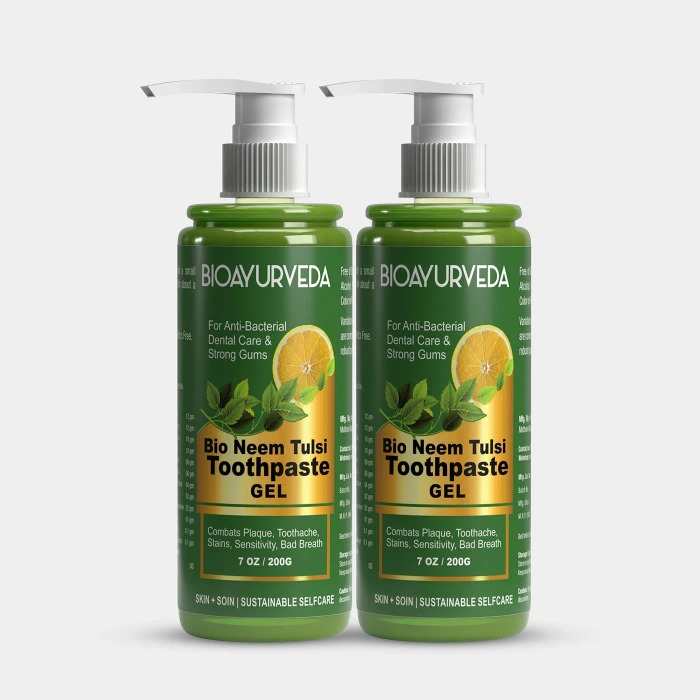 BIO NEEM TULSI TOOTHPASTE GEL
Description
BIO NEEM TULSI TOOTHPASTE GEL is a unique blend of organic herbs, along with vital minerals and essential & natural oils that is formulated for protective dental care for stronger gums and teeth. Infused with powerful anti-bacterial herbs, it provides potent defense against germs and pathogens, and prevents plaque and tartar formation. With detoxifying action, it curbs teeth stains, combats cavities and counteracts bad breath. A naturally healing and refreshing gel, it soothes sensitivity, strengthens gums, protects enamel and supports complete oral hygiene.
Ingredients
Babool, Piluh, Neem, Haldi, Tulasi, Mulethi, Tejovati, Jatamansi, Nimbu, Samudra Lavan, Pudina, Pudina Oil, Lavang Oil
Product details
Let us ask you a very simple and basic question -- what is one activity that takes a small amount of time but is highly important? Some might say that it is to eat; others might think it is to exercise. Instead, the activity that carries a lot of weight in day-to-day life is actually our oral care routine. Let us take the example of brushing our teeth. It is something that is very mundane, it is done by every single human being, and nobody does it differently. Why then, is this simple task so important? Well, we humans are constantly in search of food and the like. Every few hours we like to fill our stomachs by consuming different types of food. And of course, every type of food goes through our mouths and they end up becoming very dirty in a matter of hours. Thus, it is important to brush daily. But, what toothpaste should one use? To give an answer, we bring to you BIOAYURVEDA Bio Neem Tulsi Toothpaste Gel. It is a highly organic toothpaste gel that is made out of natural and healthy ingredients like Neem and Tulsi.
This toothpaste gel of healthy combination carries a lot of benefits with it like strengthening our gums and teeth, removing bacteria, allergens, and foreign elements, and getting rid of bad breath forever. And the best part about it is that you never need to worry about side effects! This is a toothpaste gel that you must include in your oral care routine!
 BIOAYURVEDA Bio Neem Tulsi Toothpaste Gel
BIOAYURVEDA Bio Neem Tulsi Toothpaste Gel is a meticulously formulated oral hygiene product that contains organic and healthy ingredients like Neem, Tulsi, Lemon, and more. It helps you get rid of bad breath and provide freshness to your mouth. It strengthens your gums and teeth as well. With its antibacterial properties, it removes bacteria, allergens, germs, and everything related to it.
BENEFITS
Ayurvedic Formulation
Organic Ingredients
Chemical Free
Synthetic Free
Total Oral Care
Antibacterial and Antimicrobial
Benefits
INGREDIENTS


BIOAYURVEDA is a visionary holistic luxury brand in health and wellness offering completely natural and organic products.
Manufactured By:
Arganshe Private Limited
Address:
11/2, BADARPUR BORDER, Faridabad, Haryana, 121003