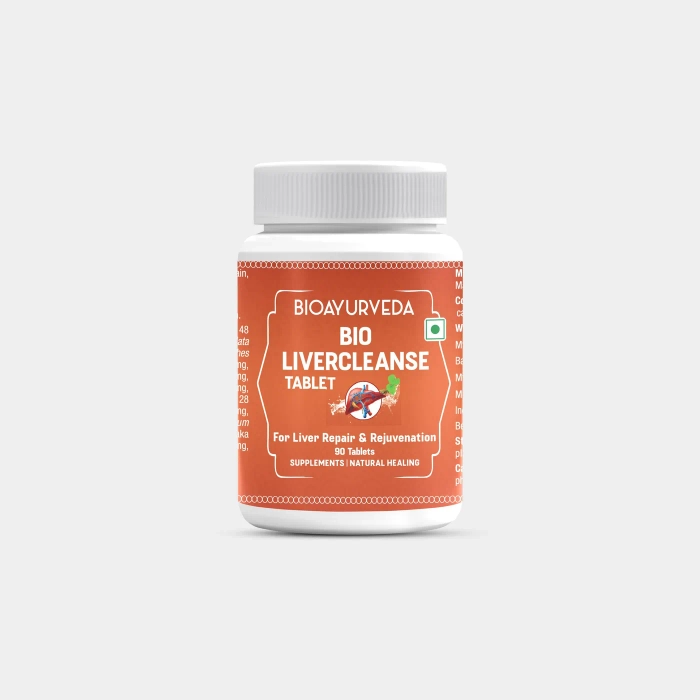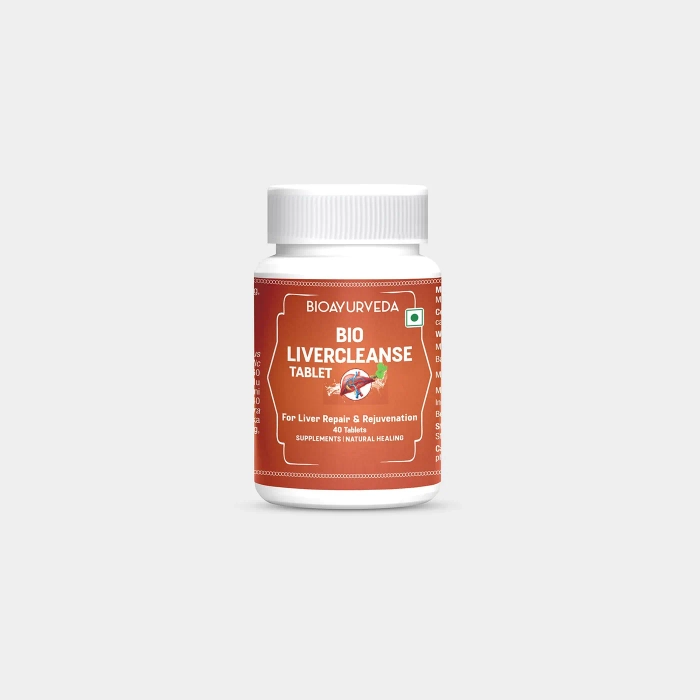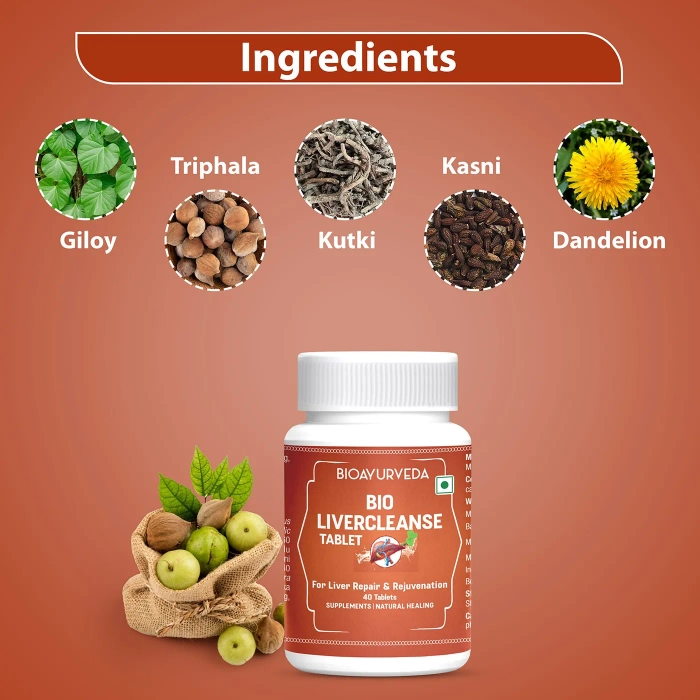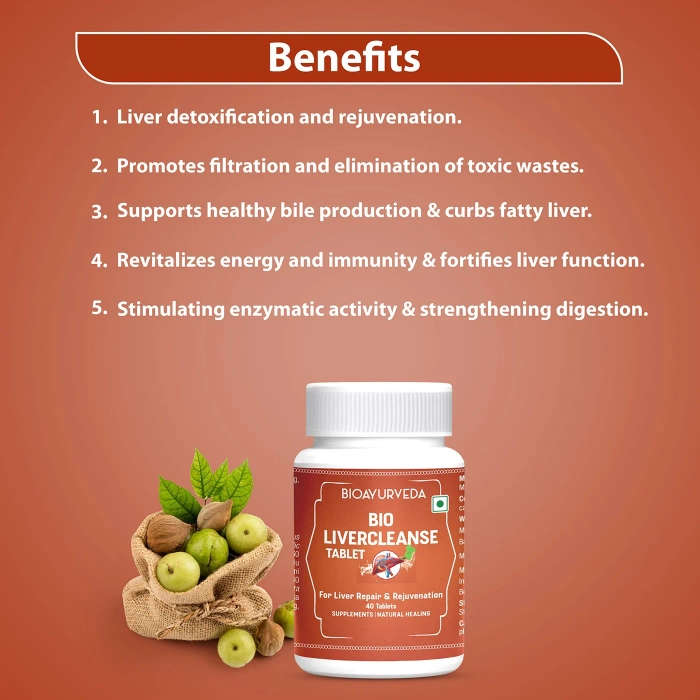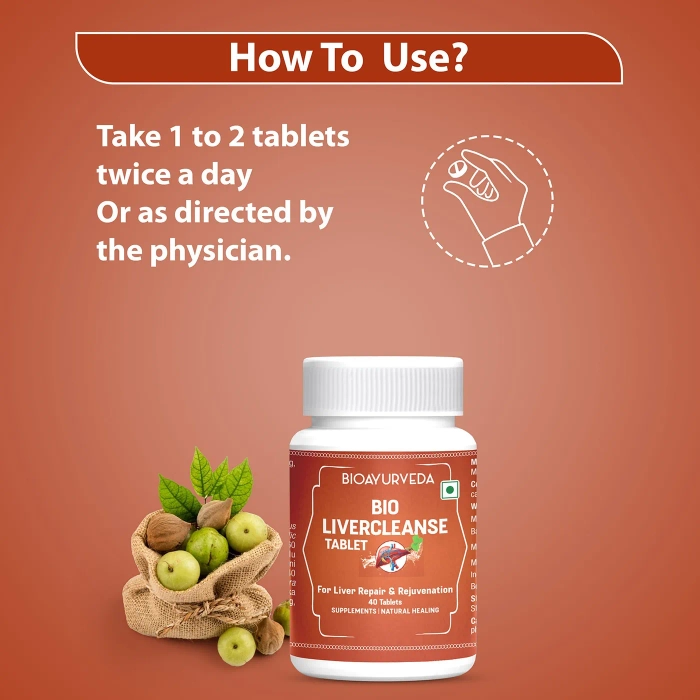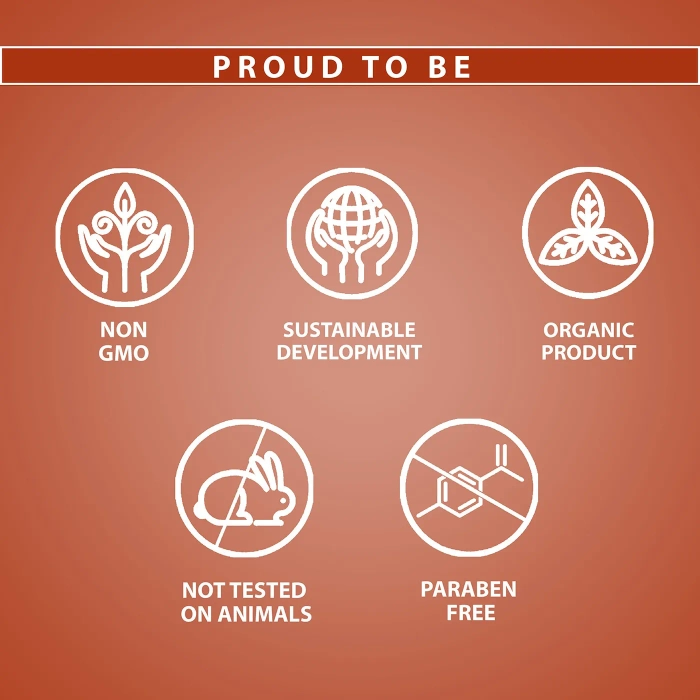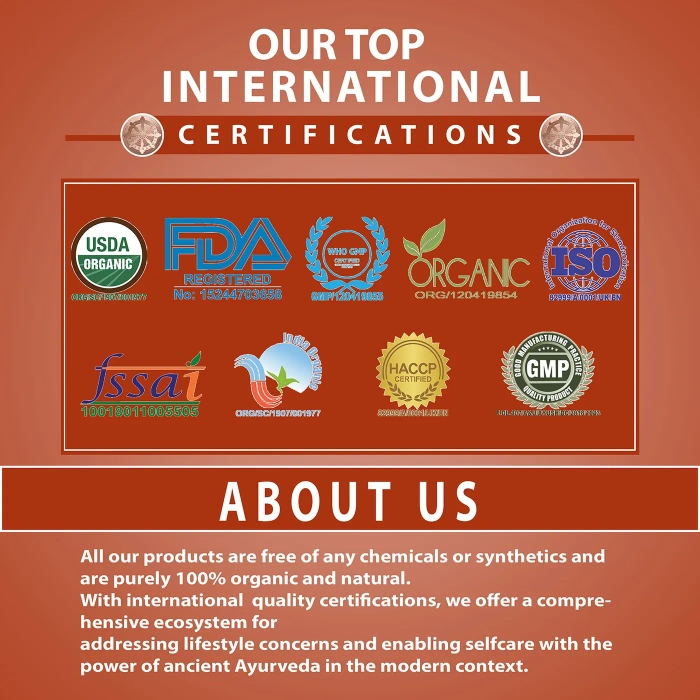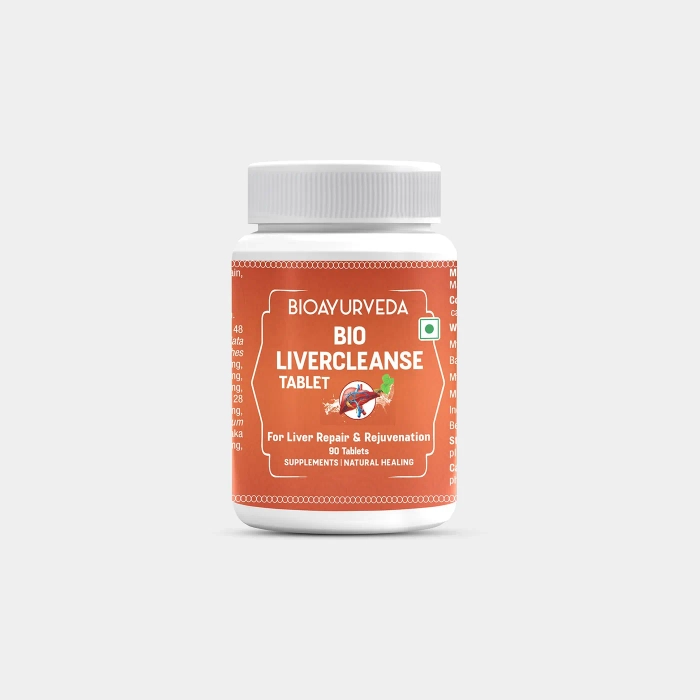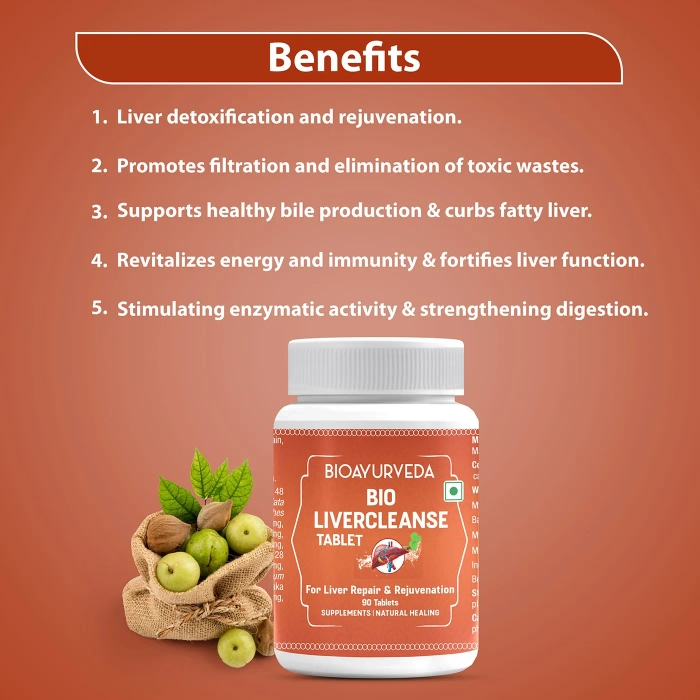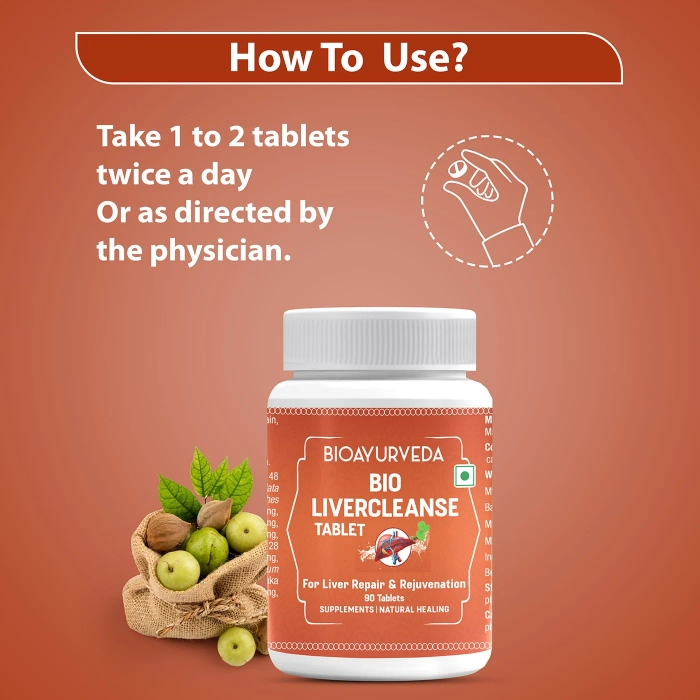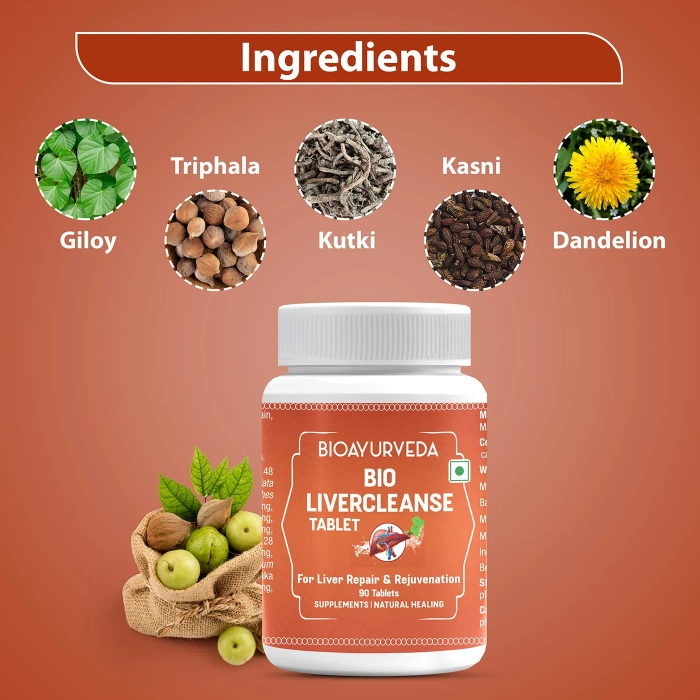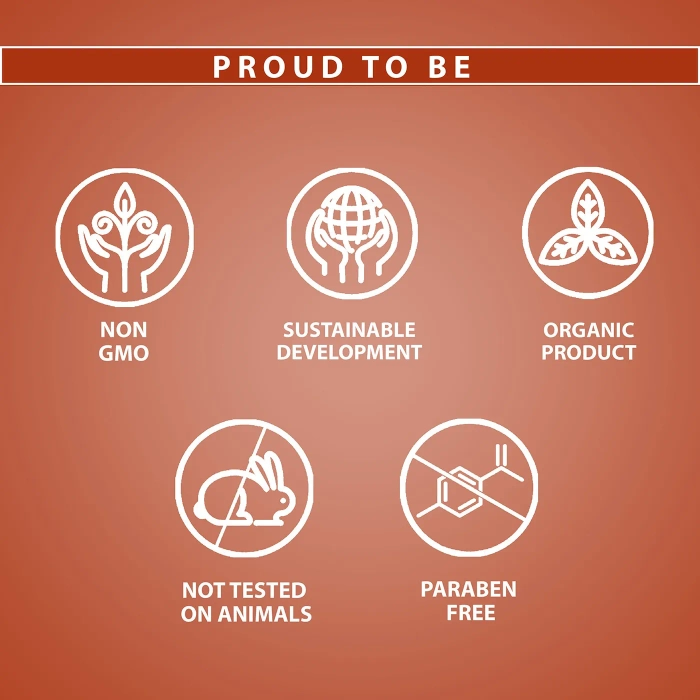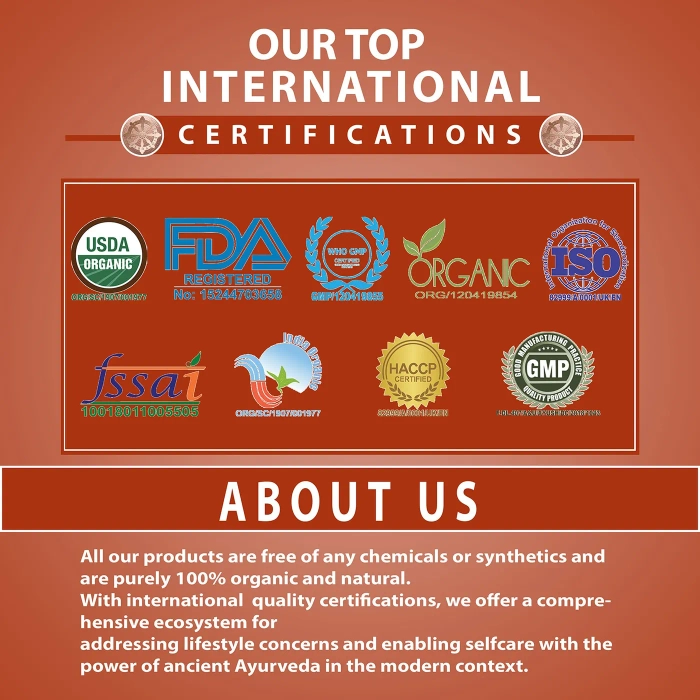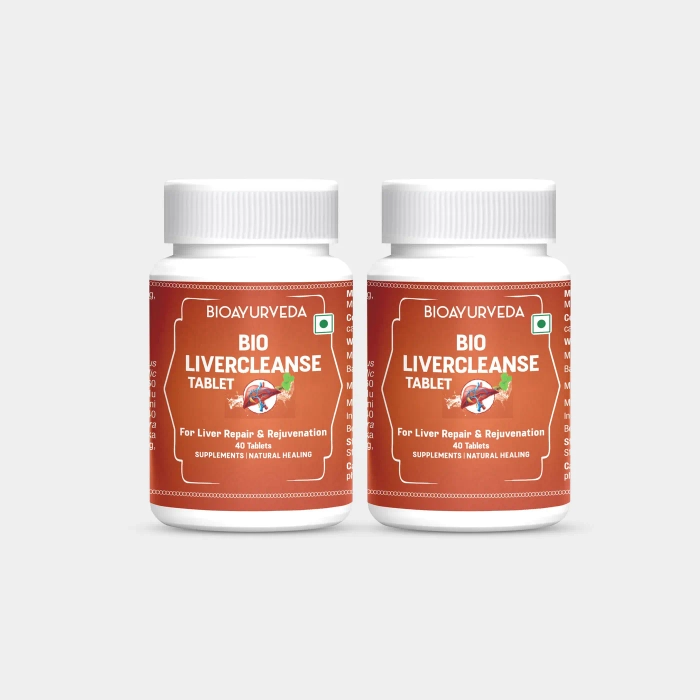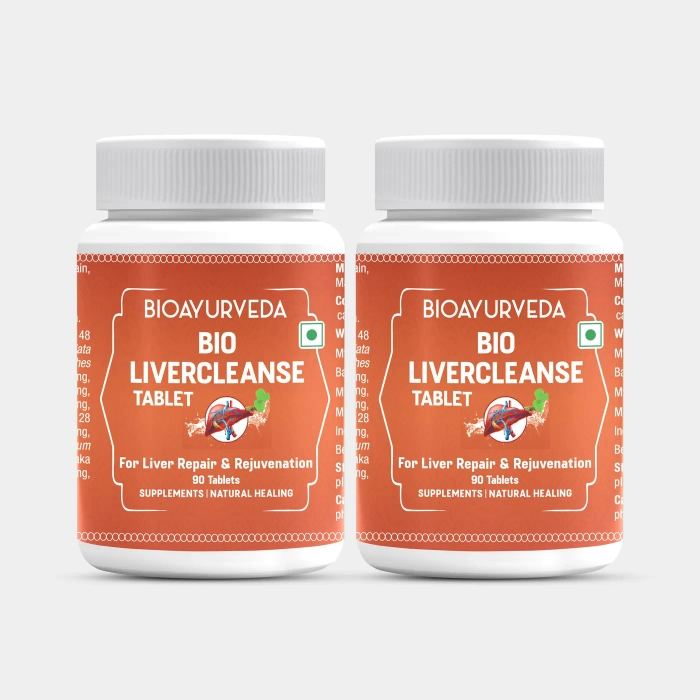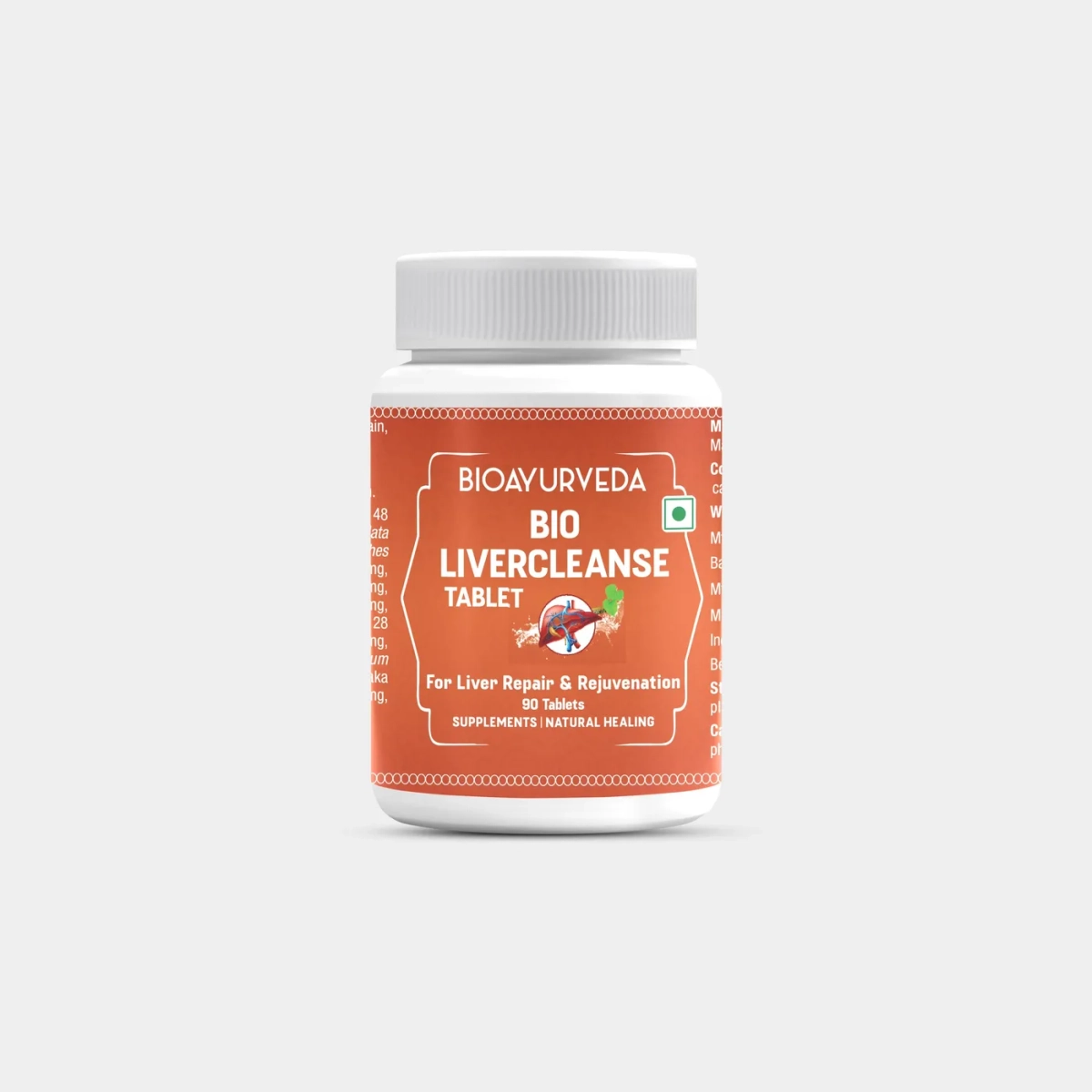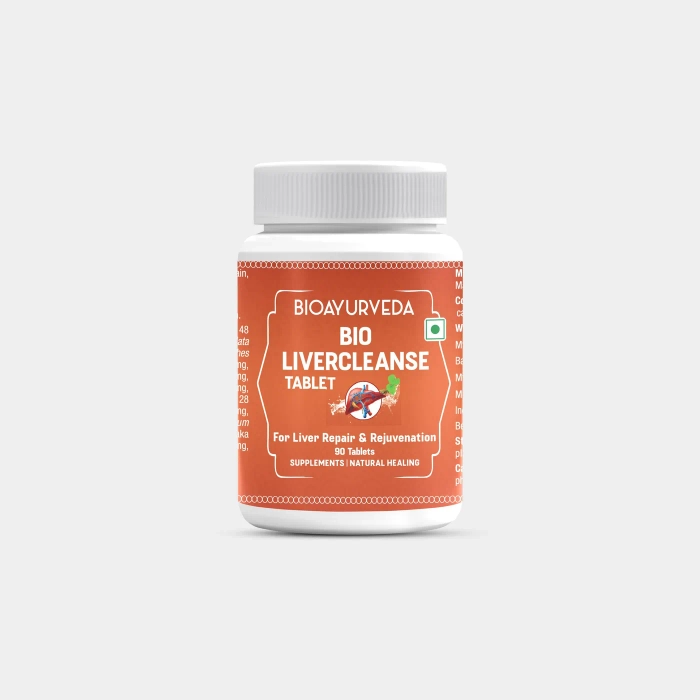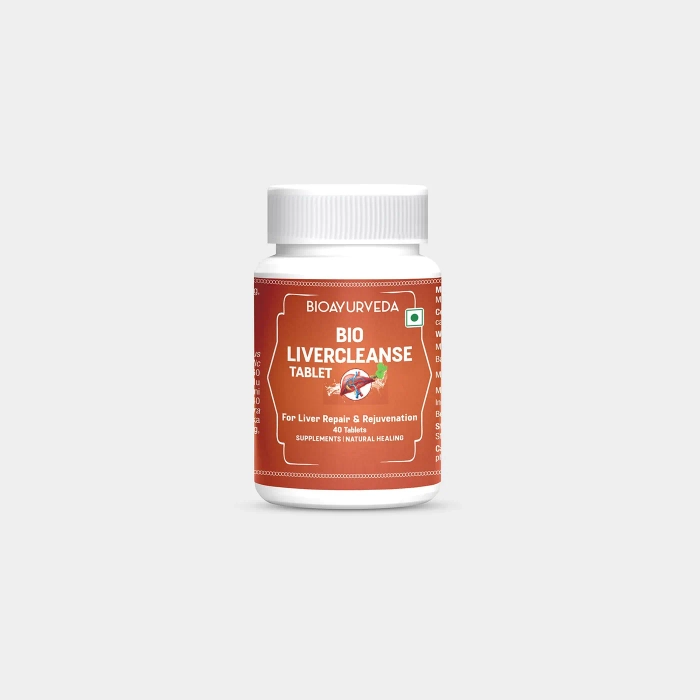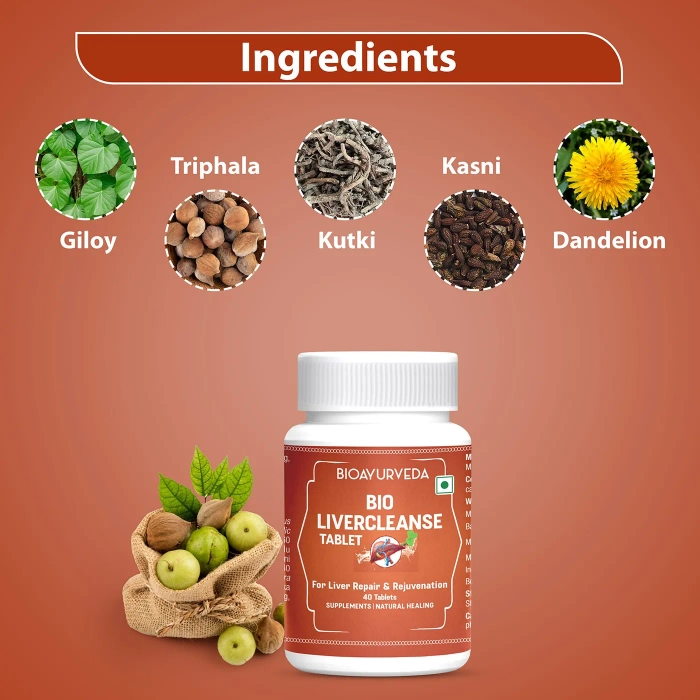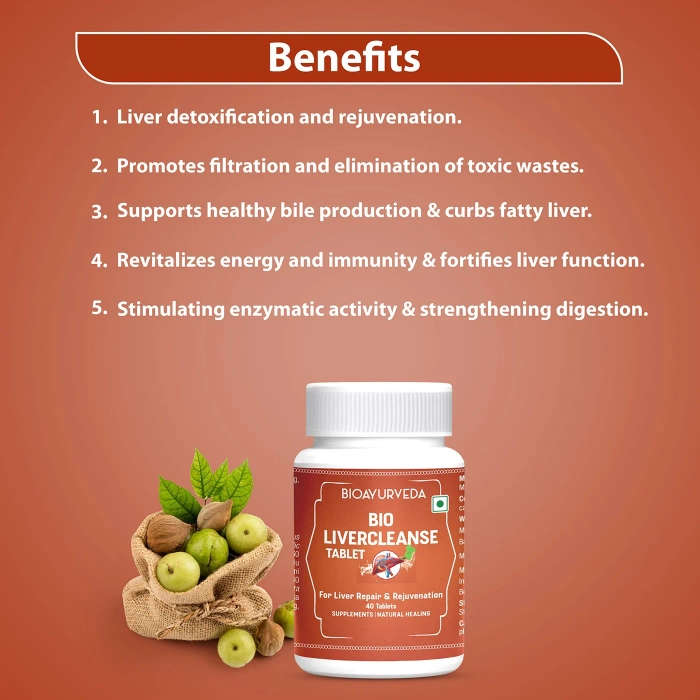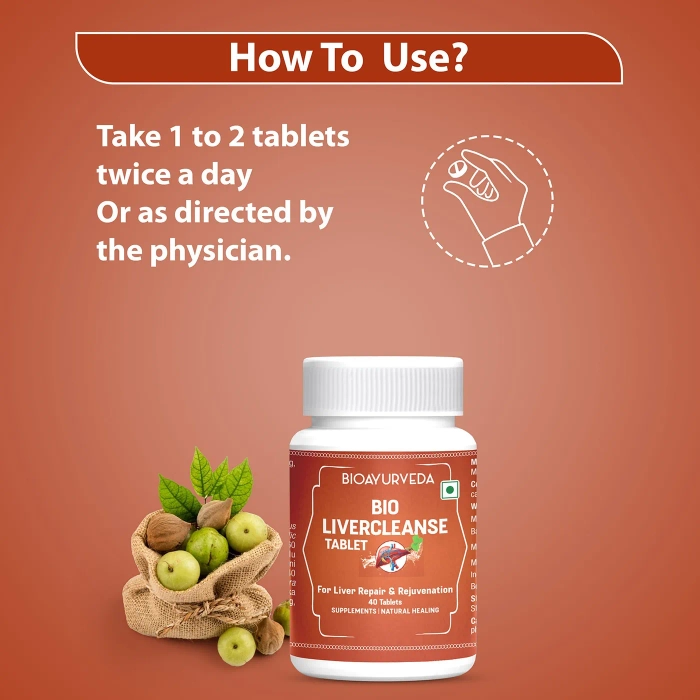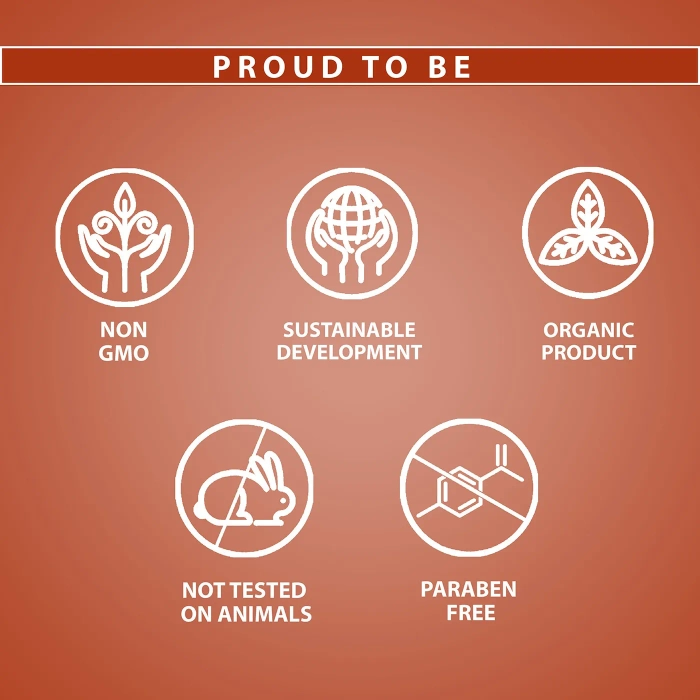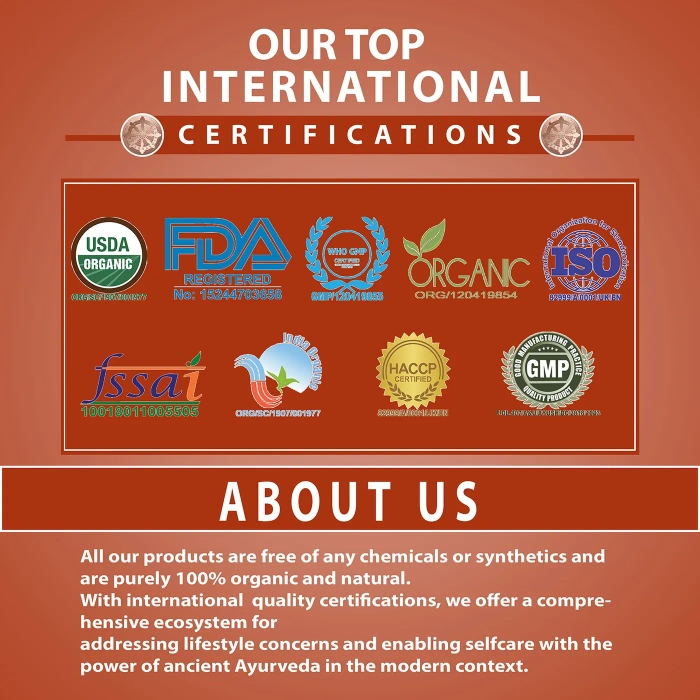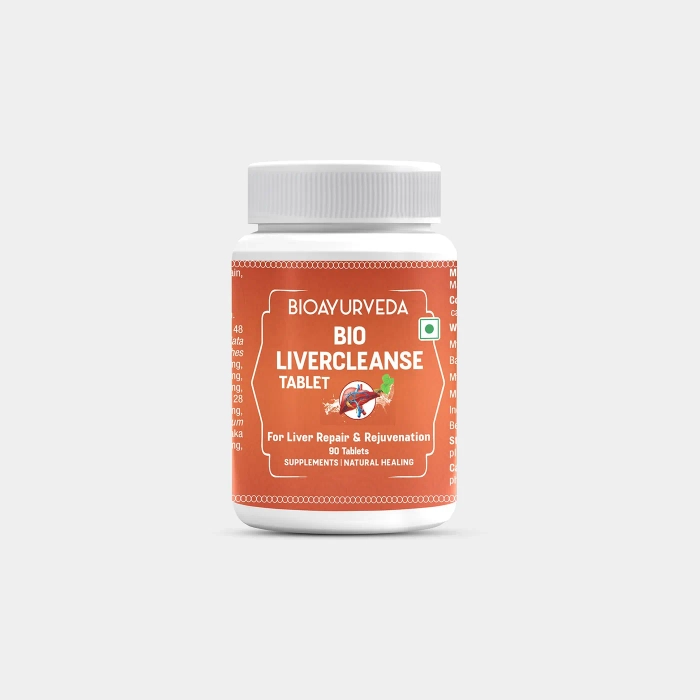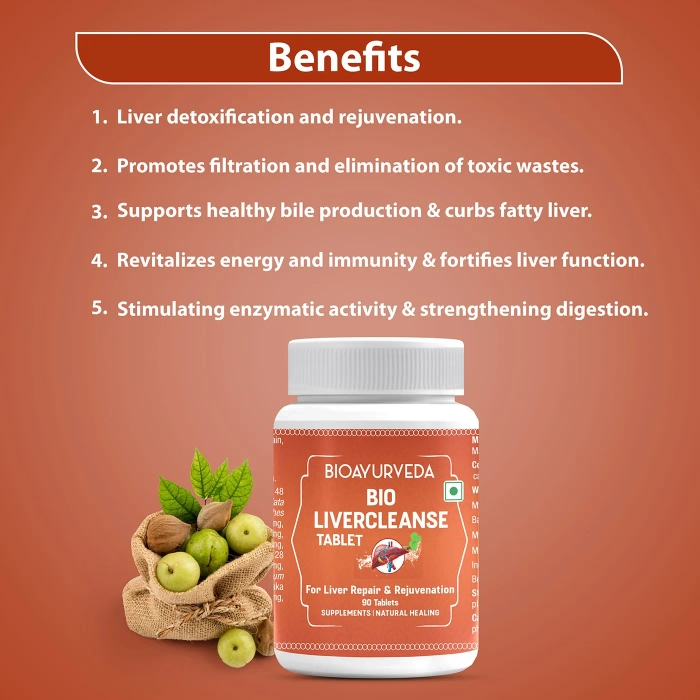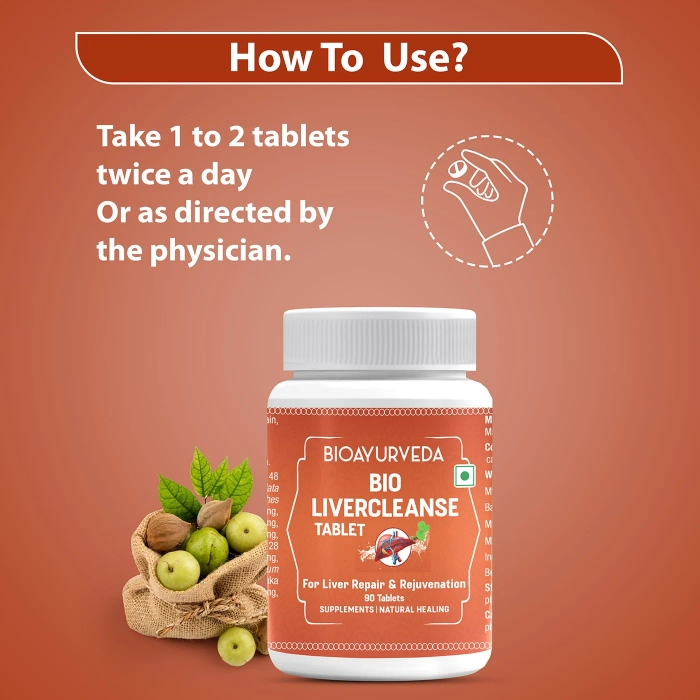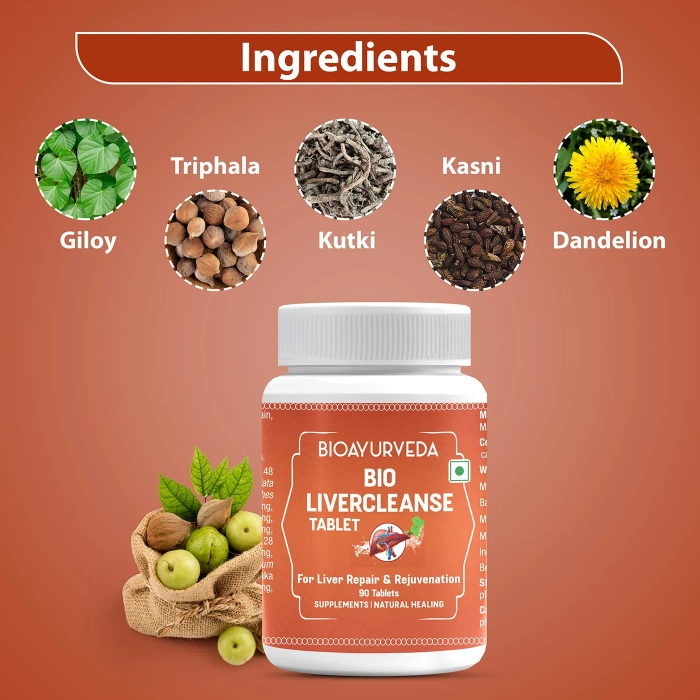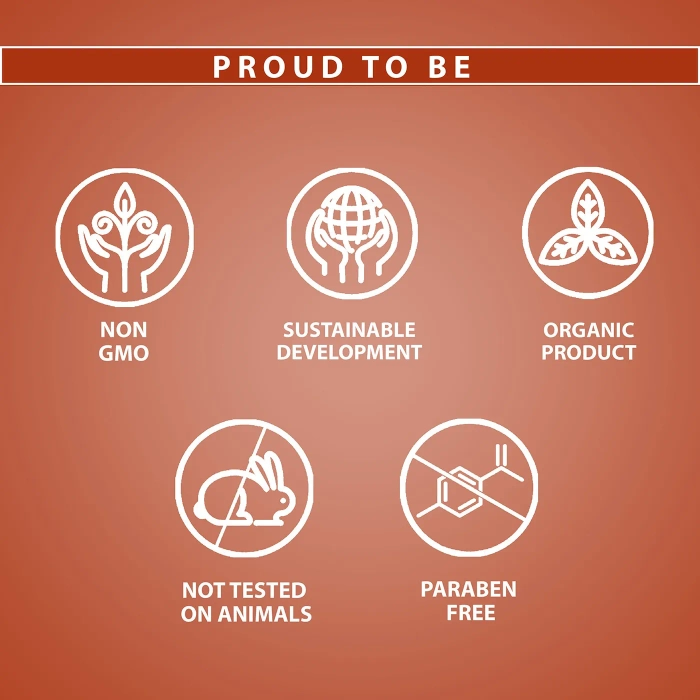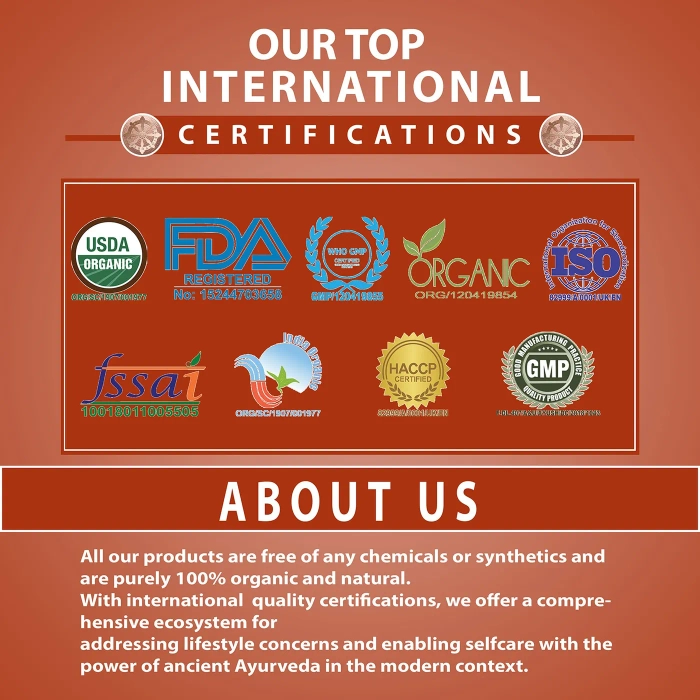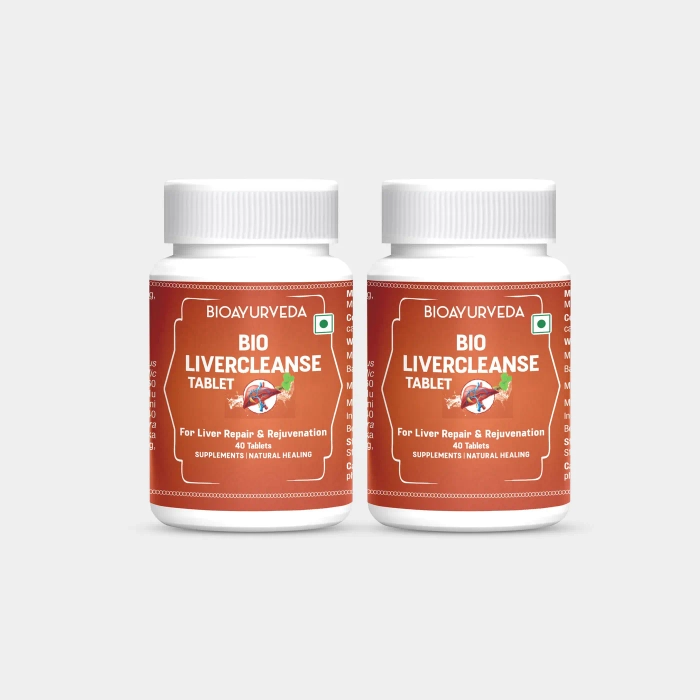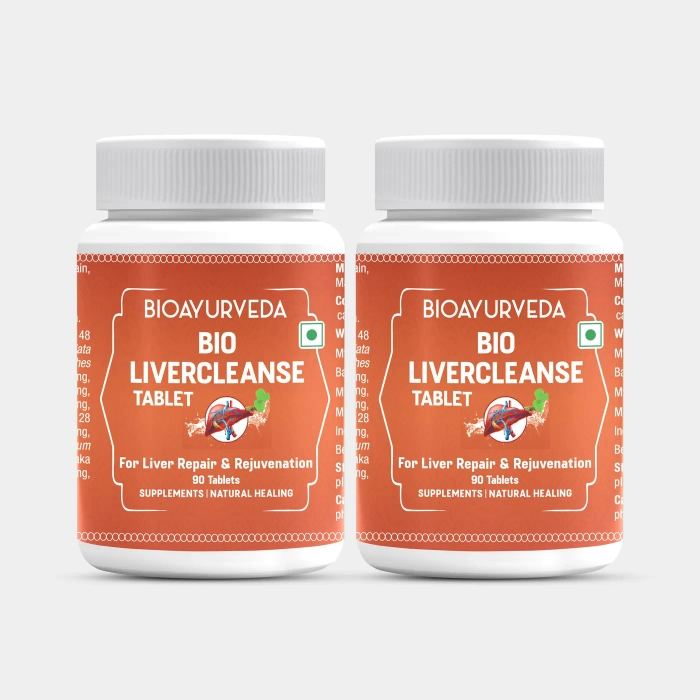 BIO LIVERCLEANSE TABLET
Description
BIO LIVERCLEANSE TABLET is a unique combination of organic herbs and natural nutrient sources that is formulated for liver detoxification and rejuvenation. Packed with powerful anti-oxidants, it promotes filtration and elimination of toxic wastes and supports healthy bile production. Stimulating enzymatic activity and strengthening digestion, it soothes inflammation, enhances nutrient absorption, combats infections and curbs fatty liver condition. Repairing and restorative, it revitalises energy and immunity, and fortifies liver function. 
DOSAGE
1 to 2 Tablets twice a day or as directed by the physician.
Ingredients
Bhumyamalaki, Kutki, Triphala, Dandelion, Chitrak, Shudh Guggulu, Bhringaraja, Kasni, Kalamegha, Punarnava, Giloy, Sharpunkha, Rohitaka, Chirayata
Product details
---
Back when we were in school, we used to read about body parts and how important each of them is for the ideal functioning of a body. These body parts or organs included our heart, brain, intestines, kidneys, liver, and more. While the heart and brain are quite a league above the rest, it is important to note that other organs are equally important too. Such an organ is our liver. Just like some other organs, we only have a single liver. The liver is used to digest food and remove toxic waste from our bodies. Not to mention, its functions are very vital and crucial for a person to stay healthy.
However, one can attract liver diseases very easily. First off, it is genetic. And secondly, we must take good care of our liver to prevent any unwanted diseases in the early stages of our lives. We also know that finding a good supplement for your liver can be tiring and exhausting. Luckily for you, we are happy to narrow down your search by providing you with an excellent health supplement for the liver. We bring to you BIOAYURVEDA Bio Livercleanse Tablet. This tablet is made of natural and healthy ingredients that work together to detoxify and cleanse your liver. It also helps with the removal of waste and ensures the smooth functioning of your liver. It goes a long way in supporting its health. Waste no time and include it in your inventory!
BIOAYURVEDA Bio Livercleanse Tablet is an organic and natural fusion of pure ingredients that are made to detoxify, purify, and cleanse your liver. It aids in toxic waste removal. It has antioxidant properties that promote healthy bile production. It supports enzymatic activities and improves digestion. It prevents inflammation, increases nutrient absorption, and combats infections and diseases.
Benefits
Detoxifies Liver
The main function of this tablet is to purify, detoxify, and cleanse your liver. It helps with the removal of toxic waste too.
Prevents Infections & Diseases
With the help of its natural and organic ingredients, it prevents infections, diseases, and conditions related to the liver. It keeps your liver healthy and protected.
Improves Digestion & Prevents Inflammation
It contains antioxidant properties that improve digestion and prevent inflammation. It revitalizes your liver and increases its immunity as well.
INGREDIENTS
Giloy
Giloy is a remedial herb that is widely used in Ayurvedic practices. It is known to be highly efficient in increasing immunity. It may also reduce high blood sugar levels and high cholesterol levels.
Triphala
Triphala has been prevalent in Ayurvedic treatment for thousands of years. It has many remedial properties and improving stomach health is one of them. Triphala is a mixture of dry fruits.
Kasni
Kasni, or Chicory, is a useful herb that is very useful in treating liver disorders and infections. It also improves metabolism by improving digestion.


BIOAYURVEDA is a visionary holistic luxury brand in health and wellness offering completely natural and organic products.
Manufactured By:
Arganshe Private Limited
Address:
11/2, BADARPUR BORDER, Faridabad, Haryana, 121003