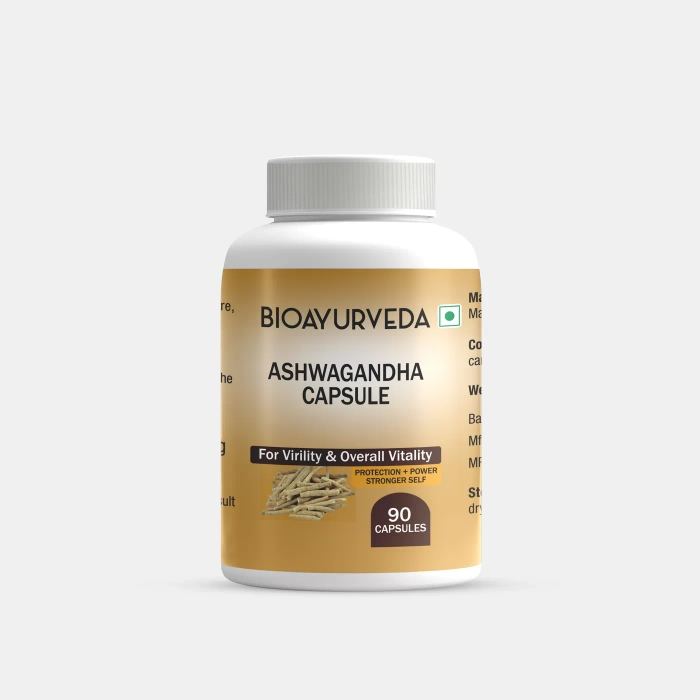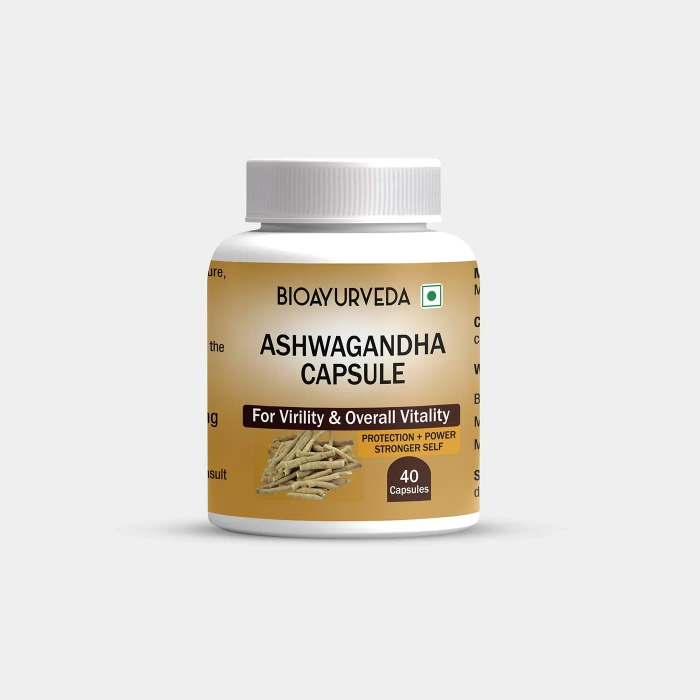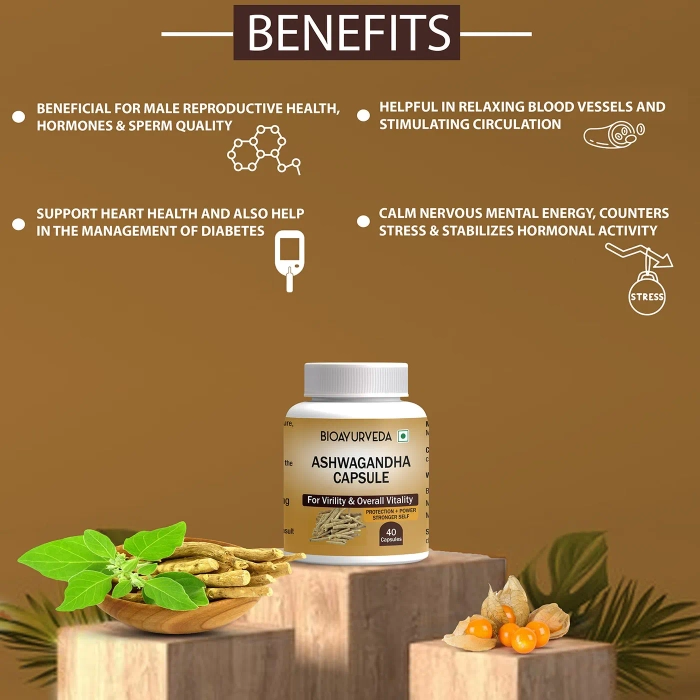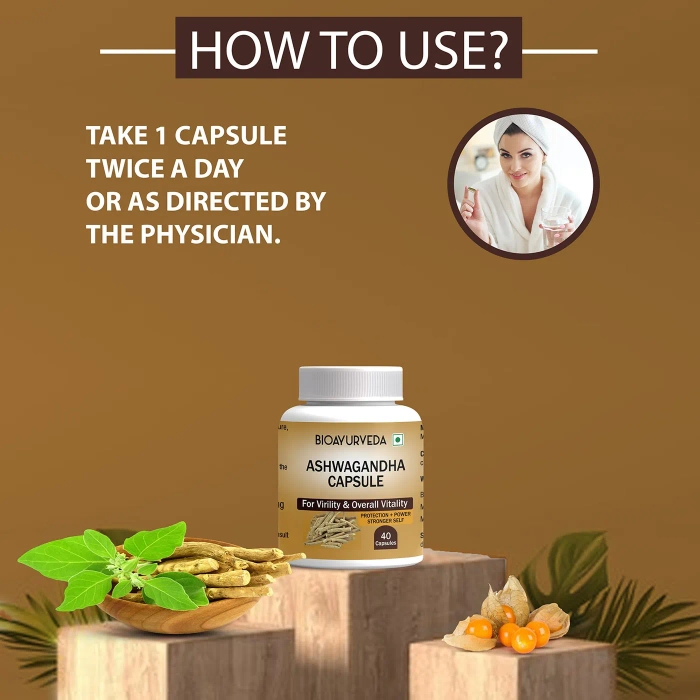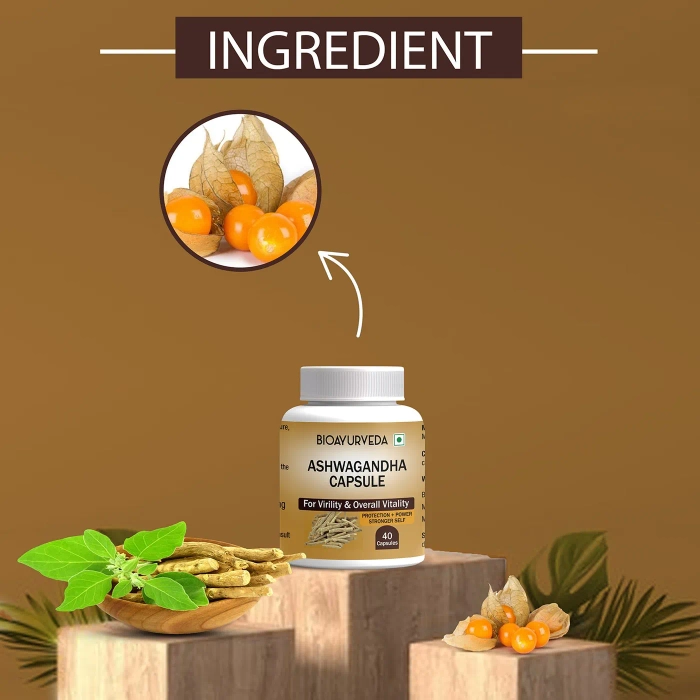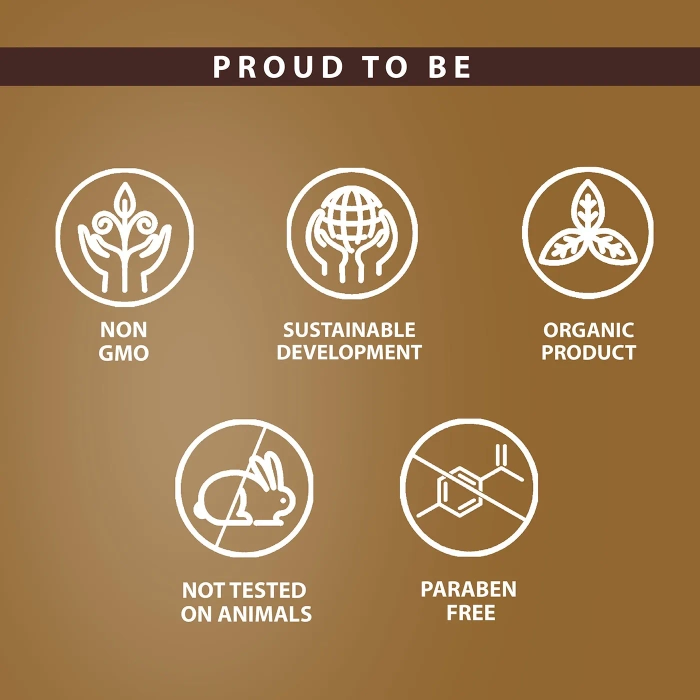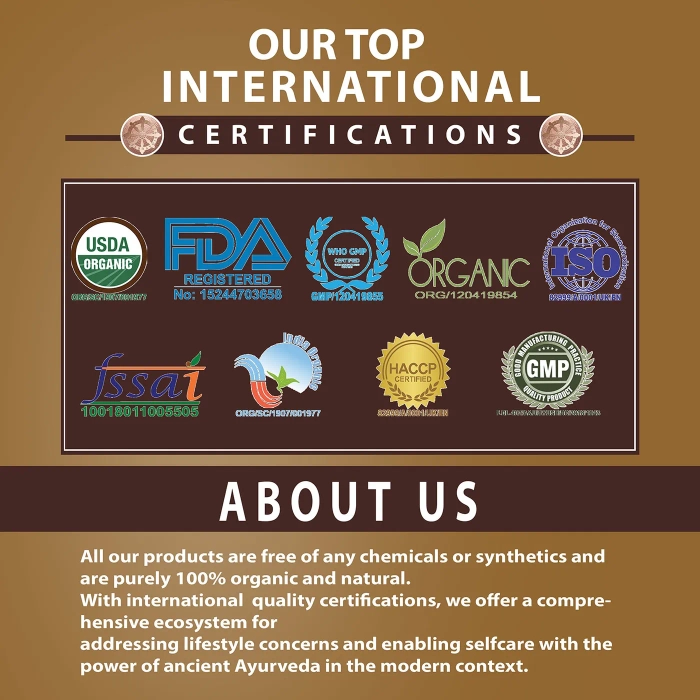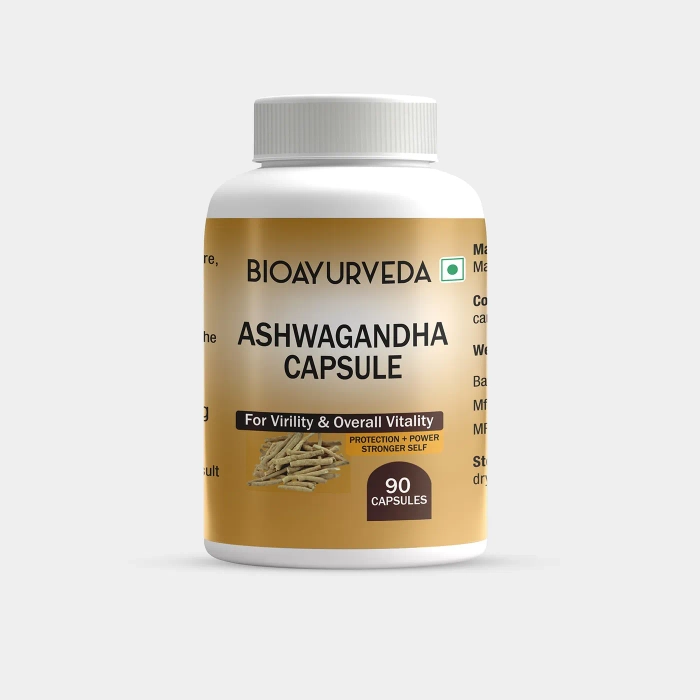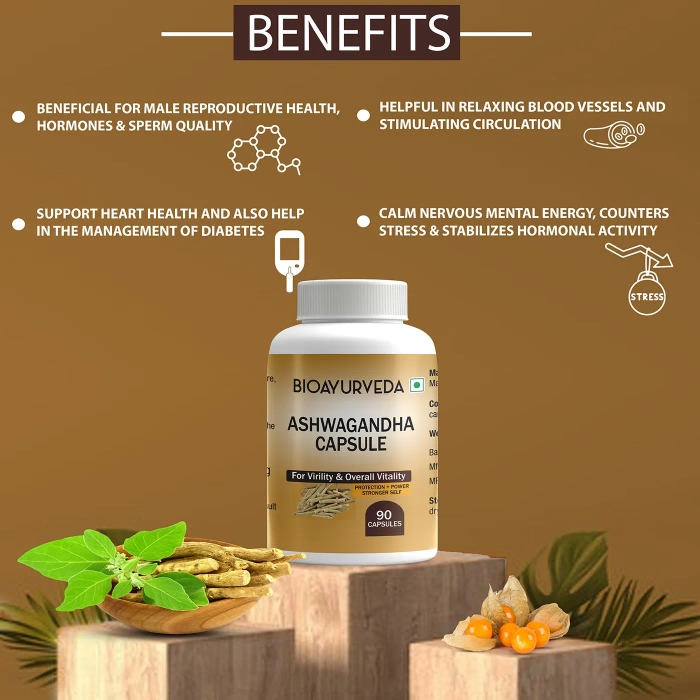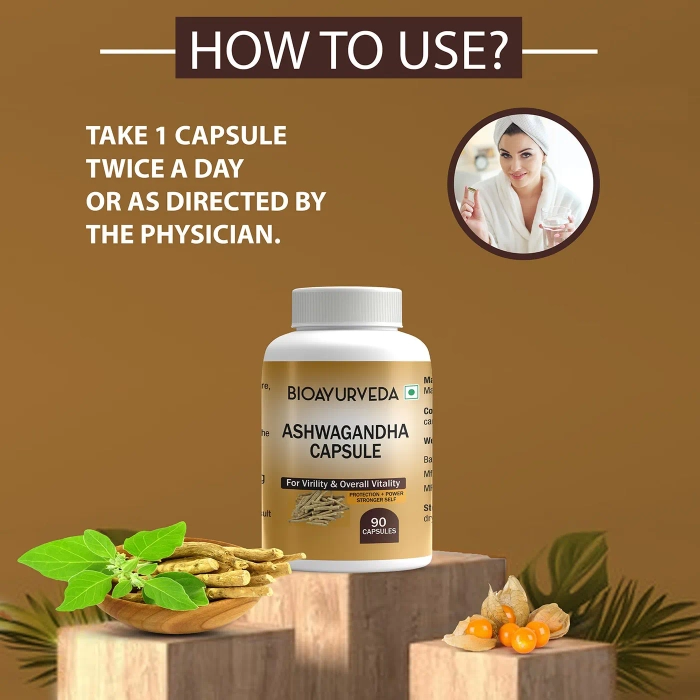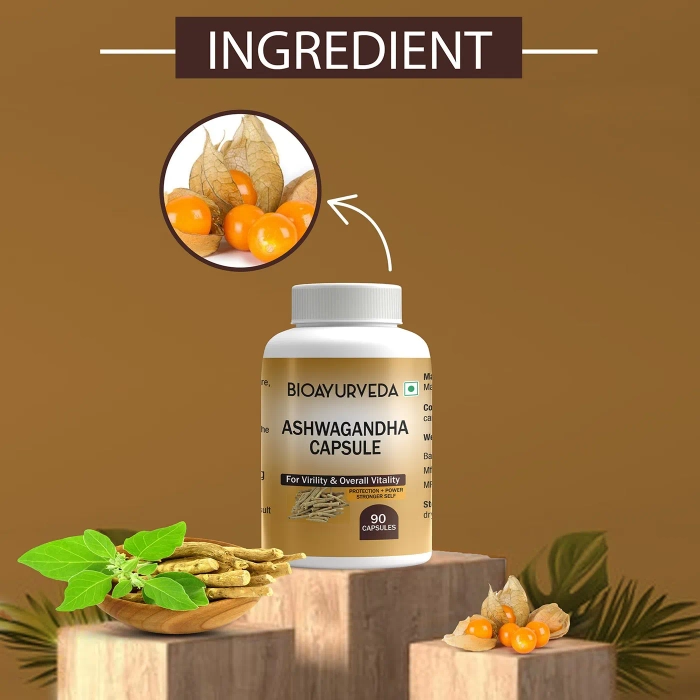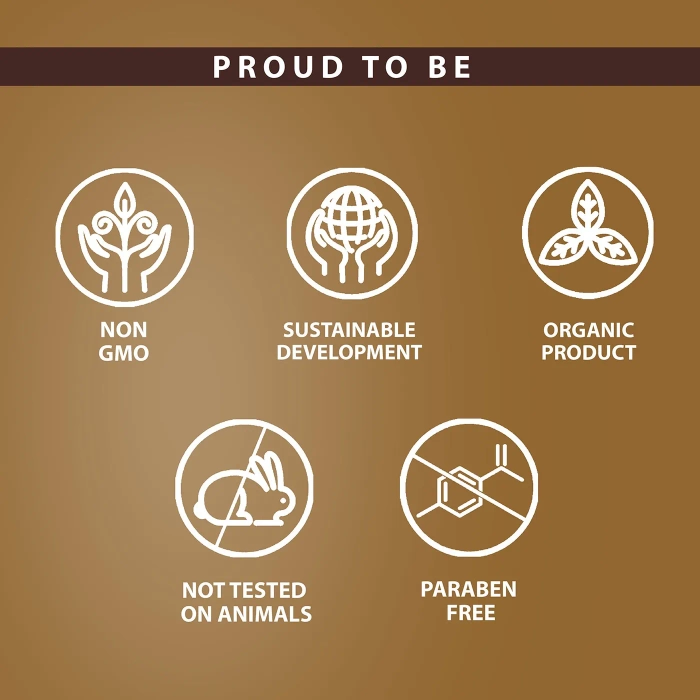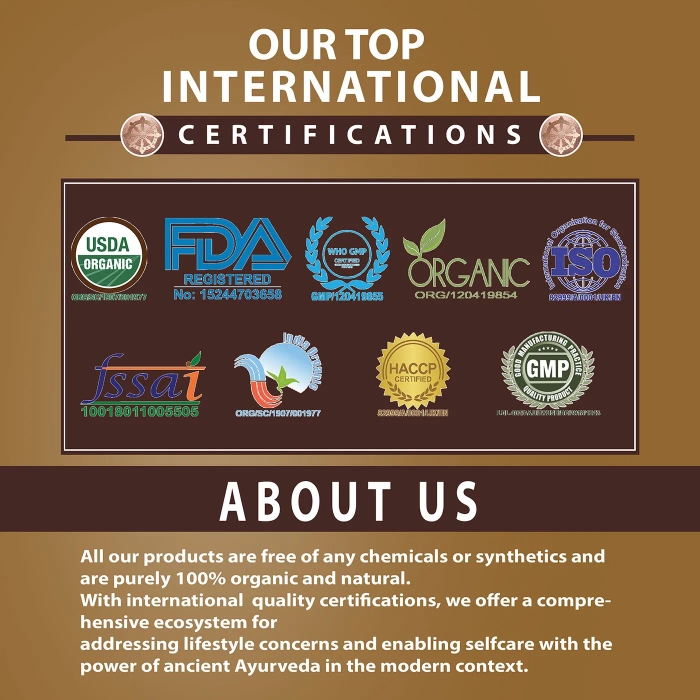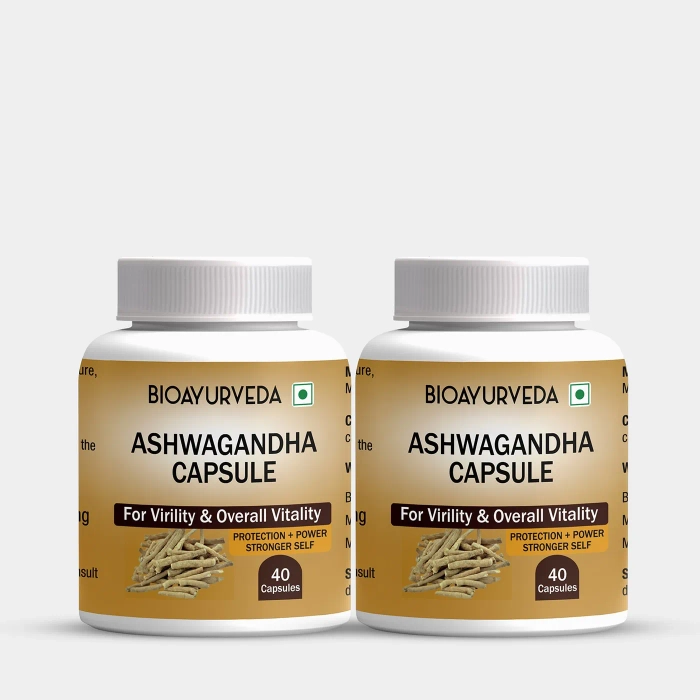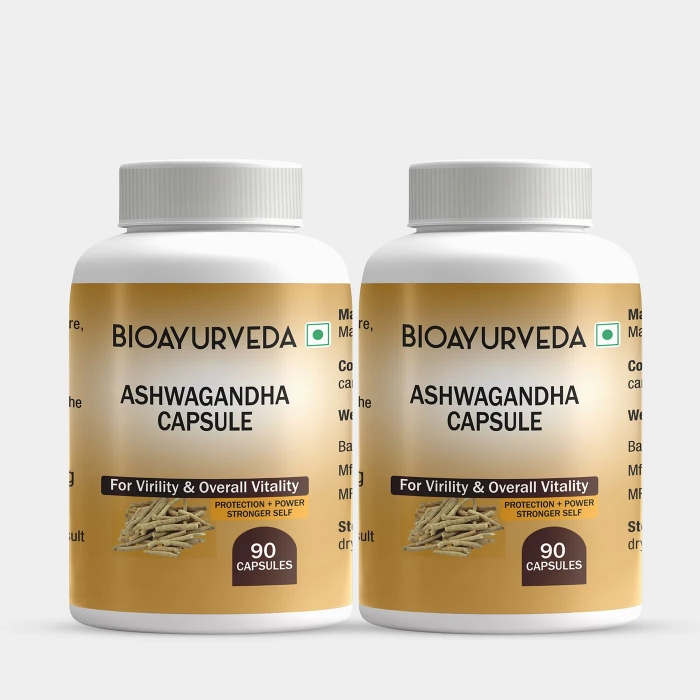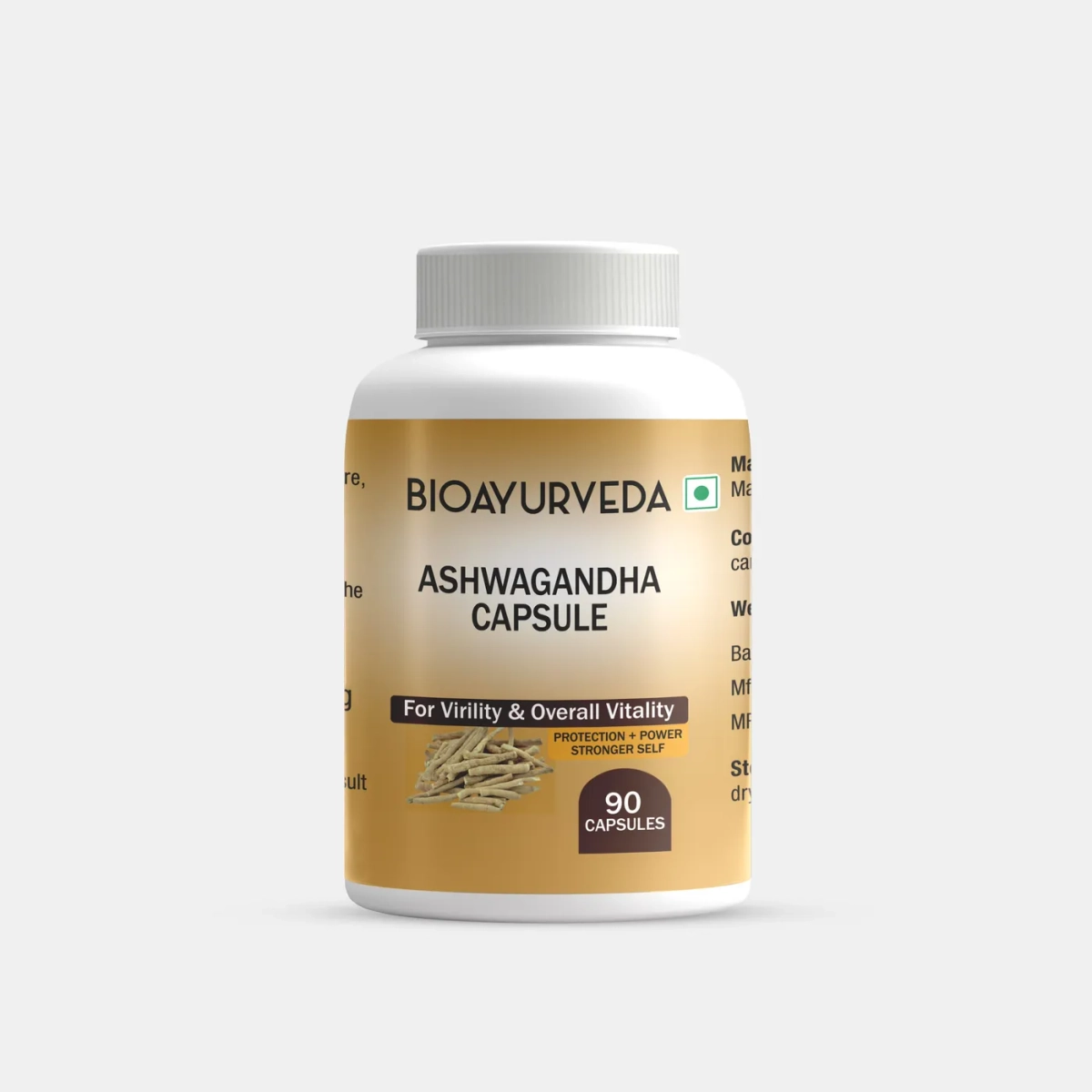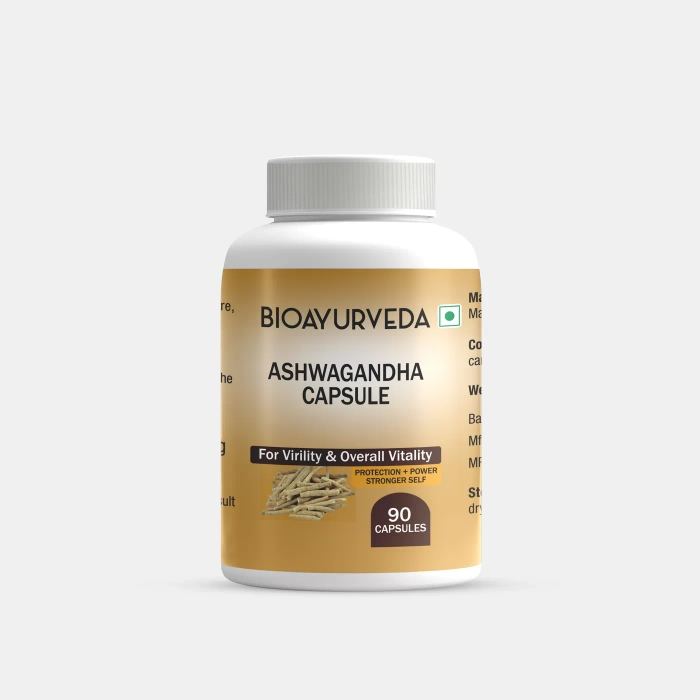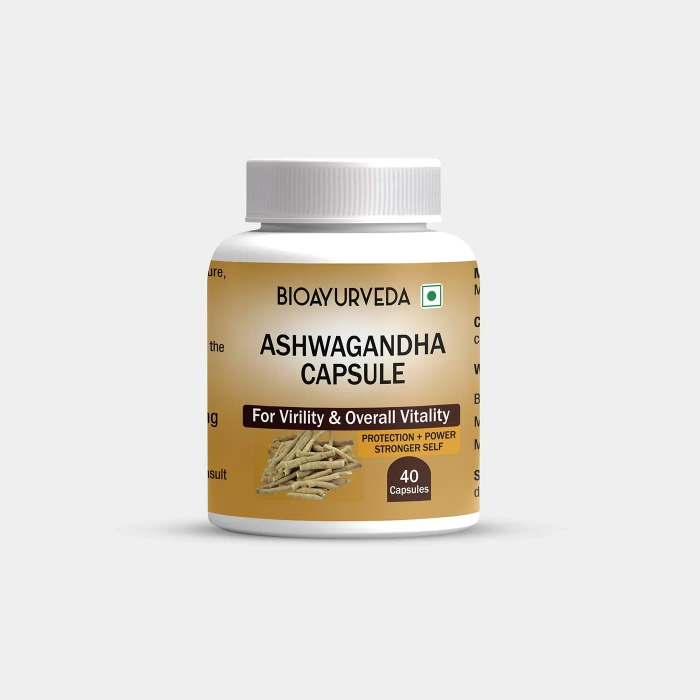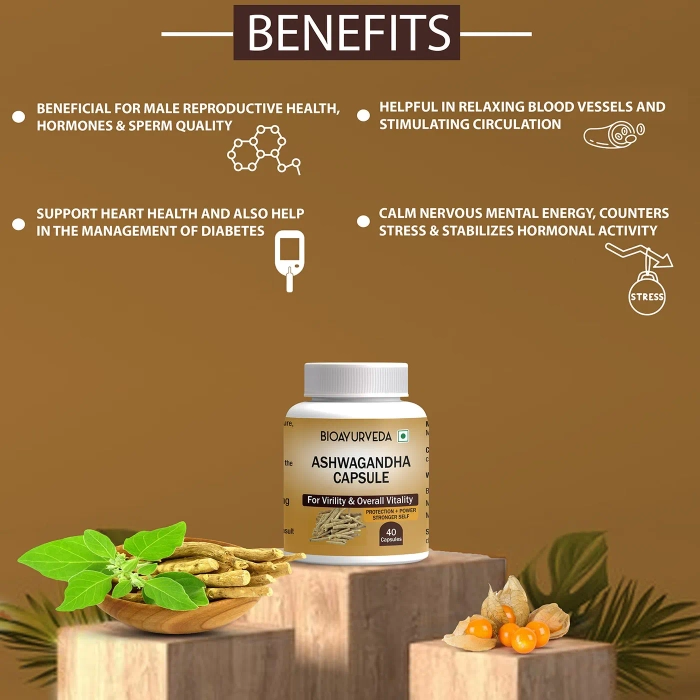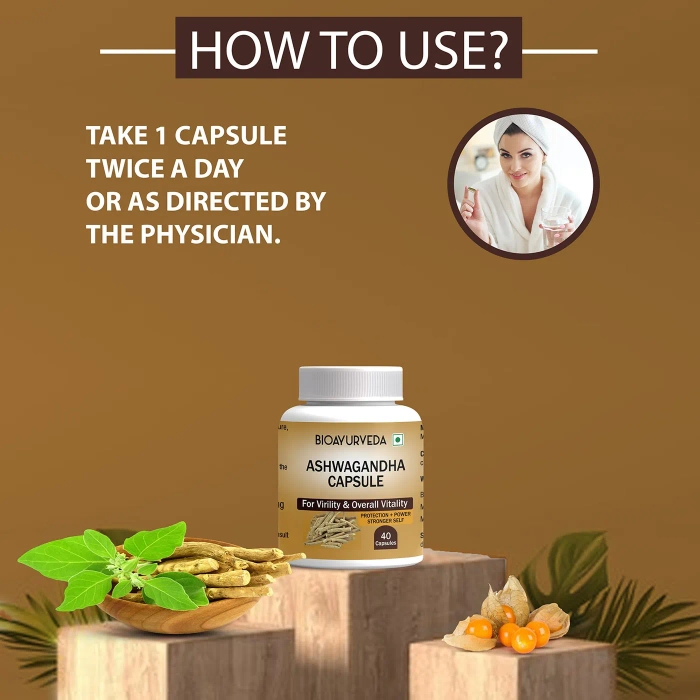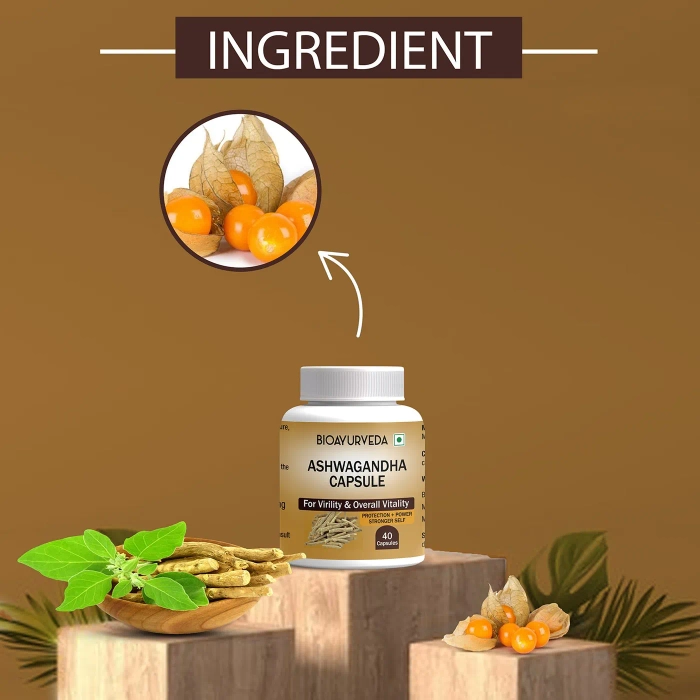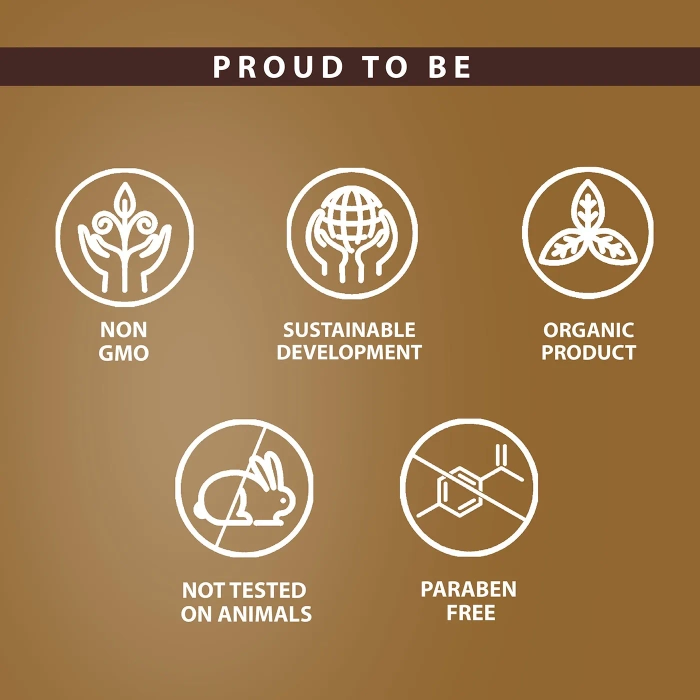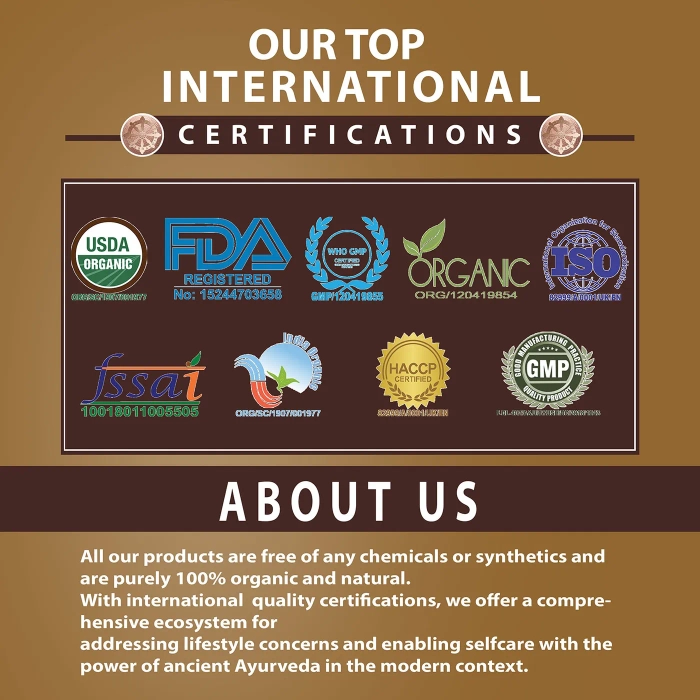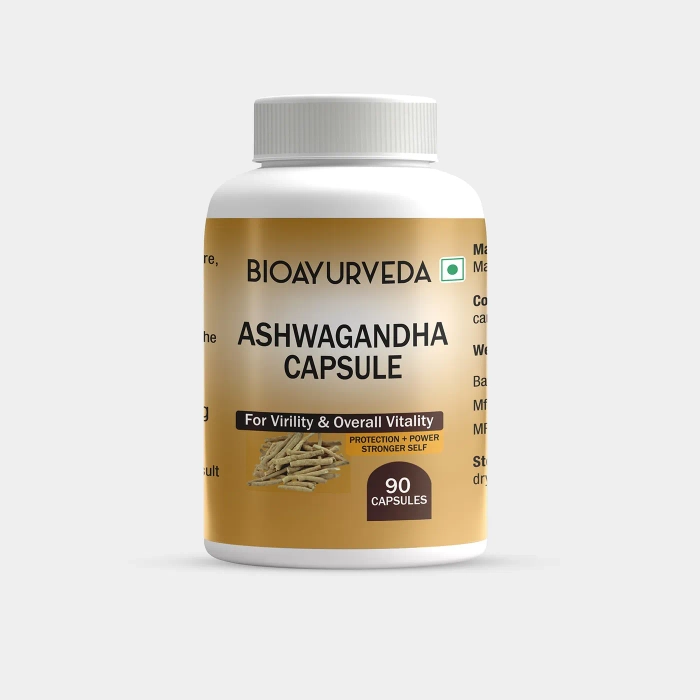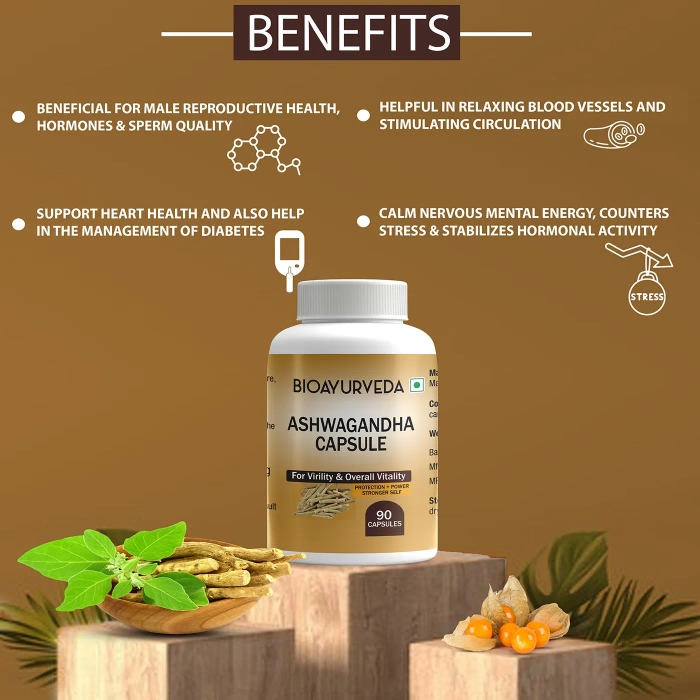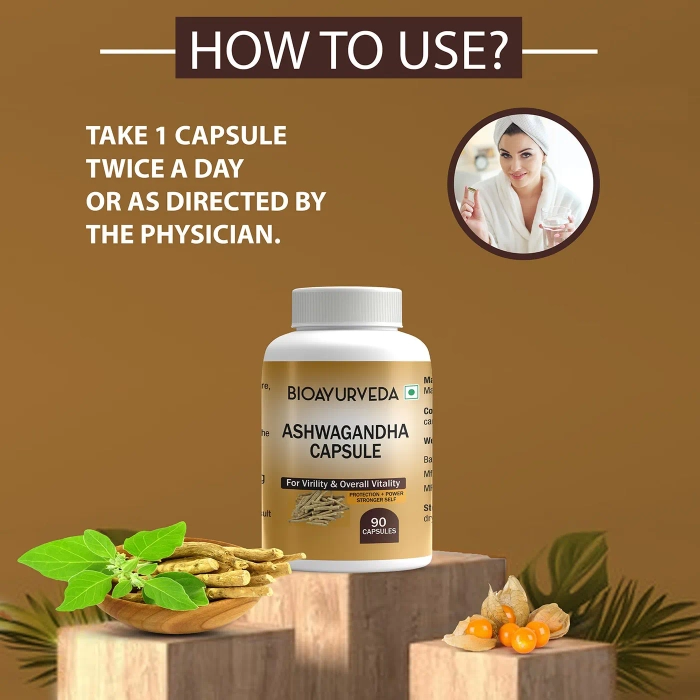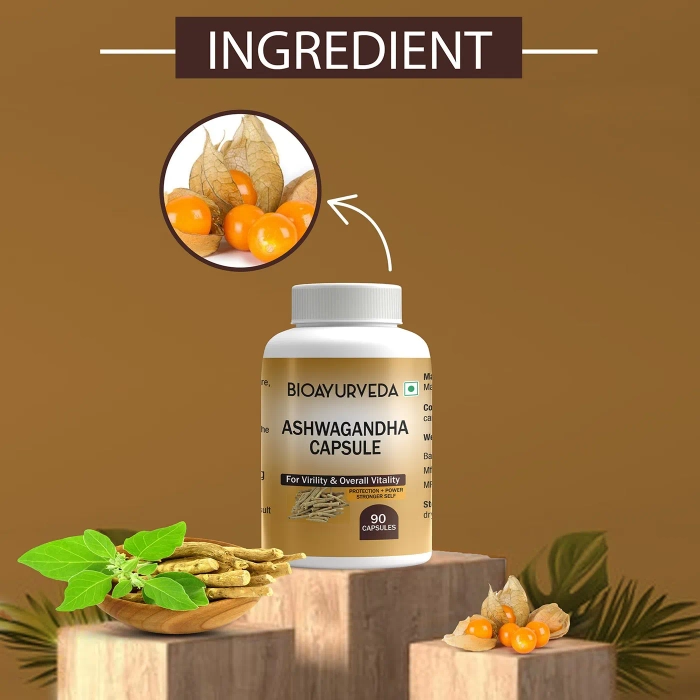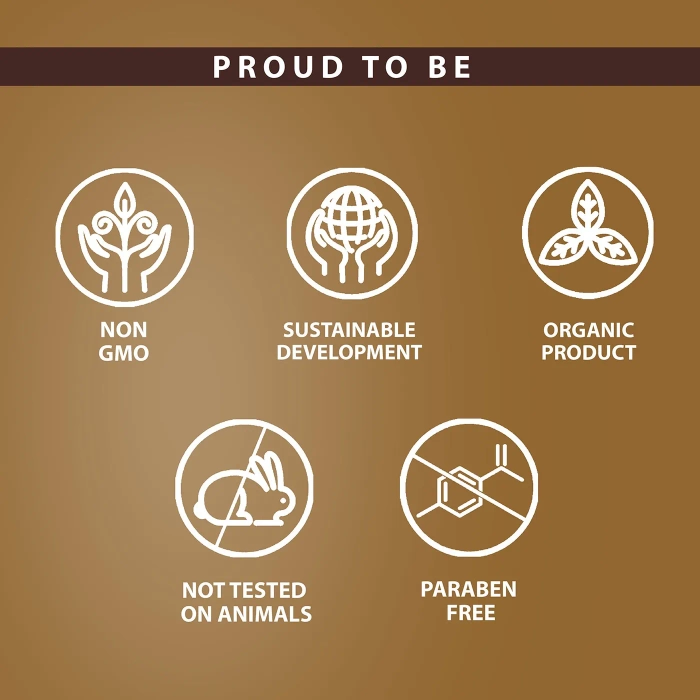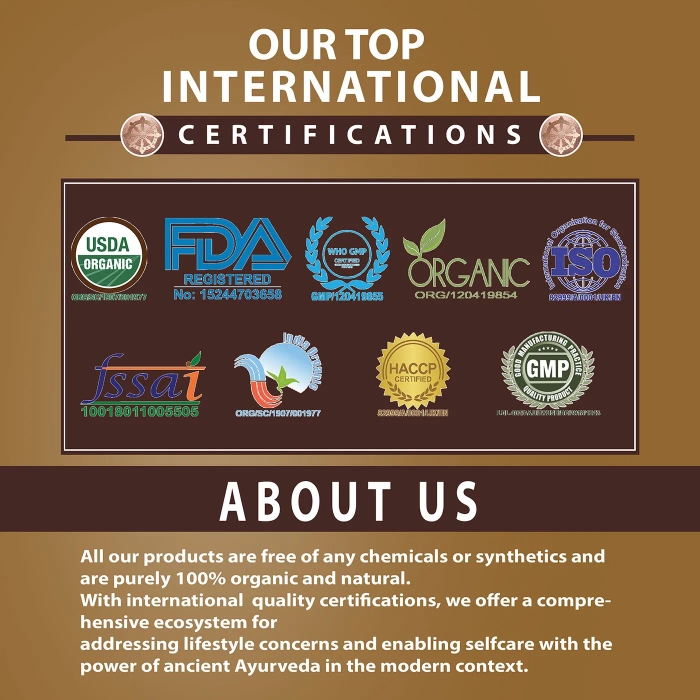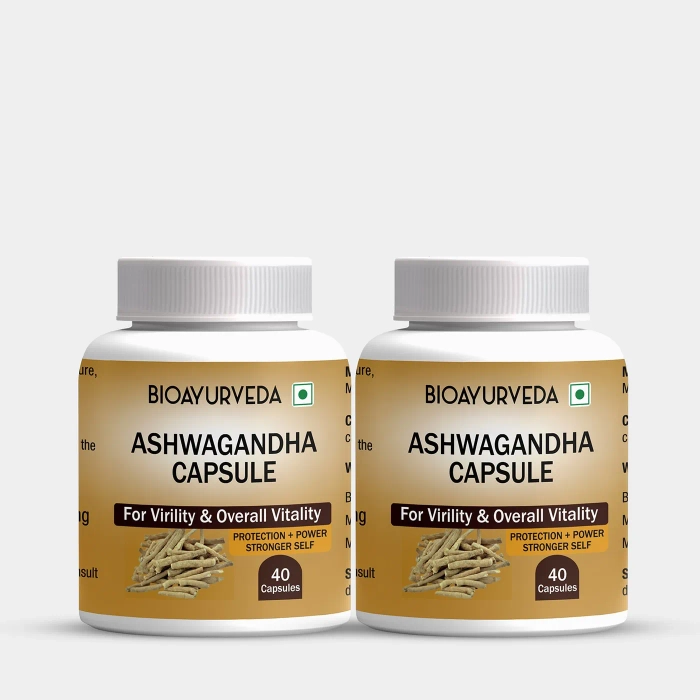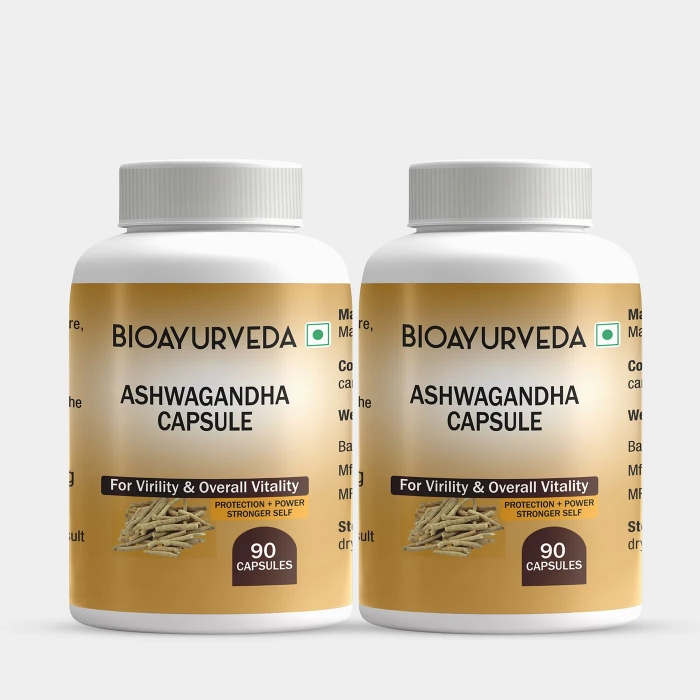 ASHWAGANDHA CAPSULE
Description
ASHWAGANDHA Capsule is one of the most valuable herbs in Ayurveda with multiple health benefits. It is especially beneficial for male reproductive health, hormones and sperm quality. It also supports female sexual health and fertility. It helps to calm nervous mental energy, counters stress and stabilizes hormonal activity. It improves brain function and memory. It enhances muscle strength, improves joint mobility, enables fat metabolism and engenders sustained strength and stamina. It is helpful in relaxing blood vessels and stimulating circulation. It has strong anti-oxidant and anti-inflammatory properties that support heart health and also help in the management of diabetes. It greatly empowers immunity. A powerful tonic, it helps to overall energize and revitalize bodily functions.
DOSAGE
1 to 2 Capsules twice a day or as directed by the physician
Ingredients
Ashwagandha
Product details
Bioayurveda Aswagandha Capsules, also known as Withania somnifera, are the answer you are looking for if you want to boost your energy levels. This ancient Indian plant remedy has been used for ages to help boost stamina and power. Ashwagandha has also been demonstrated to enhance immunity, lessen inflammation, and enhance cognitive function. It is a potent tonic that boosts and revitalizes physical and mental well-being.
BIOAYURVEDA Ashwagandha Capsule is an organic dietary supplement made out of Ashwagandha. It helps boost vitality stamina and immunity.
Ashwagandha also known as Withania somnifera is an herb that holds a rich history deeply rooted in ancient Ayurvedic medicine. With its origins in India this versatile herb has been prevalent through several generations with its remarkable properties and diverse range of benefits. The name "Ashwagandha" itself translates to "the smell of a horse" alluding to both its unique scent and its ability to impart strength and vitality. Ashwagandha is revered for its adaptogenic qualities meaning it helps the body adapt to stressors and restore balance in times of physical and mental strain. It is often hailed as a natural remedy for combating fatigue promoting relaxation and enhancing overall well-being. The magical properties of Ashwagandha go far beyond its stress-relieving abilities. This herb has been used for centuries due to its potential to boost cognitive function improve memory and sharpen focus. It is believed to possess strengthening properties that shield the brain from damage caused by oxidative stress thereby promoting healthy brain function and potentially reducing the risk of cognitive health issues.
Improves Cognitive Abilities,Builds Up Strength,Improves Immunity


BIOAYURVEDA is a visionary holistic luxury brand in health and wellness offering completely natural and organic products.
Key Ingredients
Ashwagandha
Ashwagandha or Withania somnifera is a shrub found in India. It is highly medicinal and is known to decrease stress and anxiety along with many other benefits like increasing strength enhancing stamina boosting immunity and supporting the overall health of your body. Fun fact: Its name in Sanskrit means 'smell of the horse'!
Composition
Each Capsule Contains :
Ashwagandha (Rt. Ext.)*
Withania Somnifera
500 mg
Natural Preservatives & Permitted Excipients
QS
* API (Ayurvedic Pharmacopoeia of India);
Ayurvedic Product
Manufactured By:
Arganshe Private Limited
Address:
11/2, BADARPUR BORDER, Faridabad, Haryana, 121003