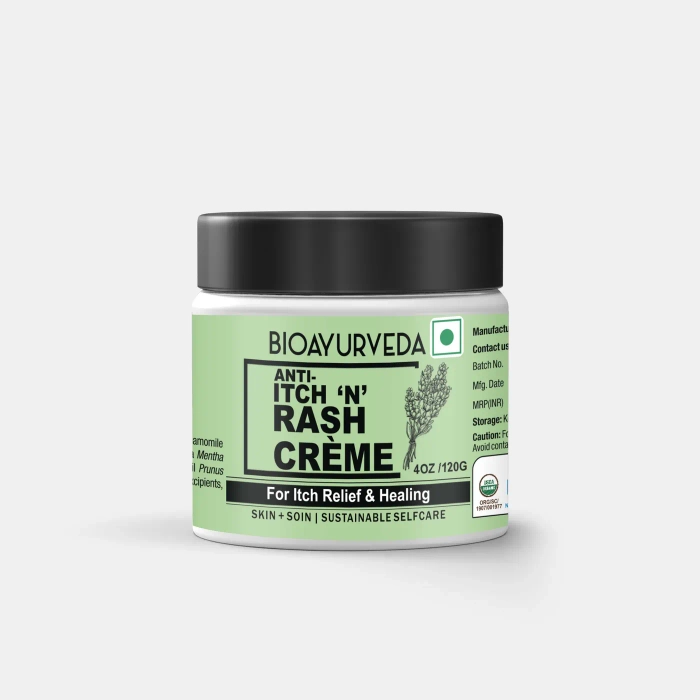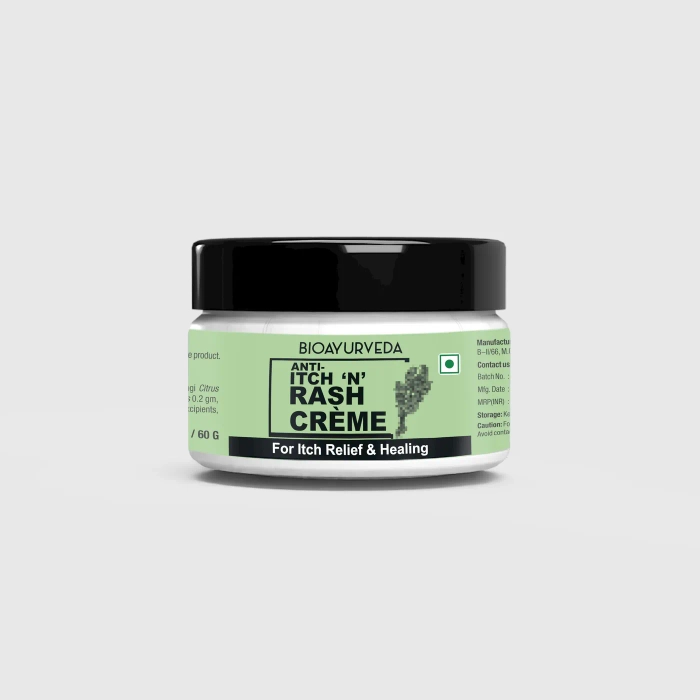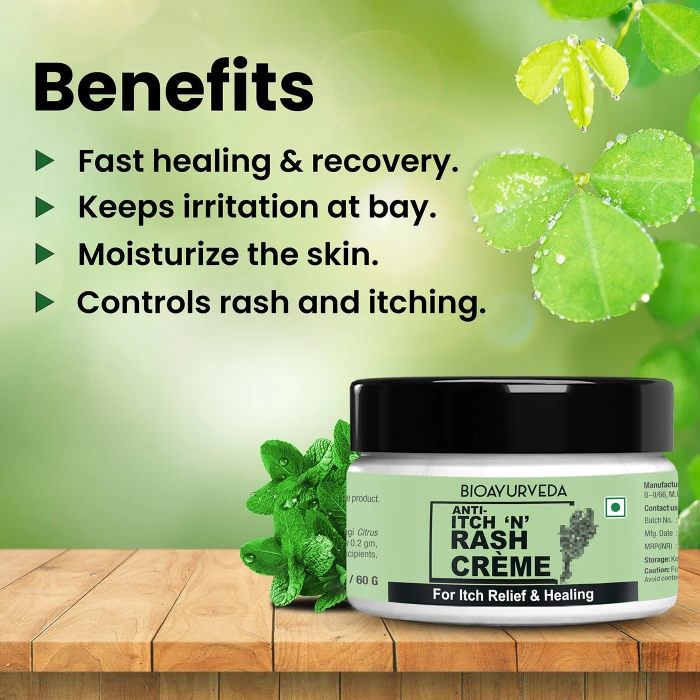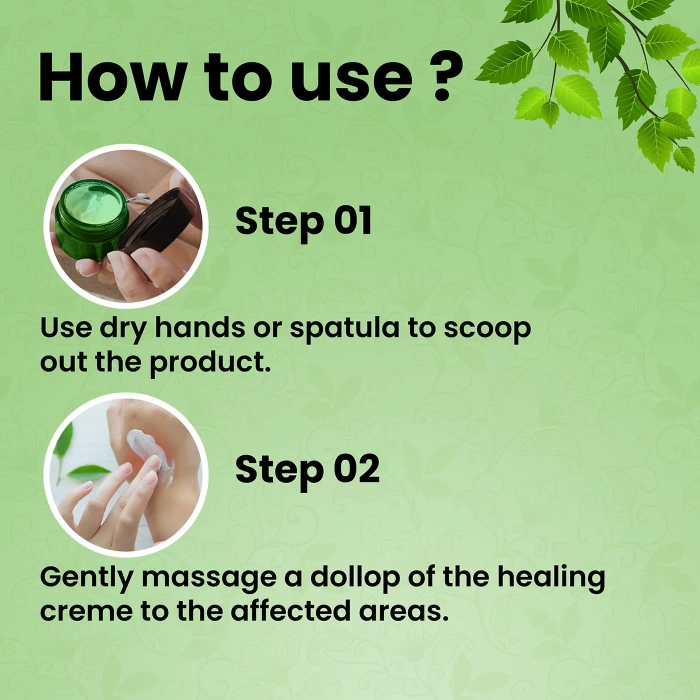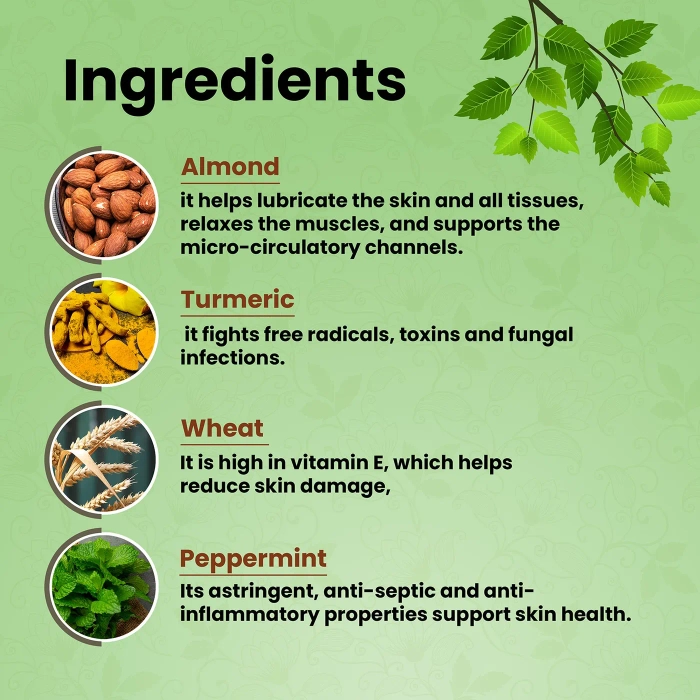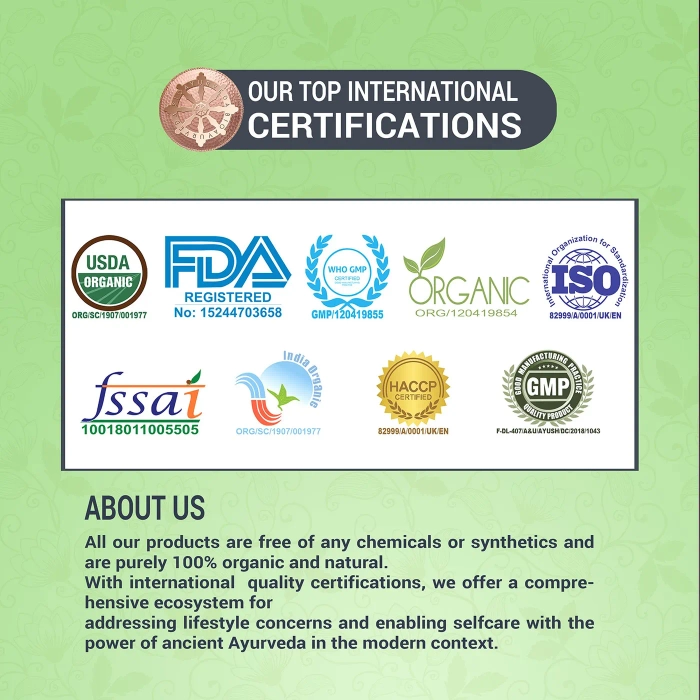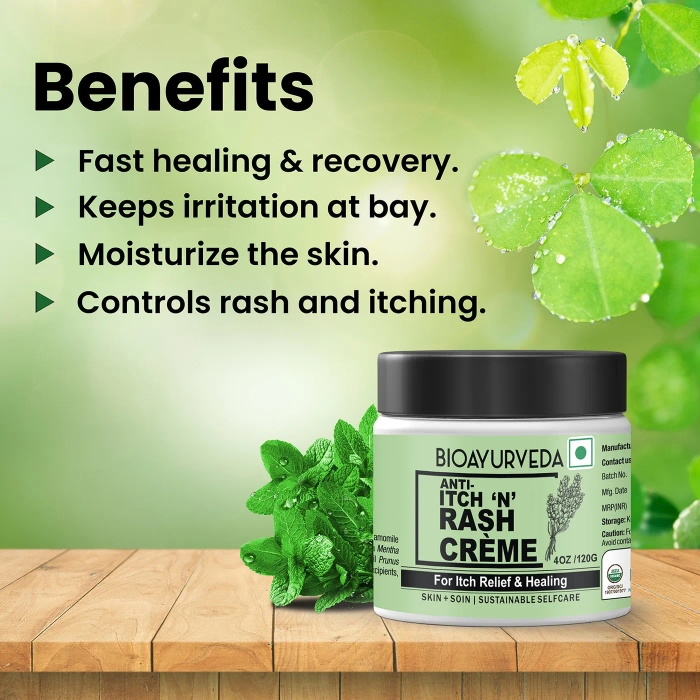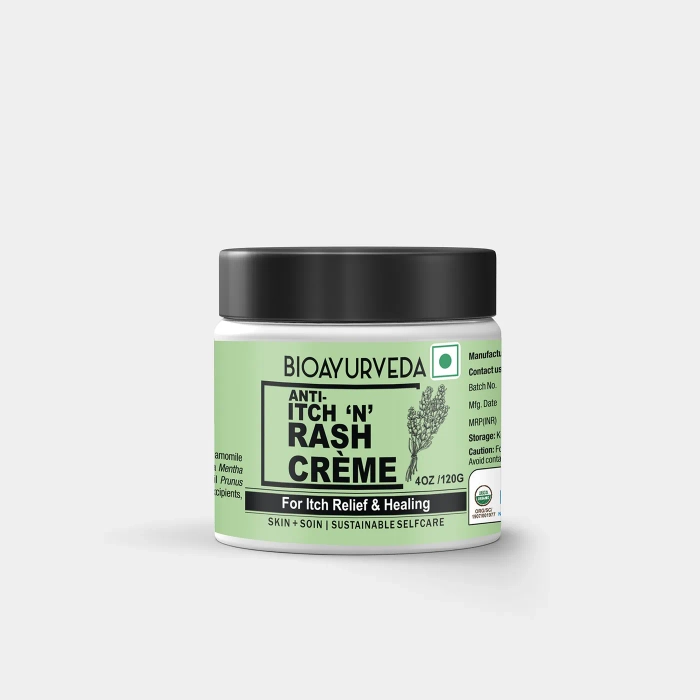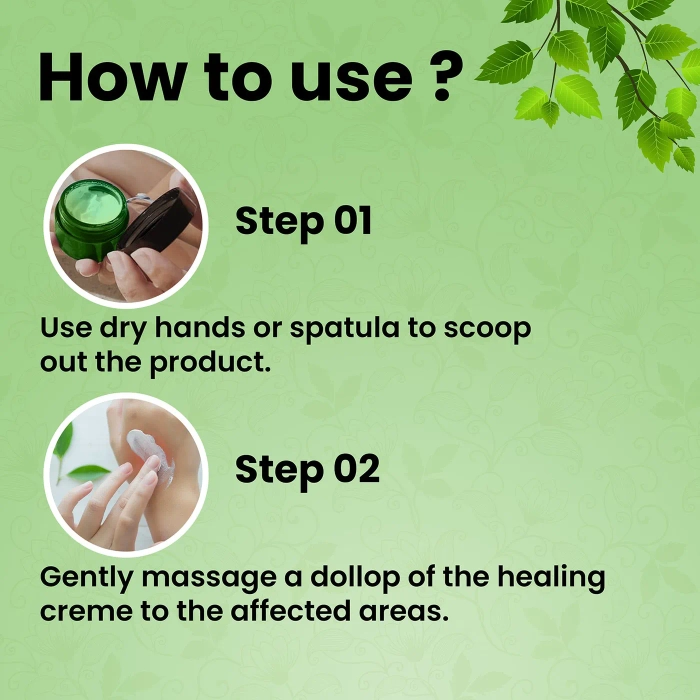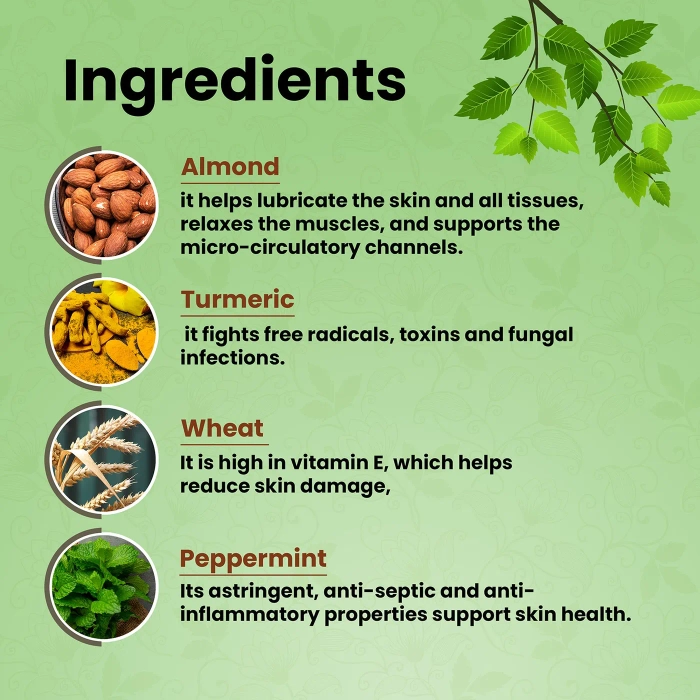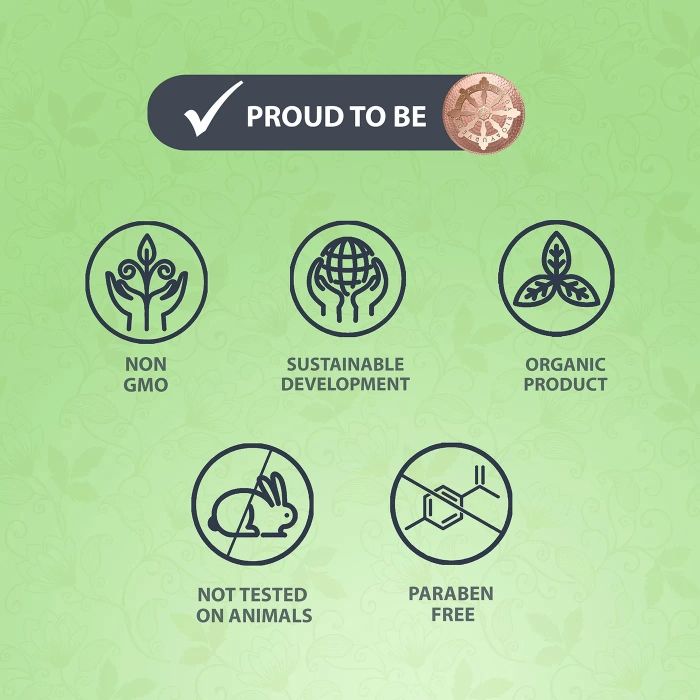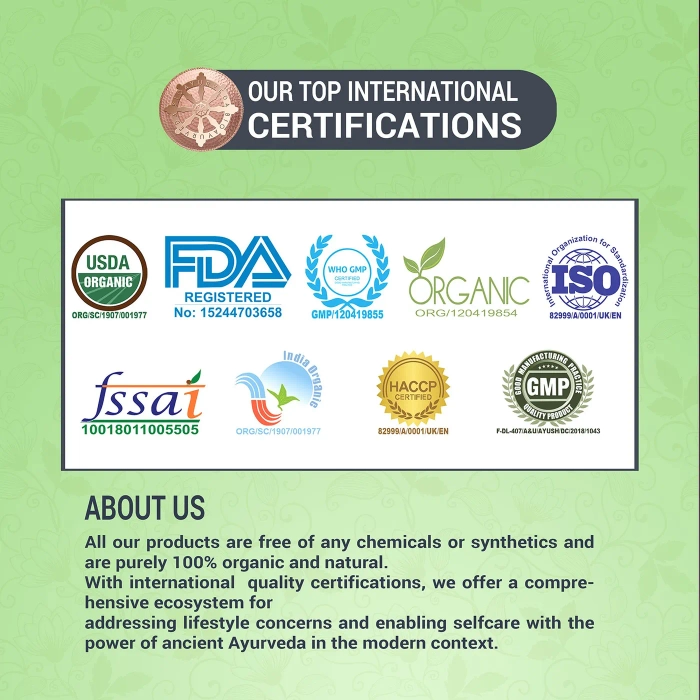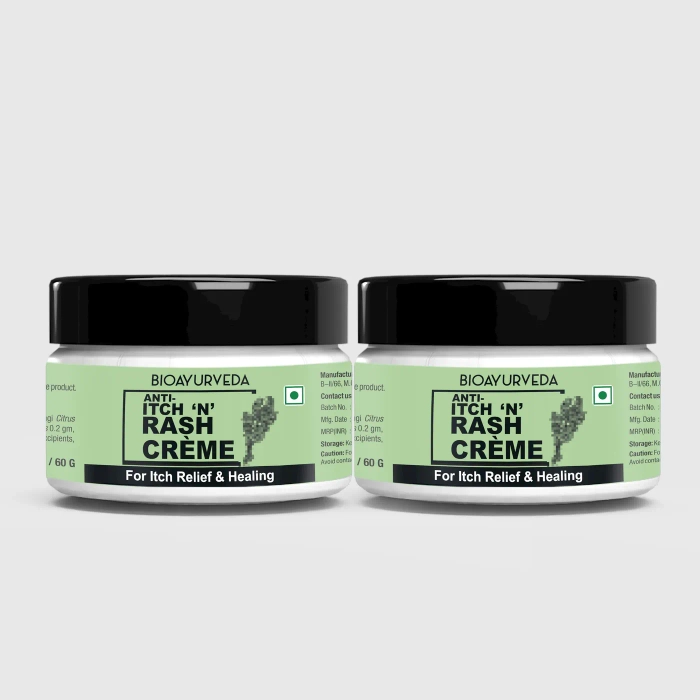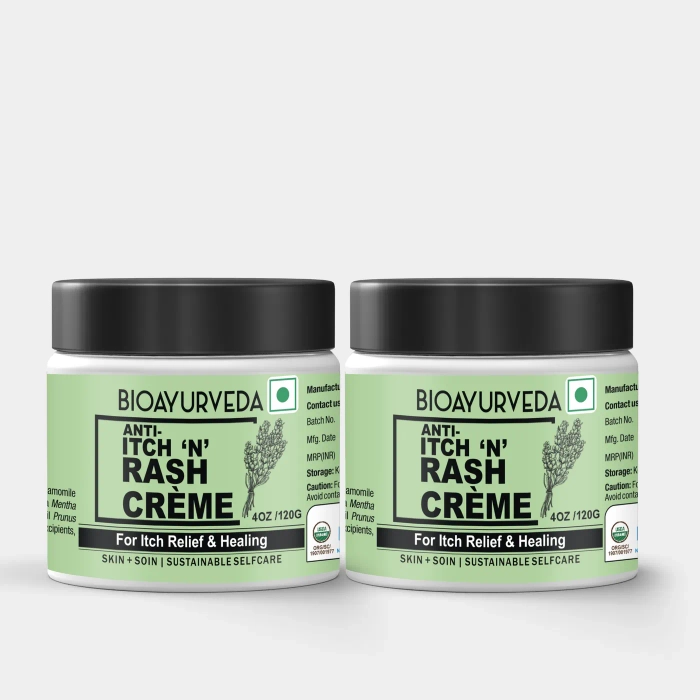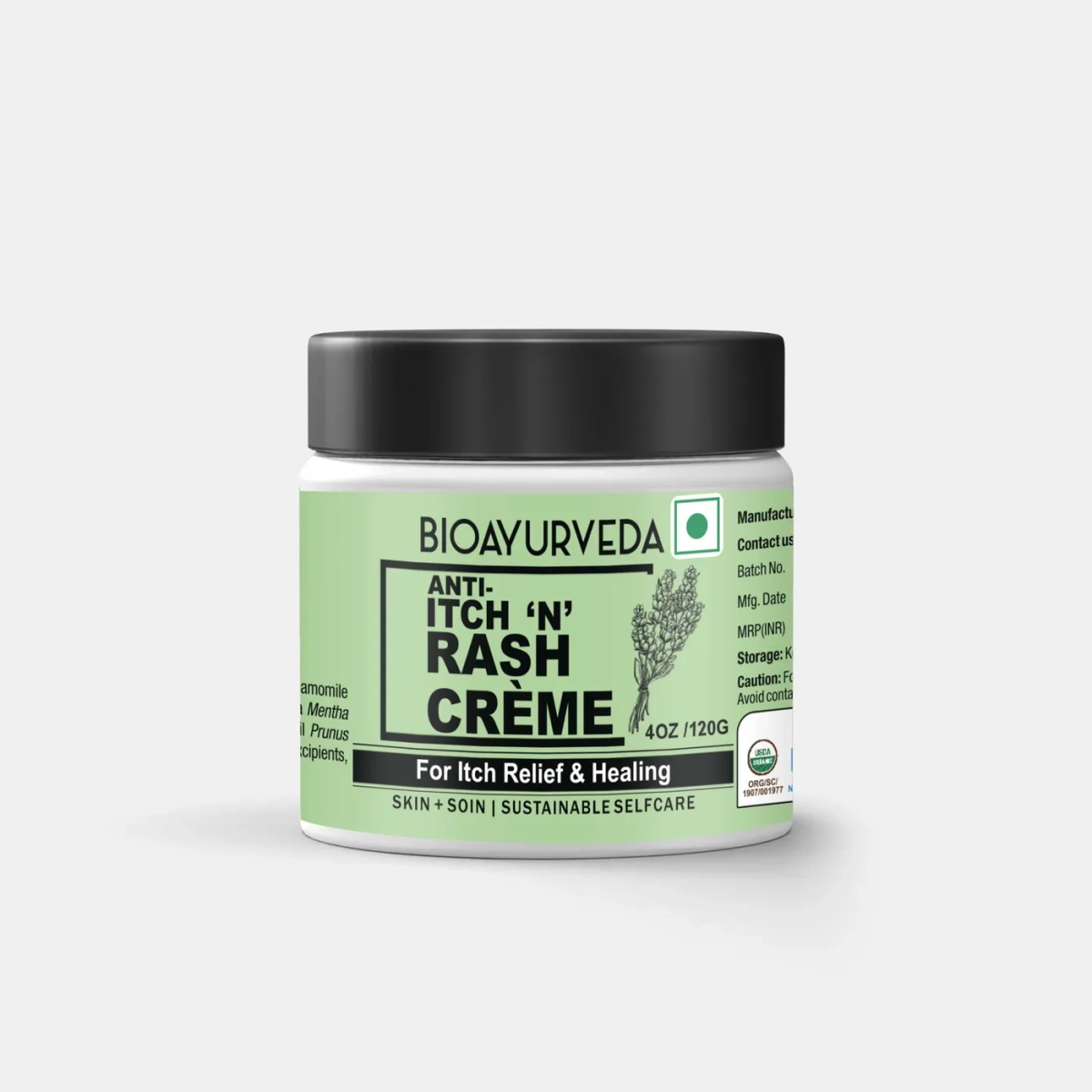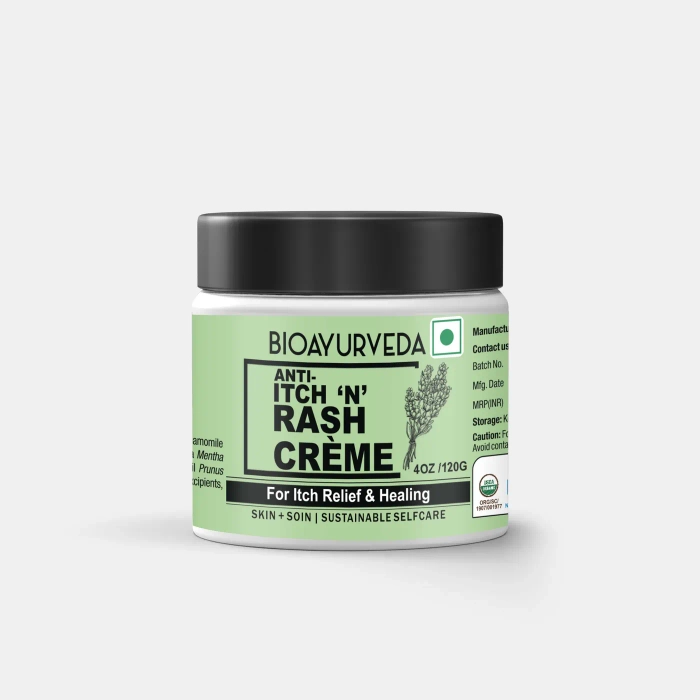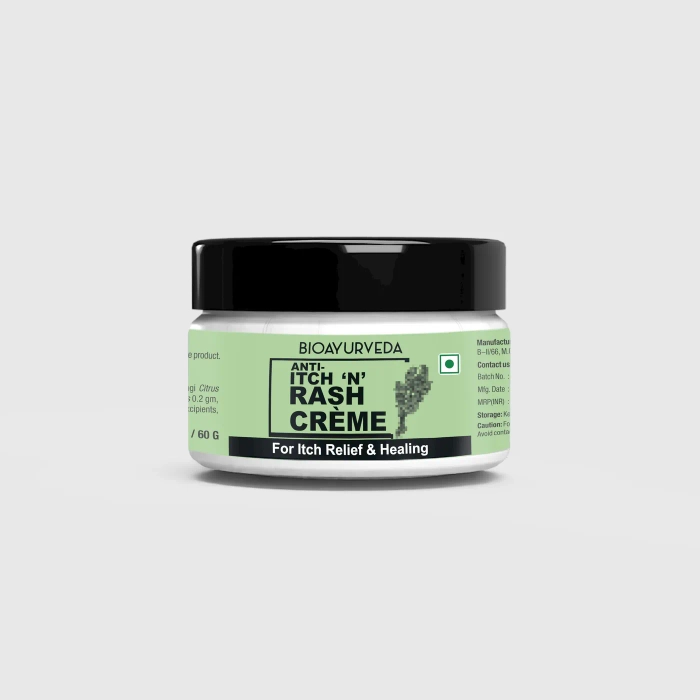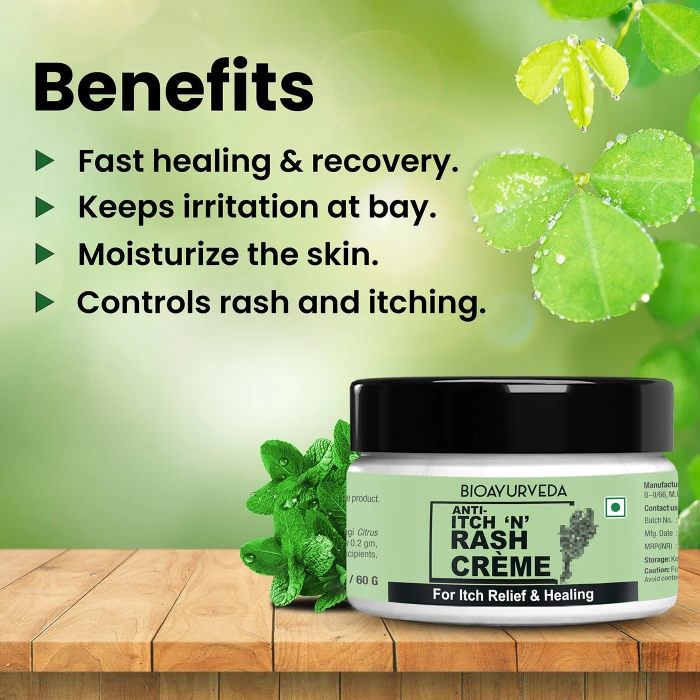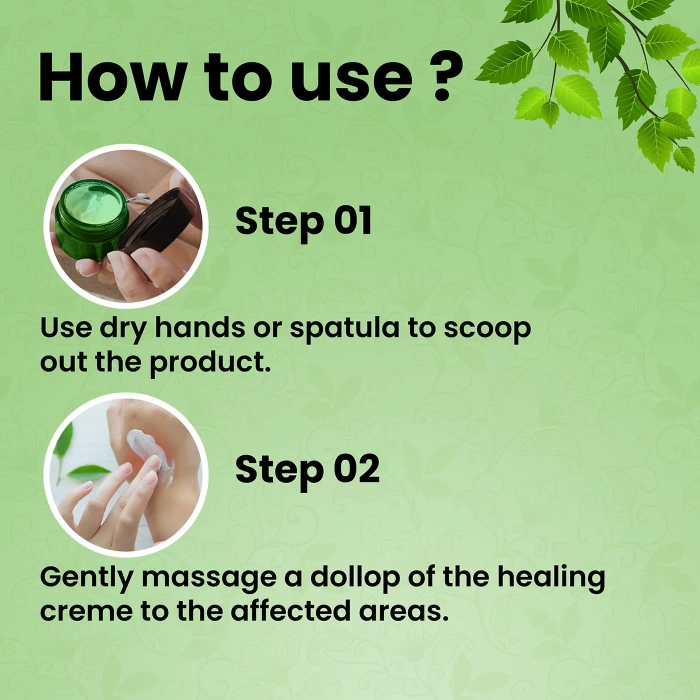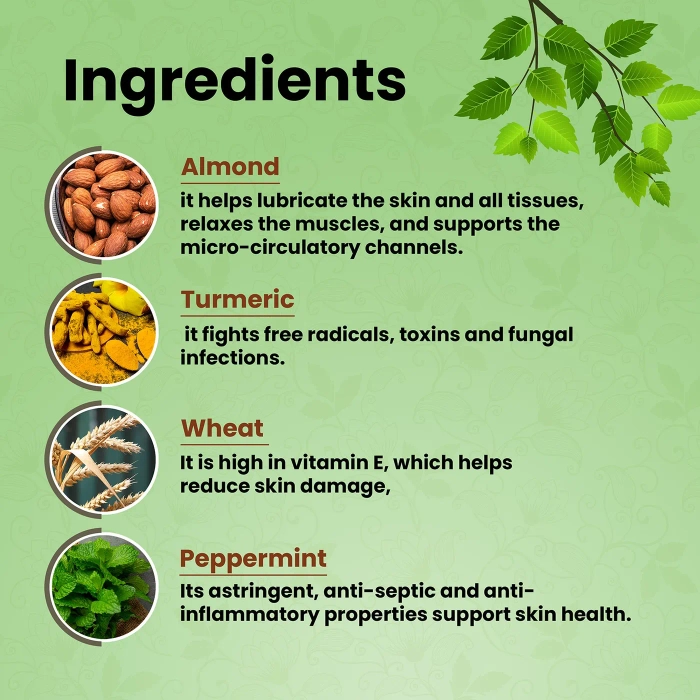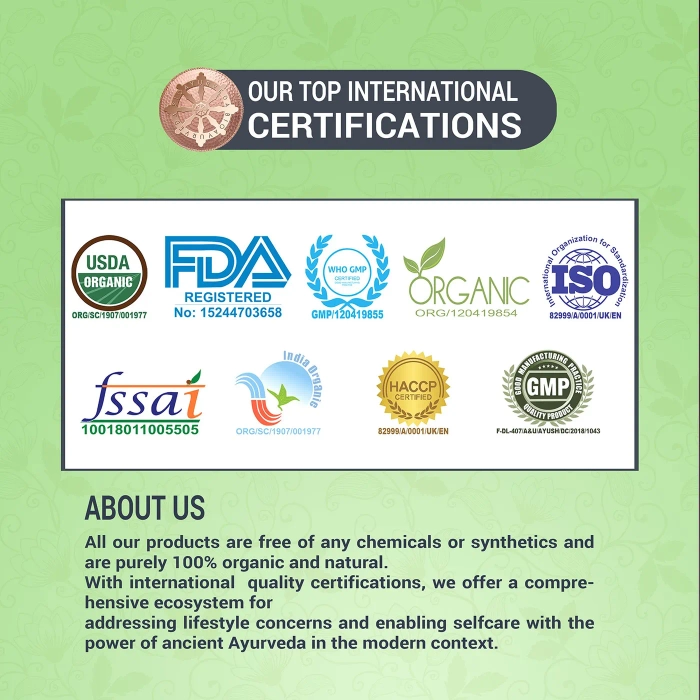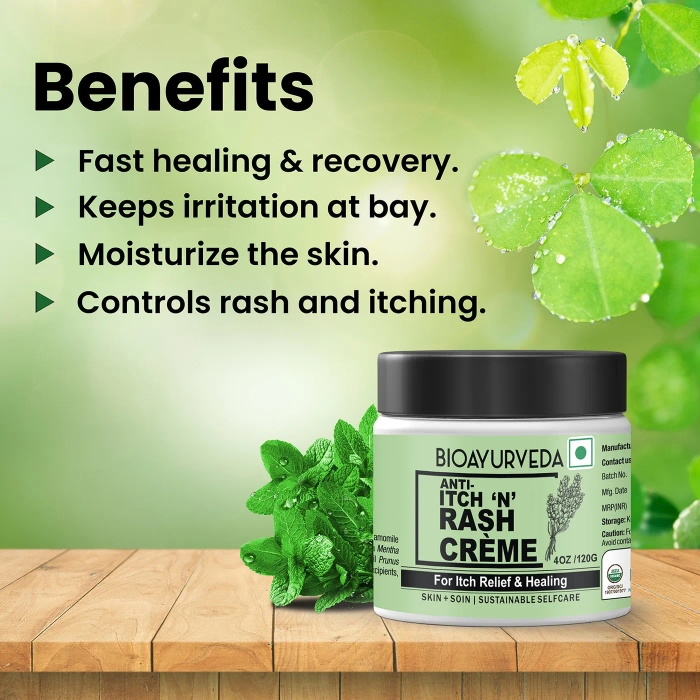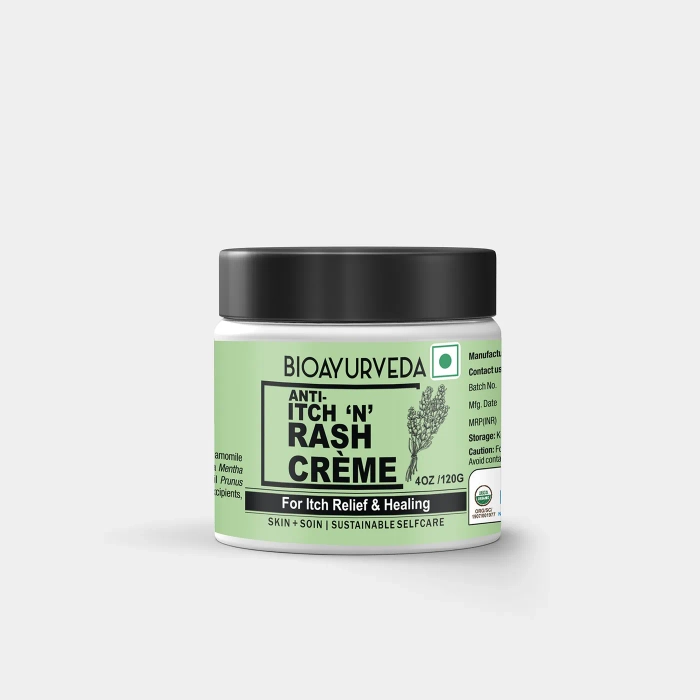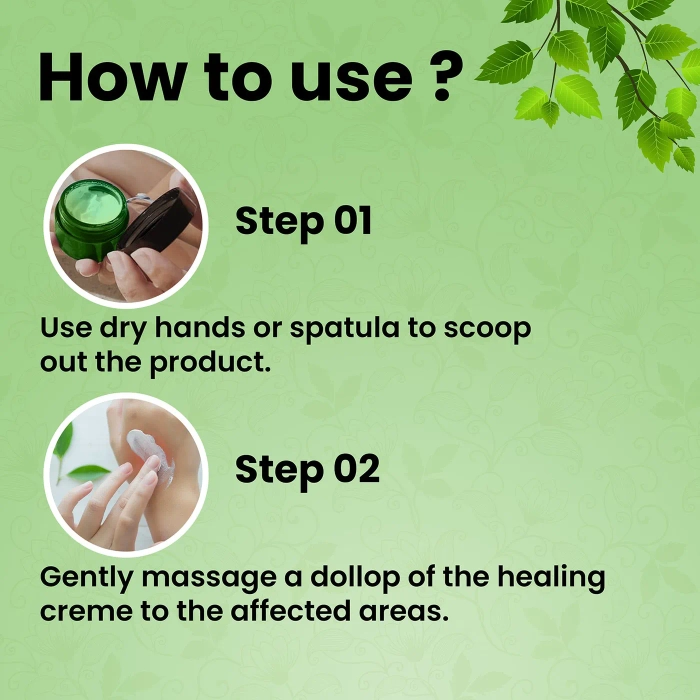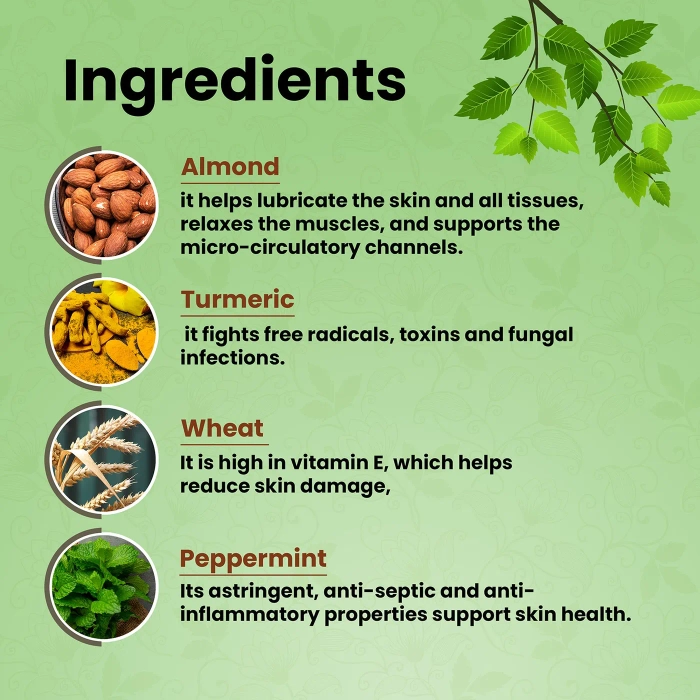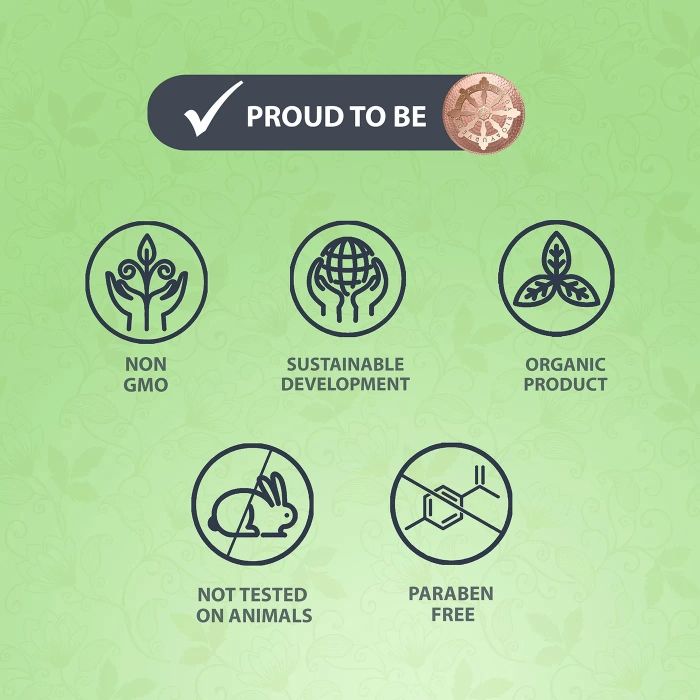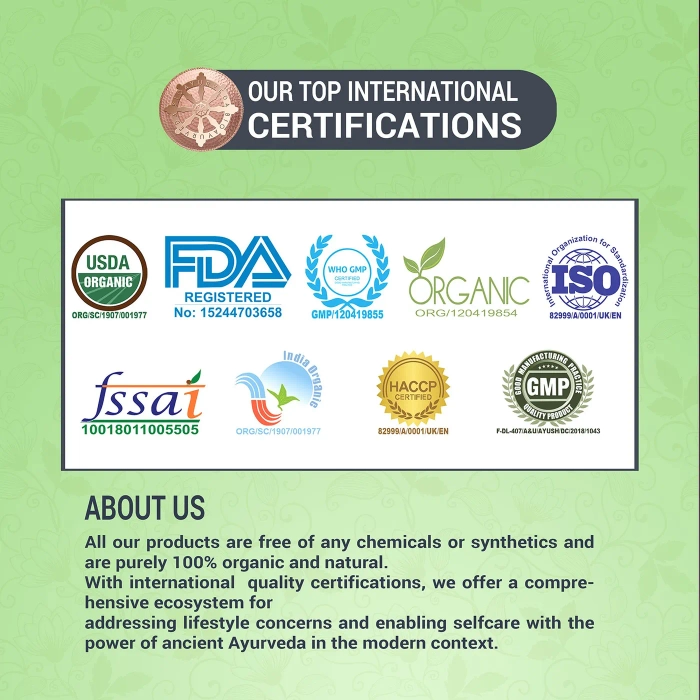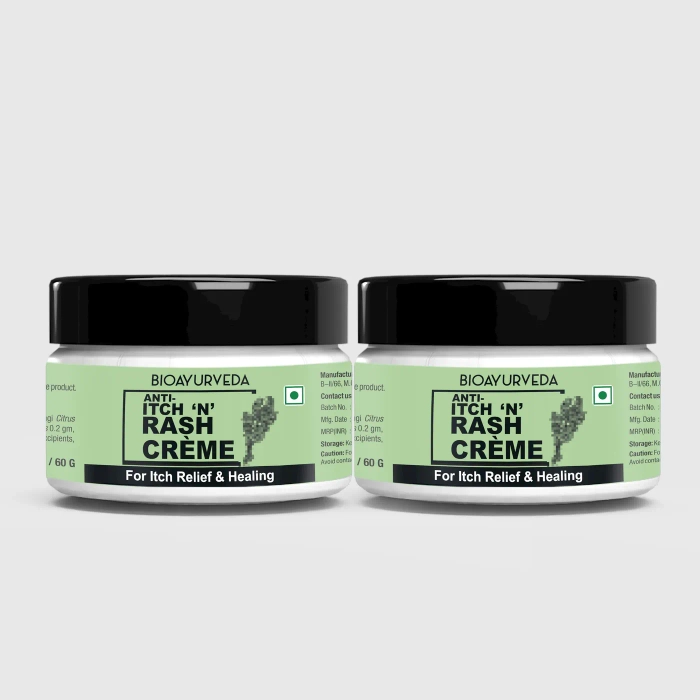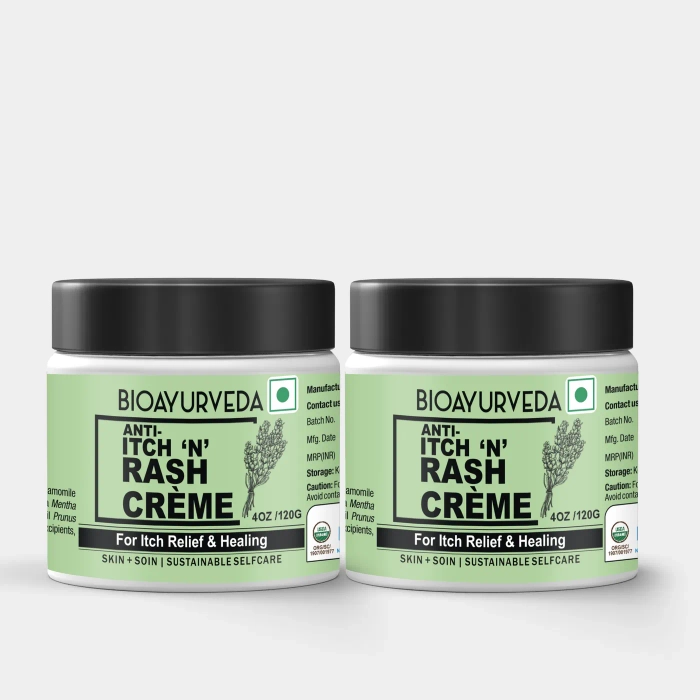 ANTI-ITCH 'N' RASH CRÈME
Description
ANTI-ITCH 'N' RASH CRÈME is a unique blend of organic healing herbs along with vital essential & natural oils that is formulated for relieving inflammation and discomfort in case of skin rashes, allergic irritations, minor bites, redness and swelling. Soothing and calming, it alleviates dryness, sensitivity and soreness, hastening healing and recovery.
HOW TO APPLY
Gently massage a dollop of the healing crème to the affected areas. Reapply as required. Use dry hands or spatula to scoop out the product.
Ingredients
Haldi, Kumari, Chamomile, Genda, Tulasi, Pudina, Wheat Germ Oil, Soya Oil, Badam Oil, Lavender Oil
Product details
---
Skin irritations and rashes can be frustrating and uncomfortable. They can be caused by a variety of factors, including allergies, irritants, and infections. However, there are many ways to soothe and treat skin irritations and rashes to alleviate discomfort and prevent them from getting worse. Treating skin irritations and rashes often involves a combination of self-care measures and medication. For example, applying a cool compress or taking an oatmeal bath can help soothe irritated skin, while over-the-counter creams and ointments can provide relief from itching and inflammation. However, if symptoms persist or worsen, it's important to seek medical advice. Overall, managing skin irritations and rashes requires a proactive approach to identify and avoid triggers, as well as regular self-care to soothe and treat existing symptoms.
By taking care of our skin and being mindful of what we expose it to, we can prevent many skin irritations and rashes from occurring in the first place, and keep our skin healthy and comfortable. However, to make things easier for you, we have something that can help your skin. Presenting BIOAYURVEDA Anti-Itch 'N' Rash Crème. It is an organic cream that is made out of pure and healthy ingredients like Almond, Turmeric, Wheat, and Peppermint that work together to provide relief from infections and itching. It helps soothe and calm the skin. It is suitable for all skin types as well! Get this amazing cream and include it in your skincare inventory now!
BIOAYURVEDA Anti-Itch 'N' Rash Crème is an herbal fusion of organic and pure ingredients like Almond, Turmeric, Wheat, and Peppermint that work in tandem to provide relief in the cases of skin infections, itching, rashes, and allergies. It reduces the redness of your skin and swelling. It also helps soothe and calm the skin. More so, it hydrates the skin which makes it get rid of dryness, sensitivity, and soreness. It makes your skin recover at a faster pace.
Benefits
Reduces Rashes, Skin Irritations, and Itching
The main purpose of this cream is to prevent rashes and itching and it does so very well thanks to its natural and herbal ingredients.
Reduces Redness & Swelling
It reduces the redness of your skin and swelling as well. More so, as an added bonus, it hydrates your skin as well.
Calms The Skin
When facing skin irritations, it is very important to soothe and calm the skin. Anti-Itch 'N' Rash Crème helps do the same.
INGREDIENTS
Turmeric
Turmeric or Haldi is a spice that is very common in Indian cuisine. Its main constituent is Curcumin. Turmeric is used in Ayurvedic methodologies. It is traditionally used to treat related to the skin, upper respiratory tract, joints, and digestive system.
Almond
Almond is a dry fruit that is commonly consumed in India. It helps reduce dark circles with the help of Vitamin E, Vitamin K, and retinol. It also decreases puffiness through its anti-inflammatory properties. Additionally, it evens the skin tone and hydrates it.
Peppermint
Peppermint, or Pudina, is an aromatic herb used commonly in India. It is traditionally used as a flavoring agent. As an ingredient in hair products, it is known to be effective in promoting hair growth. It has antimicrobial and anti-inflammatory properties as well.


BIOAYURVEDA is a visionary holistic luxury brand in health and wellness offering completely natural and organic products.
Manufactured By:
Arganshe Private Limited
Address:
11/2, BADARPUR BORDER, Faridabad, Haryana, 121003