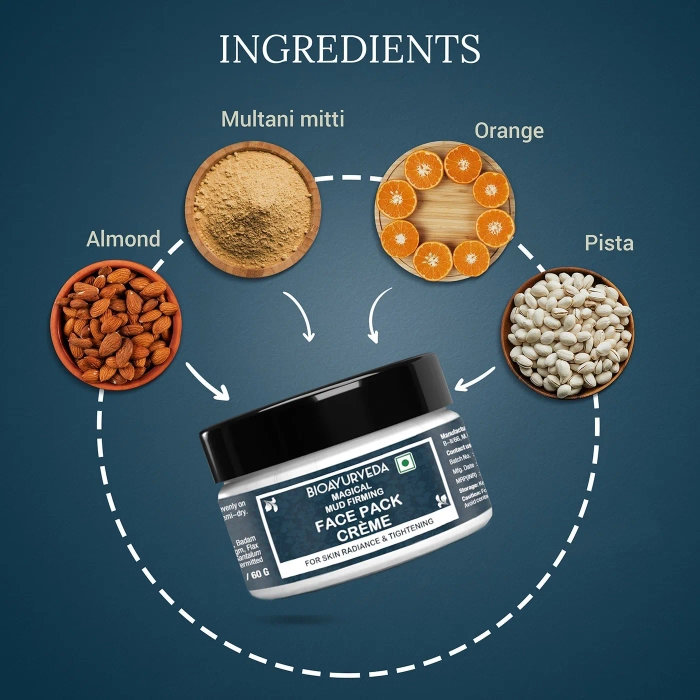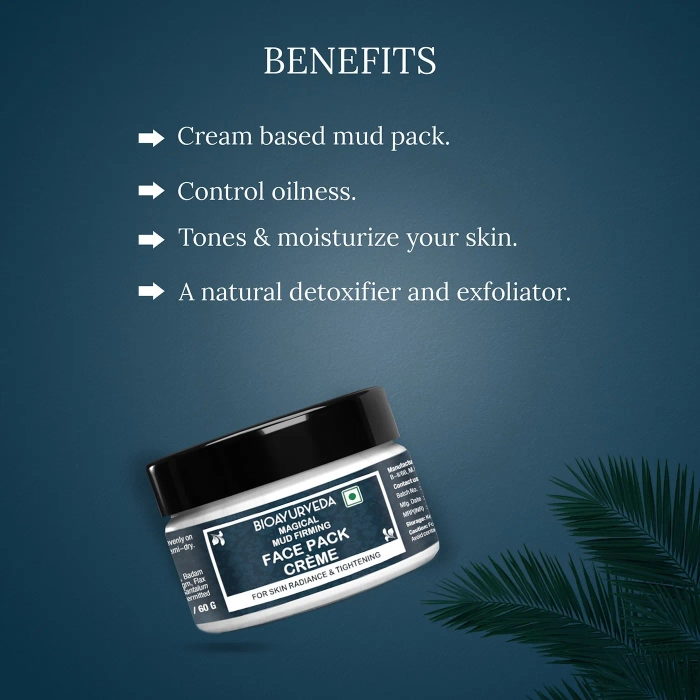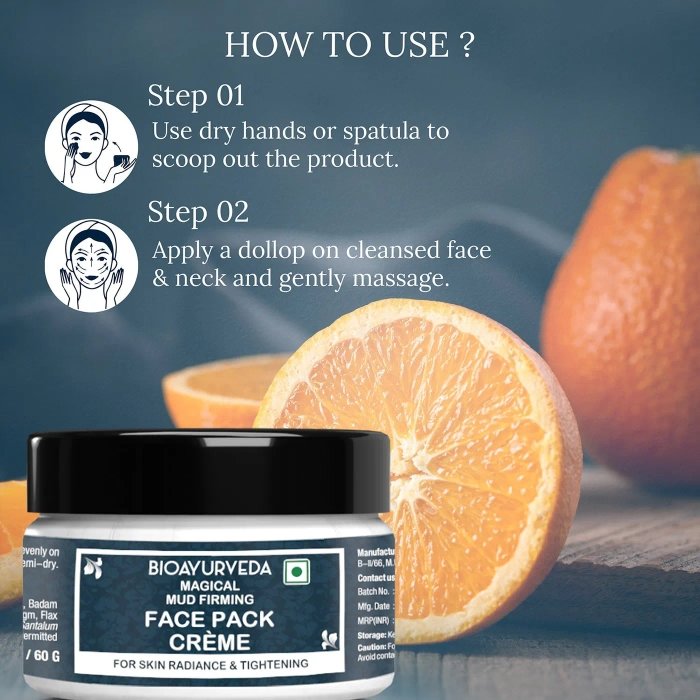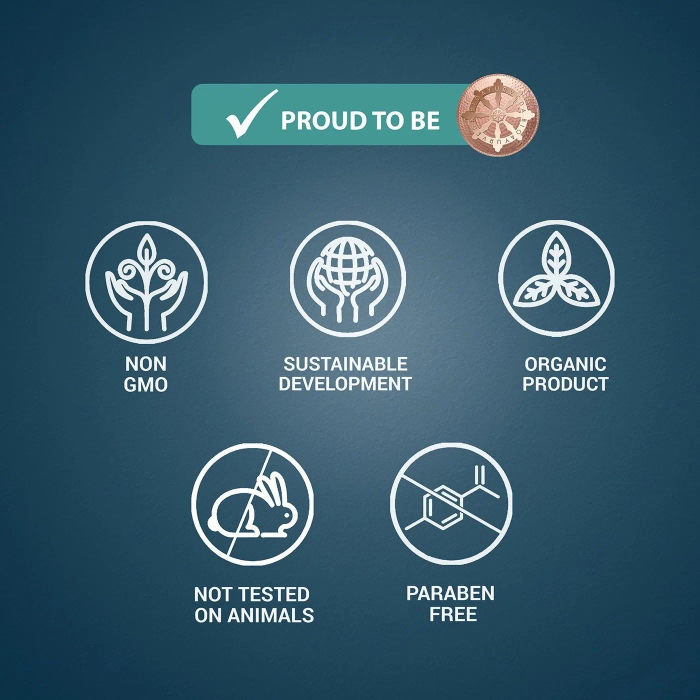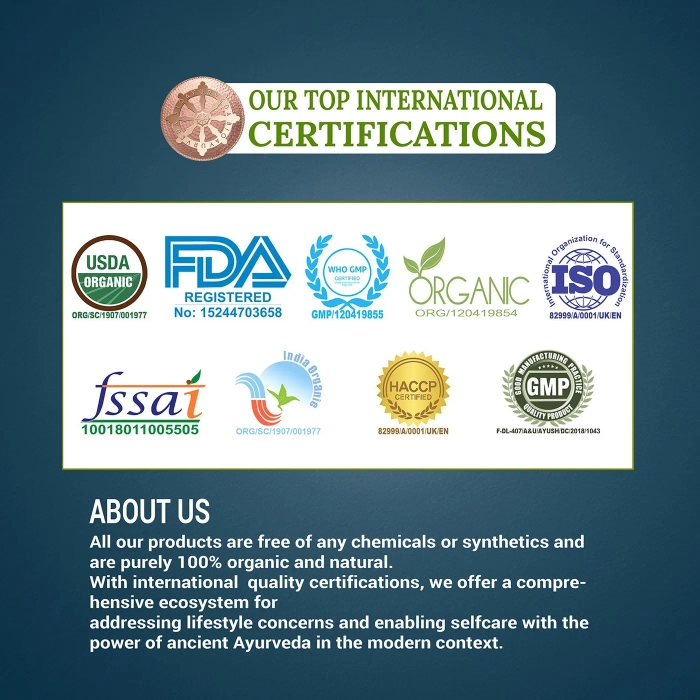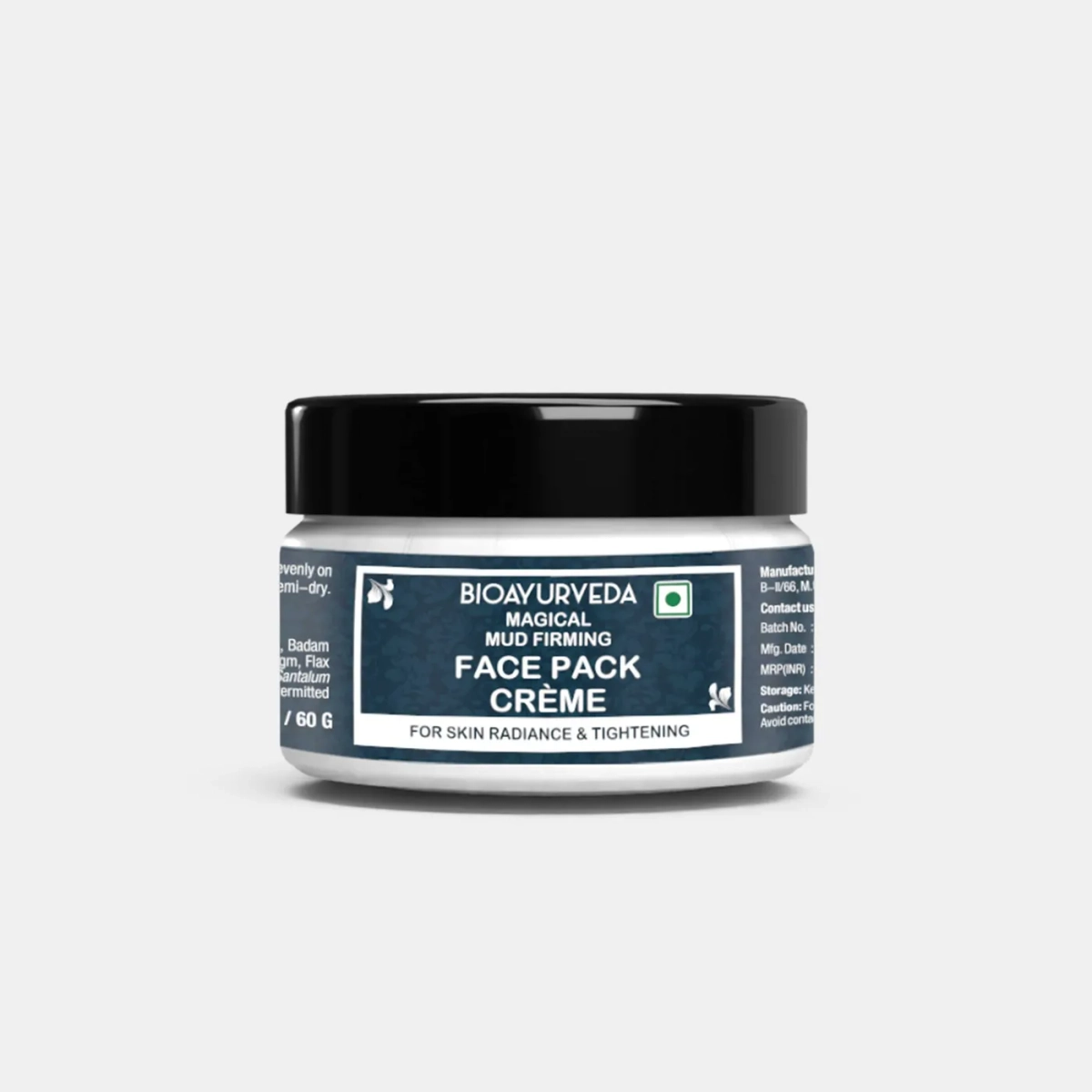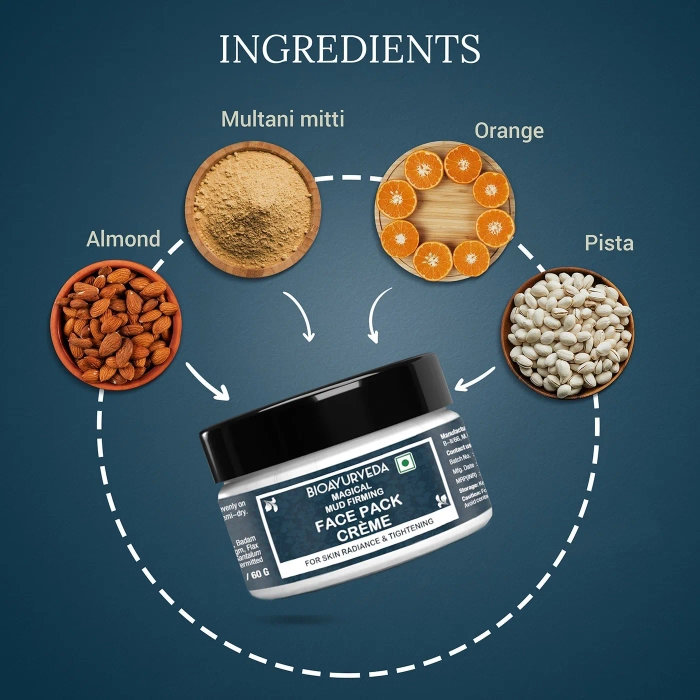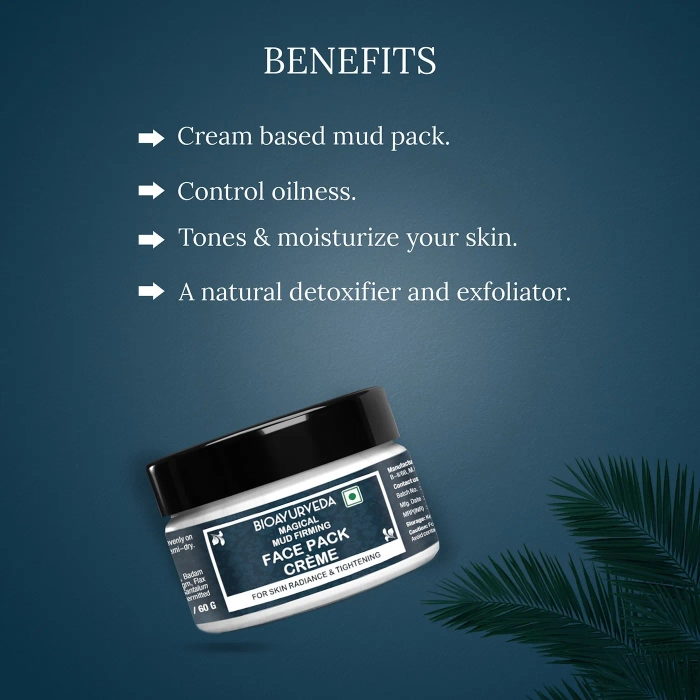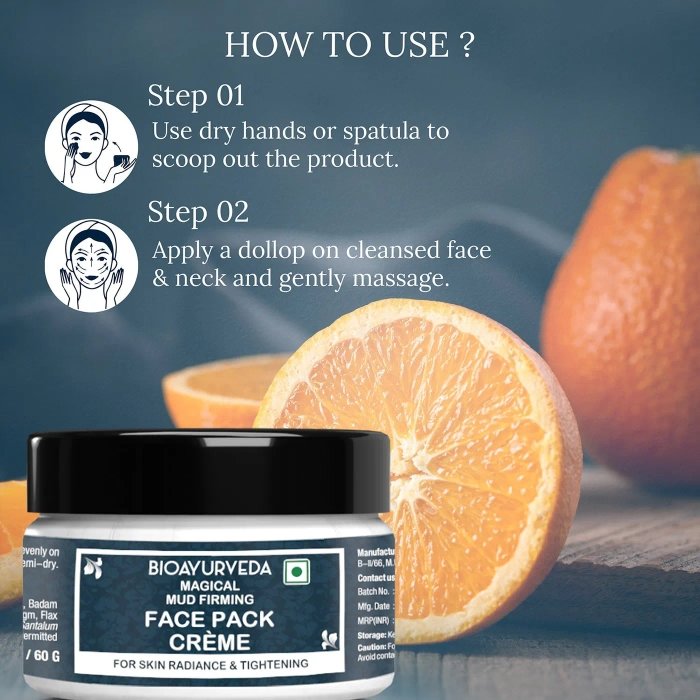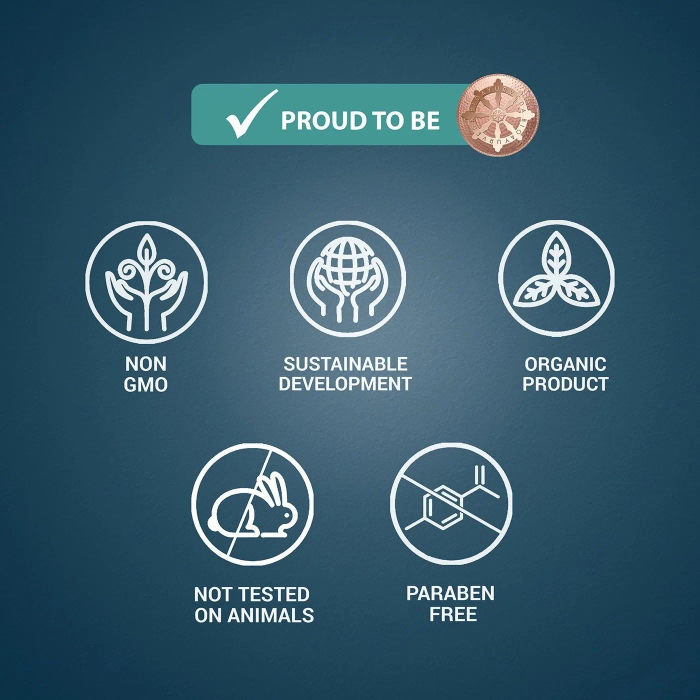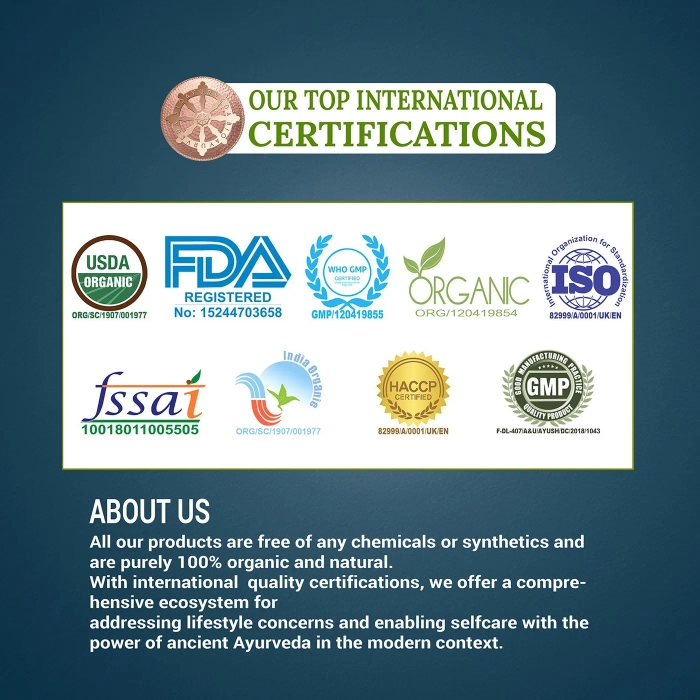 MAGICAL MUD FIRMING FACE PACK CRÈME - 60 GM
Description
MAGICAL MUD FIRMING FACE PACK CRÈME is a unique blend of organic herbs, along with vital essential & natural oils that is formulated for firming the skin and maintaining its integrity and elasticity. It also helps reduce patchy spots and enlarged pores. It balances skin sebum, eradicating excess oil and protecting from acne and eruptions.
HOW TO APPLY
Take a dollop to make a smooth paste by adding a few drops of fresh water. Apply a thin layer evenly on cleansed face and neck, using outward & upward strokes. Avoid the contours of eyes & mouth. Rinse when semi-dry. Use dry hands or spatula to scoop out the product.
Product details
---
Your skin is something that is visible to everyone who sees you. And unfortunately, it requires a lot of effort to keep it clean and beautiful. In our everyday lives, we often end up neglecting our skincare needs. We're so busy that we just do not have the time to spend on our skin. As a result, our skin, slowly and steadily, becomes irritated, rough, oily or dry, and loses its shine. But, to make things easier for you, we have Magical Mud Firming Face Pack Crème. This face pack cream, with the help of its rich antioxidants, will help you restore freshness to your face. These types of face masks play a huge role in making organic ingredients penetrate better. They greatly help in nourishing and hydrating your face as well. What a nice face pack cream to include in your inventories!
It is a fabulous Mud Face Cream enriched with antioxidant gentle aromatic oils that suits every skin type that also helps reduce patchy spots and enlarged pores. A gentle massage detoxifies your skin and releases toxins with the power of Ayurvedic anti-oxidants so your skin feels well and better.
Magical Mud Firming Face Pack
Magical Mud Firming Face Pack Crème is constituted of several organic herbs, vitamins, and minerals such as Almond, Rose, Badam, and more that help firm your skin tone and maintain its elasticity. Besides, it also helps control the oiliness on your face. As an added bonus, it tones and moisturizes your skin, and is a natural detoxifier!.
A NATURAL ORGANIC UBTAN WITH THE GOODNESS OF MULTANI MITTI
Free of harmful chemicals
Synthetics-free
Supports your skin in natural ways
Suitable for all skin types
Ayurvedic Formulation
Pure and Organic Ingredients
HERBAL WITH ZERO SYNTHETIC
Utmost care is taken to provide you with natural product.
VEGAN AND CRUELTY FREE
No harm,testing on Animals, no animal ingredients are used in the products.
Professional production experience and strong technical force in the beauty area, you will get natural and organic face pack with goodness of multani mitti.
INHERENTLY INDIAN
BIOAYURVEDA honors India's rich knowledge and identity through its products, which are all made in India. We carefully source valuable and essential ingredients.


BIOAYURVEDA is a visionary holistic luxury brand in health and wellness offering completely natural and organic products.
Manufactured By:
Arganshe Private Limited
Address:
11/2, BADARPUR BORDER, Faridabad, Haryana, 121003